This roasted tilefish recipe is all you need for an excellent meal that's delicious and incredibly easy to make with minimal cleanup!
Even if you're a beginner home cook, you'll have absolutely no trouble whipping up this amazing Roasted Tilefish Over Potatoes because the oven will do all the cooking for you!
The highlight of this dish is the succulent tilefish, perfectly roasted to tender, flaky perfection.
Partnering this pristine fish is a medley of sliced potatoes and the zesty pop of olives.
Together, they create a harmonious symphony of flavors and textures that's destined to be a family favorite!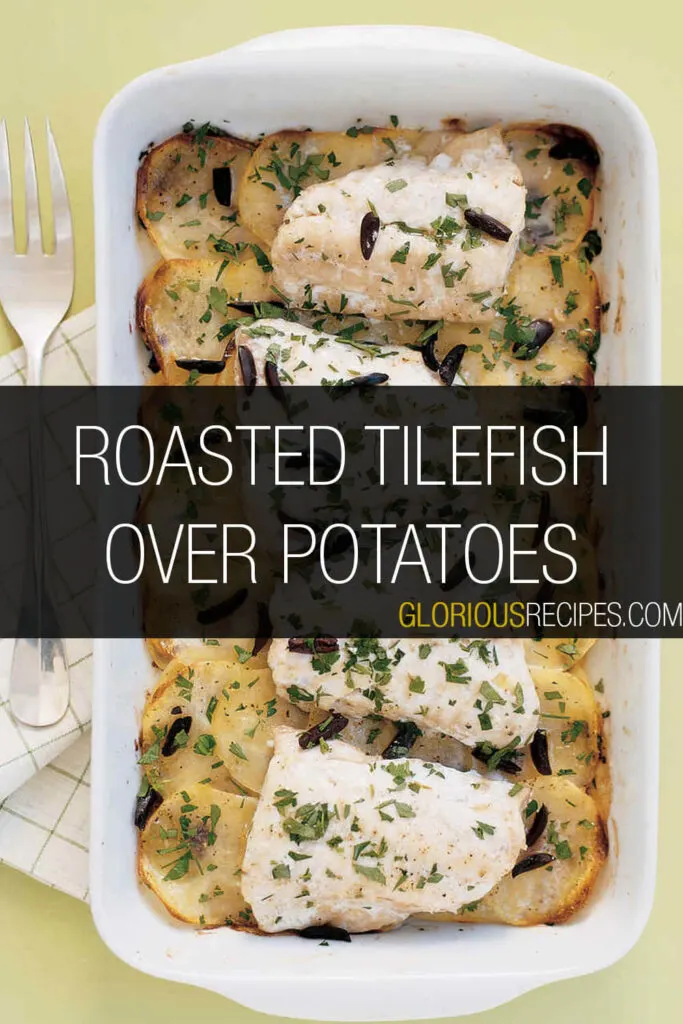 Why You'll Love This Roasted Tilefish Recipe
Simple to make: The main ingredients are fillets, potatoes, and olives. Just roast them in the oven and you're all set!
Full of flavor: With garlic, butter, and parsley, you know you're guaranteed a sumptuous treat!
Great for weeknight dinner: Taking just 45 minutes to prepare from start to end, this dish makes for a lovely weeknight meal that doesn't require much to get started.
Family favorite: With great taste and nutrition, this protein-rich dish is sure to be a hit with the family!
Great for beginners: If you've always been daunted by the prospect of cooking fish, this is an excellent dish to dip your toes into because of how easy it is!
Ingredients Required
You'll only need a few simple ingredients:
Tilefish fillets: With firm and flaky flesh that's slightly sweet, tilefish is a fantastic choice for an easily enjoyable meal.
Butter: Helps to give a pleasant richness and elevate the dish.
Olives: Provides a contrasting and complementary flavor to the fish and potatoes.
Potatoes: Yukon gold works great in this dish.
Garlic: You can add more if you're a garlic lover!
Parsley: For garnishing.
Salt and black pepper
How To Make Roasted Tilefish Over Potatoes
Preheat the oven and prepare the baking dish.
Arrange the potatoes, brush them with melted butter, and add garlic and olives.
Roast the potatoes until they are beautifully golden.
Dip the fillets in garlic butter.
Roast the fillets until cooked through.
Garnish, serve, and enjoy!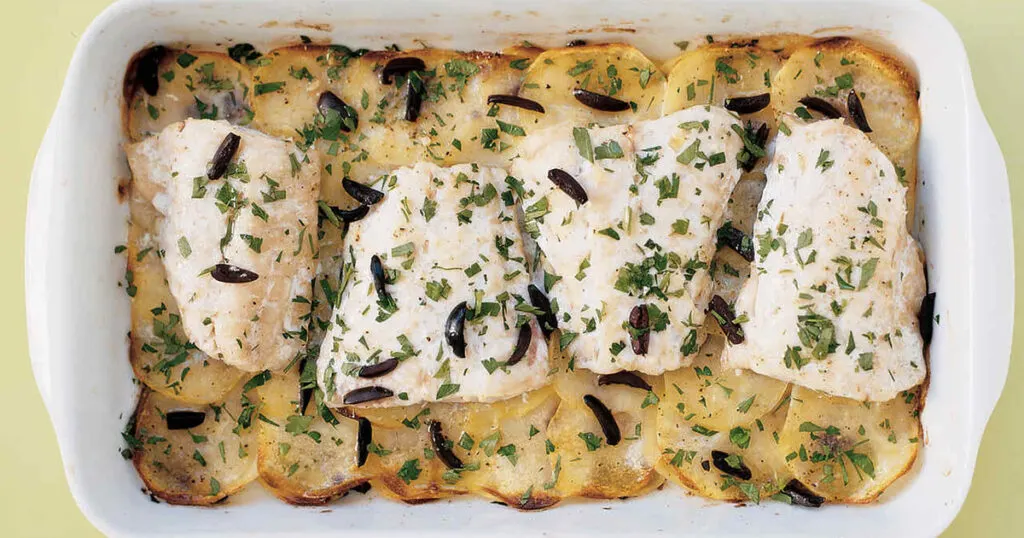 Yield: 4
Roasted Tilefish Over Potatoes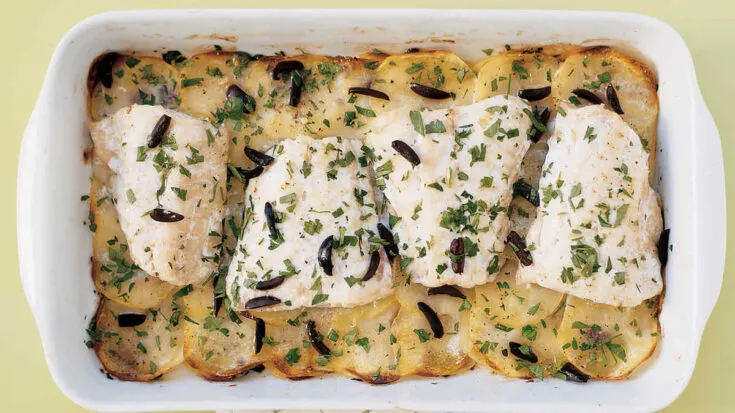 Enjoy a delectable delight with this Roasted Tilefish Over Potatoes that's super easy to whip up with minimal fuss and maximum flavor!
Ingredients
8 tbsp butter, unsalted and melted, plus extra for greasing
black pepper, to taste
coarse salt, to taste
16 kalamata olives, pitted
2 lbs potatoes, peeled and thinly sliced (you can use a mandolin)
2 cloves garlic, minced
2 tilefish fillets (12 oz each)
¼ cup parsley, freshly chopped
Instructions
Preheat oven to 450°F (232°C). Butter a 9x13" baking dish and sprinkle black pepper and salt. Take 12 olives, finely chop them, and set aside. Thinly slice the remaining 4 and set aside separately.
Add ⅓ of the potatoes in a single layer, overlapping a little. Brush the potatoes with melted butter and sprinkle black pepper and salt. Add ⅓ of the garlic and ½ of the chopped olives. Repeat for another layer of potatoes, garlic, and olives. Top with the final ⅓ of potatoes, brush with melted butter, and season with black pepper and salt.
Cover the baking dish with foil and roast the potatoes for around 16 minutes or until they just start to color. Remove the foil and continue roasting for another 10 minutes or until the edges develop a pale golden color.
While waiting for the potatoes to cook, prepare your tilefish fillets. Skin and half the fillets. Add remaining butter and garlic to a bowl, and stir to combine. Dip the fillets in the garlic butter mixture, then season with black pepper and salt.
Once potatoes are done, add fillets on top and roast for 10 minutes, or until the fillets are cooked through.
Garnish with sliced olives and chopped parsley. Serve and enjoy!
Nutrition Information:
Yield:
4
Serving Size:
1
Amount Per Serving:
Calories:

444
Total Fat:

26g
Saturated Fat:

15g
Trans Fat:

0g
Unsaturated Fat:

10g
Cholesterol:

61mg
Sodium:

247mg
Carbohydrates:

50g
Fiber:

6g
Sugar:

3g
Protein:

6g
Nutrition information is only an estimate and can vary depending on ingredients used.
We've got more wonderful tilefish recipes so make sure to check them out here!
If you've tried this, let us know in the comments below!
Share on your favorite social media platform and tag us @GloriousRecipes – we can't wait to see what you have made!