If you're looking for simple but tasty tilefish recipes, we've got you covered!
There are many species of tilefish with blueline tilefish and golden tilefish being the two most common, and both taste exceptionally good.
The blueline tilefish has firm and flaky white meat when cooked and has a mild and sweet taste.
The golden tilefish is larger in size and tastes sweet as well with the flavor being compared to crabs and lobsters often.
No matter which tilefish you choose to cook and prepare, they are guaranteed to provide delicious meals with our tilefish recipes!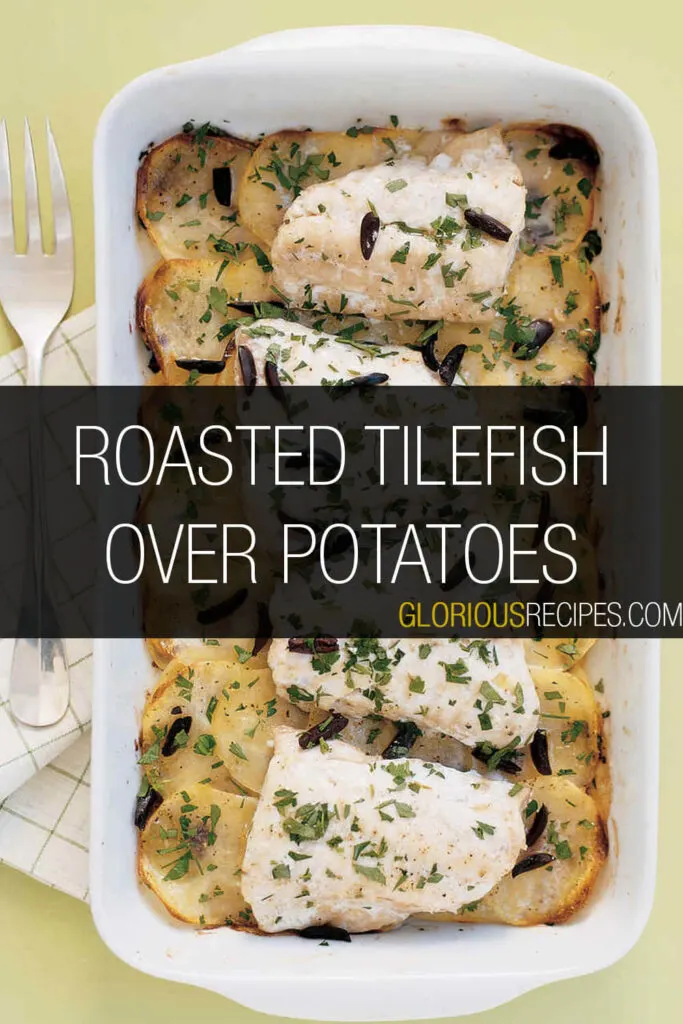 Even if you're a beginner home cook, there's no need to be intimidated by cooking fish and everyone can enjoy a delicious meal with this simple oven-roasted tilefish recipe!
Potatoes are seasoned and layered in a baking dish, along with garlic and olives, and brushed with melted butter before roasting them in the oven till golden brown.
The fish fillets are then seasoned and placed on top of the potatoes and they are placed back into the oven to cook the fish.
Once done, garnish with some olive slices and parsley before serving and you'll have a tasty meal waiting for you!
For a simple and basic recipe that's going to guarantee a great-tasting fish every single time, you'll need to check out this pan-seared tilefish recipe!
The main technique used here is basting, which is to repeatedly scoop up the fats and juices and spoon them over the fish so that it doesn't lose moisture and it's evenly cooked.
In this recipe, green garlic or scallion with melted butter is used as the basting sauce.
Herbs are added to impart even more depth to the flavor and lemon juice is also added at the end to keep the taste refreshing.
The resulting dish is just exceptional and you'll definitely be making this more than once!
If you want to taste the natural sweetness of golden tilefish, check out this straightforward and hassle-free recipe that anyone can make at home!
No pan or skillet is needed here as the oven will be doing all the work with the fish roasted and cooked to perfection.
There's also no need for fancy ingredients because the fish only needs to be seasoned with a basic combination of olive oil, salt, and pepper to retain its natural taste.
Add your favorite veggies and roast them together to create a healthy and filling meal!
Enjoy a crispy fish with this simple recipe that pairs it with fragrant enoki mushrooms to deliver a Japanese-styled dish.
The skin and scales of the fillets are left on and seared in a skillet, which will cause the scales to dehydrate and crisp up.
The tart-tangy flavor of yuzu-infused ponzu butter really complements the fish and everything comes together nicely, creating a super flavorful dish.
Impress your friends and family with this simple yet elegant dish for your next meal!
Relish a well-seasoned crispy oven-baked fish with this quick and easy recipe that will churn out a delicious meal in no time!
The fish fillet is sprinkled with seafood seasoning, salt, and pepper before being placed on a baking dish.
It's then topped with a mixture made up of breadcrumbs, seafood seasoning, butter, lemon juice, and Parmesan cheese.
Pop it in the oven and let it bake while you go about doing your things and come back to a tasty meal that's piping hot!
Pair it with a side of carbs and veggies to make it a wholesome meal!
Tilefish's firm and flaky meat holds up really well to grilling so fire up that grill and check out this delicious grilled tilefish recipe that's going to make you salivate.
Lemon slices are used to form a bed on the grill for the fish fillets to rest on, which helps to impart some of the citrus juices to the overall flavor.
The fillets are coated in a tasty coconut lime compound butter before being placed on the grill to cook.
You'll end up with mouth-watering fish that tastes super delicious and it's perfect for an amazing dinner!
Savor the delicate taste of tilefish with this fantastic recipe that's perfect for an easy and delicious meal.
Shiitake and cremini mushrooms provide earthy and buttery notes to this dish and they combine really well with the sweetness of yellow onions to deliver an awesome flavor to the fish.
Asparagus and potatoes are drenched in a chicken stock reduction which makes them super flavorful and chives are added for a finishing touch.
With how wholesome and nutritious this meal is, you definitely need to add it to your lunch and dinner rotation!
Indulge in this fragrant tilefish with white wine and shallots recipe that's great for a delicious meal!
The fish fillet is pan-seared with its skin on to make it super crispy and it's drizzled with a spoonful of honey which compliments the natural sweetness of tilefish meat.
Shallots are browned in butter and white wine before they're added to the fish for more depth to the flavor.
Serve with some carbs and enjoy this fantastic meal!
Inject some Thai flair into your next meal with this exceptional dish that's super tasty and full of flavor.
Fish fillets are coated with a mixture of ground pistachio and paprika before being pan-fried until it has a crispy exterior with a tender interior.
It's served with Thai green curry that's made with a combination of green curry paste, chicken stock, honey, and coconut milk.
Add in some rice noodles and savor this delicious meal!
We love how flavorful it is and it's easily one of our favorite tilefish recipes!
Dig into this flavorful baked fish that's not only super yummy but also easy to prepare!
Fennel seeds, garlic, and shallot make the dish extremely fragrant and it imparts so much depth to the flavor.
The fish is baked in a sauce made up of balsamic vinegar, clam juice, basil, capers, and tomatoes, providing a sweet and aromatic flavor to the fillets.
Don't waste the sauce and make sure to mop it up with some nice crusty homemade bread!
Expand your cooking skills with this remarkable tilefish recipe cooked en papillote, or in parchment paper.
It is simple, minimalistic, and elegant.
Mushrooms are sautéed in butter and white wine, making them super flavorful.
They form the bottom layer on folded parchment paper with a fish fillet sitting on top of them.
A dollop of lemon herb compound butter is added to the fillet before sealing the package.
It's then baked in the oven and served as it is with parchment paper for an awesome presentation!
Don't let leftover pecan pulp go to waste and use it in this wonderful recipe that'll make you a delicious meal!
The pesto-pecan crust is made by blending lemon juice, lemon zest, basil, garlic, and parsley to first create a pesto sauce.
Olive oil, Parmesan cheese, and pecan meal are incorporated and then seasoned to taste.
This mixture is placed on top of the fish fillets in a baking dish and then baked until the fish is cooked and the crust is formed.
It's super tasty and extremely flavorful with the delicious pesto-pecan mix!
Enjoy a fantastic meal with this recipe that's simple to follow but delivers big on flavor!
It's ridiculously easy to make this dish and all you need to do is season the fish before searing it in a skillet to get that nice exterior that's extremely delicious.
The fish is made even tastier by basting it with butter and capers at the end, rendering it full of delightful flavors that are just irresistible.
Who knew something so simple to make can taste so good?
Basil, parsley, chives, tarragon, and panko crumbs combine together to form the green and fragrant crust of this golden tilefish dish and it tastes amazing!
The fillets are baked for about 15 minutes till they are flaky and cooked through, and a side of cooked collard stems is served along with them.
With the aromatics and herbs, everything smells fragrant and tastes super flavorsome.
It's a great way of enjoying fish, especially if you love herbs!
If you fancy some fried fish to satisfy your craving, check out this quick and easy tilefish recipe!
The fish fillets are dredged in a mixture of seafood fry mix and cornstarch before frying in a pot of oil.
Once fried, they are seasoned to taste with salt and pepper, and lemon juice is squeezed to keep the taste refreshing.
Serve with a dipping sauce such as Tiger sauce or Bitchin' sauce for maximum enjoyment!
At Glorious Recipes, we have our favorite Lemon Garlic Butter Baked Tilefish recipe that we find to be absolutely delicious, plus it's so easy to make! Check out the recipe below!
Yield: 4
Lemon Garlic Butter Baked Tilefish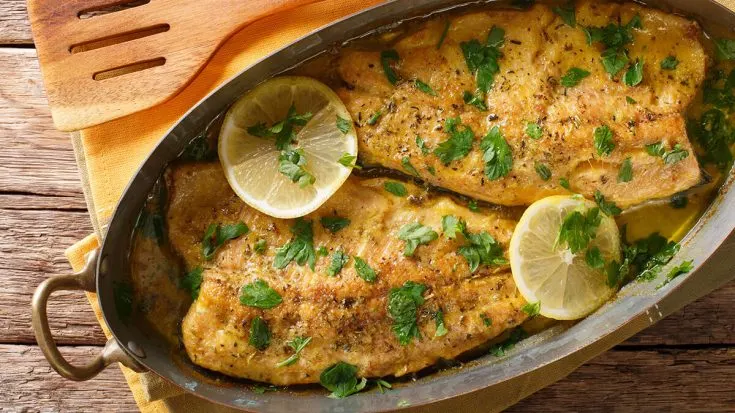 Indulge in this super delicious Lemon Garlic Butter Baked Tilefish that's easy to make and tastes exceptional!
Ingredients
1½ lb tilefish fillets
4 tbsp butter
3 cloves garlic
1 lemon
½ tsp salt (adjust to taste)
½ tsp pepper (adjust to taste)
freshly chopped parsley (for garnish)
Instructions
Preheat oven to 425°F (or 220°C).
Add butter to pan over medium heat and let it melt. Add garlic and stir for about a minute. Zest the lemon and add the lemon zest to melted garlic butter.
Thinly slice the remaining zested lemon and place them in a baking dish, spreading them out to form a layer.
Pat dry the tilefish fillets with paper towels. Season both sides with salt and pepper. Place the fillets over the lemon slices in the baking dish. Spoon lemon garlic butter over fillets. If there are any lemon slices left, you can add them on top of the fillets.
Bake the tilefish fillets for around 12 minutes or until they flake easily with a fork.
Garnish with freshly chopped parsley and serve with your favorite veggies! Enjoy!
Nutrition Information:
Yield:
4
Serving Size:
1
Amount Per Serving:
Calories:

112
Total Fat:

12g
Saturated Fat:

7g
Trans Fat:

0g
Unsaturated Fat:

3g
Cholesterol:

31mg
Sodium:

383mg
Carbohydrates:

3g
Fiber:

1g
Sugar:

1g
Protein:

1g
Nutrition information is only an estimate and can vary depending on ingredients used.
Which of the tilefish recipes have you tried so far?
Let us know in the comments below!
For more fish recipes, check out our Tuna Tartare recipes to serve as appetizers, or try your hand at some amazing Coho Salmon, Albacore Tuna, Whole Tilapia, Smoked Cod, Blackfish, Yellowtail, or Cobia recipes!
Share on your favorite social media platform and tag us @GloriousRecipes – we can't wait to see what you have made!