If you're looking to eat healthier, turkey chops are awesome alternatives to the more common beef or pork chops!
They are lean and flavorful, making them a great choice for whipping up a wide variety of dishes that taste good without loading on the calories.
Whether you like them pan-seared or slow-cooked, you'll definitely enjoy the delightful flavors of turkey chops!
From Coca-Cola glazed chops to oven-baked chops, we've got you covered with some of the best turkey chop recipes that you can easily try at home!
Enjoy a terrific meal with these Smothered Turkey Chops that are incredibly delicious and easy to whip up!
Perfectly pan-fried chops are covered with an awesome gravy that's made with turkey stock, half-and-half, onion, garlic, and mushrooms, with everything baked in the oven until fully cooked.
It's an exceptionally tasty dish that's filled with tons of delightful flavors that everyone is sure to love.
Pair it with your favorite carbs and greens to turn it into a wholesome meal!
Savor tasty pan-seared turkey chops covered in an extremely flavorful gravy with this simple recipe that you definitely don't want to miss out on!
The gravy is made with a delectable combination of flour, butter, rosemary, chives, parsley, and garlic powder, ensuring plenty of mouthwatering flavors to go along with the meat.
It's incredibly easy to make and everything comes together really quickly, making it perfect for an awesome weeknight meal!
With how delicious it is, this is definitely one of our favorite turkey chop recipes!
If you feel like having healthier meals and want to omit all the frying, try making these Baked Turkey Chops instead!
It's simple to bake turkey chops and you can easily vary the seasonings to keep your meals refreshing!
The most important thing is to ensure that the internal temperature of the meat reaches 165°F (75°C) so that you know it's fully cooked.
Serve with your favorite carbs such as mashed potatoes and other sides to complete a splendid meal!
Keep it simple with this fantastic dish that's super easy to make and it's sure to whet your appetite!
Pan-seared turkey chops are paired with sautéed mushrooms and simmered in a mix of chicken stock and lemon slices to create an absolute delight.
It requires only a few basic ingredients that you probably already have stocked up in your pantry, making this a breeze to whip up.
Give it a try and you'll definitely not be disappointed!
Discover an exceptional dish with this Slow Cooker Turkey Chops and Apples that is crazy delicious and it's sure to tantalize your taste buds!
It's super easy to make and all you need to do is add diced apples to a slow cooker along with turkey chops before pouring an incredibly tasty sauce made with cinnamon, honey, apple cider, and brown sugar over them.
The slow cooker does all the work for you and you are can go about your daily routine before coming back to a warm and delicious meal!
The perfect blend of sweet, savory, and spiced flavors makes this one of our favorite turkey chop recipes as well!
Try your hands at making these Marinated Turkey Chops that are extremely flavorful and an absolute must-add to your meal rotation!
With a marinade made by combining hoisin sauce, soy sauce, and apricot jam, you're guaranteed plenty of lovely flavors that make this such an irresistible dish.
The meat is then grilled to perfection, resulting in tender, juicy, and super tasty turkey chops that you can serve with other sides.
It's a straightforward recipe that even beginner home cooks will have no trouble whipping up an awesome meal!
Reward yourself with these excellent Cornflakes-Coated Turkey Chops that are superbly tasty and really easy to make!
Dredged in flour and eggwash, then coated with cornflakes, these chops are pan-fried until golden brown with an amazing crust that adds so much to this wonderful dish.
With a crispy exterior and a tender interior, these chops taste out of this world!
Squeeze a little lemon juice before serving for maximum enjoyment of this delightful dish!
Impress your friends and family with these fantastic turkey chops that are amazingly delectable and will definitely make you salivate at the thought of it!
With a spice rub that includes chili powder, onion powder, garlic powder, smoked paprika, and parsley flakes, you know you'll be enjoying extremely flavorsome meat even before it's cooked.
Add a Coca-Cola glaze into the equation and you have an exceptional dish that tastes heavenly and is sure to be a hit with the crowd.
Everything combines really well together and it's a taste sensation that's hard to beat, making it one of our favorite turkey chop recipes!
Spruce up your next meal with these turkey chops smothered in an absolutely delightful gravy that's loaded with incredible flavors!
Seasoned with a mix of poultry seasoning, onion powder, garlic powder, and other lovely ingredients, the chops are pan-fried to perfection before simmering in a gravy made with butter, flour, onion, and chicken stock.
The meat is juicy, tender, and filled with tons of great flavors that are sure to put a smile on your face.
Serve over a bowl of rice for an easy but tasty meal!
Whip up an awesome meal by pairing grilled turkey chops with french fries for a hearty dish that's also super comforting!
Meat and fries are a classic pairing that can't go wrong and it's easy enough that you can add any of your favorite seasonings to the meat to suit your palate.
Serve with your favorite dipping sauce or try the amazing Tiger sauce or Bitchin' sauce for something different and refreshing!
At Glorious Recipes, we have our favorite Turkey Chops In Black Pepper Sauce that we absolutely adore and they taste heavenly! Check out the recipe below!
Yield: 4
Turkey Chops In Black Pepper Sauce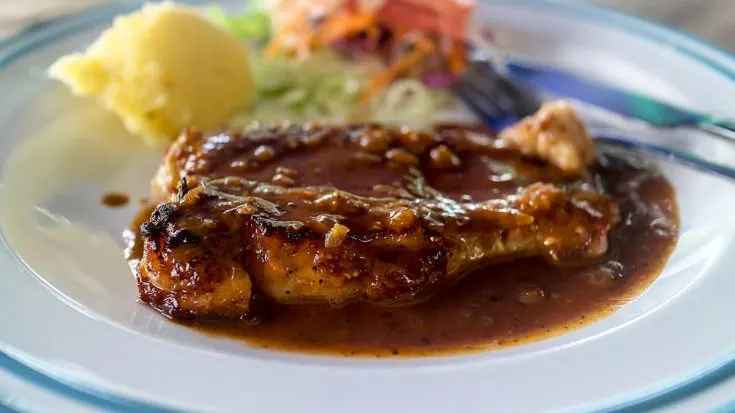 Indulge in these tasty Turkey Chops in Black Pepper Sauce! They are easy to make and taste incredible!
Ingredients
Marinade
4 pieces turkey chops, boneless
1 tbsp ketchup
2 tsp brown sugar
2 tsp Worcestershire sauce
2 tsp soy sauce
Black Pepper Sauce
1 tsp brown sugar
1 tsp Worcestershire sauce
1 tsp soy sauce
½ tsp ground black pepper
¼ tsp of salt
3 tbsp water
1 tsp cornstarch
Turkey Chops
4 tsp olive oil, divided
1 tbsp butter
2 cloves garlic, minced
½ small onion, chopped
Instructions
Combine the ingredients for the marinade in a small bowl. In another bowl, add the turkey chops, then pour marinate over them. Massage gently and ensure they are well-coated. Marinate for at least 2 hours or overnight.
Add a little oil to a skillet over medium-high heat. Add the turkey chops and pan-fry until fully cooked, around 2-4 minutes each side, depending on thickness. If you have a meat thermometer, you can check that the meat's internal temperature should reach 165°F (75°C). Set aside.
Combine 1 teaspoon of cornstarch with 3 tablespoon of water in a small bowl and mix well. Add the other ingredients for the black pepper sauce to the same bowl and stir well.
Add butter and oil to the skillet over low-medium heat and let the butter melt. Add onion and garlic, then sauté until onion becomes translucent and fragrant. Pour the sauce mixture into the skillet and turn up the heat. Let it simmer and thicken a bit.
Pour the sauce mixture over the turkey chops and serve with your favorite sides. Enjoy!

Nutrition Information:
Yield:
4
Serving Size:
1
Amount Per Serving:
Calories:

148
Total Fat:

10g
Saturated Fat:

3g
Trans Fat:

0g
Unsaturated Fat:

6g
Cholesterol:

39mg
Sodium:

498mg
Carbohydrates:

7g
Fiber:

0g
Sugar:

4g
Protein:

9g
Nutrition information is only an estimate and can vary depending on ingredients used.
Which of the turkey chop recipes have you tried so far?
Let us know in the comments below!
For more awesome turkey recipes, check out the following:
Turkey Tenderloin
Ground Turkey and Rice
Turkey Kielbasa
Share on your favorite social media platform and tag us @GloriousRecipes – we can't wait to see what you have made!