Ground turkey is a great alternative to other meat because it's lean, healthy, and full of essential nutrition!
It's also a very versatile ingredient that can be used in many different recipes to whip up tasty dishes!
One of the easiest ways is to pair it with rice for a wholesome meal and you get your carbs, protein, and healthy fats all in one bowl!
From Asian-inspired recipes to Mexican rice bowls, we've got you covered with some of the best ground turkey and rice recipes that you can easily try at home!
Enjoy a delicious meal with this teriyaki rice bowl that'll definitely tantalize your taste buds!
The sweet and savory flavors of the teriyaki sauce go extremely well with the ground meat and when you add vegetables into the mix, you have a complete dish to satisfy your appetite.
Everything comes together really quickly and this is a great option to add some variety to your weeknight dinners!
Every mouthful is filled with umami flavors and there's nothing not to like about this ground turkey and rice recipe!
Recreate the exotic flavors of Mongolian cuisine with this fantastic recipe that you just can't miss out on!
Ground turkey, bell peppers, onion, and garlic combine to create a fragrant mix of protein that's paired with white rice and topped with a sweet and spicy Mongolian sauce to deliver an incredible dish.
The sauce makes everything extremely flavorful and is made with soy sauce, hoisin sauce, sesame oil, sugar, garlic, and red pepper flakes.
The dish is finished off with a garnish of green onions and sesame seeds that makes it just so irresistible!
This is one of our favorite ground turkey and rice recipes because it's all made in one pan and it's amazingly delicious!
There's no lack of flavor here with ground meat, rice, mushrooms, aromatics, beef stock, and onion soup mix all combined to create a superb dish that'll definitely whet your appetite.
It's topped with shredded cheese at the end for a wonderful finish that enhances the taste even further.
No need to worry about a messy cleanup with this one-pan recipe that you need to add to your meal rotation!
Mix things up a little and make this ground turkey and rice soup that's both hearty and comforting at the same time!
With carrots, bell peppers, onion, celery, and chilies, this dish is loaded with nutrients that are good for your body.
Ground turkey provides lean protein and rice helps to soak up all that delicious chicken broth that makes everything so flavorful.
It's a fantastic combination that makes for great comfort food and you'll definitely crave it on a cold and chilly evening!
Get a taste of Southern-inspired cuisine with this dirty rice that's amazingly delicious and really easy to whip up!
A delightful combination of ingredients helps to make this dish super tasty with garlic powder, onion powder, oregano, and chicken bouillon adding depth to the flavor of ground turkey and brown rice.
The vegetables give great texture and nutrition to make it a complete meal that the whole family can enjoy.
It's straightforward to make with simple ingredients that deliver a great taste!
Skip the tacos for Mexican night and try your hands at making this quick and easy turkey taco rice skillet instead!
Made with ground turkey, rice, black beans, zucchini, peppers, corn, and tomatoes, this dish has all the familiar flavors that we've come to love and enjoy with the addition of taco seasoning.
It's also really easy to add your favorite toppings to elevate the dish to the next level, with jalapeños, salsa, and avocado all being great options.
You only need 20 minutes to make this incredible dish, making it a terrific choice for an awesome weeknight meal!
Go healthy with this amazing ground turkey with rice and broccoli that's super delicious and made with a handful of common ingredients!
This wonderful dish combines soy sauce, Worcestershire sauce, chicken stock, white wine, and a variety of spices that add so much depth and complexity to the flavor.
It's loaded with aromatics and vegetables which make it a hearty meal that's great any time of the week!
With how nutritious and delicious this simple dish is, it's definitely one of our favorite healthy ground turkey and rice recipes!
If you love warm and strong flavors like curry, you've definitely got to check out this incredible dish that's oh-so-yummy!
It's a quick and easy recipe that makes an extremely flavorful dish with curry powder, cumin, coriander, turmeric, and ground ginger all spicing things up and adding layers of flavors that combine really well together.
All the spices are cooked with ground turkey and vegetables to impart their fragrance and they are served on top of steamed rice for a simple but delicious meal!
You'll definitely love how tasty it is for something so easy to make, and it's a must-add recipe to your dinner rotation!
Impress your friends and family with these fantastic Mexican Ground Turkey Rice Bowls that are absolutely delicious!
It's incredibly easy to make and all you need to do is sauté the meat and vegetables before stirring in rice, black beans, salsa, tomato sauce, and all the other lovely ingredients.
Don't miss out on adding lime juice and cilantro at the end because they are what make this dish even tastier!
It's an exceptional dish that you can whip up in no time at all and you'll be wanting a second serving with how delectable it is!
Stuffed peppers with ground turkey and rice make for a wholesome meal that you never knew you needed and it's a recipe that you definitely want to try!
Aromatics, Italian seasoning, tomatoes, and parsley help to give depth to the flavor of the ground meat and rice, and they are stuffed into bell peppers and topped with cheese before being baked to perfection.
They are incredibly delicious and satisfying with all the nutrition you would want in a single dish!
If you're on a gluten-free diet and crave some delicious ground turkey fried rice, don't miss out on this wonderful recipe!
Egg, frozen peas, carrots, ground meat, and rice are combined with gluten-free soy sauce and aromatics to make a magnificent fried rice that's amazingly tasty.
The best part is that it's all made in one skillet, which means less time spent on cleaning and more time to do your other activities!
There are so many things to like about this recipe with its simplicity and superb flavors!
Ground turkey, rice, and beans make for an amazing combo and they are turned into an incredible meal with this casserole recipe!
They are combined with tomatoes, onion, and a variety of seasonings before being topped with grated cheese and baked until it's covered with melted cheese.
It's loaded with awesome flavors that make it so delicious and you'll be impressed by how tasty it can be for something that takes so little effort!
Don't miss out on all that melted cheese goodness and make sure to try it for your next meal!
If you've been sticking to the same few dishes for your weekly meal prep, this tasty Asian Ground Turkey Rice Bowl is here to save the day!
It's ridiculously easy to make and with its incredible flavor, you can eat it every day and not get tired of it!
The sauce is made with a simple combination of soy sauce, fish sauce, rice wine, and cornstarch, and it's poured and mixed with ground turkey and vegetables in a skillet to coat and cook them.
Serve over white rice or cauliflower rice, plus a garnish of scallion, sesame seeds, cilantro, and lime for maximum enjoyment of this wonderful dish!
Make your next meal a little special with this terrific recipe that combines many delightful ingredients to create an amazing treat!
With a seasoning of chipotle powder, cumin, chili powder, and dried cilantro, you know there will be plenty of great flavors with every bite.
It's an incredible mix of ground turkey, rice, corn, tomatoes, black beans, dried chilies, and cheese that makes it such a splendid dish.
There's no doubt that you'll fall in love with this ground turkey and rice recipe because it's just that tasty!
If you're looking for a low-carb and gluten-free meal that tastes amazing, check out this simple ground turkey and cauliflower rice recipe!
It's incredibly flavorful with a blend of spices that include paprika, turmeric, and cumin, with many other wonderful ingredients such as jalapeños and herbs imparting their fragrance as well to give depth to the flavor.
Add ground turkey and cauliflower rice to the mix and you have a fantastic meal that is sure to please everyone!
This is a great dish to add some variety to your meals and it doesn't take much effort to make at all!
We love it for its great flavors and with how easy it is to make, it's definitely one of our favorite ground turkey and rice recipes!
This Korean-inspired ground turkey bowl is as easy as it comes and you'll be having delicious food on the table within 20 minutes!
Made with ingredients that you probably already have in your kitchen, the flavors are perfectly balanced with soy sauce, brown sugar, and garlic providing the bulk of fragrance.
A garnish of sesame seeds and green onion is sufficient to enhance the taste of the dish further, and if you like it spicy, make sure to add the red chili flakes!
Serve over steamed white rice or brown rice for an awesome meal any time of the day!
At Glorious Recipes, we have our favorite Stuffed Peppers with Ground Turkey and Rice that we absolutely adore and they taste heavenly! Check out the recipe below!
Yield: 6
Stuffed Peppers With Ground Turkey And Rice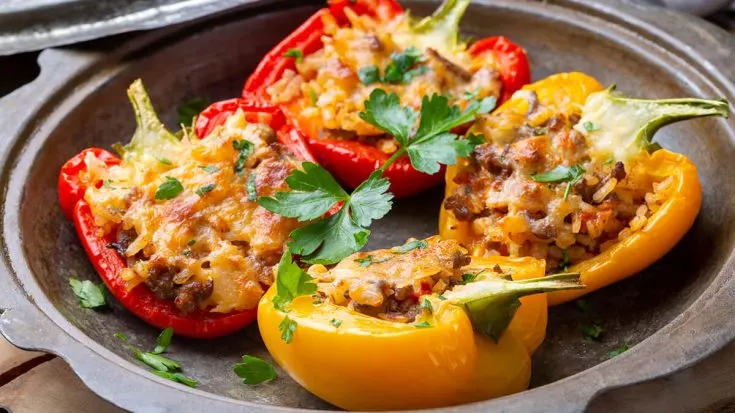 Enjoy tasty peppers stuffed with ground turkey and rice that are super easy to make with simple ingredients!
Ingredients
1 lb ground turkey
3 tbsp olive oil
4 cloves garlic, minced
1 medium onion, diced
1½ cups long grain rice, cooked
14 oz tomatoes, diced with juices (canned)
1 tsp Italian seasoning
salt, to taste
black pepper, to taste
⅓ cup parsley, freshly chopped
3 large bell peppers
1½ cups mozzarella cheese, shredded
¼ cup Parmesan cheese, shredded
water
Instructions
Start by preheating your oven to 375°F (or 190°C).
Add 1 tablespoon of oil to skillet over medium-high heat. Add ground meat and break it apart while letting it cook through. Push to one side of the skillet when done.
Add remaining oil to skillet and then garlic and onion. Cook a couple of minutes until fragrant before mixing with ground meat.
Add rice, tomatoes, and Italian seasoning and mix well. Season with salt and pepper until desired taste. Add parsley and ½ cup of mozzarella cheese before combining everything together. Set the mixture aside when done.
Cut peppers into half lengthwise. Remove seeds and stem. Add a little oil, salt, and pepper to the inside of the peppers before filling them with the prepared mixture.
Place the stuffed peppers on a baking dish and add a little bit of water to the pan so that it can steam the peppers. Cover the baking dish with foil before baking for 30 minutes or until the peppers are tender.
Uncover the foil and top the peppers with remaining cheese. Bake for another 10 minutes until cheese has melted. Broil for a minute to get a nice golden brown finish.
Garnish with parsley if desired. Serve and enjoy!
Nutrition Information:
Yield:
6
Serving Size:
1
Amount Per Serving:
Calories:

465
Total Fat:

28g
Saturated Fat:

9g
Trans Fat:

0g
Unsaturated Fat:

16g
Cholesterol:

105mg
Sodium:

427mg
Carbohydrates:

26g
Fiber:

2g
Sugar:

9g
Protein:

29g
Nutrition information is only an estimate and can vary depending on ingredients used.
Which of the ground turkey and rice recipes have you tried so far?
Let us know in the comments below!
For more awesome ground meat recipes, check out the following:
Ground Bison
Ground Elk
Ground Veal
Ground Pork Pasta
Share on your favorite social media platform and tag us @GloriousRecipes – we can't wait to see what you have made!