Soju is a popular Korean spirit that's fantastic whether you drink it straight, on the rocks, or use it to create tasty cocktails!
You might even find soju flavored with different fruits and herbs, adding extra layers of depth to the flavor of the alcohol.
It's similar in taste to vodka but has a unique flavor profile all its own and you'll love how it complements other ingredients when concocting a wide variety of drinks.
From yogurt soju to mojitos, we've got you covered with some of the best soju cocktails that you can easily make at home!
Enjoy an excellent cocktail with this simple recipe that makes an incredibly delicious beverage, perfect for a relaxing evening!
It's an amazing mix of blood orange juice, grapefruit soju, cucumber, and fresh mint, all shaken and strained, plus a little tonic water to add in some fizz.
The citrusy flavors make this cocktail super refreshing and it's a drink that you'll likely find yourself sipping on all day long.
Give it a try and you'll definitely not be disappointed!
Caipirinha is Brazil's national cocktail and this recipe gives the classic drink a simple twist by incorporating soju into it!
Soju is used in place of cachaça as the alcohol base and it's added to a cocktail shaker along with lime, sugar, and ice to mix all the ingredients together.
It's an exceptional drink with light and refreshing flavors that are easy to enjoy, making it a perfect cocktail that you can indulge in.
The great taste and simplicity of this drink make this one of our favorite soju cocktails!
Reward yourself with this terrific Soju Purple Rain that's crazy delicious and is sure to make you salivate with its bright and vibrant color!
Made with fresh fruit juices that include pineapple juice, blueberry juice, blackberry juice, and lemon juice, this is a drink that you definitely don't want to miss out on!
Soju combines extremely well with the juices and they come together to create a mouthwatering cocktail that's sure to please.
Garnish with pineapple, blackberry, and fresh mint to complete this awesome drink!
Whip up an awesome beverage with this superb yogurt soju cocktail recipe that you'll definitely want to keep handy!
Featuring a mix of soju, Yakult, and Sprite, this is an extremely delicious drink that's sure to be a crowd-pleaser with its fantastic taste.
Thanks to Yakult, you'll have probiotics in your cocktail as well so you now have an excuse to indulge in this creamy and tasty cocktail!
Pair it with Korean cuisine to enjoy this cocktail to the fullest!
Treat yourself to an exquisite and classy cocktail with White Gold and you'll be impressed by how incredible it tastes!
It's a delectable combination of Cointreau, soju, egg white, and lemon juice to create this palatable drink with sweet and tangy notes.
The frothy egg white helps to provide an additional layer of texture and depth to make it extra special and there's no doubt that this cocktail will be a hit with the crowd.
With how delicious it is, this is a must-add to your cocktail rotation!
Keep it simple with this fantastic Soju and Tonic, and it's as easy to make as the name sounds!
One part soju and two parts tonic water are all it takes to make this superb cocktail, and it's strangely addictive for something so simple to make.
The added fizz just elevates it to another level and tonic water is also perfect for diluting the alcohol content of soju as drinking it as a shot might be too intense for some people.
After all, you'll want to slowly savor the wonderful taste of soju!
This Cucumber-Soju Cooler is an amazing cocktail that tastes absolutely fantastic and super refreshing!
It's made with a combination of lime simple syrup, cucumber-mint purée, soju, and club soda, ensuring plenty of delightful flavors that will satisfy your taste buds.
Take a sip of this incredibly invigorating cocktail and you'll be energized in an instant!
Serve this thirst-quenching drink on a hot and sunny day and everyone will definitely be fighting for seconds!
If you love strawberries, you've got to check out this wonderful Strawberry Soju Cocktail that's crazy delicious and it looks exceptionally pretty as well!
There's no lack of strawberry flavor with strawberry soju, strawberry Calpico, dice strawberries, and Sprite used in the making of this lovely cocktail.
The beautiful pink color makes it super appetizing and the blend of ingredients creates a taste sensation that is hard to beat.
We have no doubts that this will quickly become one of your favorite soju cocktails!
Expand your collection of soju cocktail recipes with this excellent but simple Soju Mojito that's oh-so-yummy!
Taking your pick of either yuzu or orange, the fruity ingredient is then combined with soda, soju, and mint leaves to create a flavored mojito.
They taste super refreshing with citrusy flavors that are easily enjoyed by everyone, making them a popular option any time of the day.
Try both and you'll definitely fall in love with their wonderful flavors!
Enjoy the delightful flavor of Asian Pear with this terrific soju cocktail that's sure to captivate your taste buds!
Fresh Asian pear slices are muddled in a glass along with mint leaves and limes before the addition of soju, simple syrup, and ice finishes the concoction of this lovely cocktail.
The sweet notes from the pear are well-balanced with the tangy flavor of lime juice to create an extremely delectable beverage.
Garnish with slices of pear, mint leaves, and lime to maximize the enjoyment of this incredible drink!
Shake things up a little and try out this fun Strawberry Soju Slushie that's exceptionally refreshing and a fantastic cocktail to make!
It's incredibly easy to whip up and all you need are some ice, frozen strawberries, sugar, water, and soju.
Everything is blended until a nice slushie consistency is achieved and it's an outstanding drink that's loaded with sweet and fruity notes.
If you're tired of the regular cocktails, give this a try and you might just have a new favorite drink!
For the perfect alcoholic drink to quench your thirst, check out this amazing Soju Watermelon that's superbly tasty!
Sweet and juicy watermelons are blended and strained to obtain their lovely juice, after which water and maple syrup are added to create a brilliant but simple cocktail.
It's completed with a garnish of basil and the addition of ice cubes before serving, and with its refreshing flavor, it'll surely satisfy any palate!
Serve this cocktail for your next party and be prepared to be showered with compliments!
Impress your friends and family with this marvelous cocktail that's amazingly delicious!
It's ridiculously easy to make and all you need to do is to add a mango Melona ice cream bar into a glass with mango soju and Sprite.
The ice cream will melt and combine with the alcohol and soda, enhancing the taste of this exceptional flavored soju cocktail.
It's a novel concoction that you absolutely need to try!
If you've never tried a warm cocktail before, you've got to check out this awesome recipe that makes an excellent dessert drink!
Made by combining warm milk, maple syrup, soju, and vanilla extract, this is a sweet and creamy cocktail that you just can't get enough of.
It's so delicious that you'll likely be hard-pressed to limit yourself to just one serving of this lovely drink!
You can also enjoy it cold by using cold soju and cold milk instead!
Inject floral notes into your next cocktail with this splendid Lavender Soju Lemonade that's super tasty and refreshing!
Lavender flowers are steeped in hot water before lemon juice, sugar, and soju are added to create this lovely cocktail.
It's easy to make but feels special with the steeping of lavender flowers, making it perfect for an awesome brunch cocktail.
The light and perfectly balanced flavors make this a super enjoyable drink any day of the week!
Give a simple upgrade to the neutral-tasting soju with this simple recipe that adds the tropical flavor of pineapples!
It's as easy as combining soju, lemon-lime soda, and pineapple juice together to create this great-tasting flavored soju drink.
The sweet and vibrant flavor of the pineapple juice goes amazingly well with the slight tartness of lemon-lime soda to create a delightful cocktail that's pleasing to the taste buds.
You'll love how straightforward it is to whip up this fantastic beverage!
Bloody Soju is a Korean-styled twist on the classic Bloody Mary and if you're looking for something bold and refreshing, this is definitely the cocktail for you!
With a spice mix that includes Korean chili flakes, garlic, onion, black pepper, and other lovely spices, you're guaranteed an extremely tantalizing experience.
Along with soju, sriracha sauce, tomato juice, soy sauce, and other ingredients, this is a cocktail that's sure to make you go wow!
This elegant cocktail is sure to impress everyone with its fantastic flavor and classy look!
It's a special drink that uses sesame-infused soju to combine with lemon juice, honeydew melon juice, simple syrup, honey, and club soda.
The resulting cocktail is exceptionally tasty with refreshing flavors that are sure to put a smile on your face.
Garnish with melon balls to complete this amazing drink that's definitely one of our favorite soju cocktails!
Give a simple twist to the classic Gin and Tonic with this splendid cocktail that's really delicious and pairs exceptionally well with food that are filled with rich and bold flavors!
Soju is mixed with celery shrub syrup, which is made by combining celery juice, sugar, and rice wine vinegar, and then topped with tonic water to finish off this delightful drink.
It has a beautiful green hue that makes it look super appetizing and it's definitely a drink that doesn't disappoint in taste.
Try it for your next meal and you'll be pleasantly surprised!
Take green tea to new heights in this terrific recipe that makes an incredibly tasty drink!
It's a simple combination of green tea, sugar, and soju but the taste of this cocktail is fragrant, refreshing, and superbly enjoyable.
Garnish with lemon slices and pair it with some Korean food to complete a wholesome experience!
If you're a fan of green tea, this cocktail should be right up your alley!
At Glorious Recipes, we have our favorite Easy Yogurt Soju Cocktail that we absolutely adore and it tastes heavenly! Check out the recipe below!
Yield: 1
Easy Yogurt Soju Cocktail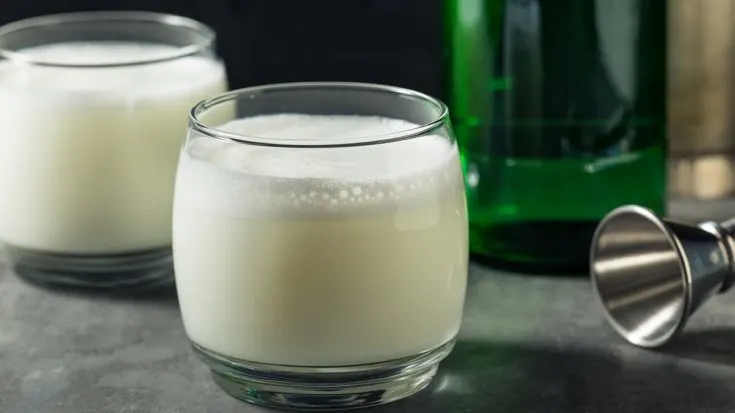 Indulge in this incredibly delicious Yogurt Soju Cocktail that's sure to delight your taste buds!
Ingredients
4 oz soju
2 oz cultured milk drink (Yakult works great here)
1 oz lemon-lime soda (eg. Sprite or 7-Up) (optional)
Instructions
Combine all the ingredients and enjoy! You can adjust the proportions of each ingredient accordingly, it's that flexible!
Notes
Depending on the brand of your cultured milk drink, it might already be very sweet. If so, you might want to omit the lemon-lime soda.
Nutrition Information:
Yield:
1
Serving Size:
1
Amount Per Serving:
Calories:

193
Total Fat:

1g
Saturated Fat:

1g
Trans Fat:

0g
Unsaturated Fat:

0g
Cholesterol:

5mg
Sodium:

35mg
Carbohydrates:

6g
Fiber:

0g
Sugar:

6g
Protein:

2g
Nutrition information is only an estimate and can vary depending on ingredients used.
Which of the soju cocktails have you tried so far?
Let us know in the comments below!
For more awesome alcoholic recipes that you might like, check out the following:
Smoked Cocktails
Crème de Violette Cocktails
RumChata Drinks
Crown Royal Peach Recipes
Empress Gin Cocktails
Jungle Juice
Goya Coquito
Vodka Sour
White Gummy Bear Shot
White Tea Shot
Share on your favorite social media platform and tag us @GloriousRecipes – we can't wait to see what you have made!