Turkey kielbasa is a tasty Polish sausage that can be incorporated into many wonderful dishes or eaten on its own!
You'll usually find it pre-cooked and it's a great way of adding wonderful smoky flavors to any meal.
From fantastic pasta to delicious kabobs, we've got you covered with some of the best turkey kielbasa recipes that you can easily try at home!
Enjoy hearty comfort food with this incredible pasta bake that's amazingly delicious and just irresistible!
Penne and turkey kielbasa make a great pairing and when you coat them with a flavorful creamy sauce, they combine to create a delightful dish that's super satisfying.
Topped with shredded mozzarella cheese and baked until melted cheesy goodness is achieved, this pasta bake is a must-try for everyone.
It's definitely one of our favorite turkey kielbasa recipes with how delectable it is!
You can't get a quicker and easier recipe than this and this dish is perfect for a lightweight meal that you can whip up instantly!
It's a combination of turkey kielbasa, onion, and mini bell peppers sautéed until they are warm and fragrant, creating a simple dish that tastes great and cooks fast.
You'll be enjoying this wonderful dish within 15 minutes and it's great as a side dish or late-night snack!
With such delightful flavors, this simple recipe is great for expanding your cooking repertoire!
For an amazing dish that's perfect for weeknight dinners, you've got to check out this simple turkey kielbasa recipe!
It's super easy to make with kielbasa, pineapple chunks, and BBQ sauce being added to a crock pot and left to cook for a few hours until they are done.
This dish is filled with delightful flavors and can be paired with rice for a wholesome meal or served as it is for a superb appetizer or side dish!
This fantastic Kielbasa Pasta is perfect for a quick weeknight meal that tastes awesome with minimal cleanup involved because everything comes together in just one pan!
There's no lack of flavors here with smoked turkey kielbasa, aromatics, chicken broth, and tomatoes all adding depth to the overall flavor of this dish.
It's made even better with the addition of cheddar cheese and scallion, which help to make the pasta absolutely tasty and elevate it to another level!
Nothing compares to a bowl of comforting soup on a chilly day to warm your body right up and this recipe definitely doesn't disappoint!
Turkey kielbasa sausage combines with vegetables, aromatics, herbs, and bone broth to create a nutritious and tasty soup that'll definitely blow your mind with how delicious it is!
It's incredibly easy to make with an Instant Pot and you'll be sipping every last drop of this exceptional soup!
Try it once and you'll be craving it whenever the weather turns cold!
Savor fantastic kabobs made with pineapple chunks, vegetables, shrimp, and turkey kielbasa sausages that are absolutely delicious!
These kabobs are extremely flavorful with tender shrimp being marinated in pineapple juice, soy sauce, lime juice, and other wonderful ingredients before they are grilled with kielbasa, bell peppers, onion, and pineapple pieces.
The marinade adds so much complexity to the flavor and a garnish of cilantro helps to make the kabobs really refreshing.
They taste superb and definitely make it to our list of favorite turkey kielbasa recipes!
On days when you want a quick and easy dish to get all your macros, this recipe will definitely come in handy!
With potatoes, cole slaw mix, and turkey kielbasa, you get your carbs, protein, fiber, and other nutrients all in one dish!
It's hassle-free and super convenient as it's a one-pot recipe, reducing the cleanup involved at the end of the cooking session.
You'll love how tasty it is for something so simple to make and the cooking time is only 30 minutes, making it perfect for a weeknight dinner!
This Kielbasa Hash is easy to make, tastes delicious, and is definitely a must-add to your meal rotation be it breakfast, lunch, or dinner!
It's made with simple ingredients that come together really well and you can easily whip up an awesome meal in less than 30 minutes!
Turkey kielbasa, bell peppers, onion, and hashbrowns are cooked in a skillet and seasoned with salt and pepper to create this delightful dish.
Add over-easy eggs and you'll have a wholesome meal that everyone can enjoy!
This cheesy pasta is amazingly delicious and super addictive, making it a great dish to prepare for a hearty meal!
With delightful ingredients such as onion, garlic, tomatoes, kielbasa, milk, chicken broth, and pasta, you can be guaranteed that this dish will turn out awesome.
Add melted cheese into the mix and you'll have a savory pasta that's super enjoyable and tastes fantastic.
There's nothing not to like with this one-pot recipe!
Try your hands at this simple turkey Polska kielbasa recipe that makes a lovely dish and tastes absolutely delicious!
Green cabbage and turkey kielbasa are the main ingredients here and they are made tastier with red wine vinegar, aromatics, and paprika.
It's ridiculously easy to make and you'll be surprised at how tasty this is for something that takes so little effort to whip up.
Pair it with crusty homemade bread for a complete meal!
For a low-carb and keto-friendly dish that's easy to make and delicious, you've got to check out this amazing Kielbasa Veggie Sheet Pan recipe!
Asparagus, tomatoes, and bell peppers are coated with a variety of seasonings that add so much complexity to the flavors, and along with turkey kielbasa sausages, they are baked in the oven until tender.
The oven does most of the work and it's great for those looking for a simple low-carb recipe!
Grace your taste buds with this fantastic recipe which makes a wholesome meal that'll definitely satisfy any cravings!
Sweet potato, kielbasa, eggs, and melted cheese combine to create an amazing dish that's made even more flavorful with garlic salt, onion powder, and parsley.
It's a wonderful mix of sweet and savory which makes this a lovely dish that's perfect any time of the day!
Serve this as a hearty breakfast or a fulfilling lunch or dinner!
Treat your family to a superb meal with this delicious dish that combines kielbasa, shrimp, and rice!
The ingredients are filled with wonderful flavors from a variety of herbs and seasonings and they come together really well to create an exceptional dish.
Fresh scallions help to impart additional depth to the flavor and it's just so tasty and irresistible!
This can be made in under an hour and with how tasty it is, it's definitely a must-add to your meal rotation in our books!
It's no secret that sausages and sauerkraut make for an excellent pairing and this recipe elevates the combo with a few simple ingredients!
Caraway seeds and brown sugar are used to balance the tangy flavors of sauerkraut and along with potatoes and kielbasa, everything combines to create a wholesome dish that's super satisfying.
It's really easy to make this dish and everything is cooked in the slow cooker so you can go about your day and come back to a delightful meal!
Level up your cooking skills with this incredible dish that'll definitely impress your friends and family with how delicious it is!
French bread cubes and dried cranberries combine with kielbasa, onion, baby kale, and cheddar cheese in a tasty egg custard to create a fantastic dish that'll get you hooked on the first bite!
It tastes excellent and looks fancy enough for special occasions but also easy enough to make regularly!
Everyone will be asking for a second serving once they've had a chance to try it!
Keep it simple with this 20 minutes recipe that'll put a tasty dish on the table with basic ingredients!
Kielbasa, kale, and lentils are cooked with a simple seasoning of salt, pepper, and a little apple cider vinegar to balance out the flavors.
They combine to create a delectable dish with the greens providing plenty of nutrition to make it a fantastic weeknight meal!
This one-pan recipe is the dream weeknight dinner that's quick and easy to make!
Yield: 16
16 Easy Turkey Kielbasa Recipes To Try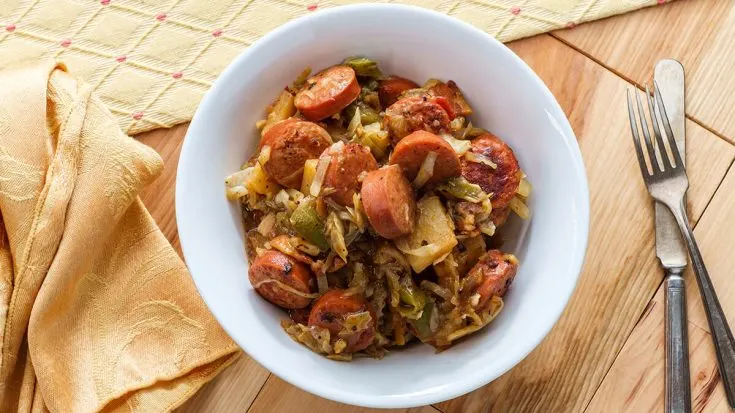 Try these turkey kielbasa recipes and enjoy a delicious meal! From fantastic pasta to delicious kabobs, there's always something for every occasion!
Instructions
Choose your favorite turkey kielbasa recipe.
Prepare all the required ingredients.
Whip up the tasty dish and enjoy an awesome meal!
Nutrition Information:
Yield:
16
Serving Size:
1
Amount Per Serving:
Calories:

270
Total Fat:

16g
Saturated Fat:

1g
Cholesterol:

52.5mg
Sodium:

1482mg
Carbohydrates:

16.5g
Fiber:

6g
Sugar:

5g
Protein:

19.5g
Nutrition information is only an estimate and can vary depending on ingredients used.
Which of the turkey kielbasa recipes have you tried so far?
Let us know in the comments below!
For more lunch and dinner recipes, check out the following:
German Sausage
Ooni
Turkey Chop
Turkey Tenderloin
Oaxaca Cheese
Ring Bologna
Sauerkraut Recipes with Meat
Meat Church Recipes
Canned Beef
Yellowtail
Share on your favorite social media platform and tag us @GloriousRecipes – we can't wait to see what you have made!