Angus beef is known for its superb marbling, tenderness, and juiciness which makes the meat exceptionally tasty.
The term "Angus" refers to a breed of cattle that originated from Scotland.
Due to the cold winters, the cattle had to be sturdy enough to survive and hence they have high muscle content with great marbling qualities.
When choosing your Angus beef, look out for the USDA grading with "Prime" topping the quality scale and "Select" being leaner with less marbling.
"Choice" is in between and is a good option with the quality vs price trade-off.
There are many ways of cooking the meat and we will show you 13 Angus beef recipes that are both easy and delicious!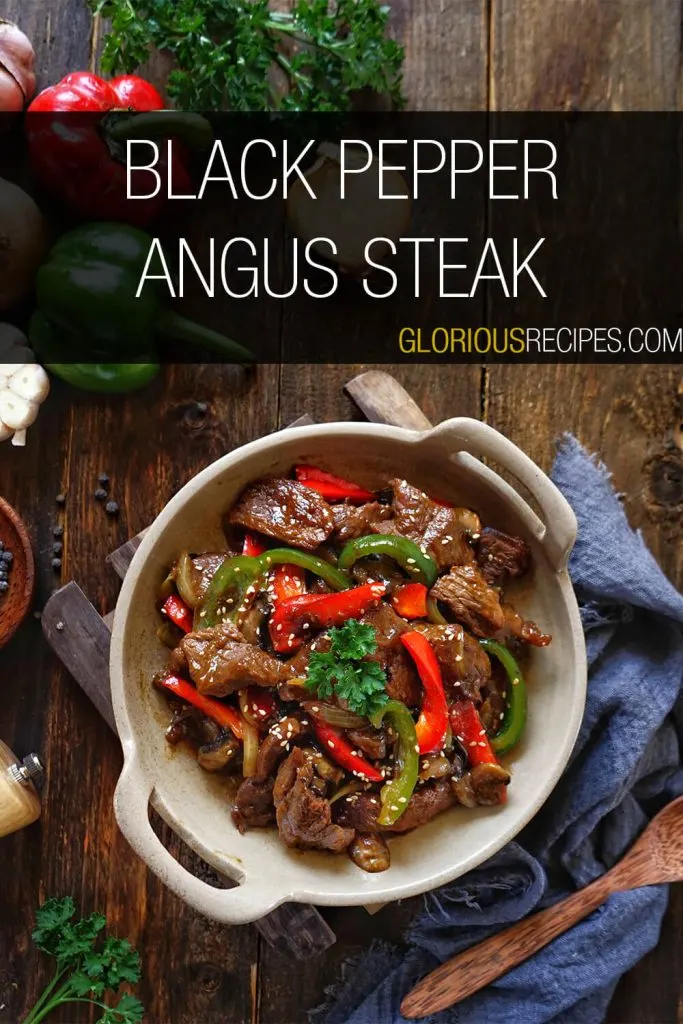 This black pepper Angus steak is a really simple and delicious dish.
It involves a quick stir-fry of the beef in the wok with a black pepper marinate, along with some onions, garlic, and bell peppers.
It smells so good and we can guarantee you will cook it more than once!
The good thing about this recipe is that you can prepare a whole batch of black pepper marinade for future use and with proper storage, it can last for months!
Pair it with rice and you will have a wholesome delicious meal!
This Angus steak fajitas recipe is super easy and it tastes really good!
With homemade fajitas seasoning, you will be eating restaurant-quality food at a fraction of the price!
This simple recipe involves grilling the meat with the marinade, along with bell peppers, onions, and garlic.
For the best-tasting fajitas, you can marinate the meat longer so that all the spices are absorbed into the meat for maximum flavor!
Eat it with some tortillas and you will have an authentic Mexican dining experience!
This oven-baked Angus beef chuck roast recipe is easy, amazingly delicious, and healthy!
The meat is crazy tender and with the colorful vegetables, it is a great-looking meal as well!
All you have to do is season the meat with salt and pepper and then start cooking the beef on a pan till it's crispy on the outside.
The rest of the meat will be roasted in the oven.
For the veggies, you can choose any that you like and saute them in your favorite style, or you can just use onions, garlic, and soy sauce for a simple meal!
If you are looking for an Angus beef short ribs recipe, you need to check this out.
These red wine braised short ribs are crazy good and the meat is so tender that it just falls apart!
It's cooked in a Dutch oven so it'll need some time to braise the meat, but trust us, it's definitely worth it.
The bone-in short ribs are slowly braised in red wine sauce which helps to provide an amazing aroma and flavor to the meat.
The secret is to reduce the red wine first so that it is concentrated, which helps to bring the flavor out!
This steak bites with garlic butter recipe is bound to delight your taste buds with some Angus beef cubes!
Anything with garlic butter tastes so good that it is impossible to go wrong.
The cubed steak bites are seared to perfection and taste terrific!
The meat only requires a few minutes to cook and garlic is added at the end.
This quick and easy recipe only takes 15 minutes and you will get a tasty snack or meal in no time!
For the best sauce to pair the steak bites with, check out the Tiger sauce recipe that you can make at home as well!
This is one of the best Angus beef burger recipes that we have tried.
It is simple to make and the ingredients are all common spices that you would find in a well-stocked kitchen.
Best of all, you can make it using an electric grill, charcoal grill, or skillet!
We definitely recommend using ground Angus beef for this as we want the marbling to give it a nice flavor.
Feel free to add any ingredients or condiments, they all taste amazing!
This London broil recipe involves marinating the meat for 2 hours at room temperature before grilling it for a few minutes.
It is extremely flavorful due to the crosshatch cuts on both sides of the steak, which helps to increase the surface area and let the marinade get into the meat.
Using Angus beef for the London broil makes the final dish really tender and juicy.
This recipe should definitely be part of your dinner rotation!
This classic dish is a must-try and it is cooked using a slow cooker.
Brisket is a cut of meat from the underside of the animal and has a significant amount of connective tissues, hence slow-cooking is the way to go when cooking it.
With this Angus beef brisket recipe, you will end up with a super rich, bold, and flavorful gravy that is absolutely delicious!
The secret ingredient is the ketchup and tomato paste that help to give additional layers of flavor to balance out the rich gravy.
You definitely need to try out this beef brisket recipe!
This lemon garlic Angus chuck steak recipe is incredible.
It is so easy to make and tastes really amazing.
Every bite of the steak provides a nice garlicky and tangy flavor that you will never get sick of.
All you need to do is rub the garlic and seasoning on the meat, squeeze some lemon on it, and cook the meat in a hot pan for a few minutes.
Add in paprika for the added flavor.
This is best eaten with medium doneness and you can just feel the fats melting in your mouth!
This crock-pot Angus beef roast recipe is just so convenient as it is an all-in-one meal that you can just dump the ingredients into the slow cooker.
The resulting gravy is rich, flavorful, and has a nice dark brown color, plus you can really taste the depth of the flavor.
Add in your favorite herbs like thyme and rosemary for an even better-tasting sauce!
The meat is seared beforehand and provides a nice color and texture and we highly recommend not skipping this step.
What you will have at the end is an amazingly delicious meal that you can't get enough of!
Gordon Ramsey might be famous for his beef wellington but it doesn't take a Michelin-starred chef to make one!
This beef wellington recipe is easy but looks luxurious and fancy and is bound to wow your friends and family.
Use ground Angus beef for an inexpensive yet great-tasting option.
The star of this dish is the puff pastry that is flaky, buttery, and tastes absolutely amazing.
Perfect Angus beef recipe for the special occasion!
For a steak with a creamy bourbon sauce that tastes both decadent and heavenly, you need to check out this Angus steak recipe.
The steak is first rubbed with Dijon mustard before being pan-seared over a hot skillet for a few minutes to the required doneness.
The creamy sauce is easily made by combining bourbon with a few other sauces and then cooked and reduced in a skillet.
The final product looks incredible and tastes really awesome!
This filet mignon recipe takes only 15 minutes and you will end up with a perfectly seared steak that tastes tender and juicy.
The meat is first cooked in herbs and garlic-infused butter over a skillet and all the flavors get locked in before finishing it off in a hot oven.
You can cook it to your desired doneness by adjusting the cooking time.
Use a thermometer to guide you if you are unsure.
Add some baked potatoes and asparagus as sides and you will have a wholesome complete meal in no time!
At Glorious Recipes, we have our own favorite Angus beef recipe that we find to be so easy to make and it tastes as good as a restaurant steak! Best of all, it only takes 10 minutes!
Yield: 6
Best Pan-Seared Angus Beef Steak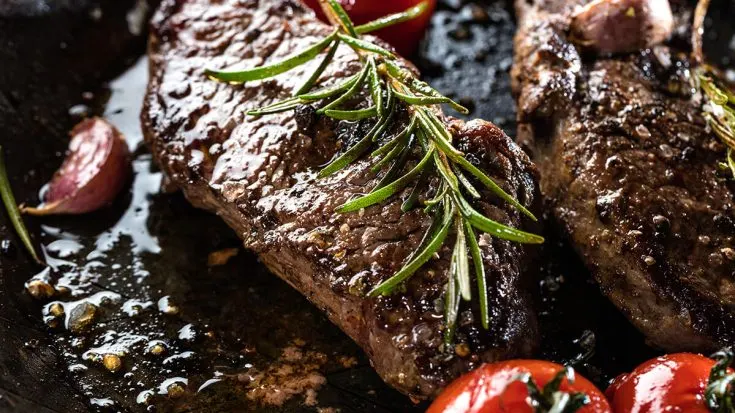 Getting a steak perfectly seared is quick, easy and it tastes amazing.
You will have restaurant quality steak at a fraction of the price and you get full control over the dish!
Once you try this Angus beef steak recipe, you will think twice before spending exorbitant amount in a restaurant again.
Ingredients
2.5 lbs Angus rib-eye steak (or sirloin), cut to 1.5 inches
6 tbsp butter, unsalted
4 tsp olive oil, extra virgin
2 tsp salt
1 tsp ground black pepper
4 cloves garlic, peeled
3 sprigs parsley
red wine (optional)
chicken or beef stock (optional)
additional butter (optional)
Instructions
Lay a piece of paper towel on a plate. Place the rib-eye steak (at room temperature) on it.
Season the top side of the steak with salt and pepper.
Turn on the heat on your stove to the highest setting, we want the skillet to be hot to achieve a sear.
While waiting for the skillet to be heated up, add the olive oil and coat the pan.
Add the rib-eye steak onto the pan. Take note that the seasoned side should be touching the skillet.
Season the other side of the steak with salt and pepper. Leave it for 2 minutes.
With tongs, flip the steak and then add butter, garlic and parsley at the side of the skillet. We want the steak to cook for another 2 minutes.
While the steak is cooking, use a spoon and keep basting the meat with the melted butter. Scoop the oil and pour it over the meat. We want to prevent the meat from drying out and also to add flavor to it.
After 2 minutes is up, repeat the flipping and basting but at 30 seconds interval.
Do a poke test (see note 4 below) and remove after around 5-6minutes. The steak should be medium rare. Feel free to adjust the cooking time to achieve your desired doneness.
Place the steak onto a cutting board and let it rest for a few minutes before cutting it.
(Optional) De-glaze the skillet with some red wine and stock, and let it simmer for a few minutes. Add 1 tablespoon of butter to thicken for a simple pan sauce.
Enjoy!
Notes
When placing the steak onto the pan, place it down away from you so that you avoid getting splattered.
We want the meat to be at most 1.5 inches thick because if not, it will take too long to cook evenly.
Do not poke the steak with a fork to check doneness. Once you poke it, all the juices and blood will start to flow out and you end up with a dry steak.
To do a poke test, open the palm of your relaxed hand and push the fleshy area below your thumb. This is your reference for raw meat.

Next, gently touch the tip of your index finger with your thumb. Now touch the same fleshy area. This is your reference for rare meat.

Repeat the same for each finger. Middle finger will give you a reference for medium-rare meat, which is what we are aiming for in this recipe.

The ring finger will give you reference for medium doneness, while the pinky will give you a reference for a well done meat.
For a complete meal, you can add baked potatoes and asparagus to it!
Nutrition Information:
Yield:
6
Serving Size:
1
Amount Per Serving:
Calories:

734
Total Fat:

52g
Saturated Fat:

23g
Trans Fat:

1g
Unsaturated Fat:

25g
Cholesterol:

224mg
Sodium:

986mg
Carbohydrates:

2g
Fiber:

0g
Sugar:

0g
Protein:

57g
Nutrition information is only an estimate and can vary depending on ingredients used.
Which Angus beef recipe is your favorite?
Let us know in the comments below!
Share on your favorite social media platform and tag us @GloriousRecipes – we can't wait to see what you have made!
For more beef recipes, check out Shaved Steak, Minute Steak, Beef Shanks, and Black Pepper Angus Steak for more ideas!
If you are in the mood for some Wagyu steak instead, check out our Legendary Wagyu Steak recipe!