Shaved steaks are easy to cook, super tasty, and really versatile when it comes to making a variety of wonderful dishes.
These thinly-sliced beef don't take long to cook and you can use any beef cut to achieve excellent taste and texture.
From classic Philly sandwiches to delicious tacos, we've got you covered with some of the best shaved steak recipes that you can try at home!
Enjoy delicious cheesesteak sandwiches with this quick and simple recipe that'll give you an irresistible meal!
Tender shaved beef is filled with wonderful flavors from a combination of Worcestershire sauce and hot sauce, with caramelized onions making it even tastier.
You can't have a cheesesteak sandwich without the awesome gooey and melted cheese, and provolone cheese is our pick to turn it into one of the best sandwiches ever.
It's delicious, simple to make, and a great shaved steak sandwich recipe that you absolutely must add to your meal rotation!
Inject some Korean flair to your next meal with this simple shaved beef recipe to make extremely flavorful bulgogi!
Shaved ribeye steak or any other cut can be used, and it's as simple as marinating the meat in a mixture that includes soy sauce, sesame oil, garlic, onion, ginger, and sugar.
Once the meat has soaked up all the wonderful flavors, they are sautéed for a few minutes before it's served with a garnish of green onions.
Pair it with some fragrant steamed rice to complete this delightful meal!
For a quick and easy meal that you can whip up in mere minutes, don't miss out on this fantastic shaved steak recipe!
With a simple seasoning of salt and pepper, the meat is cooked in a pan for a very short amount of time due to its thickness.
Chimichurri and garlic sauce are spread on warmed flatbread or naan before the cooked meat is added with a topping of arugula to complete this dish.
It's a great meal that you'll definitely get hooked on after the first bite!
Skip the Chinese takeout and make your own tasty beef with this shaved steak recipe that you'll definitely fall in love with!
It's sweet, savory, and tangy all at the same time with the orange sauce providing a unique and fantastic flavor to the shaved beef steak.
If you want some heat in this dish, you can easily add red chili flakes to give a little kick that makes the meat super addictive.
Serve with a side of rice or noodles and enjoy a delicious meal!
This one-pot recipe is perfect for cooking up a bowl of hearty and nutritious soup in under 30 minutes!
Shaved beef is sautéed with onion, garlic powder, and dried basil to give it wonderful flavors and help to provide essential protein in this dish.
Potatoes, tomatoes, carrots, frozen peas, and zucchini add even more nutrition to make this a wholesome soup that's great for the entire family to enjoy.
You'll definitely be making this regularly with how easy it is to cook this shaved steak soup!
If you love Arby's, you've got to check out this amazing Beef 'N Cheddar copycat recipe!
The sandwich is loaded with classic flavors that we've all come to love and the best part is all the sauces can be made at home!
With a fantastic cheese sauce and red ranch sauce, the shaved roast beef is extremely flavorful and it's just so mouth-watering.
Sandwiched between toasted brioche buns, this is definitely a delicious meal that can impress anyone!
Recreate the flavors of Vietnamese cuisine with this quick and easy shaved steak recipe that gives a twist on the traditional Vietnamese banh mi sandwich and converts it into a tasty bowl of goodness!
Featuring carrots, shallots, onions, cucumbers, and fresh cilantro, you have loads of wonderful flavors and nutrition, making this a refreshing bowl that can be enjoyed at any time.
Add in marinated shaved meat with a flavorful sriracha lime mayo sauce and it becomes an even tastier bowl that's protein-rich and super wholesome!
It's an amazing dish and one of our favorite simple shaved beef recipes for a delicious brunch!
Make a delicious meal with this wonderful shaved beef sandwich recipe that'll definitely tantalize your taste buds!
The beef is seasoned with a mustard mixture that gives so many delightful and complex flavors to the meat, and once it's roasted, the meat is shaved into thin slices before the sandwiches are assembled.
Spicy brown mustard is spread on perfectly toasted buns and topped with shaved meat and cheese, and they are served with warm au just, which is made from the juices obtained from cooking the meat, for a simple dipping sauce.
It's a mouth-watering delight that you just can't miss out on!
Dig into this fantastic Mongolian shaved beef that's tender, juicy, and filled with loads of flavors that are sure to please!
With a simple soy sauce marinade, the meat is cooked together with garlic and ginger before the ingredients for the sauce are added to give depth to the taste.
Brown sugar is used to impart sweetness to the tasty sauce, and when everything is combined together, it becomes a sweet, spicy, and savory delight!
Serve with a side of rice to fully enjoy this delectable dish!
For an amazing snack or appetizer, you definitely need to check out this incredible shaved steak recipe that makes a mean steak and cheese fried dough!
Filled with tasty shaved meat that has been seasoned with salt and pepper, plus American cheese to add some melted cheese goodness, the doughs are fried until crisp and golden.
They taste exceptional with gooey cheese that'll satisfy any cravings and they are bound to be a crowd-pleaser.
Serve it at your next party and get ready to be showered with compliments!
Combine the great tastes of Philly cheesesteaks and Mexican quesadillas into one with this remarkable shaved beef steak recipe that you definitely need to try!
Along with onion, mushrooms, red peppers, and green peppers, the shaved meat is cooked with garlic to give a great flavor to all the meat and vegetables.
They are assembled on tortillas with provolone cheese and heated until they become crisp and golden with the cheese melted.
It's quick and easy to make this hearty and delicious meal!
Grace your taste buds with this fantastic shaved steak sandwich that combines all the wonderful ingredients to create a tasty meal!
The shaved meat is seasoned with onion, garlic, pimentón, and cumin, making it extremely flavorful and when you add homemade guacamole, hot sauce, and cheese into the mix, you have a really delicious sandwich on hand.
Assemble with some homemade toasted bread along with some vegetables and you'll have a wholesome and delightful meal to enjoy!
For your next Chinese night, we've got you covered with this beef lo mein that is super tasty and irresistible!
You can easily make it in less than half an hour, and it makes for a quick and simple meal that doesn't sacrifice flavor.
With carrots, broccoli, onion, and garlic, you have no lack of nutrition and it's made delicious with the addition of shaved meat, sesame oil, soy sauce, brown sugar, and broth concentrate.
It's super easy to make so definitely give it a try and save on the Chinese takeout!
In what is one of our favorite shaved steak recipes, these fajitas are amazingly delicious, flavorful, and super satisfying!
We love how simple it is to make and with a simple seasoning of onion powder, salt, cumin, and chili powder, you get tasty meat and vegetables that can be paired with tortillas to make a wholesome meal.
Serve with salsa and freshly chopped parsley for maximum enjoyment of this wonderful dish and it definitely satisfies our cravings for Mexican food!
Indulge in tasty beef stroganoff that makes for a comforting and delicious meal with this simple one-pan shaved steak recipe!
Smothered in a luscious sauce, the beef is extremely flavorful and tasty with loads of depth to its flavor and it's definitely a dish that you need to try because of how hearty it is.
There's just something about the combination of beef, onion, and mushrooms that make this such an incredible dish and it's great for a quick and easy weeknight dinner.
Serve over mashed potatoes or egg noodles and enjoy a delightful meal!
Make these french dip sliders for your next gathering and feed a crowd with these tasty bites that are just so delicious!
With caramelized onions, melted provolone cheese, shaved meat, and perfectly toasted buns covered in a delectable sauce, these sliders are super addictive and you just can't stop at one.
They make for a great dinner and it's also easy to use them as a meal-prep recipe!
Try it for your next meal and you'll definitely fall in love with these mini sandwiches!
Savor tasty gyros wrapped in pita bread that makes for a quick and delicious meal with this simple and healthy shaved steak recipe!
Greek seasoning helps to add tons of wonderful flavors to the shaved meat and makes it super tasty along with seasoned onion slices.
Pita bread is stuffed with onion, beef, and a generous portion of tzatziki sauce, creating a wonderful delight for an awesome meal.
Serve with a side of vegetables to make it even more wholesome!
Add some Japanese flair to your next meal with this gyudon recipe that delivers an awesome beef bowl!
The star of this dish is the sweet and savory sauce that makes the shaved beef and rice extremely flavorful.
Soy sauce, mirin, sugar, dashi, and beef broth combine to create a delightful sauce that goes really well with the meat, and adding onion and pickled red ginger helps to complete this dish and gives some depth to the flavor.
It's quick and easy to make, and easily one of our favorite shaved steak recipes!
Get ready for your next Taco Tuesday with this quick and simple recipe that'll make your dinner a breeze to prepare!
Seasoned shaved meat, lettuce, onion, and peppers help to make this a wholesome meal that everyone can enjoy.
Add melted mozzarella cheese, pico de gallo, and freshly chopped cilantro into the mix and you have tacos that taste super awesome!
These tacos are super easy to make and definitely one to add to your taco rotation!
Enjoy a messy and decadent indulgence with this steakbomb recipe that's just so delicious and irresistible!
Mushrooms, poblano peppers, bell peppers, onion, and shaved meat are smothered in marinara sauce, topped with melted mozzarella and Romano cheeses, and stuffed in focaccia, creating a mouth-watering delight that satisfies with every single bite.
It's super tasty and one of our favorite shaved steak recipes to make because it's just so addictive!
Treat yourself to another amazing shaved steak sandwich delight with this roast beef sandwich with onion jam!
The sweet onion jam adds a unique flavor to the otherwise savory sandwich, which is already incredibly tasty on its own, and everything combines really well to create a delicious meal.
Shaved roast beef with melted mozzarella cheese makes for an awesome combination and it's made even better with the jam and garlic rolls.
There are so many wonderful flavors and you'll definitely get hooked after the first bite!
Experience a Korean delight with this tasty sandwich that's filled with wonderful ingredients and gives a kick with every bite!
Marinated in a tangy and spicy sauce, the shaved meat is extremely flavorful, and when combined with kimchi, cucumber, and hot sauce, it becomes a must-try for all spicy lovers.
It's a simple way of enjoying a sandwich with Asian flavors and it's so easy to make!
Turn the classic sandwich into a casserole with this easy-to-make Philly cheesesteak casserole recipe!
Delicious shaved meat, onion, and peppers are smothered in a luscious cream sauce that adds lots of wonderful flavors.
Everything is combined in a casserole dish and topped with grated provolone cheese because you can't have too much cheese in a dish.
Once baked to perfection with melted cheese, this delightful keto shaved steak casserole is ready to be served!
If you love McDonald's and you want a tasty breakfast, check out this copycat recipe that'll give you an awesome steak, egg, and cheese bagel!
The trio of shaved meat, fluffy egg, and melted cheese makes for a simple but wonderful meal that's loaded with tons of proteins and flavors.
Add the seasonings and sauces into the mix and you have a delicious bagel that everyone will definitely fall in love with!
Make your next meal a little special with these baked potatoes complete with shaved beef, caramelized onions, and melted cheese to create an awesome dish!
Beef and onion are combined with Worcestershire sauce to create a flavorful mix, which is stuffed into baked potatoes before being topped with shredded cheese and broiled.
Once all the cheese has melted, it's garnished with sour cream and chives to complete this tasty meal!
This broccoli and shaved beef stir-fry is a simple way of cooking up a delicious meal for a great lunch or dinner!
Tender beef and broccoli are cooked and coated with an extremely flavorful sauce that's made up of soy sauce, garlic, ginger, chicken stock, and brown sugar.
It's sweet and savory and goes really well with the meat and vegetables to add loads of depth to the flavor.
Serve them with fragrant steamed rice to complete this fantastic meal!
For a tasty and easy-to-make dish, you'll definitely need to check out this one-pot shaved steak pasta recipe!
It has all the great flavors of Philly cheesesteak that everyone loves and cleanup is minimal, which makes this an awesome dish to prepare.
With mushrooms, onion, and peppers along with Worcestershire sauce, cream, and mozzarella cheese, it's a delightful pasta with penne to coat all the creamy sauce!
Shake things up and have these incredible steak and cheese bombs for your next meal!
They are amazingly delicious with simple ingredients and you'll be hard-pressed to find something else that tastes as good and as easy to make!
With shaved steak, mozzarella cheese, and sweet onion, they are wrapped in crescent rolls and baked to perfection.
Enjoy these tasty bites and you'll definitely have more than one because they are just so delicious!
If you're looking for a tasty and awesome appetizer, check out these exceptional cheesesteak egg rolls that you just can't get enough of!
Filled with shaved sirloin steak, onion, garlic, jalapeños, and melted cheese, these spicy egg rolls are loaded with all the fantastic flavors of a regular cheesesteak but in a different form.
The crunch adds another dimension to this amazing dish and it's so delicious and super addictive.
With how simple it is to make, it's easily one of our favorite shaved steak recipes!
Try your hands at making this Philly cheesesteak pizza and you'll be enjoying a delicious meal in no time!
Shaved beef, mushrooms, peppers, and caramelized onions combine with a thin crust to create an amazing pizza that's perfect for a hearty lunch or dinner!
It's extremely flavorful with marinara sauce and it's made even better with melted mozzarella and provolone cheese!
Yield: 30
30 Simple Shaved Steak Recipes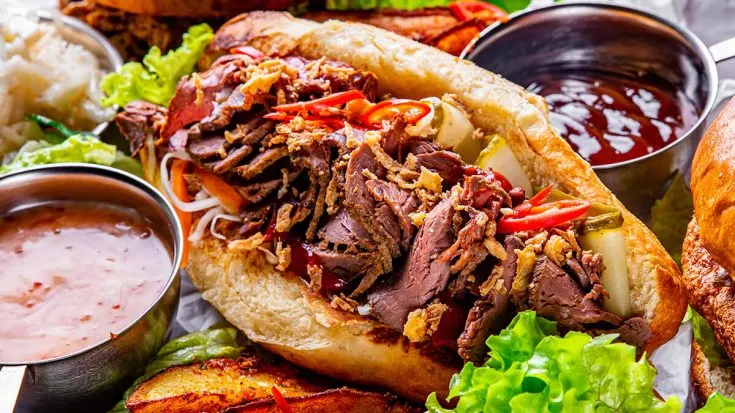 Try these shaved steak recipes and enjoy a delicious meal! From classic Philly sandwiches to delicious tacos, there's something for every occasion!
Instructions
Choose your favorite recipe.
Prepare all the required ingredients.
Whip up the tasty dish and enjoy an awesome meal!
Nutrition Information:
Yield:
30
Serving Size:
1
Amount Per Serving:
Calories:

299
Total Fat:

6g
Saturated Fat:

1g
Trans Fat:

1g
Unsaturated Fat:

5g
Cholesterol:

0mg
Sodium:

1126mg
Carbohydrates:

56g
Fiber:

2g
Sugar:

13g
Protein:

4g
Which of the shaved steak recipes have you tried so far?
Let us know in the comments below!
For more beef recipes, check out the following:
Beef Cheek
Canned Beef
Minute Steak
Beef Shanks
Bottom Round Steak
Wagyu Steak
Angus Beef
Recipes with Beef Broth
Share on your favorite social media platform and tag us @GloriousRecipes – we can't wait to see what you have made!