Black pepper Angus steak is a simple yet tasty dish that can be prepared in 2 main ways.
It can involve a quick stir-fry of the beef in the wok, together with some onions, bell peppers, black pepper sauce, and veggies of your liking.
You can use any cut of meat that you prefer, but we would recommend going with tenderloin for the soft and tender texture since the black pepper sauce is already providing plenty of flavor!
It can also be a dry spice-rubbed version on the meat before searing or roasting it.
Either method will guarantee a dish that is fragrant and smells absolutely amazing!
If you love the black pepper Angus steak from Panda Express, you will definitely need to check this recipe out!
From the broccoli to the bell peppers, this copycat recipe is inspired by the popular Panda Express entrée that many people loved.
The highlight of this dish is of course the savory signature black pepper sauce, but the cut of the beef that you use is equally important as well.
Give the marinated black peppered steak a quick stir-fry and serve with rice for an awesome meal!
This is another quick and easy recipe that you can try in less than 30 minutes!
You can use Angus sirloin beef for this and you need to cut them into one-inch cubes.
What we are trying to achieve here is a sear and char that totally transform the taste of the meat.
The recipe used a skillet but you can also do it with any pan.
Just make sure it is hot!
The fantastic teriyaki sauce, the sweetness of the onions, and the bell peppers make this dish incredibly tasty.
Season at the end with black pepper to taste and serve with a baked potato or potato salad!
This recipe is so simple and delicious, and it's perfect for a protein-packed meal.
Get some of your leftover bourbon ready because you will need it here.
Crush and rub peppercorns into 2 slabs of your favorite cut of Angus steak, and sprinkle salt to taste.
Give it a nice sear in a hot skillet and to your preferred doneness.
The tasty sauce is made using garlic, onion, bourbon, and cream.
And we're done! It's that simple!
Scoop it generously over the steak and enjoy!
This easy spice-rubbed recipe will bring about an explosion of flavor with its perfect combination of cumin, mustard, and cardamom that is sure to blow your mind!
Use Angus beef tenderloin for maximum tenderness to enjoy this wonderful dish.
You can also rub the spice mixture onto the dried beef one day before and chill it if you want to prepare it early.
Just bring it down to room temperature before browning it.
Serve with some asparagus and you have an absolutely delightful dish!
For another variation of black pepper Angus steak recipe, you need to check out this wonderful blend of ingredients to create a sauce that will surprise you!
It uses Worcestershire sauce, oyster sauce, and even ketchup!
This Taiwanese black pepper sauce is a perfect balance between sweet and savory flavors, and definitely complements any thinly sliced Angus steak.
Sirloin and tenderloin work amazingly here, or you can also use a cheaper cut if you desire.
This can be served with either rice, noodle, or even pasta!
At Glorious Recipes, we have our own preferred version of black pepper Angus steak recipe that we find to be simply amazing:
Yield: 6
Black Pepper Angus Steak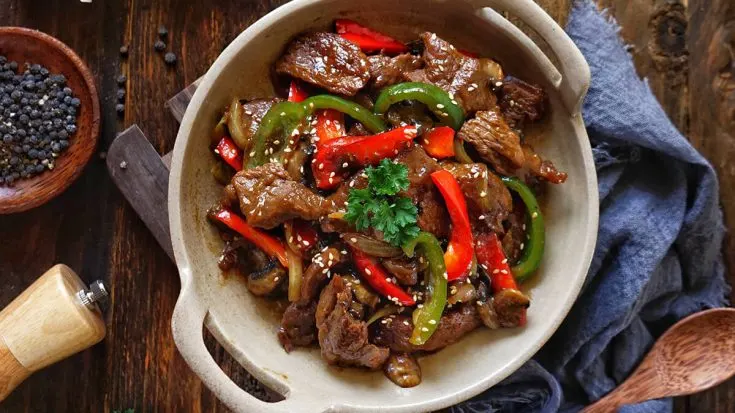 This is Glorious Recipes' version of black pepper Angus steak.
A quick and simple recipe that involves stir-frying with a fragrant black pepper marinate.
Absolutely delicious!
Ingredients
2.3 lbs beef tenderloin (Angus beef)
6 tsp black peppercorns
3 tsp quality soy sauce
3 tsp sesame oil
6 tbsp oyster sauce
3 tbsp Chinese wine or Mirin
3 tsp potato starch
3 tbsp vegetable oil
3 small onions
6 large cloves of garlic
3 bell peppers of any color
Instructions
Crush the black peppercorns. We want it coarse.
Slice the Angus beef into thin slices or small cubes as preferred.
In a small mixing bowl, add the high quality soy sauce, oyster sauce, Chinese wine (or Mirin as a substitute), sesame oil, potato starch and 90% of the crushed black pepper.
Whisk the mixture evenly and add in the beef to marinate.
Cut the onions and bell peppers into small slices. Chop the garlic.
Heat a pan over medium high heat. Once hot, add in the vegetable oil then transfer the beef over. Don't pour the mixture in as we want to keep the marinate.
Fry till golden brown on each side.
Add in our cut vegetables and switch to high heat. Give it a quick stir-fry while tossing the ingredients.
Add in the remaining marinade when you see that the onions are translucent. Continue stir-frying briefly before turning off the heat.
Serve with rice and garnish with the remaining 10% of the black pepper
Enjoy!
Notes
You can make a big batch of the marinate and with proper storage in the refrigerator, it can last for months. Skip the starch if you are doing so, and only add it when you are going to use it to cook.
You can also use the marinade for any other meat!
Nutrition Information:
Yield:
6
Serving Size:
1
Amount Per Serving:
Calories:

721
Total Fat:

52g
Saturated Fat:

18g
Trans Fat:

0g
Unsaturated Fat:

28g
Cholesterol:

148mg
Sodium:

746mg
Carbohydrates:

16g
Fiber:

3g
Sugar:

5g
Protein:

44g
Nutrition information is only an estimate and can vary depending on ingredients used.
For a great dip to pair with the black pepper Angus steak, try our Tiger sauce recipe!
Which black pepper Angus steak recipe is your favorite?
Let us know in the comments below!
And if you are looking for more lunch and dinner ideas, don't miss out on our Turkey Kielbasa, Pork Jowl, Salmon and Shrimp, and Beef Shank recipes, or check out even more Angus Beef recipes!
Share on your favorite social media platform and tag us @GloriousRecipes – we can't wait to see what you have made!