Minute steaks are thinly sliced boneless beef and are perfect for a quick and easy meal because of how fast they cook!
The cut is usually sirloin of a cow and they are sometimes also tenderized when you buy them, resulting in lean but juicy steaks that are really tender and cook quickly and evenly.
It's the ideal weekday meal when you want fuss-free but delicious food that takes no time to prepare at all!
Whether you like it cooked with tasty sauces or served alongside salads, we've got you covered with some of the best minute steak recipes!
Enjoy a glorious high-protein meal that's fit for a king with this amazing minute steak recipe, complete with a tasty fried egg on top and drizzled with a red hot butter sauce.
The secret here is to pound the steak and tenderize it before seasoning, and to cook it just a minute on each side so that you get the perfect doneness.
It's tempting to cook just that bit longer but with the meat being so thin, it'll just overcook and you'll end up with a piece of tough meat.
Fry a sunny side up and place it on top of the steak, then spoon over hot sauce to complete this exceptional dish!
Shake things up with this bite-sized instant pot minute steak recipe that's delicious and goes really well with pasta!
Cooked in a sauce of brown gravy mix and cream of chicken soup, the meat is super flavorful and every bite is pure delight.
The heavy combination of steak and sauce fully complements something light and mild like pasta or noodle, and the pairing is just superb.
It's a quick and easy meal that's great for any day of the week!
Discover how to make tender sirloin minute steak with this simple recipe that pairs it with tasty sweet potato wedges for a wholesome meal!
The steak is tenderized with a mallet and beaten till thin, then cooked briefly in a skillet to get a great texture.
It's paired with oven-baked sweet potato wedges and a gravy made with beef stock, red wine, shallots, and a dash of Worcestershire sauce.
Everything combines to create a quick and easy meal that's delicious and great for a simple dinner!
Treat yourself to delicious steaks with this delightful recipe that you're bound to love!
It's a no-frills recipe that forms the base of a great steak dish.
The steaks are well-seasoned with salt and pepper before they are cooked in a grill pan and then drizzled with all the wonderful steak juices and melted butter.
They are served with a side of arugula and cherry tomatoes tossed in vinaigrette, providing your dose of veggies for the meal.
Top with rémoulade or serve with our recommended sweet soy glaze for maximum enjoyment!
It's a basic recipe for making such tasty steaks that it's easily one of our favorite minute steak recipes!
Indulge in this kosher minute steak recipe that's juicy and delicious!
This wine-infused minute steak is cooked together with onion, carrot, and celery, giving it plenty of flavors that are just so irresistible.
The meat is tender and pairs really well with the vegetables, making it a really wholesome meal.
Serve with roast potatoes on the side to complete this amazing dish!
Make delicious steaks easily with a crock-pot and slow-cook them till they are fork-tender in this fantastic crock-pot minute steak recipe!
It might take longer than usual but you are guaranteed tender meat every single time and you can just let it cook while you go about with your daily routine.
The steaks are coated in a flour mixture and then browned in a skillet before being cooked in the crock pot with onion soup mix, garlic powder, and beef bone broth.
You get extremely tasty and tender meat at the end and it's perfect for serving with a side of veggies and carbs to complete the meal!
Grace your taste buds with minute steak stacks that are so tasty with a dollop of herbed anchovy butter that gives this dish so much flavor.
Parsley, tarragon, and chives help to provide depth and complexity to the butter, which fully complements the browned steak seasoned with garlic, cayenne, and coriander.
It's an indulgence that tastes so good and it's just so hard to resist.
Serve with a side of asparagus and enjoy this awesome meal!
Steak and mushroom sauce is a classic combination that just can't go wrong and this amazing fried minute steak recipe gives you just that.
Fresh mushrooms are used to add to cream of mushroom soup and milk to create a wonderful and tasty sauce that smothers the steak and adds a ton of flavors.
The meat is dredged in flour and fried till brown, giving it a great crispy texture that pairs really well with the sauce.
Serve with mashed potatoes and mop up the remaining sauce with some homemade bread!
If you've some frozen steaks that you would like to use to whip up a tasty meal, check out this Country Fried Minute Steak recipe!
It's such a quick and convenient recipe, you don't even need to thaw the meat prior to cooking!
The meat is dipped in Italian dressing and breadcrumbs before being pan-fried briefly in a skillet.
You can make this in less than 10 minutes, perfect for a midweek dinner!
Spruce up your next meal with this fantastic recipe that gives you the perfect steak with a simple sauce that's just irresistible!
The steaks are nicely seared and smothered with an exceptional barbeque butter sauce that's made with beef broth, barbeque sauce, hot pepper sauce, butter, and black pepper.
They combine to create an amazing dish that's loaded with great flavors and makes the dish super enjoyable.
It's super tasty and you definitely need to add it to your lunch or dinner rotation!
Expand your cooking repertoire with this incredible minute steak recipe that delivers a delicious meal with great flavors!
The seared beef is complemented with roasted fennel and an amazing anchovies caper dressing that has so much depth and complexity that it totally transforms the dish from great to excellent.
Everything comes together really nicely with well-balanced flavors that are so easy to enjoy and it's quick and simple to prepare.
Try it for your next meal and you'll be hooked after the first bite!
Dig into juicy, tender minute steaks with this delightful recipe that you definitely need to check out!
The beef steaks are seasoned with garlic powder, Old Bay seasoning, salt, and pepper, then seared in the skillet before they are finished off by cooking in the oven.
You end up with tender steaks that are so delicious and it's made even better with a flavorful gravy.
It's a great recipe that provides a delectable dish every time!
Discover a dish so delicious and wholesome that you just can't afford to miss out on!
Pan-seared paprika-seasoned steaks are paired with a medley of vegetables and potatoes which are tossed in a smoky capsicum and chili dressing that makes this dish extremely flavorful.
All kinds of textures can be found from crunchy nuts to tender beef and the combination is just superb.
It's a simple dish that's great for a satisfying meal and one of our favorite minute steak recipes!
Herbed compound butter always adds a different dimension to dishes with the fragrance and aroma of the herbs and spices it contains.
In this fantastic recipe, the steaks are pan-fried as usual after being coated with flour, but the difference is the garlic-rosemary butter that is melted to pick up all those leftover bits which add a ton of flavors.
The melted butter is poured over the cooked steak before serving this wonderful dish!
Enjoy a minute steak that's not only tasty but also a visual treat with beautiful colors throughout this amazing dish!
Herbes de Provence, a blend of common dried herbs that are widely used in Mediterranean dishes, is used to season the steak, giving it lots of depth and complexity to the flavor.
It's topped with zucchini, onions, cherry tomatoes, and feta cheese for a wholesome meal and the vegetables provide a wide array of colors that are super pleasing to the eyes.
For a quick dinner or even brunch, you just can't beat this wonderful recipe!
For a simple homemade steak dish that's great for a midweek dinner, you've got to check out this recipe!
Onion goes really well with many things and this aromatic lends its sweet flavors in the form of a gravy that's drizzled over a nicely pan-fried steak.
It's finished off by cooking the minute steak in the oven till it's fully cooked through and tender.
It's a really easy recipe with common ingredients that you definitely can find in your kitchen so you can whip this up in no time!
Serve with a side of mashed potatoes to get your dose of carbs!
Make this great-tasting steak and you're bound to have a delightful meal!
Broccolini and cannellini beans are cooked with garlic, chili, and anchovy, ensuring they turn out extremely flavorful that complement the nicely seared beef.
Lemon juice is used to deglaze the pan and the combined steak juices and bits are poured over the top of the meat, giving it plenty of flavors.
It's simple and straightforward with great flavors all around!
Get ready for Taco Tuesday with this incredible Chipotle Minute Steak Tacos that's so delicious and easily one of our favorite minute steak recipes!
With a tasty chipotle mayo sauce that's spread over the wonderfully-cooked steak pieces, the tacos are extremely mouth-watering and just so irresistible.
They come complete with a lettuce and tomato salad, plus a topping of grated cheese, making these bites wholesome and nutritious.
Serve with roasted potatoes on the side to make it even more sumptuous!
Take all-day brunch to the next level with these fantastic minute steaks with scrambled eggs and stuffed tomatoes that are just so delicious!
The tomato is stuffed with a variety of herbs that have been pulsed in a food processor, making it extremely tasty and filled with herby flavors.
The steaks are topped with a salad of hot vegetables and are served alongside fluffy scrambled eggs to make this a high-protein and nutritious dish!
Add some Mexican flair to your next meal with these delightful Carne Asada Minute Steaks that are tasty and loaded with great flavors!
Marinated in a wonderful mixture of soy sauce, chili powder, jalapeño, cumin, garlic, and cilantro, the meat is exceptionally flavorsome.
Cook to medium-rare doneness and serve with tortillas, salsa, cilantro, plus a squeeze of lime to make this entire meal really delicious and refreshing!
At Glorious Recipes, we have our favorite Minute Steak with Brussel Sprouts that we absolutely adore! It's super delicious and really easy to make! Check out the recipe below!
Yield: 2
Minute Steak with Brussel Sprouts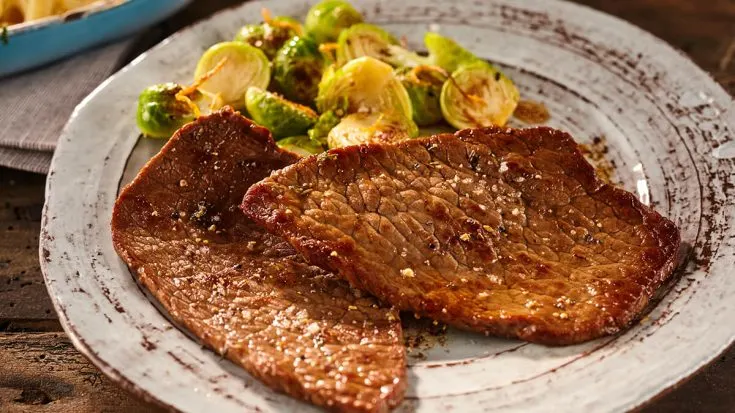 Enjoy delicious minute steak that's so quick and easy to whip up and it's made wholesome with a side of tasty Brussel sprouts!
Ingredients
2 minute steaks, around 6 oz each and ¼-inch thick
¾ lb Brussel sprouts, halved
2½ tsp olive oil, divided into 2 equally
½ tsp salt
½ tsp pepper, divided into 2 equally
1 tbsp balsamic vinegar
2 tsp freshly chopped parsley
¾ tsp adobo all-purpose seasoning (can be substituted with any of your favorite seasonings)
Instructions
Add half of pepper, parsley, and adobo seasoning to a bowl and mix well, then season minute steaks evenly, pressing into the meat.
Heat a skillet over medium heat and add half of olive oil. When the oil is hot and shiny but before it smokes, swirl to coat the skillet then add Brussel sprouts with cut-side facing down. Let them cook for 5 to 8 minutes without touching to caramelize and develop a nice sear.
Add salt and half of pepper to the skillet and stir to mix the Brussel sprouts and sauté them so that they are browned all over, for another 5 to 8 minutes. Remove skillet from heat, then stir in balsamic vinegar. Transfer to serving plate after it's fully mixed in well. Use a paper towel to clean the skillet.
Add remaining olive oil to skillet over high heat and wait until it smokes. Add steaks and sear for 1 minute until you see a pink steak juice at the top, then flip and reduce heat to medium-high and cook the other side for another minute. Transfer to serving plate.
Serve with sweet soy glaze or any of your favorite sauces and enjoy!
Nutrition Information:
Yield:
2
Serving Size:
1
Amount Per Serving:
Calories:

411
Total Fat:

26g
Saturated Fat:

9g
Trans Fat:

0g
Unsaturated Fat:

14g
Cholesterol:

93mg
Sodium:

1089mg
Carbohydrates:

16g
Fiber:

5g
Sugar:

4g
Protein:

30g
Nutrition information is only an estimate and can vary depending on ingredients used.
Which of the minute steak recipes have you tried so far?
Let us know in the comments below!
For more beef recipes, check out Steak and Rice, Beef Cheek, Canned Beef, Shaved Steak, Minute Steak, Beef Shanks, Black Pepper Angus Steak, Wagyu Steak, Angus Beef, and Recipes with Beef Broth for more ideas!
Or if you're looking for vegetable pairing ideas, check out Russet Potatoes, Mirlitons, White Eggplants, Puffball Mushrooms, and Malabar Spinach!
Share on your favorite social media platform and tag us @GloriousRecipes – we can't wait to see what you have made!