Beef shank is a commonly overlooked cut because it's the leg portion of a cow and the muscle tends to be tough and dry.
However, its characteristics mean it's perfect for slow-cooking and braising, and you get to have inexpensive but delicious beef dishes to enjoy!
From osso buco to braised dishes, we've got you covered with some of the best beef shank recipes that you can try at home!
Enjoy tender beef shanks that shred easily with this fantastic slow cooker beef shanks recipe that can be made in an instant pot as well!
The beef shanks are well-seasoned with a variety of herbs and spices to ensure they are extremely flavorful, and they are seared briefly before the actual cooking process.
Once cooked, these succulent beef shanks become so tender and delicious!
Pair with any of your favorite carbs for a complete meal or serve with mashed cauliflower for a low-carb meal!
Osso buco is a classic Italian dish that traditionally uses veal shanks that are braised with vegetables, white wine, and broth.
In this amazing braised beef shank recipe, veal is replaced with beef to create this wonderful dish and the results are superb.
With garlic, onions, carrots, and tomatoes, the broth is as flavorful as it can get and the beef is tender once braised.
Serve with mashed potatoes and vegetables on the side and pair with a glass of red wine to enjoy this wholesome meal!
Add some Asian flair to your next meal with this Chinese braised beef shank recipe that'll cook up some delicious and juicy beef!
With a master sauce base made up of soybean paste and a whole variety of spices, the beef shanks are slowly cooked until tender and infused with all the wonderful flavors.
It's extremely flavorsome and you'll be surprised at how easily it falls apart when forked.
Eat it cold as an appetizer or consume it hot with some noodles or rice for a hearty meal!
Mix things up with an Irish adaptation of a classic beer braised dish in this exceptional beef shank recipe.
Cooked in Irish stout, along with brown sugar and bay leaf, the seasoned beef meat is super tasty with lots of rich flavors.
It's perfect for eating with some homemade bread to mop up all that delicious broth so none of it is wasted.
You can also serve it with rice, mashed potatoes, and vegetables for an awesome meal!
Go exotic with this nihari dish, an Indian beef shank stew that's rich, tasty, and irresistible!
If you love Indian food, you'll love this incredible beef stew.
The stew is made flavorful with many spices to create a nihari masala mix that can be used for many other recipes as well.
Pair it with some naan, steamed rice, or some bread to dip in the stew!
Savor tasty tender meat with this amazing Gospel Shank with Smoked Gouda Grits!
The beef shanks are well-seasoned before they are smoked and braised to give them lots of depth when it comes to their flavor.
The smoked Gouda grits are made with caramelized onions, garlic, chicken stock, and smoked Gouda cheese.
When everything is combined together, it creates a delectable meal that's perfect for a great lunch or dinner!
Get your Vietnamese fix with this delicious beef pho that's the perfect comfort food on a chilly evening!
It's a simple combination of tender shredded beef shank, rich broth, and rice noodles but it just tastes so good.
The shanks are cooked in a broth made with beef stock and spices, ensuring both meat and broth are loaded with all kinds of flavors.
Squeeze a lime before serving for an authentic pho dish and enjoy!
Taiwanese braised beef shank is a popular delicacy in Asia and you can make it yourself with this easy recipe!
The shanks are cooked in a broth that's extremely flavorful with garlic, ginger, star anise, Sichuan peppercorns, and soy sauce, among other ingredients.
It's brought to a simmer and cooked for 2 hours, ensuring the shanks become tender with all the flavors locked into the meat.
It can be enjoyed as a cold appetizer when thinly sliced or pair it with noodles for a delicious meal!
With how flavorful these shanks are, it's easily one of our favorite beef shank recipes!
Have a tasty dinner with this simple recipe to get your fix of beef shank!
Coated with seasoned flour, the shanks are cooked and browned on a skillet before being set aside while the rest of the dish is being prepared.
Vegetables are sautéed for a few minutes, then dry Sherry, cumin, and smoked paprika are added to create a tasty sauce base.
When everything is combined together along with some freshly chopped parsley, lemon zest, and garlic, they help to create a delightful dish!
For a simple braised beef shank that's easy to make and tastes awesome, check out this amazing recipe!
The shanks are first browned in a skillet before being cooked in an onion-wine mixture with tarragon sprinkled on top.
They are slow-cooked in an oven for 5 hours until all the meat become so tender that they fall off from the bones.
With such tasty and juicy beef, it's hard to resist devouring them once they come out of the oven!
Indulge in this exceptional beef dish so flavorful and unique that you just can't miss out on it!
Nicely browned shanks are cooked in a mixture of tomato paste, chiles, aromatics, coffee, and spices, before being roasted in the oven until they become super tender.
Peanut butter is then added to the braising liquid and whisked until smooth.
The shanks are cooked in the peanut butter mixture to give them even more flavors that are just irresistible.
They are then garnished with ground coffee beans, crushed peanuts, and cilantro before being served.
It's an exquisite dish that's so delicious and one of our favorite beef shank recipes!
Cook your beef shanks in a crock pot with this wonderful recipe that delivers tender and juicy meat!
It's an easy and straightforward recipe with simple ingredients that you can find in your kitchen!
Garlic, potatoes, and onions are placed on top of the shanks before tomatoes and canned mushroom soup are poured over and everything is slowly cooked.
It's a simple and wholesome meal that can easily be enjoyed by everyone!
Try this Asian-Italian fusion dish with the classic osso buco given an Asian twist!
Shanks are first browned with sesame oil before being cooked in a mixture that includes oyster sauce, rice wine vinegar, soy sauce, and chili bean paste that gives a distinctive Oriental flavor.
The beef is removed while the liquid is thickened with cornflour to make a sauce that's drizzled over the meat before being served with fragrant steamed rice and vegetables.
It's a delicious meal that's perfect for a sumptuous weeknight dinner!
Expand your taste palate and check out this Filipino soup dish that's hearty and warms you right up!
It's an instant pot beef shank recipe, so the cooking time is shortened and you can enjoy a bowl of bulalo in less than an hour.
The shanks are cooked in the instant pot along with peppercorns, fish sauce, onion, and scallion, rendering them full of flavors once done.
Corn and cabbage are then cooked after the beef and combined together to create a bowl of comforting soup!
Barbacoa is a Mexican dish with meat seasoned and cooked till tender and it's a dish that's great with beef shank.
Cooked in the instant pot with beef broth, dried guajillo chili, Chile de árbol, Mexican oregano, and bay leaves, the meat becomes tender with loads of flavor complexity and depth.
They are great as taco fillings or serve with Mexican rice and beans for a wholesome meal.
It's versatile and the meat can be used for many other dishes so don't be afraid to cook a big batch!
If you have leftover red wines, check out this fantastic recipe to make red wine braised beef shanks that are absolutely delicious!
Slow-cooked and braised in a mixture of red wine, herbs, and aromatics, the shanks are extremely tender and flavorful.
The braising liquid and vegetables are blended together with the addition of soy sauce to create a sauce that can be drizzled over the meat.
It's a delightful dish that's great for a little indulgence!
Break out your smoker and use it to add even more depth and complexity to your beef shanks to make an extremely flavorful dish!
Using your favorite hardwood, smoke the seasoned meat before braising it in Madeira wine, beef stock, and Worcestershire sauce with the addition of rosemary to impart even more depth to the flavor.
The meat is then smoked again till it becomes super tender while the braising liquid is added with butter to create a dipping sauce.
Everything comes together really nicely to create a tasty dish that's super delightful!
Dig into tender beef shanks with some noodles in this amazing recipe that's great for a tasty meal!
The noodle soup is made with onions, carrots, beef braising liquid, water, and ketchup, giving it a sweet and savory taste that just tantalizes the taste buds.
Noodles and bok choy are cooked in a separate pot of water to avoid clouding the broth, and they are then added to a serving bowl along with the soup and braised beef.
It's a hearty bowl of noodle soup that's super satisfying on a cold day!
This crock pot beef shank recipe is easy to make and straightforward with staple ingredients so it's a great choice if you're looking to cook shanks for the first time!
All you need to do is season the shanks and cook them in a skillet before transferring the meat to a crock pot.
Onions, garlic, and Italian seasoning are added to the skillet and sautéed, then beef broth is added to get all the cooked bits out to add even more flavor to the final dish.
Everything is added to the crock pot and cooked for 8 hours till the meat becomes extremely tender and flavorful.
Serve with a side of carbs and veggies to make it a wholesome meal!
The next time you pass by an Asian grocery store, pick up a few more spices to make this fantastic Chinese Spiced Braised Beef Shank that's super flavorsome and delicious!
A whole host of spices are stuffed into a spice pouch, which is added to the stock and sauces to create the braising liquid for cooking the shanks.
Once cooked, the meat is cooled before slicing and it can be served cold as an appetizer or used to pair with other dishes.
Don't waste the tasty braising liquid that's full of flavors and freeze it for future use!
If you're looking for something spicy, check out this red chili braised beef shank recipe for a sumptuous meal!
Guajillo chilies, Chile de árbol, garlic, onion, and chicken broth are blended to create a red chili sauce that's added to the braising liquid and also used as a topping for the cooked beef.
It's incredibly delicious and you can use the meat for tacos or pair it with rice and salad for a tasty Mexican meal!
Grace your taste buds with this incredible braised beef that's super tender and delicious with mixed mushrooms and red wine giving it an extra dimension to the flavor!
Beef shanks give the dish a great flavor with their collagen and dried mushrooms are used to great effect for their earthy taste which fully complements the meat.
Red wine provides that additional zip that really elevates this dish to the next level and you can use the leftover wine as a great pairing for the dish.
Serve over mashed potatoes for a great-tasting and hearty meal!
It's an extremely tasty dish and one of our favorite beef shank recipes as well!
At Glorious Recipes, we have our favorite Beef Shank Osso Buco recipe that we absolutely adore! It's so tender and flavorful! Check out the recipe below!
Yield: 3
Beef Shank Osso Buco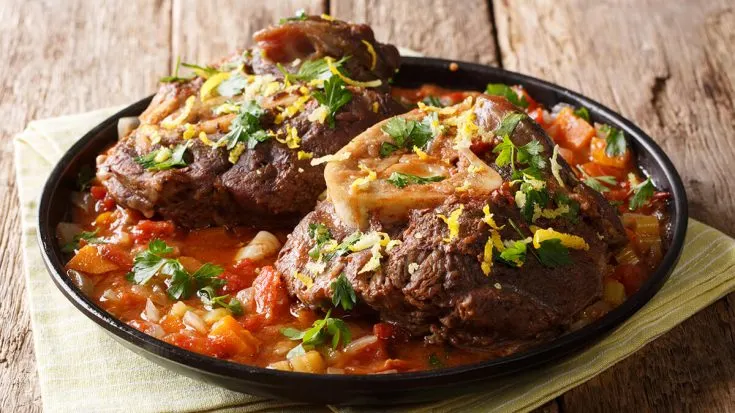 Enjoy tender beef shanks with this incredible Osso Buco recipe that's super flavorful and delicious!
Cook Time
3 hours
30 minutes
Total Time
3 hours
45 minutes
Ingredients
3 whole beef shanks (about 1 lb per shank), trimmed
1 sprig thyme
1 sprig rosemary
2 whole cloves
1 dried bay leaf
salt (to taste)
ground black pepper (to taste)
all-purpose flour (for dredging)
½ cup vegetable oil
1 carrot, diced
1 onion, diced
1 stalk celery, diced
1 tbsp tomato paste
1 cup dry white wine
3 cups chicken stock
3 tbsp freshly chopped Italian parsley
1 tbsp lemon zest
Instructions
Make a bouquet garni by placing thyme, rosemary, cloves, and dried bay leaf on a piece of cheesecloth and tieing with kitchen twine.
Use kitchen twine and tie around the beef shanks to secure the meat. Pat dry with paper towels and season with salt and pepper. Dredge the beef shanks in all-purpose flour. Shake off any excess flour on the shanks.
Add vegetable oil to a Dutch oven pot and let it heat till you see smoke. Add beef shanks and brown them on all sides, around 3 minutes per side. Remove the beef shanks and set aside.
Add carrot, onion, and celery to pot and season with salt. Sauté until they are soft and onion is translucent. Add tomato paste and combine well. Add shanks back, then add wine before letting it cook and reduce by half, around 5 minutes. Add the bouquet garni and 2 cups of chicken stock. Bring the mixture to a boil, reduce to low heat, cover, and let it simmer for 2-3 hours until fork-tender, checking every 15 minutes and turning the shanks so they cook evenly. Top up with more chicken stock when necessary, aiming for ¾ way up the shanks.
Once cooked, remove the shanks to serving plates and cut off the kitchen twines. Remove bouquet garni from the pot and pour the remaining sauce over the shanks. Garnish with parsley and lemon zest. Serve and enjoy!
Nutrition Information:
Yield:
6
Serving Size:
1
Amount Per Serving:
Calories:

413
Total Fat:

23g
Saturated Fat:

3g
Trans Fat:

0g
Unsaturated Fat:

18g
Cholesterol:

37mg
Sodium:

311mg
Carbohydrates:

25g
Fiber:

2g
Sugar:

4g
Protein:

20g
Nutrition information is only an estimate and can vary depending on ingredients used.
Which of the beef shank recipes have you tried so far?
Let us know in the comments below!
For more beef recipes, check out Steak and Rice, Beef Cheek, Canned Beef, Shaved Steak, Minute Steak, Black Pepper Angus Steak, Wagyu Steak, Angus Beef, and Recipes with Beef Broth for more ideas!
Or if you're looking for vegetable pairing ideas, check out Russet Potatoes, Mirlitons, White Eggplants, Puffball Mushrooms, and Malabar Spinach!
Share on your favorite social media platform and tag us @GloriousRecipes – we can't wait to see what you have made!