Give your classic meals a twist with some lemon cucumbers!
These small, round, yellow cucumbers are not as common as the regular cucumbers that you see in stores but they taste equally good and can easily be used in many recipes.
They have slowly been crawling their way into our recipes and we absolutely love how they taste and look.
What Are Lemon Cucumbers
Some might also refer to them as lemon pepper cucumbers.
They might have "lemon" in their names but fear not as they taste nothing like lemon.
The only similarities they share with lemons are their unique shape and color.
Taste-wise, it's like eating regular cucumbers with a milder taste.
Lemon cucumbers are ideal for salads and pickling, or you can easily swap regular cucumbers out from your usual recipes and replace them with lemon cucumbers.
With such an interesting color and being so uncommon, they just might be your new favorite ingredient to surprise your guests!
Tip: When choosing lemon cucumbers, go for the light yellow ones which are younger, tender, and sweeter. Dark yellow lemon cucumbers are too mature and will result in tough skin and taste bitter.
Read on as we introduce 10 lemon cucumber recipes that you can try for your next meal!
Lemon cucumbers make for perfect snacks due to their small size as compared to regular cucumbers.
For a delicious snack that tastes just so good, check out this lemon cucumber and pesto recipe.
To make the pesto sauce, you can either use a food processor to blend all the ingredients or stick to the traditional way of using a mortar and pestle.
Add some salt, pepper, and chili flakes to the pesto sauce before drizzling it over the lemon cucumber slices.
For an alternate pesto sauce using a blender, check out our Blendjet recipe.
Excess pesto sauce can be refrigerated for future use.
This way, you'll be able to snack on the tasty lemon cucumbers anytime!
For any excess lemon cucumbers or if you just like pickles, check out this Pickled Lemon Cucumber Slices recipe.
This recipe is so easy that even first-timers can pickle their first jar of lemon cucumbers!
You'll need some garlic, dill seed, and red pepper flakes to add some additional flavor.
Add boiling water, vinegar, and salt into the jar with the spices and cucumbers and you have your pickling brine!
For the best taste, let it absorb the flavor for a few weeks so you can have a nice salty and sour taste.
Lemon cucumbers are sweet and juicy with a milder taste than their regular counterparts, hence they fit really well in a salad recipe.
This easy-to-execute lemon cucumber salad recipe is a quick and simple way to utilize the unique fruit.
All you need to do is slice the lemon cucumbers and red onion, then add the mint leaves and almond nuts.
Serve it in a nice salad bowl or plate and drizzle some extra-virgin olive oil and balsamic vinegar to finish it off.
Add some Middle Eastern flair to your next salad with this Lebanese Lemon Cucumber Salad recipe!
With the spices and the novelty of lemon cucumber, this salad is going to be very interesting indeed.
If you want to take the heat up a notch, you can even garnish it with red chili paste to really get a kick out of this salad.
With lots of mint leaves and a cooling yogurt, your taste buds will be hot and cold at the same time!
Get some grilled chicken alongside this wonderful salad and you'll have a deconstructed kebab for your next meal!
For a lightweight and refreshing salad, this Lemon Cucumber + Heirloom Tomato Salad recipe definitely fits the bill.
The sweet and juicy heirloom tomatoes combine very well with the mild sweetness of the lemon cucumbers.
Complemented with the additional sweetness of corn and some chopped chives, this salad is super delicious and addictive.
Top off with some balsamic vinaigrette and you have a really tasty salad that you will keep coming back to.
Not everyone has access to heirloom tomatoes, but fret not as we've got you covered with this lemon cucumber salad recipe that uses cherry tomatoes.
With oregano, green onions, and lemon juice added into the mix, this salad looks and tastes refreshing.
It's also a really easy recipe to follow.
All you need to do is combine all the ingredients and toss!
Add salt and pepper to taste although it already tastes so good on its own!
Lemon cucumbers can also be used to substitute any cucumbers in recipes. Here are some of our favorite recipes that you can easily introduce lemon cucumbers in place of regular cucumbers.
Gurkensalat is a creamy German cucumber salad that is healthy, vegan, gluten and oil-free, and most importantly, really delicious.
It is quick and easy to prepare, and we suspect you will be addicted to it, just as we did.
To keep it vegan, make sure you are using dairy-free yogurts such as almond or soy yogurt.
The creamy texture makes this dish really yummy and if you are using yogurt for it, you will also be reaping the benefits of the probiotics!
You can omit the yogurt or sour cream and go for a light dressing of olive oil and vinegar but we definitely prefer the creamy version.
Cucumbers themselves are refreshing mainly due to their light and mild taste.
But sometimes, we just want something heavier, and this Asian Cucumber Salad packs on the flavor to transform it into a sweet, savory, and spicy dish.
This salad is a great appetizer with the sourness of apple cider vinegar to help stimulate your appetite before your main course.
It is garlicky and smells really good with sesame oil and sesame seeds.
Be sure to tweak the chili powder and chili oil to modify the level of heat that you can take.
You cannot miss out on the classic combination of peanuts, mint, and cilantro for a Vietnamese Cucumber Salad.
The trio gives it the distinct texture and flavor that you can find in many Vietnamese dishes.
Add fish sauce and lime juice into the mix and you know you have an authentic Vietnamese salad on hand.
This healthy salad tastes good and it's so easy to make for a quick and delicious salad.
With cucumbers, cherry tomatoes, red onions, and Kalamata olives, this Greek Cucumber Salad is a perfect side dish.
It tastes refreshing and goes really well when paired with a meaty main course, such as our Legendary Wagyu Steak.
It is also compatible with a whole host of diets as it is gluten-free, vegan-friendly, soy-free, and fits right into a Paleo and Whole30 diet.
Try it and we're sure you'll love it!
At Glorious Recipes, we have our own quick and easy lemon cucumber pickles recipe. It tastes so good that we don't want to wait a few weeks to be able to enjoy them!
Yield: 2
Easy Lemon Cucumber Pickles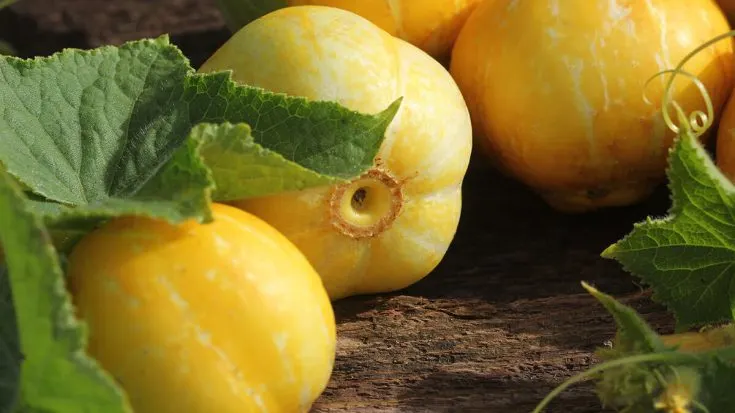 Pickle your lemon cucumber right in your refrigerator for a fuss-free and simple pickling process! A quick and easy recipe to enjoy those nice juicy lemon cucumbers as soon as possible.
Ingredients
2 cups lemon cucumber
1 cup water
⅓ cup white vinegar
½ cup green onion
2 tbsp salt
2 tbsp sugar
Instructions
Prepare the brine by adding water, vinegar, salt, and sugar into a bowl and mix well till everything is dissolved.
Add the lemon cucumbers and onions into the brine and make sure they are fully covered.
Place the mixture into the refrigerator and let it soak till consumption. Soak it overnight for more absorption and stronger taste but it is perfectly fine to eat it on the same day.
Notes
You can substitute the white vinegar with other vinegar of your choice such as apple cider vinegar.
You can also substitute the lemon cucumbers with regular cucumbers.
The pickles can last for up to a week in the refrigerator but will get less crisp as time passes.
Nutrition Information:
Yield:
2
Serving Size:
1
Amount Per Serving:
Calories:

79
Total Fat:

0g
Saturated Fat:

0g
Trans Fat:

0g
Unsaturated Fat:

0g
Cholesterol:

0mg
Sodium:

6988mg
Carbohydrates:

18g
Fiber:

1g
Sugar:

15g
Protein:

1g
Nutrition information is only an estimate and can vary depending on ingredients used.
Lemon cucumbers might be a little difficult to find in your grocery stores, depending on where you stay.
If you are into gardening, you can also choose to grow your own lemon cucumber plant!
Just make sure to harvest them when they start to turn from green to yellow so that they still taste sweet and tender!
Which of the lemon cucumber recipes have you tried so far?
Let us know in the comments below!
And don't miss out on Cubanelle Pepper, White Eggplant and Mirliton recipes for more healthy appetizer and side dish ideas!
Share on your favorite social media platform and tag us @GloriousRecipes – we can't wait to see what you have made!