If you haven't got a Blendjet, you definitely should.
It's the most convenient portable blender that you can bring anywhere with powerful blending and you can even drink right from the jar!
There is even an upgraded Blendjet 2 that is bigger, better, and more powerful with a built-in measuring cup.
Getting a single-serve smoothie or milkshake out is so quick and easy, it only takes a couple of minutes.
It doesn't require an electrical outlet and can easily be charged quickly with a USB cable that is provided.
It is versatile, lightweight, and ideal for a simple and healthy breakfast smoothie or even a protein shake after a good workout.
Read on as we bring you 15 quick & easy Blendjet recipes that you can experiment on and try for your next blending session!
The recipes are all fully compatible with both Blendjet and Blendjet 2.
Set the mood right and feel like you're back on the beach with this Tropical Sunset Smoothie.
With orange juice, banana, chunks of pineapple, and frozen mango, this fruit smoothie is filled to the brim with vitamin C!
It's a perfect drink at any time of the day to give your immunity a booster shot and relax at the same time.
All the tropical fruits blend together to create a delicious and tasty smoothie that you definitely to need try.
What's a better way to start your day than having a Morning Coffee Smoothie in your hands?
Spice up your morning drink with this combination of coffee, milk, oatmeal, and a frozen banana.
This coffee banana smoothie will give you a caffeine boost to start your engine and it's a healthy all-in-one breakfast that will keep you going till lunch!
You can use any milk you prefer and for the caffeine junkies, try a double-shot espresso for this Blendjet smoothie recipe.
For a healthy smoothie after hitting the gym, try out this Post Workout Smoothie recipe with yogurt!
No need for a protein shake here as almond yogurt and peanut butter will provide all the plant-based protein you need.
Adding spinach, almond milk, and a frozen banana, you will be getting a healthy vitamin-packed all-in-one smoothie!
Everything instantly becomes ten times better with peanut butter so you know this smoothie is just going to taste awesome.
Get your body cleansed with this Detox Power Smoothie that is loaded with vitamins and minerals!
This Blendjet recipe is a great way of getting the benefits of the veggies especially if you dislike eating greens.
You'll be surprised by how great this smoothie tastes and you'll be gulping it down in no time.
The peanut butter, banana, and mixed berries will give you all the flavor in the smoothie.
Mixed with spinach and chia seeds, it's a nutritional vegan and gluten-free smoothie that will keep your body in good shape!
Rich in antioxidants, this Blueberry Banana Smoothie is a great way to have a quick and healthy breakfast.
This Blendjet smoothie recipe contains a surprise ingredient that will further increase the health benefits of this delicious drink.
A dash of turmeric is added into the mix, which can help with heart health and is also anti-inflammatory and antioxidant.
With the underlying sweetness coming from maple syrup, this fruit smoothie is as yummy as the health benefits it brings.
For a creamy fruit smoothie with one of the most popular superfoods, check out this Avocado Kiwi Smoothie that tastes amazing.
Avocado provides the creamy texture that many have come to love, and it is loaded with healthy fats and fiber, plus it is rich in numerous vitamins and minerals!
With milk, honey, and yogurt added together with kiwi and avocado, this delicious smoothie is going to be your next go-to drink.
This smoothie recipe is so easy to follow and you know it's going to be quick to make with the convenient Blendjet.
Bland-tasting protein shakes are a thing of the past.
For a delicious tropical post-workout protein shake to match those sick gains after hitting the gym, this Peach Mango Protein Shake is the perfect drink.
With natural peaches and mangoes, you will be getting the vitamins and minerals you need in addition to the protein required to grow your muscles.
Add a tablespoon of agave to support your immune system with a variety of vitamin Bs and vitamin K.
The Blendjet is not only for smoothies.
Get your alcohol out of the cabinet and try out this Blendjet cocktail recipe that is perfect for the summer.
The Pineapple Daiquiri is a classic cocktail that uses white rum and pineapples as the main stars of this drink.
With the added juiced limes and agave, it tastes really refreshing.
Cool yourself down with a jar of this delightful cocktail the next time you are out under the hot sun!
Yes, you heard that right!
You can even use the Blendjet to make the sauce for mac and cheese!
And it is as simple as making a smoothie.
Just toss the ingredients into the Blendjet, blend it all away, add it to cooked macaroni and you will have a quick and tasty meal on hand.
With nutritional yeast in place of the usual cheese, this Blendjet recipe is also vegan-friendly!
One of our absolute favorite Blendjet recipes, this Honey Lavender Frappé tastes and smells gorgeous.
The floral notes from the lavender syrup add depth to the coffee beverage and the combination is perfect.
The smell of lavender combined with honey produces a very calming and soothing effect that makes one relaxed.
Put a book in your hand, kick back, and relax with a jar of this wonderful Honey Lavender Frappé.
For a non-dairy sweet treat, this Dragon Fruit Sorbet is an ice cream substitute that delivers the sweetness and joy of eating a dessert.
Dragonfruits are naturally fat-free, high in fiber and vitamins, and rich in antioxidants.
This superfood is a great health booster and when mixed with orange juice, bananas, and raspberries, it turns into a great-tasting sorbet!
So unbelievably easy to make, you will definitely be keeping this sorbet recipe for your post-dinner dessert rotation.
A Christmas classic favorite, this Peppermint Mocha Latte tastes so good and it's so simple to make.
Just add espresso into the blender, along with milk, chocolate syrup, and peppermint extract, and watch as Blendjet turns it all into a wonderful Peppermint Mocha Latte.
Top it off with some whipped cream and crushed candy canes to really set the festive mood!
If you have a Nespresso coffee machine, you can do a variation of this seasonal drink by making a Peppermint Marshmallow Latte!
This Blendjet milkshake recipe is bound to make you grin with delight.
With no baking required and no more messy kitchen, this Key Lime Pie Milkshake is quick and simple to make.
Always a family favorite, you can now devour a key lime pie in this condensed milkshake form that tastes as delicious as you can imagine.
Some milk, vanilla ice cream, key lime juice, and lime zest will be sufficient to do the trick!
This is another one of our favorite Blendjet recipes.
Chocolate and peanut butter is a classic combination that just can't go wrong.
This iconic pair comes together to form a rich, bold, and luscious-tasting smoothie that will definitely please your taste buds.
For those that want more of a caffeine jolt, adding a shot of espresso into the mix for blending will elevate the drink to the next level.
Craving for some pasta?
Skip the store-bought pesto sauce and make your own with this handy recipe that can be used with your Blendjet.
By using fresh ingredients to blend your pesto sauce, it just can't get any fresher than that!
All you need is some olive oil, lemon, pine nuts, garlic, basil, salt, and pepper.
Getting your pesto sauce is as simple as pushing a button.
At Glorious Recipes, we have our favorite Blendjet recipe that makes a really delicious breakfast. Packed with nutrition, this smoothie bowl is a health booster and contains our favorite superfruit, Acai!
Yield: 1
Acai Smoothie Bowl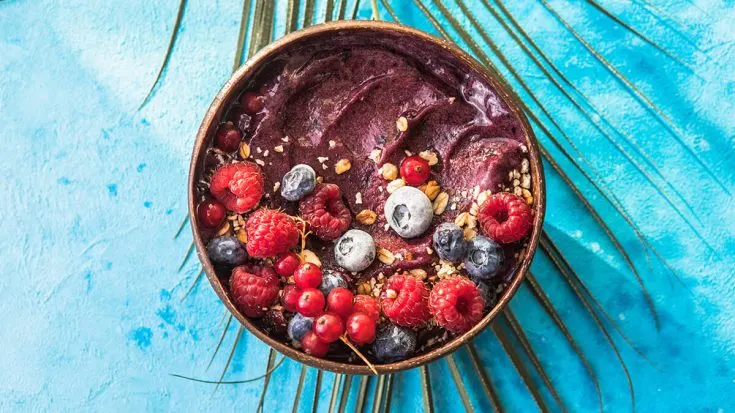 With a blender, making a smoothie bowl is now easier than ever. Your breakfast superfood is just a button away! Check out our quick and easy-to-follow Acai Smoothie Bowl recipe!
Ingredients
3.5 oz unsweetened frozen acai, slightly thawed (1 packet)
1 small banana, cut into 1-inch pieces and frozen
¼ cup blueberries, frozen
¼ cup apple or grape juice
Instructions
Place bowl in freezer while we do the rest. The frozen bananas should have been peeled and cut into 1-inch pieces prior to freezing.
After the Acai packet is around ⅓ thawed, break the Acai into pieces by hitting it with a mallet or similar blunt object.
Add Acai, frozen banana, frozen blueberries, and fruit juice into blender. Blend until smooth. You can add more juice if you want it to be less thick.
Pour the mixture into the chilled bowl and top with fruits and granolas.
Notes
If you don't know where to start with the fruit toppings, blueberries, raspberries, bananas, and granolas are good options to make a healthy and delicious Acai bowl.
For a gluten-friendly option, use gluten-free granolas.
Nutrition information is only an estimate and is only for the Acai smoothie portion.
Nutrition Information:
Yield:
1
Serving Size:
1
Amount Per Serving:
Calories:

351
Total Fat:

7g
Saturated Fat:

1g
Trans Fat:

0g
Unsaturated Fat:

5g
Cholesterol:

0mg
Sodium:

19mg
Carbohydrates:

75g
Fiber:

9g
Sugar:

56g
Protein:

3g
Nutrition information is only an estimate and can vary depending on ingredients used.
Which of the Blendjet recipes have you tried so far?
Let us know in the comments below!
For more beverage recipes, check out Ka'Chava, Vitamix Smoothies, and Loaded Teas for more ideas, or Almond Cow to make your own homemade milk!
Share on your favorite social media platform and tag us @GloriousRecipes – we can't wait to see what you have made!