White eggplants are less common than their purple counterparts, but they are sweeter, creamier, and denser, which makes them really delicious when cooked.
We always find them to be a treat when we manage to get our hands on them, and they can easily be used to substitute any variety of eggplants in many recipes, whether baking, frying, stir-frying, or sautéing.
There are also many benefits to eating white eggplants as they are healthy and contain high levels of nutrients like potassium, magnesium, and various vitamins.
With their sweet and creamy taste, many white eggplant recipes taste absolutely fantastic and we've got 10 of the most amazing recipes that you can whip up easily!
If you love eggplants, sausage, and parmesan, this easy recipe is for you.
Japanese white eggplants are perfect to make this stuffed eggplant parmesan as they're just the right size to fill up with the stuffing.
The eggplant flesh is scooped out to create eggplant boats and then filled with a combination of cooked sausage, eggplant flesh, garlic, onions, and tomatoes.
It is then completed by topping with shredded cheese and baking in the oven till they're ready to be eaten.
With no frying and no messy breadcrumbs required, this is a hassle-free white eggplant recipe that is simple to follow!
This simple Thai White Eggplant Stir-Fry recipe is great to serve as a side dish along with other proteins and steamed rice for a wholesome meal.
A spicy seasoning is made by combining ginger, green chili, coriander, and coconut powder, and then added to the white eggplants and onions for a nice stir-fry.
Cilantro is added at the end and the resulting dish is a wonderfully tasty plate of greens and whites.
This is perfect for a weeknight Asian dinner and goes really well with black pepper Angus steak!
White eggplants can also be used in a ratatouille to create a creamy bite and complement really well with the other ingredients.
In this simple White Eggplant Ratatouille recipe, the white eggplants are cooked separately from zucchini, red onion, red pepper, and cherry tomatoes.
White eggplants have thicker skin than the usual purple variety, hence it requires a longer time to cook.
The dressing is a simple mixture of olive oil, garlic, basil, and oregano, which helps to add a nice and light flavor to the ratatouille.
This is a healthy and delicious meal that you'll definitely love!
Enjoy a mouth-watering plate of fettuccine pasta with this delicious roasted white eggplant Alfredo sauce.
Made with soy milk, apple cider vinegar, fennel, onion, garlic, spinach, and various herbs, the rich sauce is bursting with flavor and is very enjoyable together with the pasta.
White eggplant helps to make the sauce creamier as it has a denser flavor as compared to purple eggplants and is perfect to create the Alfredo sauce.
You'll love it once you've tried it, and best of all, this white eggplant recipe is vegan-friendly!
One of our favorite white eggplant recipes, this White Eggplant in a Sesame and Spices Crust is straight from the Mediterranean kitchen and it's just so delicious!
It's also really simple to make and this can be an easy, tasty mid-day snack.
All you have to do is peel the white eggplants, dip them in an egg and cream mixture, then transfer and coat them in a flour and seasoning mixture, before frying them till golden brown.
Pair it with a yogurt dip or Bitchin' sauce for maximum flavor.
We know you'll definitely fall in love with this crunchy white eggplant recipe!
Add some Vietnamese flair to your next meal with this white eggplant recipe to create a flavorful spicy sauce that goes really well with the fruit (yes, eggplant is a fruit and not a vegetable!).
White eggplants are fully coated with the fragrant sauce, which is created by combining oil, lemongrass, garlic, green onion, basil, red chili, ginger, oyster sauce, and sugar, making it both sweet and spicy.
Serve with some steamed rice for an exceptional meal!
Fried eggplant is a popular Andalusian tapa and it's very tasty when the savory bite of eggplant comes together with the sweetness of the honey.
Rosemary adds additional depth to the flavor and excels at bringing the whole dish together.
This white eggplant recipe is a great appetizer and it'll definitely bring many compliments due to the simplicity of the dish and the complexity of the flavor.
It's also ideal as a mid-day snack, just don't get hooked on it!
If you want something crunchy but healthy, check out this Baked Eggplant Fries with Greek Tzatziki Sauce recipe.
The cut eggplant pieces are dipped in flour and egg, then coated with a breadcrumb and seasoning mixture before being baked till they are beautifully golden and crispy.
It's a great alternative to the regular fries that are deep fried and are great sides to complete a meal.
Serve with Greek tzatziki sauce, Tiger sauce, or any of your favorite dips!
Eggplant parmesan is one of our favorite comfort food and because white eggplants are generally mild-tasting and creamy, it makes the whole dish so wonderfully delicious.
It begins with dipping the sliced eggplants in flour, then eggs, before coating them with a panko breadcrumb mixture.
They are baked to perfection in the oven and then it's all about layering marinara sauce, eggplant slices, and mozzarella slices.
Freshly chopped basil and grated parmesan cheese are sprinkled throughout the process and the resulting dish is pure cheesy goodness!
Turn the delicious eggplant parmigiana into bite-sized pieces with this handy Eggplant Parm Bites recipe.
It's similar to making the full-sized version, just that the eggplant is cut into small 1-inch cubes before being dipped and coated with flour, egg, breadcrumbs, and parmesan cheese.
They are then fried in a pan until they turn golden brown.
Garnish with some fresh parsley, grated parmesan cheese, and salt.
Dip those delicious small bites in your favorite sauce and enjoy this tasty appetizer!
At Glorious Recipes, we have our favorite white eggplant recipe to make Mozzarella and Parmesan Eggplant Boats that are absolutely delicious! Refer to the recipe card below for full instructions.
Yield: 4
White Eggplant Boats with Mozzarella and Parmesan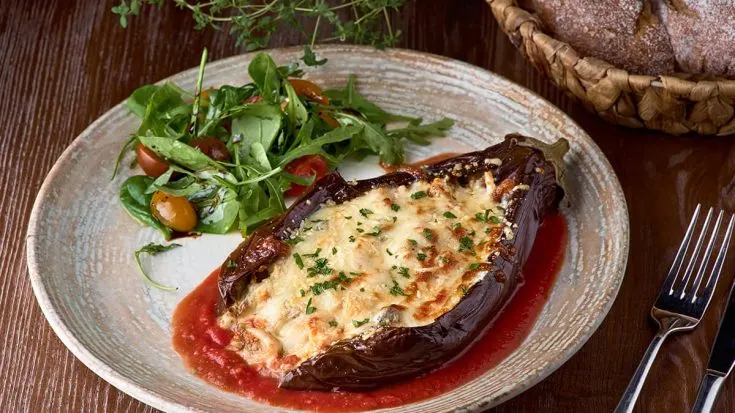 Make delicious eggplant boats filled with mozzarella and parmesan cheese, with either white or purple eggplants for an amazingly tasty meal!
Ingredients
2 medium white or purple eggplants
4 tbsp olive oil, extra virgin
1 tsp Italian seasoning
salt, to taste
black pepper, to taste
½ tsp garlic powder
1 cup marinara sauce
2 cup mozzarella cheese, shredded
½ cup parmesan cheese, grated
Instructions
Preheat oven to 400 degrees F (or 200 degrees C).
Half the eggplants lengthwise. Place them on baking sheet with the flesh facing upwards. Add one tablespoon of olive oil across each half and season with Italian seasoning, salt, pepper, and garlic powder.
Place eggplants into oven and roast for 20 minutes. After that, remove the eggplants and spread marinara sauce and top with both mozzarella and parmesan cheeses for each eggplant half. Bake for another 10 minutes till the cheeses melt and are golden brown.
Let them cool for a while before serving. Enjoy!
Notes
Both purple and white eggplants can be used for this recipe, although we prefer white eggplants for their creamier taste. Picture is taken when prepared with purple eggplants.
Nutrition Information:
Yield:
4
Serving Size:
1
Amount Per Serving:
Calories:

426
Total Fat:

31g
Saturated Fat:

11g
Trans Fat:

0g
Unsaturated Fat:

17g
Cholesterol:

56mg
Sodium:

1013mg
Carbohydrates:

21g
Fiber:

5g
Sugar:

8g
Protein:

18g
Nutrition information is only an estimate and can vary depending on ingredients used.
Which of the white eggplant recipes have you tried so far?
Let us know in the comments below!
For a dose of protein to be served alongside white eggplants, try some Pork Jowl or Angus Beef!
Or check out Baby Eggplant, Japanese Eggplant, Romanesco, Frozen Okra, Lemon Cucumber, and Mirliton recipes for more healthy appetizer and side dish ideas!
Share on your favorite social media platform and tag us @GloriousRecipes – we can't wait to see what you have made!