Cubanelle peppers, also known as Italian frying peppers, have a mild and subtly sweet flavor that's great for whipping up a variety of awesome dishes!
With their bright and vibrant color, they also help to add a visual pop to make your dishes incredibly appetizing.
Whether you like them roasted, sautéed, or stuffed, you're bound to enjoy the delightful flavor of cubanelle peppers!
Are Cubanelle Peppers Hot?
In terms of heat level, cubanelle peppers are slightly spicier than bell peppers and banana peppers but are still generally considered to be mild.
They are, however, less spicy as compared to Anaheim peppers, poblano peppers, and jalapeño peppers.
Cubanelle Pepper Recipes
From stuffed peppers to tasty pasta, we've got you covered with some of the best cubanelle pepper recipes that you can easily try at home!
Savor an exceptional meal with these stuffed peppers that are incredibly delicious and sure to whet your appetite!
Filled with a delectable mixture of ground chicken, brown rice, and aromatics, all simmered in chicken stock and tomato sauce, these peppers are an absolutely mouthwatering delight!
The stuffed peppers are extremely delicious and make for a satisfying meal that the entire family can enjoy!
With a beautiful presentation and fantastic taste, this dish is bound to impress!
For an amazing side dish or appetizer, you've got to check out this excellent roasted cubanelle pepper recipe!
It's ridiculously simple to make and involves pouring a mixture of garlic, oil, and vinegar over roasted peppers to let all the wonderful flavors infuse into the vegetables.
A garnish of fresh parsley helps to make this dish even more aromatic and you'll be salivating in anticipation of this incredible dish.
Roasted peppers have never tasted this good!
In what is one of our favorite cubanelle pepper recipes, the vegetable is used to impart its distinctive flavor to create an amazing dip!
It's a delightful combination of mashed avocado, peppers, sriracha, lime juice, garlic, onions, tomatoes, and cilantro, creating an extremely flavorful dip that's incredibly addictive.
Serve with your favorite chips and you'll be devouring everything before you even know it!
Make this your next party dip and be prepared to be showered with plenty of compliments!
Sign us up for these splendid Sausage Stuffed Cubanelle Peppers that are superbly tasty and super easy to whip up!
These peppers are stuffed with a filling of ground sausage, spaghetti sauce, and mozzarella cheese before being baked until an awesome melted cheesy goodness is achieved.
It's a versatile recipe and you can easily substitute the ground sausage with any meat you have on hand, such as ground beef, ground turkey, and ground chicken.
With how effortless it is to make, this is definitely a dish that needs to be part of your meal rotation!
Savor an outstanding pasta dish with this Spicy Pepper Bucatini that combines some of our favorite ingredients in one dish!
There's no lack of flavor with plum tomatoes, anchovy fillets, garlic, peppers, and Calabrian chili paste used in the making of a spicy and incredibly palatable sauce.
Bucatini serves as the perfect vehicle to deliver the flavorsome sauce, getting coated on the outside and being filled on the inside with its hollow center.
Completed with a sprinkle of Pecorino Romano and basil, this pasta is an elegant dish that's great any day of the week!
Inject a little Mexican flair to your next meal and try making this stuffed pepper dish that's sure to delight your taste buds!
Sautéed ground meat is combined with jalapeños, shallots, ketchup, beer, beef bouillon, and a variety of spices to create an exceptionally flavorsome filling that's used to stuff sweet cubanelle peppers.
Topped with melted cheese, these peppers taste absolutely heavenly and they are just irresistible!
Add rice or refried beans to make them even more wholesome to enjoy an awesome feast!
Discover an exceptional dish with this Camarones Enchilados recipe that you definitely don't want to miss out on!
This dish features shrimp coated with creole seasoning, all smothered in a delightful sofrito sauce that's made with lovely ingredients such as tomatoes, onions, cubanelle peppers, bell peppers, and brandy.
The flavors are perfectly balanced and it's an extremely delicious and mouthwatering delight that's sure to bring a smile to your face!
If you need a tasty seafood dish for your meal, this is definitely a top contender in our books!
This is one of those cubanelle pepper recipes that you'll want to keep handy because these Crispy Pepper Rings taste absolutely fantastic!
Coated with a mixture of beer and baking mix, then fried until beautifully golden brown and crispy, these pepper rings are the perfect side dish or party snack.
They are paired with a flavorsome dipping sauce made with mayonnaise, sriracha, honey, Worcestershire sauce, mustard, paprika, and horseradish, and they make for a divine combo!
These tasty bites are incredibly addictive so be warned because once you start, you just can't stop!
These Eggs in Pepper Boats are so delicious that you won't believe how easy it is to make them!
All this dish entails is to crack an egg into each softened pepper half and then cook until the egg whites are set before serving.
A basic sprinkle of salt and pepper is sufficient to make them incredibly tasty!
There's nothing not to like about this quick and easy recipe because they look good and taste great!
Reward yourself with a remarkable burger that boasts an astonishing flavor and is a definite show-stopper that will elevate your dining experience to new heights!
With roasted cubanelle pepper rings, salami, mozzarella cheese, provolone cheese, mayo-pesto sauce, and a patty made with ground beef, Italian sausage, pesto, and garlic, you know you're guaranteed an extremely flavorful burger.
Every bite of this wonderful burger transports you to the epitome of culinary heaven and it's a taste sensation that is hard to beat.
It might just become your new favorite burger after you've given it a try!
Expand your meal options with this marvelous Panzanella Salad that's loaded with tons of nutrition and great ingredients!
It's a fantastic medley of roasted cubanelle peppers, heirloom tomatoes, romaine hearts, sweet corn, pickling cucumbers, Parmigiano Reggiano, and bread chunks, all tossed in a red wine vinegar dressing to create a vibrant and refreshing salad.
With sweet, tangy, and savory flavors present in this salad, this is a superbly tasty and satisfying dish that's healthy as well!
Give it a try and you'll not be disappointed!
This is another stuffed cubanelle pepper recipe that you might want to try because it makes such a delectable dish!
Grilled cubanelle peppers are stuffed with a combination of chorizo, Pepper Jack cheese, jalapeños, sriracha sauce, and other lovely ingredients to create something truly amazing.
These stuffed peppers have a smoky flavor with just the right amount of heat to tantalize your taste buds!
Easy to make and delicious, just how we like our recipes to be!
Cool yourself down with a phenomenal cold soup that's exceptionally tasty and it's perfect on a hot and sunny day!
Made simply by blending a combination of cucumbers, cubanelle pepper, yogurt, cider vinegar, onion, garlic, olive oil, water, and mint, this is as easy as it gets.
This soup is loaded with incredible ingredients and tastes absolutely refreshing!
It's so delicious that you'll want to lick every last drop of it!
With how delectable it is, it's no wonder why this made it to our list of favorite cubanelle pepper recipes!
For an amazing dish that's delicious and easy to prepare, you've got to check out these awesome toasts!
Topped with queso fresco, pickled onions, jalapeños, and grilled cubanelle peppers marinated in garlic and vinegar, these toasts are an absolute delight!
They are incredibly appetizing with sweet, savory, and tangy flavors combining really well to create a symphony of taste in your mouth.
This is an easy starter dish that can serve as a great beginning to an awesome meal!
Try your hands at making this fantastic dish that's incredibly easy to prepare and only requires a few simple ingredients!
This dish involves stuffing cubanelle peppers with a mixture of bread, oil, garlic, parsley, and anchovy paste before roasting them in the oven until nicely charred and softened.
Your house will be filled with an amazing aroma and you'll be counting down the timer on the oven in anticipation of this wonderful treat.
It's an easy side dish that you'll definitely want to try!
Enjoy a superb brunch with these poached eggs and mushrooms that taste extraordinary and are sure to delight your senses!
Sautéed mushrooms, garlic, shallots, and marjoram are combined with poached eggs and a brilliant cubanelle pepper purée to create an absolutely scrumptious treat.
It's a simple combination but with great depth and complexity to the flavor, the taste is anything but simple.
If you need a palatable dish to impress for your next brunch date, this is it!
At Glorious Recipes, we have our favorite Baked Cubanelle Pepper Rings that we absolutely adore and they taste heavenly! Check out the recipe below!
Yield: 4
Baked Cubanelle Pepper Rings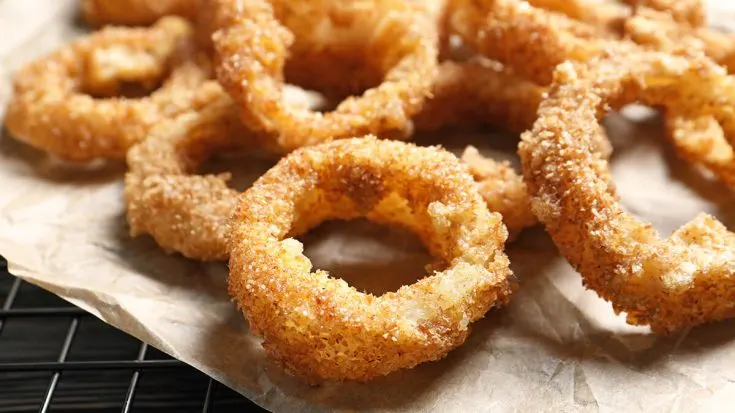 These Baked Cubanelle Pepper Rings make for an addictive snack or side dish and they are so delicious!
Ingredients
3 cubanelle peppers, stems and seeds removed, sliced into ½-inch rounds
1 cup all-purpose flour
3 eggs, beaten
1 cup panko breadcrumbs
½ cup parmesan cheese, grated
2 tsp garlic powder
1 tsp dried oregano
1 tsp paprika
1 tsp dried basil
1 tsp salt
½ tsp pepper
Instructions
Preheat oven to 425˚F (220˚C).
Prepare 3 shallow dishes. Add flour to the first dish. Add beaten eggs to the second dish. Add breadcrumbs, cheese, garlic powder, oregano, paprika, basil, salt, and pepper to the third dish.
Dredge the rings one-by-one in the following order: flour, eggs, then breadcrumb mixture. Shake off any excess before moving to the next dish. Place dredged rings on a baking sheet lined with parchment paper.
Bake the pepper rings for around 10-15 minutes each, or until they turn golden brown and crispy. Flip the rings midway through.
Serve with your favorite dipping sauce and enjoy!
Nutrition Information:
Yield:
4
Serving Size:
1
Amount Per Serving:
Calories:

359
Total Fat:

9g
Saturated Fat:

4g
Trans Fat:

0g
Unsaturated Fat:

4g
Cholesterol:

150mg
Sodium:

1062mg
Carbohydrates:

53g
Fiber:

4g
Sugar:

4g
Protein:

16g
Nutrition information is only an estimate and can vary depending on ingredients used.
Which of the cubanelle pepper recipes have you tried so far?
Let us know in the comments below!
For more awesome vegetable recipes that you might like, check out the following:
The Little Potato Company
Sunchoke
Golden Beet
Black Garlic
Grape Tomato
Mayocoba Beans
Kelp Noodles
Daikon
Baby Eggplant
Savoy Cabbage
Share on your favorite social media platform and tag us @GloriousRecipes – we can't wait to see what you have made!