If you've been wanting to make your own homemade ice cream, you've got to check out the Dash Ice Cream Maker recipes that we have in store for you.
Don't need to worry about making too much ice cream because the aptly-named Dash My Pint Ice Cream Maker makes a single pint-sized serving, suitable to get your quick ice cream fix whenever your craving hits.
There's no better feeling in the world than enjoying a nice serving of ice cream on a hot and sunny day.
Homemade ice cream is the best because you're in total control of the ingredients, plus you get to express your creativity and experiment with different flavors.
With Dash My Pint Ice Cream Maker, you can even make gelatos, sorbets, and frozen yogurts!
Before we get to the good part, here are some useful tips for the Dash My Pint Ice Cream Maker that you should take note of before making your desired ice cream:
Tips for using Dash My Pint Ice Cream Maker
Tip #1: The cooling bowl needs to be chilled in the freezer at -2°F (or -18.9°C) or colder for 24 hours before use.
Tip #2: The cooling bowl is the most effective in the first 20 minutes of use before having to be frozen for 24 hours again, so take it out from the freezer only when you want to use it.
Tip #3: The maximum amount of ice cream mixture is capped at 1 cup and needs to be placed in the freezer for 1-3 hours before using. Tweak the recipes accordingly to minimize excess unless you are planning to make multiple batches.
Tip #4: After churning the mixture, if it is too watery still, you can try transferring it to a freezer-proof container and freezing it for at least 4 hours to achieve a firmer texture.
Now for the juicy part, here are 15 Easy Dash Ice Cream Maker recipes that you can try with the cool mini ice cream maker!
Dash also has an Everyday Ice Cream Maker that is a 2-in-1 ice cream and popsicle maker with a larger capacity and is perfect for a family. The recipes shown are fully compatible with the Everyday Ice Cream Maker, you just have to tweak the amount of ingredients accordingly while maintaining the proportions.
Looking for a healthy ice cream recipe?
This Peaches and Cream Ice Cream is made with real peaches, without any artificial coloring or flavoring, and with no added syrup.
It is delicious, packed with flavor, really addictive, and gluten-free!
To create this wonderful-tasting ice cream, blend all the ingredients and let the mixture freeze for 1-3 hours before churning.
Once churned, freeze it for 4 hours, and voila!
For an estimated 85 calories per serving, it's a healthy dessert that you can binge on without guilt!
For a dairy-free ice cream maker recipe, check out this Oat Milk Ice Cream that tastes really good.
Using oat milk and almond butter, lactose-intolerant individuals can also enjoy this sweet treat without any trouble.
This recipe calls for the optional addition of vodka or bourbon to help the oat milk ice cream remain softer with less ice for a better texture overall.
This homemade ice cream tastes really rich and creamy with the vanilla extract, and we foresee it will make its way into many folks' favorites list very soon!
Plain old vanilla ice cream might be boring to some people.
Why not spice it up with some cinnamon?
In this homemade ice cream recipe, ground cinnamon is used to infuse vanilla ice cream with its warm flavor.
The usual vanilla extract is skipped in favor of using real vanilla beans to ensure a rich, authentic, and creamy flavor that fully complements the cinnamon taste.
The final result is an amazing-tasting ice cream that you can't believe you made at home with an ice cream maker.
One of the classic favorites, this homemade Strawberry Ice Cream recipe will definitely be one that you will be keeping for a long time.
Perfect for any occasion and all seasons, this traditional ice cream flavor will never run out of trend.
This is a dessert that tastes so delicious and we just know you'll be making it regularly to scratch that ice cream itch.
Plus, it's made with real strawberries so you can reap all the benefits of the vitamins and minerals they contain!
Anything to justify that extra scoop, am I right?
You can add cinnamon to vanilla ice cream.
Why not add it to chocolate ice cream as well?
In this Mexican Chocolate Ice Cream recipe, we have just that.
Cinnamon is the distinctive flavor in Mexican chocolates as they are usually spiced as compared to regular chocolates.
If you can get your hands on Ibarra Mexican chocolate, you can substitute the chocolate used in the recipe and skip the cinnamon since it already contains that.
You might never go back to your regular chocolate ice cream again after this.
We absolutely adore everything lavender and we love that it's a mainstream flavor now.
The floral notes elevate everything it touches and ice cream is no exception.
Using culinary lavender as the main ingredient, this super creamy, super delicious ice cream just smells and tastes so good.
Add some food dye and watch it turn into a really nice pastel purple that fully replicates what a proper lavender ice cream should look like!
Try something unique for your next dessert with this Sweet Potato Ice Cream recipe.
The unlikely combination will surprise you with its delicious taste when combined with spices, white chocolate chips, and pecans.
With real homemade sweet potato puree, this delightful ice cream is guaranteed to be rich, sweet, and oh-so-yummy.
Cinnamon and nutmeg help to add a depth of flavor to it, nicely balancing the sweetness of the sweet potato, creating a very well-rounded ice cream that can be enjoyed anytime!
If you've ever tried Baskin Robbins' Daiquiri Ice, you'll know how addictive it is.
Rejoice, as you can now make it yourself at home!
This easy recipe is perfect for the Dash My Pint Ice Cream Maker, and you'll be enjoying this delectable dessert in no time.
Despite the name, there is no alcohol involved so you can safely enjoy it together with the whole family!
If you want an old-fashioned, creamy, and luscious banana ice cream, this is it.
Using real bananas to create the ice cream, together with whole milk, condensed milk, and evaporated milk, this banana ice cream is as creamy as it can get!
Once you have tasted this, you'll definitely be asking for your second and third servings.
It is surprisingly easy to make, and you'll be enjoying your ice cream bliss in no time!
For a classic Italian ice cream flavor, this Cannoli ice cream definitely fits the bill.
The ricotta flavor combined with a touch of cinnamon tastes exceptional and unforgettable.
Best of all, it's keto, gluten-free, and sugar-free!
Top it off with some pistachios to get close to an authentic Italian gelato.
This is a sweet treat that you will keep coming back to!
For a heavenly tropical flavor that tastes really great in the summer, check out this simple homemade Pineapple Ice Cream recipe.
This recipe only requires 3 ingredients – crushed pineapples, pineapple soda, and condensed milk.
With such an easy recipe, you're going to be tempted into making this regularly.
It tastes so refreshing and is perfect on a hot summer day!
How can we leave out the perennial classic favorite, plain old Vanilla Ice Cream that tastes so simple, yet so delicious?
Combining vanilla bean paste and pure vanilla extract, this delish vanilla ice cream oozes creaminess right off the bat!
There's no need for sweetened condensed milk, this ice cream is already so flavorful and definitely ticks all the boxes for high-quality ice cream.
Sprinkle toppings of your choice or just eat it as it is and enjoy the rich, creamy flavor that we've all come to love in vanilla ice cream.
One of our personal favorites, this Mint Chocolate Chip Ice Cream tastes so creamy and refreshing!
We love the minty feeling and when combined with really cold ice cream, the feeling is just exhilarating.
Using Ghirardelli semisweet chocolate, we have a rich, creamy, and complex chocolate intensity that combines really well with ice cream.
And make sure to follow the recipe down to a tee because we want to use mint extract here, which is a mix of spearmint and peppermint.
Using peppermint extract will not give the same intensity and flavor that we are looking for.
Once you've nailed down the recipe, this is a simple ice cream that you'll be enjoying for a very long time.
For a really simple ice cream maker recipe, check out this Blackberry Frozen Yogurt recipe that only requires 2 ingredients.
Using only blueberries and vanilla yogurt, this recipe is as easy as it can get!
Add some lemon zest to provide a tangy flavor that works really well with frozen yogurt.
The beauty of this recipe is that it's so easy to tweak and modify to suit your palate.
Ran out of blueberries? Just replace them with strawberries instead.
Don't fancy strawberries? Just add peaches instead.
Express your creativity and come up with exotic frozen yogurts!
Lemon sorbet is the ultimate refreshing treat that is perfect during the hot summers.
Made with fresh lemons, sugar, and water, it's guaranteed to delight your taste buds!
The refreshing and tart flavor of lemon makes this sorbet the go-to treat whenever you're feeling hot and thirsty.
A scoop of this lemon sorbet is never enough for us!
At Glorious Recipes, we have a super easy Dash My Pint Ice Cream Maker Mango Ice Cream recipe that is guaranteed to be your next favorite dessert. This sweet treat requires very simple ingredients and tastes super delightful!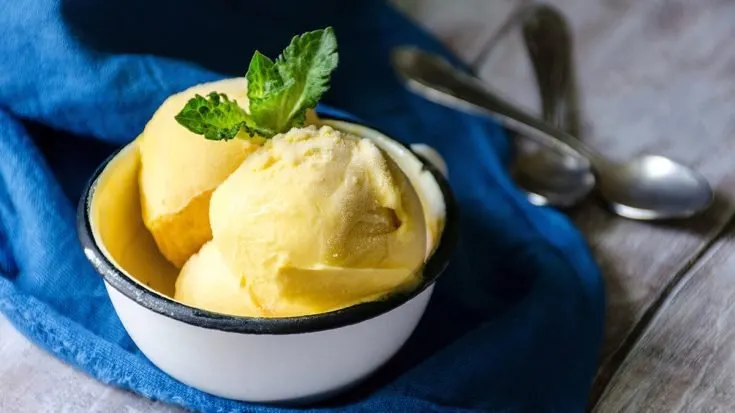 With the Dash My Pint Ice Cream Maker, making mango ice cream has never been easier. This easy homemade mango ice cream recipe will definitely be a hit with your friends and family!
Total Time
8 hours
35 minutes
Ingredients
1 mango
⅓ heavy whipping cream
¼ cup whole milk
¼ cup sugar
1 tbsp lemon juice
Instructions
Chill the cooling bowl in the freezer for at least 24 hours prior to making the ice cream.
Add mango, lemon juice and roughly a third of the sugar into a blender and blend till smooth to get your mango puree.
In a large mixing bowl, add in and combine the heavy whipping cream, whole milk and remaining sugar. Stir till sugar is dissolved. Gently add in the puree and mix well.
Cover the ice cream mixture and chill it in the refrigerator for a minimum of 4 hours. You can also freeze it in the freezer for an hour.
Take your cooling bowl out from the freezer and place it in the cooling container. Slowly pour the ice cream mixture into the cooling bowl (1 cup max for Dash my pint Ice Cream Maker). Turn on the motor unit and gently lower it with the paddle spinning into the ice cream mixture. Make sure it's properly connected to the cooling bowl and let it churn for 30 minutes.
For a firmer texture, transfer it to a freezer-proof airtight container and place it in the freezer for at least 4 hours before serving.
Garnish with mint leaves and enjoy!
Notes
You can totally skip the last freezing process and enjoy the mango ice cream right after churning. It's already super delicious!
If you are using Dash Everyday Ice Cream Maker, you can increase the ingredients accordingly. It is able to hold 3 cups of ice cream mixture.
If you are using other ice cream makers, follow the manufacturer's instructions accordingly.
Nutrition Information:
Yield:
2
Serving Size:
1
Amount Per Serving:
Calories:

234
Total Fat:

3g
Saturated Fat:

2g
Trans Fat:

0g
Unsaturated Fat:

1g
Cholesterol:

9mg
Sodium:

18mg
Carbohydrates:

52g
Fiber:

3g
Sugar:

50g
Protein:

3g
Nutrition information is only an estimate and can vary depending on ingredients used.
Make a nice cup of coffee with our Nespresso recipes to go along with your homemade ice cream!
You can even make an affogato by combining both of them together!
Or pair it with some nice low-carb crêpes that you can make with Crepini wraps and top with homemade jams and jellies with Sure-Jell!
If you love waffles, be sure to check out our list of Dash Waffle Maker recipes as well!
Which of the Dash Ice Cream Maker recipes have you tried so far?
Let us know in the comments below!
For a vegan, dairy-free, and gluten-free way of making ice cream soft serves and other sweet treats, don't miss out on our Yonanas recipes or make some Japanese crystal candies with our Kohakutou recipe!
Share on your favorite social media platform and tag us @GloriousRecipes – we can't wait to see what you have made!