Mirliton is a nutritious fruit that can be prepared in many ways to make really delicious food.
You might know it by its many other names, such as chayote, choko, chow chow, and chou chou.
It's a type of squash and is packed with many B vitamins, vitamins C, E, K, and a whole load of minerals that are essential for your body.
Mirliton is classified as a fruit, and it's mild-tasting and crunchy like cucumber or zucchini with some sweet notes.
If you are thinking about how you can incorporate this healthy fruit into your meal plans, fret not because we've got some of the best mirliton recipes that you can easily make at home!
Mirliton Recipes
One of the most popular mirliton recipes in Louisiana, these shrimp stuffed mirlitons are so delicious that they will leave you asking for more!
The mirlitons are first parboiled before having the seeds removed and pulp dug out to be used as part of the stuffing ingredients.
Shrimp, celery, onion, bell peppers, garlic, and mirliton pulp are cooked to form the tasty stuffing.
Breadcrumbs are added and mixed in before the mirlitons are stuffed with the mixture and baked in the oven.
This amazing side dish is completed by garnishing it with fresh parsley.
For a fancy and delicious meal, check out this Haitian-styled creamy roasted mirliton crab soup that's just amazing.
Mirlitons, potatoes, and garlic are seasoned and roasted before being pureed together with some flavorful homemade shrimp broth.
Crab meat is added in and the soup is simmered till it thickens.
It's served with cream and the entire dish is just superbly tasty and wholesome.
This is a fantastic soup and one of our favorite mirliton recipes!
In this terrific recipe, mirliton and shrimp come together in a casserole to create a delicious dish that is great for any occasion.
Adding Creole seasoning, andouille sausage, and other aromatics into the mix, the resulting baked dish is as flavorsome as it comes.
This mixed tray of goodness also includes torn pieces of bread to absorb all the melted butter and bay leaf, garlic, and scallion to add additional depth to the flavor.
Don't miss the chance to feast on this amazing mirliton casserole at your next family gathering!
A bowl of this mirliton and shrimp soup will warm you right up and it's the perfect comfort food on a cold day.
This is a simple mirliton recipe and anyone can easily make this to enjoy some delicious soup.
All you need to do is boil the mirliton, remove and mash the flesh, then cook it with onion, celery, garlic, and shrimp.
Season with pepper, salt, ground ginger, and basil, then stir in flour and chicken broth before letting it simmer for 30 minutes.
Add some half-and-half and this mirliton soup is ready to be served!
For restaurant-quality food, you've got to check out this seafood-stuffed mirliton recipe straight from Broussard's restaurant in New Orleans.
The stuffing is made with shrimp and lump crabmeat cooked in white wine and chopped dill, then seasoned with salt and pepper.
It's absolutely delicious and we highly recommend trying out this wonderful dish.
Serve with rice and marinara sauce to complete this dish for an amazing meal!
This quick and easy mirliton or chayote recipe is great for serving up a tasty appetizer or side dish.
Potatoes and mirliton are first peeled and cut into thin slices before being sautéed in a hot pan together with shallots and garlic till they reach a nice golden brown color.
They're then seasoned with salt and pepper, and garnished with fresh mint leaves.
It's a simple but tasty appetizer that's really straightforward to make!
Mirliton and seafood go really well together, and it's no surprise that this casserole dish with mirliton, shrimp, and crabmeat tastes so delicious.
Making this mirliton dressing is simple.
Aromatics and vegetables are first cooked and seasoned with salt, pepper, thyme, and hot sauce.
Shrimp, crab meat, and mirlitons are added for cooking before stirring in breadcrumbs.
The mixture is then topped with butter in a casserole dish, baked for 30 minutes till the dressing reached a nice brown color, and then garnished with freshly chopped parsley.
An absolutely amazing dish for something so easy to prepare.
This mirliton crab bisque is rich and bold, and oh so yummy.
A simple recipe using crab stock, Sauterne, liquid crab boil, seasonings, and vegetables, this will soon be your favorite bisque to make during dinner time.
Jumbo lump crab meat is used to ensure it remains an authentic and delicious dish, and parsley and paprika are used for garnishing at the end.
You just can't stop at one serving of this wonderful crab bisque!
Add some Mauritius delicacy to your next meal with this vegan Niouk Yen recipe, which is essentially mirliton dumplings.
Grated mirliton and vegan minced meat or mushrooms are used to form dumpling balls seasoned with soy sauce and minced garlic, with cornstarch added to hold the mixture together.
These dumplings are then steamed before serving with a ginger or garlic sauce that fully complements the dish.
You'll be asking for extra dumplings once you've tasted them!
For a healthy and great-tasting salad, check out this simple recipe that combines mirlitons, Honeycrisp apples, and shredded carrots.
A vinaigrette dressing made with apple cider vinegar, extra virgin olive oil, minced horseradish, Dijon mustard, and honey is drizzled and mixed together.
The salad is sweet, savory, and tangy all at the same time, making it really appetizing.
Best of all, it's packed with nutrients and really low in calories!
Try out this classic New Orleans stuffed mirliton recipe that uses crawfish as part of the stuffing to deliver delicious seafood bites into your mouth.
Onion and garlic give additional fragrance while parsley and thyme impart their herbal notes in this wonderful dish.
Baked to perfection, this exceptional dish is a must-try for your next meal!
Beef slices caramelized with healthy mirlitons and onions, along with tasty oyster sauce make for a wonderful Vietnamese dish.
It can't be authentic Vietnamese food without some fish sauce, which is used to marinate the beef slices.
The onions and mirlitons are sautéed with garlic and oyster sauce, then partially cooked beef slices are added to cook through and seasoned to taste.
Serve with steamed rice or noodle to complete this nutritious meal!
Check out this amazing recipe that incorporates mirlitons in a creative way to whip up a treat that looks and tastes fantastic.
Fried mirliton crisps and shrimp are used to build the tower, with a tomato remoulade sauce drizzled over it and at the side.
Frisée lettuce crown the tower at the top and bell peppers slices are used to garnish the plate.
It not only scores on the visual front but also taste as well because it's just so delicious!
Crunchy, tasty, and refreshing, this mirliton slaw recipe is great for tacos or even as a healthy side dish.
It's low in calories, high in nutrition, and all the fibers make for a filling meal.
This simple slaw consists of mirliton, purple cabbage, carrots, jalapeño, and freshly chopped cilantro.
With lime juice squeezed all over, this wonderful slaw is both hot and refreshing at the same time!
Breaded mirliton strips are baked to perfection in this excellent recipe and served with tasty avocado salsa.
These crispy mirliton wedges are great for snacking or for serving as an appetizer.
Baking instead of frying makes this dish a tad healthier, which means you get to enjoy more delicious wedges while feeling less guilty!
They also go really well with Tiger sauce and Bitchin' sauce!
At Glorious Recipes, we have our favorite stuffed mirliton recipe that is easy to make and tastes exceptional. Bacon and beef-stuffed mirlitons (or chayotes) with cheese will definitely delight your taste buds!
Yield: 4
Bacon and Beef-Stuffed Mirliton with Cheese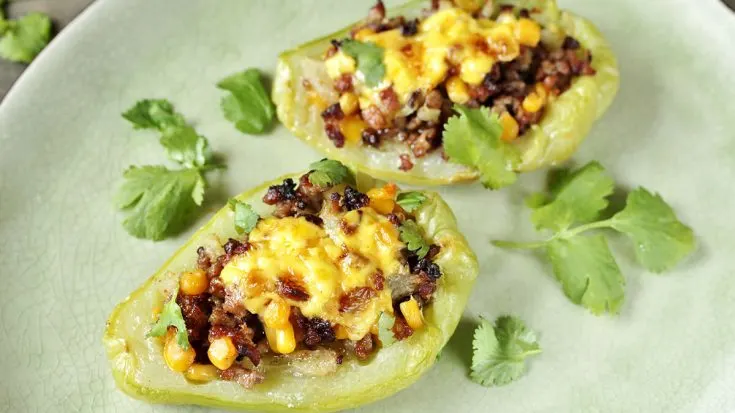 Enjoy a delicious appetizer or snack with these bacon and beef-stuffed mirlitons (or chayotes) with cheese that will definitely delight your taste buds!
Total Time
1 hour
10 minutes
Ingredients
4 mirlitons, small (about 6 oz each)
4 strips of bacon, cut into small pieces
1 lb ground beef (or pork)
2 ribs celery, chopped
1 onion, chopped
1 green bell pepper, chopped
1 garlic clove, minced
1 can Italian tomatoes
1 tsp oregano
4 oz Parmesan cheese, grated (or any other favorite cheese)
1 egg, large
½ cup breadcrumbs
salt, to taste
pepper, to taste
Instructions
Boil a large pot of water and add some salt. Add mirlitons and cook for around 30 minutes till fork can pierce through their skins. Remove mirlitons with spoon and place in cold water.
Once cooled, cut the mirlitons into half length-wise. Remove the seeds and discard. Remove flesh, roughly chop them, and save to be mixed in stuffing.
Start preheating the oven to 350°F (or 175°C) while we cook the rest of the ingredients.
Cook bacon in a skillet till crisp, then set it aside on paper towel to absorb the excess oil. Add celery, onion, green bell pepper, and garlic to skillet, making use of remaining bacon grease. Sauté till onion is translucent. Add ground beef and cook till it's no longer pink. Stir in tomatoes and chopped mirliton flesh. Add oregano, and salt and pepper to taste. Cook till liquid is evaporated then transfer to a large bowl and stir in bacon and ⅔ of grated cheese.
Butter a baking tray. In a separate bowl, beat the egg and stir in breadcrumbs. Add the cooked mixture and stir well. Spoon onto mirliton shells, top with remaining cheese, then place them in the baking tray. Bake uncovered for 20-30 minutes till the top is nicely browned.
Serve and enjoy!
Notes
Mirlitons are also known as chayotes.
You can substitute with any cheese or ground meat that you prefer.
Nutrition Information:
Yield:
4
Serving Size:
1
Amount Per Serving:
Calories:

581
Total Fat:

34g
Saturated Fat:

14g
Trans Fat:

1g
Unsaturated Fat:

15g
Cholesterol:

183mg
Sodium:

1090mg
Carbohydrates:

20g
Fiber:

2g
Sugar:

4g
Protein:

47g
Nutrition information is only an estimate and can vary depending on ingredients used.
Which of the mirliton recipes have you tried so far?
Let us know in the comments below!
For more healthy appetizers or snack ideas, check out the following recipes as well:
Hubbard Squash
Cubanelle Pepper
Mayocoba Beans
Romanesco
Shredded Carrot
Frozen Okra
White Eggplant
Lemon Cucumber
Share on your favorite social media platform and tag us @GloriousRecipes – we can't wait to see what you have made!