If you have been getting your daily caffeine fix from Starbucks or other overpriced cafes, it's time to make a change!
Whether you have an Inissia, Vertuo, or Lattissima machine, a Nespresso machine can change your life and your wallet (for the better!).
The upfront cost of getting a Nespresso machine will easily be offset by the savings you gain from each cup of coffee.
But don't mistake cheaper coffee for lousier coffee.
We will show you 20 easy Nespresso recipes that will elevate your coffee experience and provide barista-level beverages!
Keep the summer heat at bay with a cup of Iced Shaken Espresso!
This Nespresso iced coffee recipe is sure to cool you down and it tastes amazing.
To make your own Iced Shaken Espresso, just brew an espresso cup with your favorite Nespresso pod along with some sweetener and shake it with ice in a cocktail shaker.
Pour some cold foam over it along with some large ice cubes and you will have the perfect iced coffee to enjoy.
You can also easily add chocolate syrup or honey to give it a twist for something different!
One of the most common Nespresso recipes, this Iced Vanilla Latte definitely fits the bill for a quick and easy refreshing cup of coffee.
There are only 3 ingredients involved – espresso, milk, and vanilla extract.
It might look simple but the taste doesn't disappoint.
There is always room for some milky vanilla goodness!
If you want the Iced Vanilla Latte to be sweeter, you can easily add your favorite sweetener to it.
You don't have to wait till Christmas to enjoy this delicious homemade latte infused with eggnog!
Imagine the sweetness and creaminess of eggnog along with the fragrance of a well-brewed coffee to start your morning with.
The recipe is easy to follow and only a few ingredients are required.
All it takes to make this tasty latte is some espresso, eggnog, milk, and a final pinch of nutmeg on top.
This Eggnog Latte is also perfect for a cold freezing day!
Want something sweet, tasty, and keto-friendly?
As one of the more classic Nespresso recipes, this Keto Iced Caramel Macchiato is a Starbucks copycat recipe that tastes as good as the real thing!
To make it part of a keto diet, the coffee creamer is made using butter, whipping cream, and sugar-free syrup.
Even the caramel sauce is sugar-free!
Best of all, you can easily freeze it and you'll have a delicious Keto Iced Caramel Macchiato on hand at any time!
The Iced White Chocolate Mocha is a delightful treat that is sure to brighten your day!
Making use of the Nespresso Double Espresso Chiaro Pod, the intensity of the espresso is perfectly balanced with the sweetness of the white chocolate.
Mixing the two together creates a wonderful cup of mocha that will definitely blow your mind.
Another keto-friendly latte on the list, this Pumpkin Spice Latte is sugar-free and it's without all the unnecessary carbs.
With this homemade recipe, you won't have to wait till fall before Starbucks releases this seasonal beverage!
With a combination of pumpkin puree and pumpkin pie spice including the traditional flavors of cinnamon, nutmeg, and clove, you will find yourself enjoying this latte all year round!
Ever drank a cortado?
It's a beverage with roughly equal amounts of espresso and warm milk.
What you get is a perfectly balanced espresso drink that is super delicious.
This recipe mixes things up a bit by adding a teaspoon of brown sugar and a little cinnamon.
The end result is an aromatic cortado that you will keep coming back to.
Try using Fortado pods for a more intense flavor!
A classic go-to drink in the winter, the Peppermint Marshmallow Latte will be familiar to most people.
The peppermint aftertaste is so refreshing and it's the perfect drink during the winter.
This recipe is quick and easy to follow, and you can also make a big batch of peppermint marshmallow creamer that can last up to a week.
Sprinkle some crushed candy canes on top and you'll have your very own perfect Christmas drink!
Vietnamese coffee is traditionally made by pouring hot water over neatly pressed ground coffee and letting it get extracted by dripping through a metal filter.
This process might take a while and requires a special metal filter that you might not have on hand.
For a quicker and more convenient way to enjoy a nice cup of Vietnamese coffee, let Nespresso do its magic.
Get your espresso extracted in seconds, add condensed milk and ice, and mix it in a cocktail shaker.
You get a perfect cup of Iced Vietnamese coffee every time.
For a more tropical and dairy-free beverage, you need to check out this Toasted Coconut Latte.
With coconut milk, coconut syrup, and toasted coconut flakes, you can't get any more coconut than this!
This latte is delicious, addictive, and really refreshing.
You can even create a frozen drink by freezing the Nespresso coffee and blending the ingredients together!
Gingerbread might remind you of winter, but this Gingerbread Latte is a drink that can be enjoyed all year round.
The Gingerbread syrup is made with a combination of ground ginger, cinnamon, and nutmeg added to molasses, sugar, and water.
You can easily make the syrup in advance and you'll be able to create your own Gingerbread Latte whenever you have the craving.
With only 4 ingredients required, making the Oatmilk Honey Latte is a breeze.
All you need to do is brew your espresso, froth your oat milk, and then add honey and oat milk to the espresso.
Top up with oat milk foam and add some brown sugar at the top for a nice visual presentation.
You can use toasted honey in place of brown sugar if you want to replicate the Starbucks beverage completely!
Iced Sugar Cookie Almond Milk Latte was the first non-dairy holiday drink that Starbucks launched last year and it was a hit.
With sugar cookie-flavored syrup and almond milk, this drink has a buttery flavor that separates it from your usual vanilla lattes.
The blonde roast espresso fits in very nicely with the lighter roast taste profile.
Don't worry about it being too sweet because you are in complete control with this homemade recipe!
For a classic twist on the usual Caramel Latte, this Salted Caramel Latte is sure to satisfy your cravings.
All you need is some caramel syrup, milk, espresso, and a finishing touch of sea salt on top.
The sea salt perfectly balances out against the sweetness of the caramel syrup and it really enhances the drink.
This sweet and salty latte will never go out of trend!
Add some Mexican flavor to your next cup of coffee with this Iced Horchata Latte recipe.
There is everything to love about it.
It is sweet, creamy, and spiced with cinnamon.
Using brown rice, almond, and cinnamon sticks, it's not going to taste anything like your usual morning coffee.
Best of all, it's vegan and gluten-free!
Orange and chocolate is a classic combination that always tastes amazing.
Add that to a double-shot espresso and you have a cup of coffee that tastes incredible.
Blending citrus with the rich flavor of dark chocolate, this Dark Chocolate Orange Double Espresso Chocotini is beyond delicious.
It is simple to make and you can even make the orange simple syrup in advance so that you can easily enjoy this drink whenever you want.
For a soothing and relaxing drink, you definitely have to try out this Honey Lavender Latte.
The nutty flavor of the coffee is well complemented by the floral notes of lavender.
It is completed by the sweetness of the honey to create a nice, well-balanced drink that makes you feel calm and relaxed.
Definitely one of the more relaxing Nespresso recipes we've come across.
It's the perfect drink for kicking back on a weekend and relaxing with a book in hand!
Everything is always better with a little Nutella.
This Nutella Macchiato is no exception.
Mixing a double-shot espresso with some creamy hazelnut goodness results in a really delicious drink that is sure to brighten up your day.
It is incredibly easy to make.
All you need to do is add a tablespoon (or more!) of Nutella to the espresso and top it up with milk!
Creamy, frothy, and a little spiced, this Cinnamon Coconut Latte is a refreshing drink that can easily be modified for a vegan or dairy-free diet by using coconut oil.
It is simple to make, just brew your coffee and toss everything into a blender and blend it all away!
Top with some additional cinnamon powder and you'll have a delicious drink on hand!
If you have whisky on hand, venture to the world of alcoholic Nespresso recipes.
Try out this easy recipe for an Irish Coffee that is both caffeinated and boozy.
Choose a great Irish whisky for more authenticity and with a Nespresso machine, you can't go wrong with the espresso part.
The whisky and coffee are perfectly balanced to deliver the ultimate indulgence for coffee and alcohol lovers.
At Glorious Recipes, we have our own favorite drink that is a take on one of the more classic Nespresso recipes. It is quick and easy to make, was once a Starbucks hit and it provides the caffeine boost that our team requires all day long.
Yield: 1
Iced Caramel Cloud Macchiato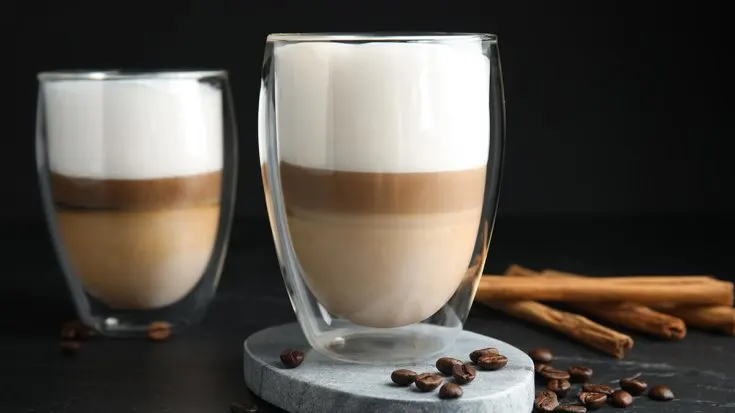 A twist on the classic Iced Caramel Macchiato, this cloud version changes things up with a dreamy, cloudy and silky foam on top.
With meringue powder, this drink is a breeze to make with our quick and easy recipe!
Ingredients
2 shots espresso of your favorite Nespresso pod
¼ cup milk
½ tsp meringue powder
½ tsp sugar
⅛ tsp vanilla extract
½ cup ice
caramel syrup
Instructions
Extract the double-shot espresso from the Nespresso pods. Chill it in the refrigerator.
In a mixing bowl, add milk, then meringue powder. Beat until foamy with medium speed. Add sugar and continue beating. Add vanilla extract when a loose meringue is formed.
Pour the espresso into a glass half filled with ice. Add the foam on top and drizzle with caramel syrup.
Enjoy!
Notes
To create a hot Caramel Cloud Macchiato, don't chill the espresso shots and skip the ice.
Nutrition Information:
Yield:
1
Serving Size:
1
Amount Per Serving:
Calories:

143
Total Fat:

1g
Saturated Fat:

1g
Trans Fat:

0g
Unsaturated Fat:

0g
Cholesterol:

5mg
Sodium:

186mg
Carbohydrates:

31g
Fiber:

0g
Sugar:

30g
Protein:

3g
Nutrition information is only an estimate and can vary depending on ingredients used.
If you're in the mood for a sweet treat, try combining Nespresso coffee with some homemade ice cream to create an affogato!
Or make your own milk with Almond Cow for an extremely nice cup of coffee!
If you prefer liquid coffee concentrate instead, don't miss out on Javy Coffee!
Which of the Nespresso recipes have you tried so far?
Let us know in the comments below!
Share on your favorite social media platform and tag us @GloriousRecipes – we can't wait to see what you have made!
Don't miss out on our 13 Best Deviled Eggs recipes that go really well with your favorite cup of Nespresso!