Deviled eggs are one of our favorite appetizers and snacks.
They are versatile and there are many ways to play around with the flavors!
According to the USDA, hard-cooked eggs can be stored in the refrigerator for a week so it's easy to prep them beforehand for a quick bite!
However, due to the ingredients involved, we definitely recommend consuming them within 2 days for ultimate freshness.
Another tip is to always use fresh eggs because you want the egg shells to be peeled off easily to keep the shape nice and intact.
Be it Thanksgiving, Easter, or Christmas, deviled eggs are sure to be welcomed at gatherings and they are so simple to make!
Smoked deviled eggs are a classic favorite.
The smoked eggs serve as a base before topping it up with a mixture of mayonnaise, vinegar, mustard, salt, and pepper.
Finish it off with a sprinkle of paprika powder for that extra flavor and look!
This recipe is so simple, you will definitely make it more than once!
Bloody Mary deviled eggs look amazing and can instantly spruce up the dining table!
They are perfect for a party and you are bound to get compliments from your guests!
It turns the classic cocktail into a perfect appetizer and it's easy to prepare.
You will need some Old Bay seasoning to fully coat the eggs before filling the eggs with the mixture.
Shrimps are optional but they taste great and really complete the look!
Give the classic deviled eggs a little twist and try this Million Dollar deviled eggs recipe!
The secret ingredient in this recipe is butter!
The deviled eggs will taste more creamy and velvety, without overwhelming the other ingredients.
Top it off with bacon and paprika for a delicious snack!
Vegans rejoice! Vegan deviled eggs do exist!
They look and taste like actual deviled eggs but are made from plant-based ingredients.
It is also gluten-free!
The main ingredients required are agar agar powder and kala namak salt.
You can find the agar agar powder in most Asian markets while kala namak salt can be found in Walmart.
Give this recipe a try and you will be amazed by how similar it tastes to the real thing!
This crab deviled eggs is easily turning into one of our favorite deviled eggs recipes.
It is easy to make and tastes absolutely amazing.
For seafood lovers, this is a must-try recipe!
The star of the recipe is of course the crab meat and some lemon juice squeezed over it.
You can really use any herbs you prefer and combine them with mayo and mustard to create your own unique version!
Eggs are definitely the perfect vehicle to combine with crab meat!
Give your deviled eggs an extra kick with a dose of Sriracha hot sauce!
It is a really simple and straightforward recipe.
Just boil the eggs, remove the shells and yolks, and pipe it with the filling.
The filling is made with a mixture of egg yolks, mayonnaise, mustard, Sriracha sauce, and chives.
Finish it off with paprika powder and it's ready to be served!
This is another recipe to try for the seafood lovers.
A simple variation of the classic deviled eggs recipe is to add shrimp on top of the filling.
For a fuss-free and quick option, you can use store-bought precooked salad shrimp as well!
This recipe also adds a bit of garlic powder into the filling mixture for a different taste.
Garnish with a sprinkle of paprika and finely-chopped parsley for the finishing touch!
These colored deviled eggs are great for a festive twist and kids will absolutely love them!
It is super easy to prepare and will make for an awesome family activity!
To get the nice pastel-colored eggs, the boiled and peeled egg whites are soaked in a food coloring mixture for about 10 minutes.
For the filling, just combine the egg yolks with the various ingredients or you can modify and use any fillings in this list!
This variation of deviled eggs uses Cajun seasoning to make them extra delicious!
It is flavorful and you can adjust the level of heat with the cayenne pepper and mustard.
For the filling, mix the egg yolks together with Cajun seasoning, mustard, mayonnaise, and apple cider or white vinegar.
Garnish with paprika, cayenne, and parsley, and it's ready to be served!
For a unique twist to the traditional deviled eggs, try this curry deviled eggs recipe!
Curry powder and hot sauce are added to the filling mixture to give it chock-full of flavors.
Turmeric powder is also added for the bright color and complementary flavor, but take note not to add too much as it gives a bitter taste in excess!
If you like it spicy, use spicy curry powder instead and you can customize the recipe to suit your own palate!
This wasabi deviled eggs will surely stand out in a crowd with its green-colored filling!
Wasabi paste is used in place of the classic mustard in this recipe, which helps to provide the Asian twist, the heat, and the color!
Garnish with parsley and you can also sprinkle a little paprika to give it some additional color.
This will surely be a crowd-pleaser with its refreshing taste!
Upgrade the classic deviled eggs into a gourmet dish by adding truffles on top!
Truffled deviled eggs are a great luxurious option that will be familiar to everyone.
To give it the additional truffle taste, we also add truffle oil into the filling mixture to give it a heavenly aroma.
If you want it to be really luxurious, you can top it off with some caviar as well for the ultimate gourmet snack!
Tuna pairs perfectly with eggs and mayo so it makes great sense for this deviled egg variation!
This recipe is quick and easy to follow, and it uses canned tuna for great convenience!
Tuna is mixed into the filling mixture together with mayo, mustard, sour cream, hot sauce, garlic powder, and paprika.
Save some of the tuna to garnish at the end!
At Glorious Recipes, we have our own favorite variation of deviled eggs that we find to be simply amazing. You definitely need to try out our bacon & guacamole deviled eggs recipe:
Yield: 6
Bacon & Guacamole Deviled Eggs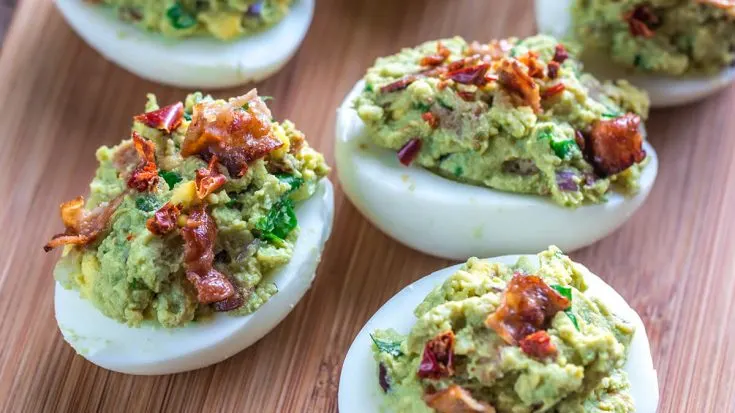 This is Glorious Recipes' version of bacon & guacamole deviled eggs.
A quick and simple recipe that gives the classic deviled eggs recipe a mexican twist!
Absolutely delicious!
Ingredients
6 large fresh eggs, hard-boiled
3 strips of bacon, cooked crisp and cut into small pieces
1 large avocado, mashed
1 tbsp jalapeno, minced
2 tbsp salsa
1 tbsp red onion, minced
2 cloves of garlic, minced
1 tbsp of freshly squeezed lime juice
1/2 tsp salt
Instructions
Slice the hard-boiled eggs in half.
Remove the egg yolks and place them into a mixing bowl. Mash them with a fork.
Add the bacon (save a little for garnishing), avocado, jalapeno, salsa, red onion, garlic, lime juice and salt. Mix and mash them evenly.
Fill the eggs with the mixture. You can use a piping bag.
Top off the eggs with remaining bacon.
Enjoy!
Notes
Use fresh eggs to make the peeling of egg shells easier and ensure nice rounded egg shape.
Consume within the day for best freshness and taste as guacamole turns brown after a few days.
Nutrition Information:
Yield:
6
Serving Size:
1
Amount Per Serving:
Calories:

189
Total Fat:

14g
Saturated Fat:

3g
Trans Fat:

0g
Unsaturated Fat:

9g
Cholesterol:

192mg
Sodium:

424mg
Carbohydrates:

8g
Fiber:

3g
Sugar:

1g
Protein:

9g
Nutrition information is only an estimate and can vary depending on ingredients used.
Which deviled eggs recipe is your favorite?
Let us know in the comments below!
Tip: Pair this with some of our lunch and dinner recipes like Ground Pork Pasta or Ground Veal to have a wholesome meal!
Or if you want a plant-based and vegan egg alternative, check out our JUST Egg recipes!
Share on your favorite social media platform and tag us @GloriousRecipes – we can't wait to see what you have made!