Skip store-bought milk and make your own plant-based milk with the Almond Cow machine!
The milk maker is easy to operate and very versatile despite the name because you can make many different beverages with it.
Other than milk, you can also use it to make creamers, infusion drinks, and even cocktails!
From basic almond milk to delicious lemon cheesecake infusion, we've got you covered with some of the best Almond Cow recipes to make your own tasty beverage!
What Is Almond Cow
The Almond Cow is a plant-based milk machine that self-strains and automatically separates the pulp from milk, giving you ready-to-drink milk in under a minute.
It's a user-friendly machine and it's really easy to make your own milk or drink.
For a basic recipe, water is filled at the base while other ingredients to flavor the liquid such as nuts, fruits, and grains are added to a filter basket at the top.
Once the top and bottom are secured, the machine will start making your drink at the press of a cute cow button!
Types of Almond Cow Machines
Almond Cow has 2 different machines available:
Almond Cow: This is the main machine for home consumers and makes up to 6 cups of milk at one go.

Almond Cow Pro: This is the professional version suitable for use in restaurants and businesses, and has a larger capacity of 2 gallons.
Almond Cow Recipes
Here are 20 of the best Almond Cow recipes that you can make at home and we've also included our own favorite version in the recipe card below!
Get your tropical grooves on with this delicious Pineapple Coconut Milk that's easy to make and only requires 3 main ingredients!
Pineapple juice is added to the base and helps to bring tropical sweetness and a refreshing taste to the milk.
Coconut cream and coconut shreds form the dry ingredients in the filter basket and are blended to impart tasty coconut flavor into the pineapple juice.
The final drink is super addictive and it's the perfect drink to enjoy in the summer!
Hit the beach with this fantastic drink that has the familiar flavors of pineapple and coconut but with wholly different ingredients and tastes, plus it's a cocktail to boot!
Coconut rum and coconut water provide the alcohol base and coconut flavor while limes and chopped pineapples help to add a refreshing tropical taste.
It's extremely tasty and you'll definitely crave this on a hot, sunny day!
With fresh ingredients and a great flavor, this is easily one of our favorite Almond Cow recipes!
For a fruity and refreshing drink, check out this Strawberry Coconut Limeade that's amazingly delicious!
Fresh strawberries are used so you can reap all the nutritional benefits that they contain.
Limes are added for a refreshing taste while agave syrup is used to sweeten the final drink and it's also compatible with a vegan diet.
The resulting blend is sweet with a slight tang that's super refreshing and easy to drink!
Make basic milk with this easy Almond Cow Almond Milk recipe that you just can't skip out on!
Soaked or unsoaked almonds can be used but with varying amounts, and they are added into the filter basket along with pitted dates and salt.
Salt acts as a flavor enhancer and also helps to extend the shelf life of almond milk.
If you want extra depth to the flavor, add some vanilla extract to make it really rich!
It's so easy to make your own almond milk and you get to control the ingredients used!
Ditch store-bought chocolate milk and make your own with this quick and easy Almond Cow recipe that you'll definitely keep coming back to!
Chocolate milk is made by adding cacao powder or chocolate chips to be blended along with almonds and sea salt.
Once the start button is pressed, you'll be enjoying your homemade chocolate milk within a minute!
It's that simple and it's that delicious!
Did you know that you can also make your own creamer with the Almond Cow machine?
With the same few ingredients as almond milk, you'll really only need almonds as the rest of the ingredients are optional such as pitted dates, salt, and vanilla extract.
Instead of adding water to the machine base, you'll be adding a reduced amount of 500ml to the collector cup so that it comes out thick and creamy.
Use it to add to your coffee and get your engine started!
Enjoy freshly blended coconut milk in mere minutes with this handy Almond Cow recipe that you'll definitely love!
The best thing about this recipe is that you can make coconut milk with coconut meat, shreds, or even flakes so it's super versatile.
Coconut nut milk is very rich and creamy and can be used in many recipes such as curries, coconut rice, and even cocktails!
Try it with your Almond Cow machine and whip up all those delicious food and drinks that you can enjoy!
Indulge in this fantastic avocado milk that's so easy to make and so tasty to drink!
Made with only avocados and pili nuts, it's creamy, delicious, and has many nutritional benefits!
Both avocados and pili nuts are superfoods that contain loads of vitamins and minerals that are essential for the healthy functioning of our bodies.
That's a good enough reason to start drinking and making your own avocado milk today!
Sweet, tart, and with a hint of minty flavor that's super refreshing, this Mermaid Lemon Limeade is a must-try cocktail for everyone!
With blue curaçao and white rum as the alcohol base, the cocktail has a beautiful blueish hue that's extremely inviting.
Lemonade and limes provide a delicious tangy flavor and make this drink super addictive.
It's a great summer cocktail but it's so tasty that you would likely enjoy it all year round!
For an Instagram-worthy drink that's tasty and refreshing, check out this Boozy Blue Lemonade with a pretty shade of blue and made with natural ingredients!
The beautiful blue color is derived from blue spirulina, which is a type of blue-green algae and a good source of B vitamins, copper, and iron.
Vodka forms the alcohol base in this fantastic drink while lemons act as the sour, with sugar added to balance the taste out.
This cocktail will definitely be the center of attention at every gathering!
Grace your taste buds with this delicious and vegan dessert drink that can easily be made with Almond Cow!
The Rocky Road Milk is a blend of almonds, marshmallows, and cacao powder, sweetened with agave syrup to deliver a fantastic drink.
It's chocolatey with depth in the flavor, and it's a sweet treat that's worthy to be included in your dessert rotation!
Dig into this fruity cocktail that's easy to enjoy with sweet and tart flavors, plus a cooling infusion coming from mint leaves.
Strawberries, lemons, mint leaves, and sugar are added to the filter basket and blended to give a delicious and refreshing taste to the drink.
With either bourbon or whiskey as the base, this cocktail is great for sipping during a relaxing evening.
Who knew it's so easy to make cocktails with an Almond Cow machine?
For all you gym rats out there or if you just want high protein in a simple and delicious drink, you've got to check out this Muscle Milk recipe!
With protein powder added, this tasty milk will definitely meet your protein needs and is perfect for a post-workout drink.
Almonds, cacao powder, and monk fruit give additional flavor and depth to the taste, resulting in an awesome and nutritious beverage.
Fuel your gains with this fantastic milk for your next gym session!
Other than almond milk, you can also easily make cashew milk with the Almond Cow machine!
With this easy recipe, there is added convenience as you don't even need to soak the cashews.
All you need to do is add the cashews and pitted dates into the filter basket, along with water, salt, and vanilla extract into the machine base.
Press the start button and it's good to go!
It's so easy to make your own delicious and creamy cashew milk with the Almond Cow machine!
Getting kids to drink milk might be a challenge for some, but with this amazing bubblegum milk recipe, the task is made a whole lot easier!
With a fascinating blue hue that will definitely attract everyone's attention, bubblegum milk is made with cashews, blue spirulina, and bubblegum flavor.
This drink is pretty to look at and tastes amazingly delicious!
Both adults and children will be hooked on this once they've tried it!
It's such a fun drink and easily one of our favorite Almond Cow recipes!
Did you know you can make milk from watermelon seeds?
With the Almond Cow milk maker machine, it's a breeze to use those watermelon seeds and reduce wastage!
All you need to do is throw in a cup of watermelon seeds and pitted dates into the filter basket, add water to the base along with the optional vanilla extract, and let the machine do its work!
You'll be enjoying tasty watermelon seed milk in no time!
Pamper yourself with a Power Wellness Shot to kickstart your morning and reap all the nutritional benefits of this amazing drink!
This ABC juice containing apples, beets, and carrots is packed chock-full of vitamins and minerals that can help to slow inflammation and boost the brain, among many other benefits.
With the addition of a little ginger and lemon, the drink is delicious and refreshing.
You definitely got to try this detox drink soon!
Display your adventurous side and try this Jalapeño Lime Orange Infusion that's sweet, tart, and spicy all at the same time!
Limes and lime-flavored sparkling water provide the refreshing tangy flavor that makes the drink really delicious while orange helps to bring some tropical sweetness.
If you like it really spicy, you can increase the number of jalapeños, which gives a kick with every sip.
It's strangely addictive and it might just be your new favorite drink!
Treat yourself to a Glow Wellness Shot with this simple recipe to create a refreshing drink that's perfect to perk yourself up in the middle of the day!
With pineapples, ginger, turmeric, and lemon, this delicious drink is loaded with nutrients that are good for your body.
A little cayenne pepper and black pepper are added to give a kick with every gulp and it's great for powering through the day!
Gulp down a lemon cheesecake instead with this awesome Almond Cow recipe that's the perfect sweet treat after dinner!
In this amazing recipe, lemon, graham cracker, cream cheese, and sugar are added to the filter basket and blended into a liquid lemon cheesecake, which is added to your favorite plant-based milk in the machine base.
It's incredibly delicious and it'll definitely be a mainstay recipe because it's just that tasty!
At Glorious Recipes, we have our favorite Almond Cow Soy Milk recipe that we absolutely adore. It's creamy and delicious! Check out the recipe below!
Yield: 5
Homemade Soy Milk with Almond Cow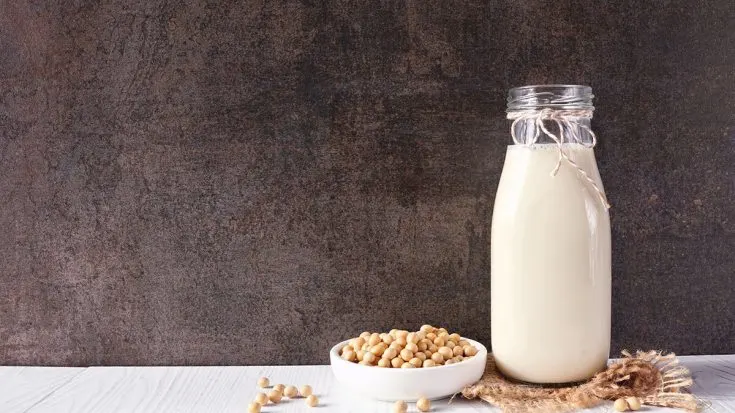 Enjoy delicious homemade soy milk with this quick and easy Almond Cow recipe! Soy milk has never tasted so good!
Ingredients
½ cup yellow soybeans, soaked and peeled
3 pitted dates, chopped
½ tsp sea salt
1 tsp vanilla extract
Instructions
Rinse soybeans and soak overnight for a minimum of 12 hours.
Add soybeans, pitted dates, and salt to the filter basket. Attach and secure the filter basket to the top part of the Almond Cow machine.
Add water to the base until it reaches the MIN line. Add vanilla extract. Attach the base to the top part of the Almond Cow machine.
Once the top and bottom parts are secured, press the cow start button. Wait till the green light stops flashing and it's done.
Cook the fresh soy milk over medium heat for 20 minutes. Let it cool before serving!
Notes
Salt is optional. It acts as a flavor enhancer and can help to extend shelf life as well.
You can use any sweetener to replace the pitted dates or leave it out completely if you want your soy milk unsweetened.
Nutrition Information:
Yield:
5
Serving Size:
1
Amount Per Serving:
Calories:

44
Total Fat:

2g
Saturated Fat:

0g
Trans Fat:

0g
Unsaturated Fat:

1g
Cholesterol:

0mg
Sodium:

233mg
Carbohydrates:

5g
Fiber:

1g
Sugar:

3g
Protein:

3g
Nutrition information is only an estimate and can vary depending on ingredients used.
Which of the Almond Cow recipes have you tried so far?
Let us know in the comments below!
For more beverage recipes, check out Ka'Chava, Vitamix Smoothies, Blendjet, and Loaded Teas for more ideas, or add your homemade milk to Javy Coffee and Nespresso Coffee to kickstart your day!
Share on your favorite social media platform and tag us @GloriousRecipes – we can't wait to see what you have made!