From creamy Tuscan pasta to stuffed salmons, we've got you covered with some of the best salmon and shrimp recipes that you'll love!
These two popular seafood are packed with protein, healthy fats, and many essential minerals that make any meal a really wholesome one.
It's easy to whip up a tasty meal with these two ingredients and with our recipes, you'll never run out of ideas for your lunch or dinner rotation.
Salmon And Shrimp Recipes
Here are 15 delicious salmon and shrimp recipes that you can easily try at home and we've also included our own recipe that we love in the recipe card below!
Enjoy an amazing flavor-packed dish with this Red Lobster-inspired recipe that's sure to whet your appetite.
Lemon and thyme help keep the taste refreshing and the seafood is coated with Cajun seasoning, providing maximum flavor.
They're cooked in a Cajun butter sauce that totally elevates the dish to another level.
What's more, there are no fancy ingredients required for this delicious meal and you'll be able to make it in any well-stocked kitchen.
It's restaurant-quality food made right at home at a fraction of the price and is easily one of our favorite salmon and shrimp recipes!
If you hate cleaning up after cooking, you'll love this hassle-free foil pack recipe as it not only tastes good but also requires minimal cleaning!
Italian seasoning adds depth to the flavor and with a honey garlic Dijon mustard, this easy-to-make dish is bold, flavorful, and really delicious.
The grill or oven does all the work and you'll only need to prepare the sauce and wrap the seafood in foil.
It's super easy to make and whether you choose to bake or grill the seafood, it will turn out awesome!
Make this simple Lemon Parmesan Baked Salmon and Shrimp recipe that tastes so delicious, you'll think twice before forking out at a restaurant!
The seafood is covered in a creamy and decadent lemon garlic sauce with parmesan and every bite is pure bliss.
It tastes so rich and flavorful that you'll never get sick of it.
Pair it with some veggies like roasted Brussels sprouts to make it a wholesome meal or if you crave some carbs, it goes extremely well with pasta and rice!
This creamy Tuscan pasta is easy to whip up with simple ingredients and makes for a great dinner option.
Onion and garlic serve as the aromatics in this dish while spinach and sundried tomatoes provide additional nutrients and color.
Combine that with pan-fried salmon and shrimp, plus a light creamy sauce with lemon helping to keep the taste refreshing, this dish is just so yummy.
Toss it with your favorite wide pasta to mop up the tasty sauce and enjoy your sumptuous meal!
Salmon and shrimp covered in a Cajun cream sauce are as flavorsome as they can be and in this amazing recipe, you can make this wonderful meal in only 20 minutes!
The tasty sauce is made with a combination of butter, cream, mushrooms, chicken broth, spinach, Cajun seasoning, smoked paprika, and a splash of sherry wine to release all the great flavors.
Pepper Jack cheese is also added to help provide a spicy and tangy flavor that blends in really well with the sauce.
Pair it with asparagus and mashed potatoes for a wholesome meal, or serve it with your favorite sides!
This quick and easy risotto recipe is the perfect comfort food for a cozy dinner.
It's garlicky, cheesy, and absolutely delicious!
Best of all, everything cooks in one pan so there is minimal cleaning up required at the end of cooking.
Onion is first sautéed before adding in the rice, spices, and salmon.
Once the rice is cooked, the rest of the ingredients are added in and stirred together with mozzarella to create a delightful meal.
Serve with some veggies to complete the meal and enjoy!
Have you tried to braid salmon before?
That's exactly what this interesting recipe requires and not only is it really tasty, but it's also gluten-free!
The salmon, shrimp, and crab cake mixture are heavily seasoned, which makes this dish extremely flavorful.
They are baked in the oven till cooked to perfection, and then a delicious garlic butter sauce is poured over them which totally elevates the dish to another level.
You definitely got to try this recipe for your next meal!
Stuffed salmon with crab and shrimp is just so tasty and we absolutely love it as it has all our favorite seafood combined into one.
The stuffing is made with a combination of cream cheese, parsley, green onions, lemon juice, crab meat, shrimp, mozzarella cheese, Parmesan cheese, and various seasonings, making it extremely tasty and finger-lickin' good.
It's stuffed between salmon fillets and baked till everything is cooked and the cheese is melted.
Once out of the oven, you're going to want to gobble it all up!
Sushi bake is like deconstructed sushi and you don't need a bamboo rolling mat to make one!
Cooked rice is mixed together with vinegar, sesame oil, salt, and sugar before being added to a baking dish to form the bottom layer.
Salmon, shrimp, kewpie mayo, sriracha sauce, tobiko, furikake, soy sauce, and sesame oil are then combined together to form the top layer above the rice.
Everything is baked for 15 minutes and when it's time to eat, just scoop a portion onto a piece of seaweed along with a cucumber and avocado slice, then pop it into your mouth!
It's so easy to make and tastes so good!
For a delicious, quick, and easy-to-make weeknight dinner, look no further than this amazing salmon and shrimp recipe with lemon caper sauce that's perfect for satisfying your seafood cravings.
The seafood is tender and the creamy white wine lemon butter caper sauce makes the entire dish really refreshing, appetizing, and beautiful.
Lemon and capers lend a nice tangy flavor and the level of tartness fully complements the salmon and shrimp.
Serve it with a side of veggies or just scoop it over your favorite pasta for a tasty meal that'll fill your belly!
This one-pan recipe is excellent for a quick and easy weeknight dinner that tastes and looks awesome!
Coconut milk is used to create the base sauce which makes it rich and creamy and it works really great here.
Herbs, spices, and lime juice add a complex layer of depth to the flavor and keep it really refreshing.
Sriracha sauce adds a little heat to the dish and helps to bring the flavors to the forefront and if you like it spicy, feel free to adjust and add more!
Serve with rice for a wholesome and tasty meal!
This awesome stuffed salmon recipe includes shrimp, crab meat, and spinach for that extra green to make it nutrition-packed!
All the seafood is well-seasoned with a variety of spices and herbs, and the thing about salmon is that it's a very flexible fish so you can easily swap out or add in your favorite herbs and spices to tweak the recipe to your liking.
Three different types of cheeses are used in this recipe and you're in for a cheesy good time because they combine really well together!
Whip up this delicious stuffed salmon recipe in 35 minutes and you're set for an amazing meal!
Have your lunch or dinner right out of a pineapple bowl in this fantastic teriyaki salmon and shrimp fried rice recipe that's definitely Instagram-worthy!
To make your pineapple bowls, cut the pineapple into two halves lengthwise, cut rectangular perimeters out, then make more cuts to scoop out the centers for your bowls.
The bowls are filled with shrimp fried rice that's really fragrant and you can add your favorite veggies into it to suit your palate.
It's then topped with a teriyaki-glazed baked salmon that has been well-seared on both sides to complete the meal.
It's a protein-packed delicious meal that tastes as good as it looks!
These salmon and shrimp cakes make for a great side dish or you can also have them as a mid-day snack as they are just so tasty!
The seafood is mixed with a mayonnaise mixture with Dijon mustard, seafood seasoning, Worcestershire sauce, mayo, red onion, and green peppers.
It's then mixed with a panko breadcrumb mixture before being shaped and baked.
Serve them when it turns golden brown and enjoy these tasty little bites with some sour cream or Tiger sauce!
Make this simple shrimp and salmon poké bowl the next time a poké craving hits because it's both healthy and delicious!
The cooked shrimp are marinated in lime juice while the salmon is tossed in toasted sesame oil, and the two combine really well when drizzled over with a spicy sriracha mayo sauce.
The seafood is accompanied by cucumbers, edamame, radish, avocado, and tempura seaweed, providing all the greens and nutrients in addition to the protein.
If you want it even healthier, just skip the sauce and it'll still taste really good!
At Glorious Recipes, we have our favorite Salmon and Shrimp Alfredo pasta recipe that we absolutely adore and it tastes exceptional! Check out the recipe below!
Yield: 4
Salmon and Shrimp Alfredo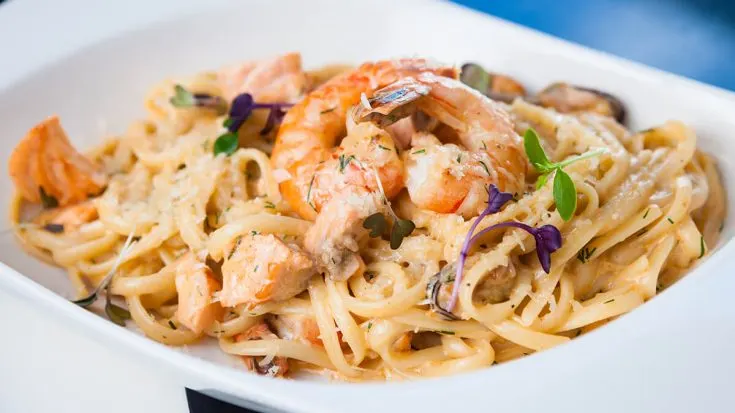 Enjoy this mouth-watering Salmon and Shrimp Alfredo pasta that's easy to make and tastes exceptional!
Ingredients
9 oz pasta (spaghetti, fettuccine, or tagliatelle)
10½ oz shrimp, peeled and deveined
12½ oz salmon fillet, cut into small cubes with skin removed
4 cloves of garlic, minced
1 white or yellow onion, finely chopped
1¼ cup Double cream (or heavy cream)
9 tbsp Parmesan cheese, grated
3 tbsp extra-virgin olive oil
1 tsp salt (adjust to taste)
1 tsp black pepper (adjust to taste)
1 tsp red chili flakes (adjust to taste)
1½ tsp lemon zest
1½ cup pasta water, reserved
parsley, finely chopped (for garnish)
Instructions
Season a pot of water with salt and cook pasta according to package instructions till al dente. Reserve 1½ cup of pasta water to be used later.
Season the seafood with salt and pepper to taste. Add olive oil to skillet over medium-high heat and add seafood. Let it cook and sear for 2-3 minutes before flipping to cook the other side. Once cooked through, remove from skillet and set them aside.
Add onion to skillet over medium heat and sauté till translucent and fragrant. Add garlic and chili flakes and stir well.
Add half of the reserved pasta water, double cream, and Parmesan cheese. Season with salt and pepper before letting it simmer and thicken. Once thickened, add pasta, salmon, and shrimp. Adjust the consistency of the sauce with pasta water as required (if too thick) or let it simmer longer (if too thin).
Add lemon zest and chopped parsley at the end and mix well. Serve and garnish with additional grated Parmesan cheese and freshly chopped parsley. Enjoy!
Notes
You can add other seafood in as well such as mussels and clams.
Nutrition Information:
Yield:
6
Serving Size:
1
Amount Per Serving:
Calories:

570
Total Fat:

36g
Saturated Fat:

15g
Trans Fat:

1g
Unsaturated Fat:

18g
Cholesterol:

204mg
Sodium:

1049mg
Carbohydrates:

29g
Fiber:

2g
Sugar:

3g
Protein:

33g
Nutrition information is only an estimate and can vary depending on ingredients used.
Which of the salmon and shrimp recipes have you tried so far?
Let us know in the comments below!
For more lunch and dinner recipes, check out Chicken and Shrimp, Langostino, Black Pepper Angus Steak, Smoked Cod, Tilefish, and Pork Jowl for more ideas!
Share on your favorite social media platform and tag us @GloriousRecipes – we can't wait to see what you have made!