If you're looking for quick and easy pork jowl recipes for your next meal, we've got you covered!
Pork jowl (or some might refer to it as hog jowl), is located below and across the pig's chin, and when cooked right, it is super tender and melts in your mouth.
It is a less common pork cut, but depending on where you buy it, it can be relatively inexpensive, yet tastes really good!
There are many ways of cooking it, from cured to braised, and you can even make smoked jowl bacon!
Due to its nice layering of fat and meat, it is easy to whip up a tasty meal no matter how you cook it.
Let us show you 10 simple yet tasty pork jowl recipes for you to try at home!
You might be wondering what is a jowl bacon.
Our first recipe is precisely this: bacon made out of pork jowl instead of your usual pork belly.
The result is bacon that is softer, juicier, and tastes sweeter!
This recipe is extremely simple: Cure it, dry it, smoke it.
It, however, requires some preparation and equipment. You will need some curing salt and a smoker to smoke the bacon for the best results.
You need some time and patience to cure the bacon but trust us, it's definitely worth the wait!
This black eyed peas and pork jowl recipe (or hog jowl) is the perfect homemade comfort food that you need to try!
This tasty Southern dish can be paired with cornbread, and the preparation time is only 10 minutes!
Let the delicious stew simmer for a couple of hours and your house will be filled with an irresistible smell that is sure to attract your friends and family's attention.
The steps are simple.
Soak the peas.
Cook the meat with onion, garlic, and butter.
Combine with chicken broth and water.
Simmer, stir, and serve!
For those who like a kick, this sweet and spicy pork jowl recipe is sure to blow your mind!
The main ingredients to get the sweet and spicy taste are chili peppers and honey.
Not only is this mighty delicious, but it is also really easy to cook at home as well.
Prepare all your dry and wet ingredients, and combine them with freshly washed and dried pork jowl in an airtight ziplock bag or container.
Leave it overnight, cook it the next day, and enjoy the flavorful meat!
Char siew is an Asian Cantonese style of barbequed pork that is absolutely delicious.
It is sweet and juicy, and can be paired with noodles or rice although it tastes heavenly on its own already!
As it is primarily an Asian dish, you might need to visit your local Asian supermarket if you haven't got some of the staple ingredients like oyster sauce and sesame oil.
But believe me, you will not be cooking this only once!
Essentially, what we are trying to achieve in this pork jowl recipe is to sear and caramelize the meat.
The end result is a really yummy pork char siew!
Guanciale is an Italian cured meat, using rich and fatty pork jowl or pork cheeks. It is basically Italian bacon.
In this pork jowl recipe, we will be curing the meat in salt and spices.
Clean off the excess salt and hang it to cure for at least 3 weeks.
For the best taste, it is recommended to cure for 3 to 4 months.
Once done, you only need to give it a quick sear in the pan and it's done.
You can enjoy it on its own, or use it in pasta for a nice carbonara!
Store it properly in the refrigerator and you will have months' supply of homemade cured Italian Guanciale!
This Thai-style braised pork jowl recipe is one of our favorites.
It is really flavorful, and if that's not enough, it's really quick and easy to prepare as well!
You can add more bird's eye chilies to increase the intensity of the spiciness if you can take it extra hot, which is the way we like it.
Be generous with the shallots at the end as they definitely complement the meat and complete the overall taste.
This is a rich and delicious umami bomb, and we recommend pairing it with rice or noodle for an awesome meal!
For a balanced meal with some added greens, you definitely need to try out this Brussels sprouts with pork jowl recipe.
This dish is really simple to make, and it's quick to boot.
Perfect for individuals that want a quick and easy recipe to match their busy lifestyle.
Cooking pork jowl has never been simpler!
All you need to do is cook the meat in a pan till it's golden brown and flip it to cook the other side.
Next, cook the Brussels sprouts till they brown and are nicely charred or crusty.
You will need to let them cook on the pan for a while before touching them to achieve this.
Finally, combine everything and add in all the condiments before tossing to mix them well.
Once it has reached your desired doneness, the dish is done!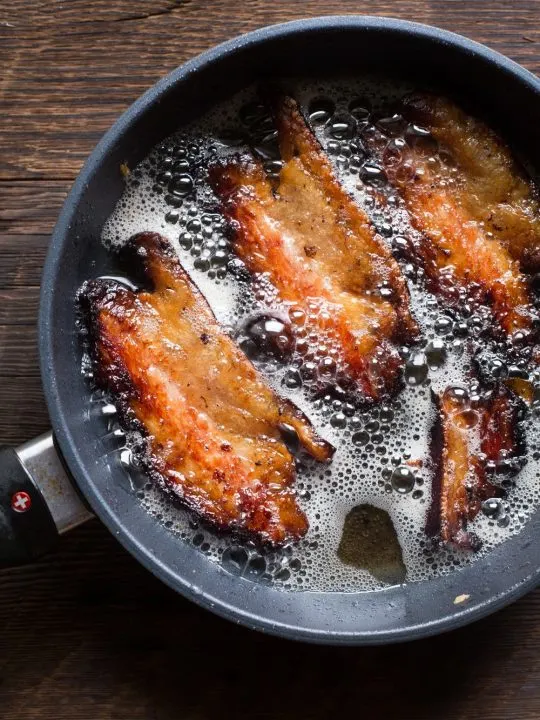 This unbelievable recipe elevates the pork jowl, already a very flavorful cut of meat, and transforms it into a heavenly meal when braised in bourbon and cider.
It goes very well with the turnip greens and balances out the taste perfectly.
This is a very easy braised pork jowl recipe. Just make sure you have enough bourbon and cider to cover the bacon.
The turnip greens are also simply prepared by giving a quick toss in a skillet over medium heat.
Sear the cut and fully braised bacon, and enjoy it with the turnip greens!
This Spanish-inspired pork jowl recipe is a great way to utilize that bottle of sherry sitting in the corner and whip up an amazing dish!
The recipe uses pork cheeks but we definitely recommend swapping it with pork jowl here.
Pork jowl has slightly more fat and will be tastier in a braise as it absorbs all that flavorful sauce!
With a combination of sweet sherry, paprika, and cumin, plus garnished with almond flakes, this mouth-watering dish is a perfect addition to a tapas spread.
You can also pair it with mashed potatoes or rice for a delicious meal!
Pork jowl is an under-appreciated cut of meat but with its line of fat running across the meat, it's perfect for the grill.
You can trim off some of the fat if you want your meal to be healthier, but a little bit of fat helps keep the moist and juice.
You will need to marinate the meat for at least 2 hours, but for best results, leave it overnight so that all the flavor is absorbed by the meat and fats.
There is also a dipping sauce that you can tweak and adjust to your palate (we love to increase the amount of lime used!)
This is best served with rice for a complete meal!
At Glorious Recipes, we also have our own secret pork jowl recipe that we find to be absolutely fantastic:
Yield: 6
Pork Jowl Stew with Red Wine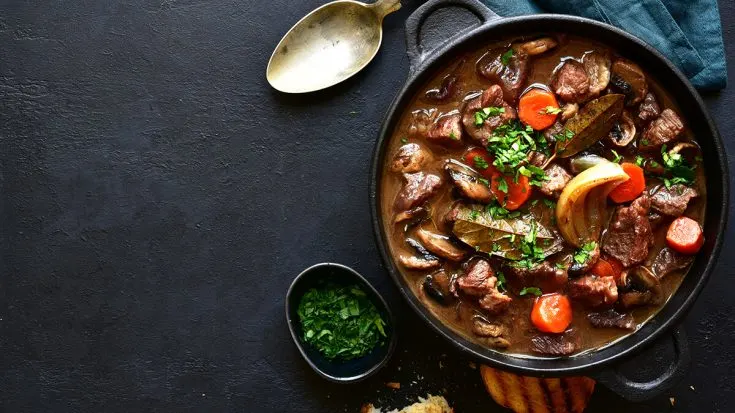 This is Glorious Recipes' version of a pork jowl stew with red wine.
Absolutely delicious!
Cook Time
1 hour
10 minutes
Total Time
1 hour
20 minutes
Ingredients
3.3 lb pork jowl
0.2 lb bacon, sliced
3 tbsp oil
2 tbsp paprika powder
1 tbsp sweet marjoram, dried
5 oz of your favorite red wine
1 big onion, sliced
1 large carrot
0.5 lb button mushrooms
1 tbsp tapioca flour
1 tbsp salt
2 tsp ground pepper
2 sprigs of fresh thyme
Instructions
Slice the pork jowl meat into pieces of around an inch each.
Heat the oil in a cast iron pan.
Sauté the bacon, then the onion for a few minutes.
Add paprika powder, pork jowl, marjoram and fresh thyme sprigs.
Let the pork jowl brown for a few minute while stirring.
Add your favorite red wine.
Add about 17 oz of water, it should almost cover. Cook on medium heat with the lid on.
In the meantime, chop the carrots into small cubes and add into the stew.
After 40 minutes is up, check that meat is soft enough before adding the mushrooms.
Add a bit of water if required. Cook for another 15 minutes.
Check that the pork jowl are tender. Add the tapioca flour and stir well.
Adjust the consistency of the gravy with water as necessary.
Season with salt and pepper and cook for another couple of minutes.
Serve and enjoy!
Notes
You can pair it with bread, potato or rice.
Nutrition Information:
Yield:
6
Serving Size:
1
Amount Per Serving:
Calories:

1822
Total Fat:

187g
Saturated Fat:

65g
Trans Fat:

0g
Unsaturated Fat:

112g
Cholesterol:

240mg
Sodium:

1488mg
Carbohydrates:

8g
Fiber:

2g
Sugar:

2g
Protein:

23g
Nutrition information is only an estimate and can vary depending on ingredients used.
Let us know which is your favorite recipe in the comments below!
Check out our Pork Cutlets, Thin Pork Chops, Canned Ham, Pigtails, Ham Hock, Ground Pork Pasta, and Canned Pork recipes as well for more pork recipe ideas, or serve up some sides and appetizers such as White Eggplants, Tuna Tartare, or Russet Potatoes!
Share on your favorite social media platform and tag us @GloriousRecipes – we can't wait to see what you have made!