Loaded teas have been the craze for quite a while and if this is the first time you've heard of them, you don't know what you're missing out on!
They are not true teas but a cocktail of caffeine, vitamins, herbal stimulants, and flavorings that purportedly gives you a wide array of health benefits, such as boosting your energy, burning fat, and increasing mental focus.
Most loaded teas are made using expensive products from Herbalife but you can make your own teas using ingredients that you can find at your grocery stores!
Whether you want to try them for their health benefits or just for their great taste, we've got you covered with some of the best loaded tea recipes that you can try at home without Herbalife products!
This loaded tea has a beautiful blue hue that looks like the ocean floor and it's super tasty with a citrusy finish!
With 4C Energy Rush and guarana powder, this drink is packed with caffeine and is definitely a great energy booster that can refuel your body at any time of the day.
A few drink mixes combine to deliver a great fruity and citrus flavor that tastes as good as it looks.
You'll be reaping loads of vitamins and antioxidants as well so it's a great drink to supplement your diet!
This nutrient-dense and protein-packed drink is one of our favorite loaded tea recipes because it's so pretty and delicious!
The name of the drink is very apt as the colors remind us of the galaxy depicted in many mainstream mediums!
With the inclusion of Health Wise Wild Berry mix, we get a dose of much-needed protein that's great for any diet and a berry taste that's accentuated with a grape drink mix.
Aloe vera juice helps to provide antioxidants and other health benefits, making this drink a great all-rounder that can be enjoyed by everyone!
If you're looking for an aspartame-free drink, you've got to check out this loaded tea recipe!
There is no lack of flavors here with a mix of pineapple, cherry, and blue raspberry drink mixes being combined to give a really nice fruity taste.
Caffeine is in abundance here with green tea powder and guarana powder providing the bulk of it, ensuring you get your daily dose to keep your energy high.
It's a delightful drink that can keep your day going smoothly!
For a simple loaded tea recipe, check out the Queen Bee that's concocted to be an easy beauty drink!
Collagen peptides can help to slow the aging of your skin and with Great Value strawberry lemonade as part of the ingredients, you'll be getting 2 grams per serving!
This drink has a mix of berry and citrus flavors and is a refreshing drink that's great any time of the day.
Add this to your beauty routine to reap the benefits of collagen!
Indulge in this low-calorie loaded tea that's filled with great berry flavors that'll definitely quench your thirst!
Black tea powder is used in this drink along with guarana powder, providing all the caffeine you need to keep your day going.
Berry-flavored drink mixes help to give this drink a delicious flavor and the addition of aloe vera juice adds even more health benefits to it!
Prepare for Halloween with this wonderful themed loaded tea that's perfect for any party!
This drink has the classic colors of Halloween with its black and orange hues, and it really sets the mood for the holiday.
It might look like a fun drink but it's actually a great beauty drink with collagen so you can keep your skin looking supple while you have fun!
Serve this crowd-pleaser at your party and let everyone gain the benefits together!
Get ready for winter and keep the flu away with this immunity-boosting loaded tea recipe that's super delicious!
It's loaded with vitamin C, which helps to keep your immune system up, and it's also a great drink for those that prefer a lower amount of caffeine.
With cinnamon syrup and apple sparkling water forming the base of the drink, it's super addictive and just irresistible!
You'll be making it all year round once you've tasted it!
Enjoy fall throughout the year with this Pumpkin Spice drink that you'll definitely be making time and again!
There are no fancy ingredients to recreate the flavor as pumpkin spice syrup is mixed with cherry pomegranate and aloe vera juice to deliver a great taste.
Green tea powder forms the tea base and 4C Energy Rush is added for its caffeinated energy-boosting properties.
If you love the taste of pumpkin spice, you'll definitely love this drink!
This Cinnamon Apple Tart loaded tea is basically the classic dessert in a drink format and it's absolutely delicious!
With flavors of green apple, cinnamon, and cherry, this drink is as tasty as it can get.
It's a great combination that creates a taste that can be easily enjoyed by everyone and it's loaded with B vitamins, antioxidants, and caffeine to keep you going throughout the day!
It's irresistible and one of our favorite loaded tea recipes!
Black Friday is synonymous with shopping and great deals, and what better way to power through busy weekends than with this aptly-named drink?
Loaded with caffeine from black tea and guarana powders, this beverage is a great energy booster with a citrusy berry flavor that's really delightful.
On top of that, you get a dose of vitamins and antioxidants that can keep your body functioning at the optimal level.
Let this drink help you get through the next busy weekend and you'll be surprised at how good it tastes!
If you love sour drinks, you've got to check out this Autumn Sangria loaded tea!
With kiwi lime, raspberry lemonade, and grape being combined together, they create a tangy flavor that's refreshing and tasty.
It's a fantastic drink to chill with and great for those days when you want to relax yet have the energy to focus on something, like reading a good book!
The deep color of this drink is absolutely stunning and makes for a beautiful drink that reminds us of frosty winter.
Strawberry lemonade and blue raspberry blend together to create the base and it's filled with great flavors that you'll definitely enjoy sipping.
The top layer is a mixture of aloe vera juice and white water wave drink mix, giving a nice white gradient to the drink.
Filled with collagen, beneficial nutrients, and a great flavor, there's so much to like about this tea!
Give the classic cocktail a fun twist with this amazing Sparkling Mimosa loaded tea recipe!
Instead of champagne, sparkling white grape juice is added to create a fizzy base that makes this drink really refreshing and addictive.
Orange drink mixes are used to give the flavor and color that we've all come to know of the classic cocktail.
It's delicious, easy to make, and easily one of our favorite loaded tea flavors!
Just like Antarctica, this drink has a duo-tone of blue, which reminds us of the icy surface, and black, which represents the darkness of the underwater depth.
4C Energy Rush, black tea powder, and guarana powder combine to give this drink a high caffeine content that will definitely give you an immediate energy boost.
The drink has a citrusy flavor that's really tasty and you'll be slurping this up in no time!
Spruce up your next drink with this fun and colorful loaded tea that has a great blend of flavors!
Blackberry lemonade and cherry limeade combine to create the bottom layer while Kool-Aid blue raspberry and green apple drink mixes form the top layer to give a fantastic contrast in colors.
It's an eye-catching drink that's super tasty with fun and fruity flavors, and everyone will be dying to try it!
Grace your taste buds with this amazing Cosmic Hallelujah that's so tasty, it's easily one of our favorite loaded teas!
The flavor is a blend of raspberry and pina colada, instant transporting us to the beaches with a sip and it's just so irresistible.
There is no alcohol involved but it's loaded with caffeine and is an awesome drink to give you that daily dose while maintaining a great taste.
You'll be drinking this all day long with how delicious it is!
This beverage has a beautiful red gradient and is perfect for making on Valentine's Day to suit the occasion!
It's a mix of cherry and watermelon to deliver a fantastic fruity taste that's very satisfying to quench your thirst.
There's no lack of caffeine either so you'll definitely have the energy to continue your date late into the night!
Try your hands at making this really green drink that's reminiscent of the Grinch with its color!
It's made with green tea powder with a blend of lemonade, pineapple drink mix, and berry blue drink mix that's stirred well to achieve a consistent color throughout the drink.
It's a fun and delicious fruity tea that you'll definitely enjoy on any occasion!
Enjoy the spirit of Mardi Gras with this Instagram-worthy drink that not only looks good but also tastes good!
With a blend of margarita drink mix, berry blue typhoon, and grape, they help to create beautiful colors that really define this drink.
If you're feeling cheeky, add some tequila to make this alcoholic and you'll be having an awesome time sipping on this delicious beverage!
This low-calorie and high-caffeine loaded tea is a must-add to your drink rotation, especially if you're a caffeine junkie and counting your calories for all your meals.
It's a mix of blueberry and diet energy drink mix, giving a nice berry flavor with undertones that are similar to Red Bull.
This drink is definitely going to give you all the caffeine you need and the great flavor is a plus to slowly enjoy this delightful beverage!
Yield: 20
20 Loaded Tea Recipes To Try At Home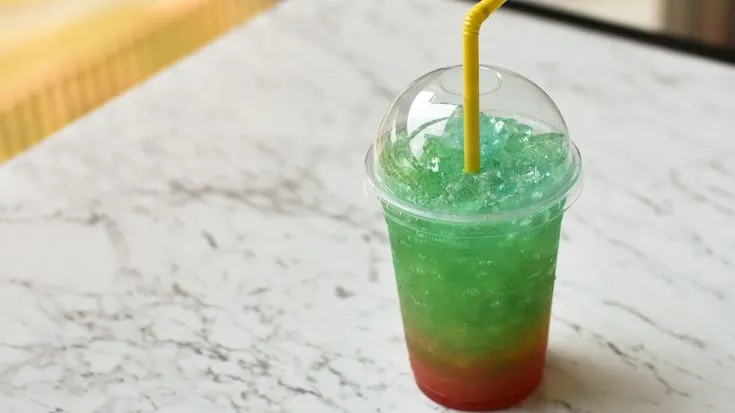 Try these loaded tea recipes and reap the benefits of these delicious drinks! There's a drink for everyone all year round!
Ingredients
Instructions
Choose your favorite recipe.
Prepare all the required ingredients.
Make the loaded tea and enjoy!
Nutrition Information:
Yield:
20
Serving Size:
1
Amount Per Serving:
Calories:

47
Total Fat:

1g
Saturated Fat:

0g
Trans Fat:

0g
Unsaturated Fat:

0g
Cholesterol:

4mg
Sodium:

5mg
Carbohydrates:

6g
Fiber:

1g
Sugar:

3g
Protein:

0g
Nutrition information is only an estimate and can vary depending on ingredients used.
Which of the loaded tea recipes have you tried so far?
Let us know in the comments below!
For more beverage recipes, check out Ka'Chava, Vitamix Smoothies, Javy Coffee, Nespresso Coffee, Blendjet, and Almond Cow for more ideas!
Share on your favorite social media platform and tag us @GloriousRecipes – we can't wait to see what you have made!