A Vitamix blender is one of the best kitchen appliances you can invest in to make delicious smoothies because there's nothing this machine can't blend!
It's high in performance and will turn all your wonderful ingredients into delightful smoothies in no time!
From tropical flavors to superfood smoothies, we've got you covered with some of the best Vitamix smoothie recipes that you can easily make at home!
Enjoy a vegan smoothie that's absolutely delicious with this simple recipe that you definitely need to try!
Banana and coconut combine to create a tasty creamy base with vanilla extract making it extra rich and smooth.
It's made even more awesome with the addition of peppermint essential oil and mint leaves to provide a super enjoyable and really refreshing taste.
Spirulina powder helps to give loads of nutritious benefits and the smoothie is completed with cacao nibs and chocolate shavings to add some chocolatey goodness!
Start your day with this Sunshine Smoothie that's healthy, refreshing, and requires only 3 simple ingredients!
Oranges help to provide natural sweetness and a citrus flavor that brightens up your day with every sip while carrots are loaded with beta-carotene, vitamin A, and fiber, among many other essential nutrients!
Lemon slices are also added to give the beverage an even more refreshing flavor that you just can't get enough of.
Try it with your Vitamix blender and you'll definitely not regret it!
Another nutrient-dense smoothie that's absolutely amazing is this Orange Banana Smoothie that's filled with wonderful ingredients.
The 2 main fruits that give this smoothie its sunny color are orange, which has many vitamins, and banana, which gives a nice creamy texture in addition to the potassium and other nutrients that it contains.
They are supplemented with maca root, turmeric, pitted dates, cashews, and bee pollen granules, all of which have different benefits that are great for your body.
Make this power-packed smoothie today and reap the rewards as soon as possible!
Treat yourself to a delicious smoothie that's rich in antioxidants and high in protein with this fantastic Vitamix smoothie recipe!
Wild blueberries have twice the amount of antioxidants and are higher in brain-healthy anthocyanins than regular blueberries, ensuring this drink is packed with wonderful nutrients.
Mangoes, aloe vera, and protein powder are also added to give this smoothie a natural sweetness and improve its nutritional profile by providing even more essential vitamins and minerals.
With such a pretty presentation and wonderful taste, it's a smoothie that you can't miss out on!
This Vitamix green smoothie recipe will kickstart your engine and give you a morning boost to start your day right!
With peanut butter and banana, you are guaranteed a delicious creamy consistency that's just irresistible, and the beverage is made even healthier with almond milk and spinach to provide loads of nutrients.
Cacao nibs are high in antioxidants, magnesium, fiber, and healthy fats, making them an awesome addition to this delightful breakfast smoothie that you'll definitely enjoy.
It's absolutely delicious and a great addition to your smoothie rotation!
If you want a beautiful smoothie that tastes as good as it looks, you've got to check out this fantastic tie-dye fruit smoothie!
The pretty tie-dye effect is made by layering 4 different fruit smoothies on a banana smoothie base and each smoothie only requires a few seconds of blending so you can enjoy this tasty drink in no time at all!
With raspberry, strawberry, mango, carrot, ginger, and blueberry as part of the ingredients, you have a drink that's filled with loads of natural nutrients that are great for your body.
It's an interesting beverage that tastes really yummy and is easily one of our favorite Vitamix smoothie recipes!
Dig into this tasty avocado banana smoothie and start your day with an awesome drink that you'll love!
Avocado is a superfood loaded with tons of vitamins and minerals that make it so popular and it's combined with banana, celery, apple, and kale to create a super smoothie that's really delicious.
It's creamy and filled with natural sweetness, making it a healthy drink that you'll likely make over and over again.
With a Vitamix blender, a great smoothie like this is extremely easy to make!
On days when you want a delectable smoothie that can be made with simple ingredients, check out this amazing pomegranate smoothie!
It's incredibly tasty with pomegranate, strawberries, pears, and minced ginger combined to create an addictive flavor that'll definitely tantalize your taste buds.
Pomegranates are rich in vitamin C, vitamin K, and potassium, and they also contain many other essential nutrients.
It's the perfect drink for a mid-day snack or a breakfast smoothie!
Impress your friends and family with this attractive pink smoothie that's bound to be the center of attention!
The bright pink color is due to a combination of beet, strawberries, and cherries, creating a flavorful mix that looks good and tastes good.
Orange, banana, and coconut milk are added as well to give it a nice fruity base that's creamy and absolutely delicious.
It might just be your new favorite smoothie once you've taken your first sip!
Make this simple Strawberry Fig Smoothie and enjoy a tasty beverage any time of the day!
Other than strawberries and figs, oats and almond milk are also added to the blender before everything is processed to create a refreshing drink that can fill your stomach.
This smoothie is high in calcium, potassium, vitamins, and other key nutrients that make a healthy diet, making it an awesome drink to enjoy.
Add some chia seeds to further enhance the nutritional profile of this drink!
Don't be deceived by the name because this Green Tea and Oats Smoothie contains 7 different types of fruits and vegetables that combine to create a delicious and nutritious drink!
There's no lack of flavor and nutrition with orange, banana, kiwi, grapes, cucumber, lettuce, and kale being blended with a yogurt base to deliver a rich and creamy beverage that's irresistible.
Add instant oats and green tea powder into the mix and you have a fragrant smoothie that's sure to please your taste buds.
It's a very satisfying drink to add to your list of favorite smoothies!
Discover a smoothie so beautiful and delicious that you can't believe you haven't tried it yet!
This amazing smoothie is made up of 3 different layers that are all awesome on their own and taste even better when combined.
The bottom layer is a blend of mango, banana, and coconut water, giving a bright and tropical color with plenty of wonderful nutrients.
The middle layer consists of coconut cream, coconut water, and banana, providing a contrasting white hue with refreshing flavors.
They are topped with a layer of dragonfruit, coconut water, and banana to complete this fantastic beverage that's packed chock-full of vitamins!
If you're looking for an energy booster drink to wean off your caffeine intake, you've got to check out this delightful green smoothie!
Made with spinach, oranges, grapefruit, and chia seeds, it's loaded with tons of natural vitamins and minerals that do wonders for your body.
This drink will help you start the day right and you'll feel full and satisfied after you've had a glass of this delicious smoothie!
Add it to your breakfast smoothie rotation and feel the difference!
Sign us up for this tasty Cranberry and Orange Smoothie that's so easy to make with only a few key ingredients required!
Using Greek yogurt as the smoothie base, cranberries, oranges, and almond milk are added and blended into a smooth and creamy beverage that's absolutely delicious.
You can taste both the natural sweetness and tartness of the fruits and they are balanced with the addition of maple syrup to make the drink even tastier.
It's so simple to make and has a beautiful pink hue to go along with it!
This tasty green smoothie will remind you of snickerdoodle cookies but with a lot more nutrition in liquid form!
Made with spinach, banana, and avocado, it's loaded with tons of wonderful nutrients and tastes extremely creamy.
The secret to elevating the flavor of this drink is the addition of cinnamon and vanilla, giving it more depth and making it really delicious!
It's a smoothie so delightful that you definitely can't miss out on it!
Give your energy a boost on the go with this fantastic apple smoothie that's absolutely delicious and refreshing!
Made with apples, raspberries, bananas, and coconut water, this creamy smoothie is filled with all kinds of wonderful nutrients and fiber.
It has a nice vibrant color as well to brighten your day with every sip, making it the perfect mid-day drink!
Don't miss out on this tasty smoothie to get those extra vitamins to supplement your diet!
Enjoy a pretty Pink Power Smoothie that's high in lycopene, tastes delicious, and only requires a few simple ingredients!
Lycopene is an antioxidant and is also good for our heart health by reducing the bad cholesterol in our bodies, among many other health benefits.
This smoothie is made by blending pink grapefruit, watermelon, banana, and coconut water to create a super yummy beverage that's really delightful.
Top with pumpkin seeds for maximum enjoyment!
This plant-based, gluten-free, dairy-free, soy-free, paleo-friendly, vegan-friendly smoothie is the ultimate drink that everyone can enjoy!
Made with mango, Medjool dates, almond milk, vanilla bean powder, and hemp seeds, this drink is extremely tasty and loaded with tons of nutrients.
To enhance the nutritional profile of the smoothie further, protein powder, maca powder, and lucuma powder can be added as well.
It's a well-rounded beverage that's really tasty and one of our favorite Vitamix smoothie recipes!
Keep things simple with this amazing smoothie that only requires 3 main ingredients and tastes awesome!
It has a creamy consistency thanks to bananas and it has a delightful fruity flavor due to oranges and blueberries.
With natural sweetness and lots of vitamins, this smoothie is perfect for the entire family and the kids are going to love it!
Serve this as a breakfast smoothie to get all that nutrients first thing in the morning!
If you want a breakfast drink that can double up as a dessert or mid-day snack, you've got to check out this wonderful Chocolate Covered Strawberry Smoothie!
Everyone loves some chocolatey goodness in their drinks and with dark chocolate chips and cocoa powder, this smoothie definitely doesn't disappoint.
It has an abundance of antioxidants, vitamins, and essential minerals with strawberries and bananas as part of the ingredient list and it's made even more nutritious with almonds and Greek yogurt added to provide more protein and healthy fats.
There's so much to like about this delicious smoothie!
Start your day right with this healthy smoothie that provides loads of wonderful nutrients and it's a great drink for those days when you need to be mobile but still want a nutritious breakfast!
Pomegranate, raw beets, spinach, and banana combine to create a smoothie that's attractive with its red hue and it contains tons of vitamins, potassium, and fiber.
Adding honey and vanilla almond milk makes it even tastier and it's a great beverage to enjoy any time of the day!
This Vitamix smoothie recipe is a must-try in our books because of its unique taste and the health benefits that it can bring!
Cardamom has high levels of antioxidants and is also rich in compounds that help to fight inflammation.
Pistachios are great for keeping you full longer with their fiber and unsaturated fat content, plus they are also high in protein and potassium.
Kombucha can be a potential source of probiotics, which are great for gut health and a great addition to any diet.
With all these wonderful ingredients, this smoothie is a delightful and healthy drink to enjoy!
Chocolate and peanut butter are one of the most popular combos and they come together in this Vitamix smoothie to create a delicious drink along with other wonderful ingredients!
There's no lack of nutrition with spinach and kale being added into the mix, along with oats, bananas, dates, vanilla almond milk, and of course, chocolate and peanut butter.
You get loads of fiber, vitamins, and minerals, and every sip is bursting with delightful flavor in this fantastic smoothie.
It's super delicious and just so irresistible!
For a delicious smoothie that's glowing in a beautiful pink with an addictive tart flavor, you've got to check out this amazing Vitamix smoothie recipe!
It's made simply by blending grapefruit, apple, strawberries, and ginger to create an awesome drink that you'll definitely not mind slurping regularly.
This drink is super tasty and high in vitamin C and antioxidants, and may help to boost your immune system!
Serve this delightful drink as a breakfast smoothie or mid-day snack and reap all the health benefits that it can provide!
There's just something alluring about the taste of cardamom that makes this smoothie so delicious.
With its spicy and floral notes, it helps to impart loads of depth and complexity to the flavor of the drink and combines well with other ingredients.
Bananas provide a creamy consistency when blended while Medjool dates give some natural sweetness to make the smoothie really tasty.
Add in cashews, cinnamon, plus vanilla extract, and you have an incredible Vitamix smoothie that's just irresistible!
Acai has been known as a superfood due to its high antioxidant content and it's loaded with compounds that are beneficial to your body.
Reap some of those benefits on the go with this delicious Acai Smoothie and you'll be hard-pressed to find a tastier and more convenient healthy meal to match your mobile lifestyle!
The amount of antioxidants in this smoothie is given a boost with the addition of strawberries and raspberries, and they help to give this drink a nice berry flavor as well.
Bananas provide loads of minerals and fiber while giving the drink a creamy consistency and hemp seeds provide healthy fats that keep you satiated and improve your heart health at the same time!
It's delicious and loaded with nutrients, and easily makes it to our list of favorite Vitamix smoothie recipes!
This Matcha Tea Green Smoothie is one of the best ways to recharge and give yourself an energy boost with an absolutely delicious drink!
To make it really green and healthy, spinach and kale are also added for blending and they help to provide loads of essential vitamins and nutrients that are awesome for our bodies.
All other ingredients used are also very beneficial to health, such as bananas, Greek yogurt, and almonds, increasing the nutritional profile of this amazing drink.
Enjoy this Vitamix smoothie as a mid-day snack and you'll not be disappointed!
Get your dose of immune-boosting vitamins with this fantastic Blueberry Citrus Smoothie that you'll definitely love!
With blueberries, grapefruit, orange, banana, spinach, and protein powder, there's no lack of nutrition in this tasty drink and you'll have all the essential vitamins, minerals, and protein to supplement your regular diet.
It's amazingly delicious and with so many nutrients packed in one handy beverage, there's all to love about this smoothie!
Go tropical with this exceptional Vitamix smoothie recipe that'll remind you of the beach!
Mangoes and pineapples help to provide an addictive flavor that's super easy to enjoy and they are loaded with tons of vitamins and minerals.
Banana help with the creamy consistency that makes this smoothie absolutely delicious and ginger adds a little refreshing kick to the mix.
It's a delightful drink that you definitely need to add to your smoothie rotation!
Try your hands at making this incredible smoothie that's super creamy and tastes heavenly!
It's a simple recipe that only requires 4 ingredients and you'll be enjoying this awesome drink in no time!
Mangoes, Greek yogurt, vanilla soymilk, and vanilla extract come together to create a tasty smoothie that the whole family will definitely love.
Serve it as a breakfast smoothie and the kids will be gulping it down and asking for a second serving!
Yield: 30
30 Best Vitamix Smoothie Recipes To Try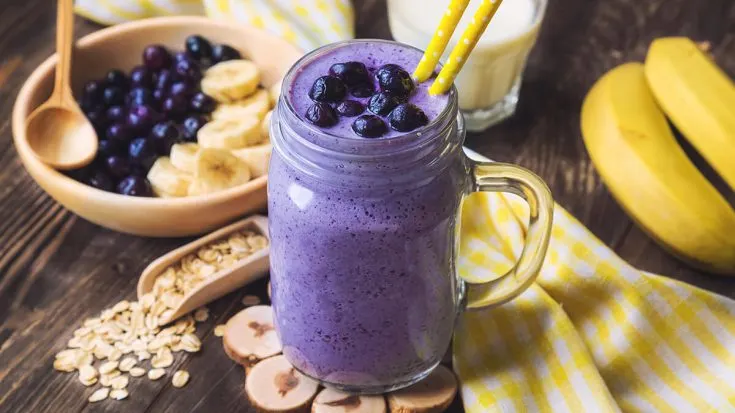 Try these Vitamix smoothie recipes and enjoy delicious drinks! Packed full of nutrients and with so many different flavors, there's always something for every occasion!
Instructions
Choose your favorite Vitamix smoothie recipe.
Prepare all the required ingredients.
Whip up the tasty smoothie and enjoy an awesome drink!
Nutrition Information:
Yield:
30
Serving Size:
1
Amount Per Serving:
Calories:

303
Total Fat:

6g
Saturated Fat:

2g
Trans Fat:

0g
Unsaturated Fat:

3g
Cholesterol:

6mg
Sodium:

90mg
Carbohydrates:

58g
Fiber:

7g
Sugar:

40g
Protein:

8g
Nutrition information is only an estimate and can vary depending on ingredients used.
Which of the Vitamix smoothie recipes have you tried so far?
Let us know in the comments below!
Did you know that you can also use Vitamix to make delicious soups?
Don't miss out on our Vitamix Soup recipes!
For more beverage recipes, check out the following:
Ka'Chava
Javy Coffee
Loaded Teas
Almond Cow
Nespresso Coffee
Share on your favorite social media platform and tag us @GloriousRecipes – we can't wait to see what you have made!