Ka'Chava is a high-protein and high-fiber Superblend that's loaded with tons of nutrients that are great for your body!
At its core, Ka'Chava is a plant-based supplement that's rich in a variety of vitamins, essential minerals, prebiotics, and probiotics, making it a convenient power-packed ingredient.
Some people might treat it as a meal replacement shake but with only 240 calories in 2 scoops of powder, it's better to use it in conjunction with other food to create amazing meals.
Take your pick from 5 different flavors – chocolate, vanilla, coconut acai, matcha, and chai – all in powdered form, and incorporate Ka'Chava into many different recipes to come up with great-tasting food and drinks!
Whether you're a fitness enthusiast, a busy professional constantly on the move, or just someone who values convenience without compromising on nutrition, you're sure to enjoy the ease of fueling your body with this remarkable supplement!
From smoothies to cookies, we've got you covered with some of the best Ka'Chava recipes that you can easily try at home!
Add some vegetables to your next drink with this terrific smoothie that tastes superb and has a great texture to boot!
With avocado and banana helping to make the smoothie rich and thick as well as adding loads of nutrients, this is a drink that you won't mind consuming daily!
Spinach and vanilla-flavored Ka'Chava are added for even more nutrition and this smoothie will leave you feeling invigorated with its wholesome ingredients.
There's nothing not to like about this quick and easy Ka'Chava smoothie recipe!
Get transported to the sun-kissed shores of Tahiti with this amazing smoothie that's bursting with tropical flavors!
It's made with a symphony of delectable ingredients that come together to create a beverage that has a refreshing and well-balanced flavor that you're sure to love.
Vanilla Ka'Chava powder is combined with a blended mix of creamy coconut milk, tangy pineapple, sweet mango, and velvety papaya in this fantastic concoction and it's extremely delicious!
You'll be swept away by this nourishing and flavor-packed smoothie that's one of our favorite Ka'Chava recipes!
Imagine starting your day with a delightful bowl of goodness that not only tantalizes your taste buds but also nourishes your body from within.
That's exactly what this awesome Mango Ginger Smoothie Bowl is all about and it's a mouthwatering treat that you definitely don't want to miss out on!
Mango lends its sweetness to this smoothie bowl with banana adding a creamy indulgence and zesty ginger bringing the entire dish to life.
Along with vanilla Ka'Chava powder, turmeric, and cashew milk, this is a flavorsome bowl that you just can't get enough of!
Spice up your drink with this exceptional Vanilla Chai Smoothie that's amazingly delectable and super easy to make!
With the natural sweetness and creaminess of frozen banana along with a generous splash of chai powder that imparts notes of ginger, cardamom, cinnamon, and cloves, this smoothie tastes absolutely divine.
Add vanilla Ka'Chava powder and cashew milk into the mix, and you have a beverage that you can enjoy any time of the day!
It's the perfect blend of spices and ingredients with a taste sensation that's hard to beat!
Chocolate and banana make for an unbeatable combination and this Cacao Banana Date Pudding brings it to a whole new level!
Cacao powder, chocolate Ka'Chava powder, and frozen bananas are blended with water, then topped with chia seeds and goji berries to create something truly special.
This pudding is superbly tasty and extremely addictive so be warned because once you start, you just can't stop!
If you're a chocolate lover, this is a Ka'Chava recipe that you definitely need to try!
Get your daily dose of caffeine with this excellent smoothie that's perfect for starting your day right!
Requiring only 3 main ingredients to whip up, this is as easy as it can get!
All you need to do is blend a mix of coconut milk, iced coffee, chocolate Ka'Chava powder, and a few ice cubes to create this delicious beverage.
It's like an enhanced version of ice-blended coffee, only that this smoothie is filled with an insane amount of nutrients!
Give it a try and you'll definitely not be disappointed by this Ka'Chava drink!
These Ka'Chava bars are a must-try in our books because they are exceptionally tasty for something so simple to make!
The base is made with a combination of almond butter, almond flour, vanilla Ka'Chava powder, cinnamon powder, and maple syrup, and it's topped with a mix of coconut yogurt, maple syrup, and almond butter to make it extra delicious.
Everything is frozen to let the ingredients set and once done, you'll be devouring everything before you even know it!
Make sure to make extras because you'll definitely develop a craving for them!
In what is one of our favorite Ka'Chava recipes, the popular chocolate banana combo is given an upgrade with the addition of peanut butter!
It's a lovely marriage of frozen banana, peanut butter, and chocolate Superblend to create a smoothie that tastes absolutely out of this world.
You'll love the delightful creaminess but on top of that, the awesome flavors that complement each other really take the cake in this beverage.
This will quickly become your go-to drink because of how delicious it is!
Mimic the popular flavor of Black Forest cakes with this simple recipe that makes a scrumptious smoothie that you'll love!
2 scoops of chocolate Ka'Chava powder, a handful of mixed berries, some water, and a few ice cubes are all it takes to make this fantastic beverage.
Blend everything together and you'll get a great-tasting smoothie loaded with amazing flavor and nutrition!
It's incredibly easy to whip up so make sure to give this a try!
Treat yourself to an outstanding beverage that combines some of our favorite ingredients in one simple drink!
With banana, mango, orange, milk, yogurt, and spices, you know you're guaranteed something really delicious.
This smoothie is sweet and creamy with zesty notes that make it exceptionally refreshing, and it's one that you might just get addicted to!
You can drink this every day and not get tired of it!
Blueberries are exceptionally healthy and you can up the nutritional level by using them in conjunction with Ka'Chava!
In this simple recipe, both ingredients are blended along with an orange to create a delicious smoothie loaded with great nutrients.
The sweet and tangy flavors make this a supremely enjoyable drink and with only 3 basic ingredients required, this is just effortless to whip up!
Easy to make and extremely delectable, just how we like our recipes to be!
Reward yourself with this sweet indulgence that's incredibly palatable and one that you'll definitely want to try!
It's a lovely combination of frozen banana, almond milk, peanut butter, coconut butter, and vanilla Ka'Chava, all blended into a lovely base that's topped with cacao nibs.
Everything comes together really well and it tastes absolutely glorious.
With how delicious it is, we have no doubts that this will quickly make its way to your list of favorite Ka'Chava recipes!
Shake things up a little and try making this splendid Sweet Potato Pie Smoothie Bowl that deviates from the usual fruit combinations!
This fantastic bowl is made by blending a mix of frozen cauliflower, frozen sweet potatoes, frozen bananas, cinnamon powder, cashew milk, and of course, Ka'Chava powder.
It's a mouthwatering delight with a refreshing flavor that might just become the next hit with the family!
Give this awesome smoothie bowl a try and you might just be pleasantly surprised by how good it tastes!
Enjoy delicious Ka'Chava bars with this excellent recipe that you'll definitely want to keep handy!
Don't worry because these "cheesecake" bars don't require any cheese or baking!
Featuring a crust made by combining prunes, almonds, and agave nectar, then topped with a blended mixture of matcha Ka'Chava, cashews, coconut cream, coconut oil, and agave nectar, these bars are just irresistible!
All you need is some patience while the bars are being frozen to let the layers set!
For a tasty breakfast bowl that you can whip up in mere minutes, you've got to check out this simple Ka'Chava recipe!
Frozen raspberries and mangoes are blended with cashew milk and vanilla Ka'Chava to create a sweet and delicious base topped with fresh fruits and coconut flakes.
It's extremely refreshing and you'll definitely look forward to jumping out of your bed to enjoy this fantastic sweet treat!
Breakfast will never be the same again with this nutrient-loaded smoothie bowl!
Grace your taste buds with these exquisite bars that are incredibly delectable and will definitely whet your appetite!
Made by baking a delightful combination of bananas, almond butter, almond flour, chocolate chips, walnuts, raisins, chai Ka'Chava, and other ingredients, these tasty bars are bursting with amazing flavors.
Every bite is exceptionally enjoyable and their small size makes them perfect for indulging when you're on the go!
You'll find it difficult to limit yourself to just one serving because of how delicious they are!
This Chocolate Almond Smoothie Bowl is an absolutely mouthwatering delight and the perfect dish to wake up to!
Almond butter, almond milk, frozen bananas, coconut flakes, and chocolate Ka'Chava are blended to form a tasty base that's topped with cacao nibs, hemp seeds, cashew nuts, and sliced bananas to create a remarkable bowl that tastes extraordinary.
All the chocolatey goodness makes this the ultimate indulgence with a heavenly combination of flavors that's sure to be a crowd-pleaser.
With something that tastes this good and is filled with tons of nutrients, what more can you ask for?
Sign us up for this terrific Berry Sorbet that's super refreshing, delicious, and easy to make!
This sorbet involves blending a mix of vanilla Ka'Chava, mixed berries, vanilla coconut milk, lime juice, salt, and sweetener, then freezing until the mixture hardens.
Every mouthful of this wonderful sorbet will make you go wow with its refreshing blend of sweet and tangy flavors dancing on your palate.
It's a taste explosion like no other and definitely one of our favorite Ka'Chava recipes!
Expand your high-protein snack options with these amazing cookies that are great for a delicious post-workout treat!
Rolled oats, vanilla Ka'Chava powder, diced apples, cinnamon, and other lovely ingredients are combined and then baked to create flavorsome cookies that taste and smell phenomenal.
These cookies are great as a nutritious dessert or as a mid-day snack to refuel your body as you go about your day!
You won't be able to stop munching on them after your first bite because they are just that yummy!
Experience a visual treat with this stupendous Dragon Fruit Blue Majik Bowl that tastes fantastic and looks stunning!
Blue spirulina gives this bowl an eye-catching blue color and dragon fruit purée provides a striking purple hue that makes this an impressive-looking dish.
Add your favorite toppings and enjoy a simple but tasty bowl that will surely delight your taste buds!
Nuts, seeds, and fresh fruits all make great options for awesome toppings!
At Glorious Recipes, we have our favorite Easy Blueberry Ka'Chava Smoothie that we absolutely adore and it tastes heavenly! Check out the recipe below!
Yield: 1
Easy Blueberry Ka'Chava Smoothie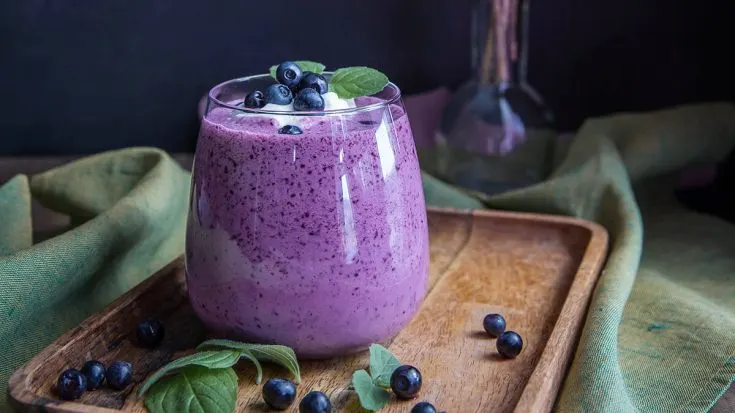 Enjoy a delicious and healthy Blueberry Smoothie packed chock-full of nutrients with Ka'Chava!
Ingredients
2 scoops vanilla Ka'Chava powder
½ cup almond milk
2 cups blueberries (reserve a few for topping)
mint leaves (optional)
Instructions
Add Ka'Chava, milk, and blueberries to a high-speed blender and process until smooth.
Top with a few blueberries and mint leaves. Serve and enjoy!
Nutrition Information:
Yield:
1
Serving Size:
1
Amount Per Serving:
Calories:

226
Total Fat:

2g
Saturated Fat:

0g
Trans Fat:

0g
Unsaturated Fat:

2g
Cholesterol:

0mg
Sodium:

12mg
Carbohydrates:

49g
Fiber:

8g
Sugar:

34g
Protein:

3g
Nutrition information is only an estimate and can vary depending on ingredients used.
Which of the Ka'Chava recipes have you tried so far?
Let us know in the comments below!
For more awesome recipes that you might like, check out the following:
Protein Bowl
Loaded Tea
Almond Cow
Vitamix Smoothie
Vitamix Soup
Sandwich Maker
Blendjet
Potato Taco
Soyrizo
Dried Cherry
Share on your favorite social media platform and tag us @GloriousRecipes – we can't wait to see what you have made!