Razor clams might not be the prettiest seafood but they taste amazing when cooked and can be a fancy delicacy in any meal!
Both Atlantic razor clams and Pacific razor clams are great options for making awesome clam dishes and there are so many ways to prepare them.
From tasty ceviche to delicious clam chowders, we've got you covered with some of the best razor clam recipes that you can easily try at home!
Enjoy a fantastic appetizer with this ceviche that is absolutely delicious and is sure to be a crowd-pleaser with its incredible taste!
Cured in a mixture of delightful ingredients that include lemon juice, lime juice, jalapeño, garlic, and olive oil, this razor clam ceviche is loaded with great flavors and is really enjoyable.
Freshly chopped cilantro and mint leaves accentuate the flavors further and help to make the dish really refreshing.
It's a terrific appetizer for any meal and a worthy addition to your cooking repertoire!
Inject a little Vietnamese flair to your next meal with this amazing dish that has the perfect balance between sweet and sour flavors!
This sautéed razor clam recipe combines aromatics, tamarind sauce, peppercorns, chilies, and basil to add loads of wonderful flavors and fragrances to the clams, creating a terrific dish that's just mouth-watering.
The heat from the chilies and peppercorn gives you an addictive kick with every bite and you just can't stop yourself after getting a taste of the delicious clams.
It's a tasty dish filled with umami flavors that you just can't miss out on!
This is one of our favorite razor clam recipes because it makes an amazingly tasty chowder that'll definitely impress everyone!
With vegetables, herbs, clam juice, vermouth, and other wonderful ingredients, you are guaranteed wonderful flavors that are just irresistible.
Nothing comes close to sipping on delicious chowder on a cold and chilly evening for a comforting meal and you'll be craving it once you've gotten a taste of this fantastic dish.
Serve with crackers and hot sauce for maximum enjoyment of this hearty razor clam chowder!
Experience a marvelous blend of delightful flavors with this awesome dish that's super delicious and a must-add to your appetizer rotation!
Seared razor clams are drizzled with a tasty chili-lime vinaigrette that's made with a mixture of lime juice, lime zest, garlic, cilantro, chili, and olive oil.
They are incredibly flavorsome and the spiciness from the chilies is well-balanced with the sweet and sour flavors.
It's the kind of dish that you'll keep coming back to because of how easy it is to prepare and how delicious the clams taste!
Feast on tasty clams in what is one of the easiest and hassle-free slow cooker razor clam recipes that you definitely need to try!
All you need to do is add all the ingredients into a slow cooker and let the appliance do all that cooking for you while you wait to enjoy a lovely meal!
The clams are made tasty with a combination of aromatics, fermented black beans, chilies, sugar, oyster sauce, and soy sauce.
It's an Asian-inspired recipe overflowing with great umami flavors that the whole family will enjoy!
Garlic butter instantly makes everything delicious and it's also a wonderful way to make tasty razor clams!
It's also ridiculously easy to whip up this splendid dish, with the highlight being the garlic butter sauce that can be made by combining melted butter, garlic, scallion, and black pepper.
The razor clams are cooked in a skillet until the shells open, after which the garlic butter sauce is spooned over them and they are served immediately.
It's a simple way to make flavorsome clams and you can pair it with any other main dishes to turn it into a wholesome meal!
Take a page from Portuguese cuisine and make this fantastic razor clam rice that'll definitely tantalize your taste buds!
Short-grained rice is combined with razor clams, tomatoes, garlic, onions, white wine, herbs, and other delightful ingredients to create an incredible dish that's super delicious.
Clam juice helps to impart a natural sweetness to the flavor and it's a superb seafood rice that has the consistency of risotto.
It's a great way of enjoying the clams and it's also a wholesome meal that has all the carbs and protein you need in a single dish!
When it comes to razor clam recipes with pasta, this is definitely up there as one that is super easy to make and also a great option for a quick weeknight dinner!
It's made with simple ingredients such as white wine, stock, and aromatics that impart awesome flavors to the clams, and a basic seasoning of salt and black pepper is enough to elevate the taste to another level.
Spaghetti is added along with lemon juice, Parmesan cheese, and parsley to complete the dish and it's an absolute delight with simple flavors that are easy to enjoy.
It's a must-add to your dinner rotation and a superb way of introducing variety to your meals!
Indulge in fried razor clam cakes with this terrific recipe and enjoy a fantastic side dish or mid-day snack that's absolutely delicious!
Onion, peppers, breadcrumbs, egg, parsley, razor clams, and lemon juice are all it takes to create these tasty bites and they are fried in butter until a beautiful golden brown exterior is achieved.
It's extremely flavorful and really addictive, and you'll be hard-pressed to stop at one serving because it's just that delicious!
Serve it as an appetizer, side dish, or even as a main course, and be prepared to be showered with compliments!
Discover a simple way of cooking razor clams that take so little effort, you'll definitely be making this on a regular basis!
The clams are sliced thin and given a light poach by pouring hot water on them, and they are ready to be consumed!
Paired with a fragrant dipping sauce made with hot oil, scallion, and soy sauce, the clams are wonderfully delicious and an absolute treat in any meal.
Serve with a bowl of steamed rice for maximum enjoyment of this lovely dish!
Treat yourself to a delicious bowl of chowder made with incredible ingredients that make it extremely flavorful!
Razor clams, chanterelle mushrooms, vegetables, potatoes, bacon, herbs, and many other delightful ingredients combine to create an irresistible soup that is super hearty and comforting.
The clam juices help to add to the flavor as well, giving rise to a rich and thick chowder that's a blend of sweet and savory with a hint of the sea.
It's amazingly tasty and there's definitely a place for a bowl of chowder in every meal!
If you're looking for a tasty side dish or snack that's super easy to whip up, you've got to check out this wonderful razor clam recipe!
Razor clams combine with crackers and egg to create fritters that are seasoned with salt and pepper, then fried in a skillet until golden brown.
These fritters are straightforward to make and they taste absolutely delicious!
It's a dish that you can serve as an appetizer, side dish, or even as a main course along with some carbs and greens.
No matter how you serve it, it's definitely going to satisfy your appetite!
Savor delicious Atlantic razor clams with this Asian-styled razor clam recipe that's quick and easy to make!
All it takes is a few minutes to cook the clams together with lemongrass, garlic, and ginger, creating a flavorful mix that's fragrant and super appetizing.
The clam juices are not wasted and they are spooned over the shells before being topped with lime juice, spring onion, chili, and coriander to complete this incredible dish.
It's amazingly delectable and with how simple it is to make, it's a dish that can add variety to your meals easily!
Piquillo peppers are fantastic for adding sweet flavors to a dish and if your heat tolerance is low, don't worry, because they are not spicy at all!
The clams are seared in a skillet with smoked paprika to give them some flavor, and they are paired with a mixture of peppers, olive oil, and red wine vinegar to deliver a simple but tasty dish.
Topped with dried garlic and chives, it's a superb treat that is really addictive and delicious!
Grace your taste buds with these panko-breaded fried razor clams that are amazingly delicious and will definitely whet your appetite!
The clams are dredged in a seasoned flour mixture and then in a mixture of panko breadcrumbs and Parmesan cheese before they are frozen and fried until they become crispy with a beautiful golden brown exterior.
Pair with your favorite dipping sauce or try the amazing Tiger sauce and Bitchin' sauce for something different!
It's one of our favorite razor clam recipes because they are just that tasty!
Impress your friends and family with this easy steamed razor clam recipe that you can use to quickly whip up an amazing dish!
The clams are cooked together with ramps, shallot, and white wine to create a flavorful and tasty treat that is incredibly fragrant.
It's a one-pan recipe that is super handy and convenient with minimal clean-up required.
With how delicious it is and how easy it is to make, there's nothing not to like about this fantastic recipe!
At Glorious Recipes, we have our favorite Razor Clams with Garlic and Parsley that we absolutely adore and they taste heavenly! Check out the recipe below!
Yield: 16
Razor Clams with Garlic and Parsley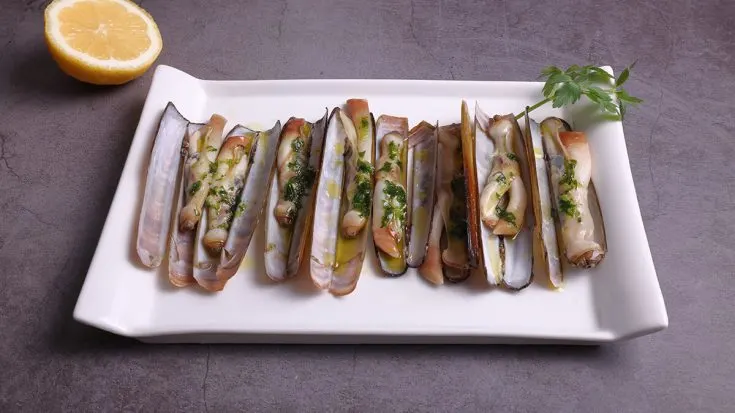 Enjoy incredibly delicious razor clams with garlic and parsley that you definitely need to try! It's a simple recipe that only takes 10 minutes to whip up!
Ingredients
16 razor clams
4 tbsp olive oil
2 cloves of garlic, minced
4 tbsp parsley, freshly chopped
1 cup of white wine
8 tbsp sea salt
black pepper, to taste
Instructions
To clean the clams and purge the excess sand, soak them in a bowl of cold water with 2 tablespoons of salt. Leave it to soak for 30 minutes before rinsing and repeating the steps. Do it a total of 4 times.
Add olive oil to a skillet over medium-high heat. Add garlic and parsley and sauté
for a minute. Add clams and cook for another couple of minutes. Add white wine and pepper, then increase the heat for another couple of minutes to cook off the wine.
Serve and enjoy!
Nutrition Information:
Yield:
4
Serving Size:
1
Amount Per Serving:
Calories:

678
Total Fat:

20g
Saturated Fat:

3g
Trans Fat:

0g
Unsaturated Fat:

14g
Cholesterol:

228mg
Sodium:

18048mg
Carbohydrates:

21g
Fiber:

1g
Sugar:

1g
Protein:

87g
Nutrition information is only an estimate and can vary depending on ingredients used.
Which of the razor clam recipes have you tried so far?
Let us know in the comments below!
For more awesome seafood recipes, check out the following:
Colossal Shrimp
Rock Shrimp
Argentine Red Shrimp
Calamari Steak
Bay Scallops
Canned Oysters
Langostinos
Shrimp Ramen
Salmon and Shrimp
Salmon Bites
Share on your favorite social media platform and tag us @GloriousRecipes – we can't wait to see what you have made!