Veal meat comes from young cattle around 5-6 months old and has a light pink color as compared to beef.
It's leaner, more tender, and excellent for use in cooking many wonderful dishes.
Whether you crave a burger, pasta, or even dumplings, we've got you covered with some of the best ground veal recipes that are easy to make and taste absolutely delicious!
The easiest and most basic ground veal recipe is to make some tasty meatballs!
No mixing with other types of ground meat is required because veal meat is already tender and light so it can easily take on the flavors of other ingredients.
Herbs and aromatics help to provide depth to the flavor while breadcrumbs help to provide the crunch and satisfying bite.
The secret ingredient in this recipe is half and half which helps to keep the meatballs moist and juicy.
Cook in a frying pan and enjoy these delicious meatballs!
For a simple but sophisticated weeknight dinner, look no further than this easy pasta with veal bolognese.
With marjoram, sage, tarragon, rosemary, and basil, the herbs impart so much flavor to the tomato sauce and it tastes absolutely amazing.
Ground veal is cooked together with garlic and seasoned with salt and pepper before mixing with the tomato sauce.
Take your favorite pasta and cook it to al dente, then mix with the bolognese sauce before serving.
It's a simple and elegant dish, and one of our favorite ground veal recipes!
Indulge in this mouth-watering ground veal burger that's topped with Muenster cheese and loads of white button mushrooms!
The patties are juicy and flavorful with seasonings such as garlic and onion powder combined into the mix.
A slice of Muenster cheese is sealed in between two patties before being grilled till perfectly cooked.
Mushroom topping is made by cooking white button mushrooms and then combined with steak sauce and parsley.
Assemble the burger by serving on toasted Ciabatta rolls and then top with the amazing mushroom topping for a sumptuous meal!
Enjoy these extremely flavorful kofta kabobs that are perfect to be served as an appetizer, entrée, or just for snacking in the middle of the day!
There's everything to love about this ground veal recipe.
The kabobs are delicious, plus it's a quick and easy recipe that only requires 4 main ingredients!
Greek seasoning helps to provide the flavors, and when combined with ground veal, feta cheese, and spinach, they make for awesome skewer meat.
Serve with pita bread for a wholesome meal and dip in some Tzatziki sauce or try out the awesome Tiger sauce and Bitchin' sauce!
Treat yourself to a delicious risotto with ground veal, spinach, and roasted tomatoes that make the dish really wholesome and super flavorsome!
Chicken broth helps to provide the base for the rice to absorb and lock in the flavor before the ground meat and spinach are added.
Parmesan cheese helps to give the risotto a creamy flavor and texture that we've come to love.
Serve with roasted tomatoes and enjoy this amazing dish!
Try out a new way of infusing flavors into your meat patties with this excellent smoky garlic and cheddar stuffed burger recipe!
The secret ingredient that's used here is chia seeds that are soaked in beer, garlic, and chipotle.
They are mixed with ground veal before forming the patties and adding aged cheddar cheese.
Once the patties are grilled to perfection, they are served on toasted buns and topped with any of your favorite toppings!
It's an easy ground veal recipe that tastes absolutely delicious!
For a unique dish that'll definitely impress your guests or family, check out this amazing ground veal mushroom herb loaves recipe!
Inspired by the classic meatloaf, this dish is made by cooking onions, mushrooms, garlic, veal, and egg, and seasoning with a variety of herbs and spices.
The mixture is transferred to muffin tins before being baked in the oven.
Complete the meal by serving with squash purée and some greens!
Do away with the grill and skewers with this straightforward Persian pan recipe that uses the pan to cook the meat instead.
Any type of ground meat can be used here but ground veal tastes the best because of how tender it is and its ability to easily soak up the flavors from the other ingredients.
The spices impart so much flavor to the meat and the shaped meat mixture is flipped and cooked on a pan until a nice dark brown color is achieved.
Enjoy the kabobs with some rice or pita bread for a complete meal!
Savor these juicy and plump meatballs covered in a buttery lemon sauce that'll definitely tantalize your taste buds!
What's more, almond meal is used in place of the usual breadcrumbs in making the meatballs so this is a low-carb and gluten-free recipe that's perfect for those on a keto diet!
The tasty sauce is made with a combination of chicken stock, white wine, lemon juice, shallots, and garlic, with capers and parsley providing additional flavors.
Serve it with your favorite pasta for a fantastic meal!
Enjoy this delicious ragù that's rich in flavor and exceptional in taste!
Ground veal is seasoned with salt and pepper, and cooked together with onion and garlic before the ingredients of the sauce are added to the pan.
White wine and chicken stock form the base of the sauce while thyme, rosemary, and capers help to impart their herbal and characteristic notes to the flavor.
Add your favorite al dente pasta to the pan, along with Parmesan cheese and parsley, and combine well before serving!
Grace your taste buds with this delicious veal and pork ragu dish that's super flavorful!
The sauce contains diced tomatoes, tomato paste, and canned San Marzano tomatoes so you know it's definitely going to be awesome.
Herbs and vegetables give complexity to the flavor while white wine and heavy cream are also added to finish off the amazing sauce.
Pappardelle is used for its thick surface area to coat and mop up the delicious sauce so none of it goes to waste!
It's extremely tasty and easily one of our favorite ground veal recipes!
Inject some Asian flair to your next meal with this delicious veal steamed dumplings recipe!
The dumplings are filled with ground veal, shiitake mushrooms, spring onion, carrots, and a host of sauces and spices to make them extremely flavorsome.
The filling is scooped onto wonton wrappers before being steamed until ready to eat.
It's super yummy when dipped in the serving sauce, and everything comes together really well.
You just can't get enough of the dumplings because it's just so tasty!
If you're looking for an amazing appetizer or entrée, you've got to check out this delicious stuffed veal pepper recipe.
Ground veal is mixed with quinoa and a variety of herbs and spices to form the filling.
The filling is then scooped into cut and hollowed bell peppers before topping with tomato sauce.
They are then boiled until the peppers are cooked and become tender before serving.
It's healthy, easy to make, and tastes really good!
Recreate the exotic flavors of Moroccan cuisine with this fantastic grilled veal keftas recipe that'll guarantee an awesome meal!
The ground meat is spiced and seasoned with a lot of ingredients, ensuring your skewer meat turns out packed full of flavor.
The trick here is to refrigerate the meat so that it keeps its form when cooking and also to use two sticks instead of one to have an easier time controlling it.
Serve with pita bread and your favorite dip to complete the meal!
Savor this delectable Italian stuffed eggplant that's easy to make and smells super good!
Ground veal and eggplant make for an excellent combo because while veal is lean, it can be a little bit dry.
Eggplant helps to provide moisture and you end up with a well-balanced dish that's super tasty.
Adding the other ingredients helps to provide more depth to the flavor and elevate the entire dish to the next level.
And when you include melted cheese into the mix, it becomes a mouth-watering temptation that you just can't resist!
Enjoy yummy veal meatballs with a twist that makes them super tasty and perfect for serving with any pasta!
The meatballs are made with ground veal, processed saltine crackers, lemon zest, Parmesan cheese, and other ingredients to make them packed with flavor.
They're combined together with a piccata sauce that's buttery and lemony with capers giving that bite of salty goodness.
Serve it with your favorite pasta and you'll be devouring this in no time!
Get ready for Taco Tuesday with this fantastic sheet pan nachos ground veal recipe!
It's simple to make and tastes absolutely amazing!
The ground meat is cooked together with garlic and seasoned with taco seasoning before being assembled on a baking sheet.
Tortilla chips form the bottom layer before being topped with cooked ground meat, corn, and cheese.
The oven does the remaining work of baking until the cheese has melted before the rest of the toppings are added.
Everyone can enjoy this easy-to-make dish and it makes for great comfort food!
If you need to feed a large group of people with delicious food, you've got to check out this delightful meatloaf recipe!
Using a combination of ground veal, beef, and pork, this meatloaf gets the best out of the different types of meat and results in a tender and extremely flavorful mixture.
Herbs and spices help to provide additional flavor to the mixture and panko breadcrumbs are also added before the mixture gets shaped and baked.
A delectable garlic sauce is made and drizzled over the meatloaf before serving.
This will definitely be the best meatloaf you've ever tasted at home!
When you're in need of some tasty snacks or appetizers, check out these simple cheesy veal stuffed mushrooms that'll definitely be a crowd-pleaser!
To make things even better, the mushrooms are packed chock-full of cheesy goodness because they're stuffed with ground veal, cream cheese, and cheddar cheese mixture before being topped with even more grated cheddar cheese!
Once baked, these babies are just irresistible with the melted cheese and you'll have a hard time keeping your hands away from them!
The next time you have spare cabbage in your refrigerator, combine it with ground meat to make these tasty veal-stuffed cabbage rolls!
Ground veal, egg, onion, garlic, and rice are rolled in the cabbage leaves and placed in a casserole dish before a delicious tomato-based white wine sauce is poured over the rolls.
The rolls are baked in the oven until they're ready to be served.
For an awesome meal, place the cabbage rolls on top of some mashed potatoes or cauliflower puree!
Indulge in these fantastic egg rolls filled with ground veal and cabbage, and fried till nice and crispy.
These homemade veal egg rolls are excellent to be served as an appetizer or eaten as a mid-day snack!
With garlic, ginger, and coconut aminos, the ground meat takes on all the flavor and is super delicious.
Serve with your favorite dipping sauce and enjoy these amazing bites!
Delicious Greek veal sliders are perfect for any occasion or gathering that requires canapés or finger food.
They are popular with most crowds and it's quick and easy to whip them up!
Dill and oregano help to impart herbal notes to the flavor and feta cheese makes the sliders super tasty.
Top with cucumbers, tomatoes, spinach, and Tzatziki sauce to finish off these amazing babies!
It's a simple ground veal recipe that anyone can try their hands on!
Level up your cooking skills with this Quebecois traditional veal tourtiere recipe that'll definitely blow your mind!
This meat pie is super filling and tastes absolutely delicious.
With sage, thyme, savory, cloves, and pepper to help season and provide depth to the flavor, the ground veal and bacon filling taste incredible.
It's so tasty that you'll likely be enjoying this throughout the year!
If you're looking for a hearty meal, you've got to check out this cannelloni stuffed with veal and herbs recipe!
The Italian flavor is plentiful in this dish with herbal notes contributed by thyme and sage, and Parmesan cheese to round out the taste.
A delicious bechamel sauce is combined with the cannelloni and ground veal, making it an incredibly tasty meal!
Add some Chinese flair with this wonderful pan-fried dumpling recipe that's absolutely delectable!
The versatile ground veal soaks up all the delicious sauce and is packed with awesome flavors with every bite.
Together with mushrooms and vegetables, the filling is wrapped in wonton wrappers before being pan-fried in a skillet till golden brown.
Serve with some vinegar for maximum enjoyment!
At Glorious Recipes, we have our favorite Ground Veal Burger with Balsamic Onions that we find to be absolutely delicious and taste spectacular! Check out the recipe below!
Yield: 2
Ground Veal Burger with Balsamic Onions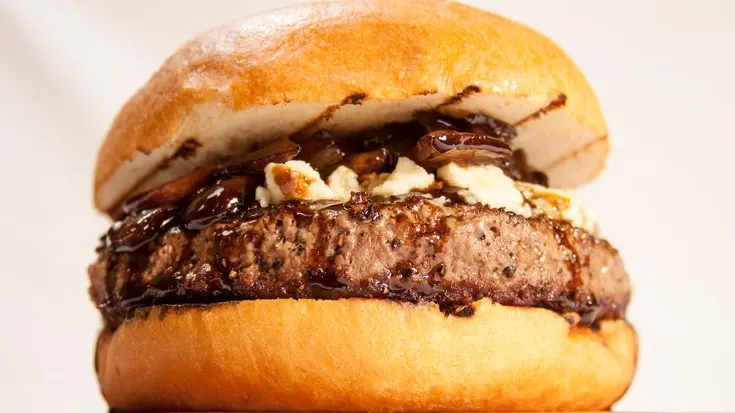 Bite into this delicious Ground Veal Burger with Balsamic Onions that's also topped with mushrooms and blue cheese for an incredible taste!
Ingredients
1½ tbsp olive oil
1 onion, cut into 1/4-inch-thick slices
1 tbsp balsamic vinegar
¼ tsp + light sprinkle of salt
8 oz. mixed mushrooms, chopped
1 clove garlic, minced
1 tsp fresh thyme, chopped
½ tsp lemon zest, grated
½ lb ground veal
2 brioche buns, cut in the middle
crumbled blue cheese (for topping)
Instructions
Add ⅓ of the olive oil into skillet over medium heat. Add onions and sauté until browned and translucent, around 7 minutes. Add vinegar and a light sprinkle of salt. Reduce to low heat, then cover and let it cook until tender, around 4 minutes. Set the onions aside.
Wipe skillet clean and add ⅓ of the olive oil over medium-high heat. Add half of the mushrooms and half of the remaining salt, then sauté for around 4 minutes until mushrooms are brown and liquid has mostly evaporated. Set aside. This will be used for topping at the end.
Add remaining ⅓ of the olive oil, mushrooms, and salt. Sauté for around 2 minutes, then add garlic, freshly chopped thyme, and grated lemon zest. Continue sautéing for another 2 minutes until mushrooms are tender. Set aside mushroom mixture to cool.
In a large mixing bowl, combine ground veal, mushroom mixture, and salt. Form ¾-inch-thick patties.
Place buns on grill or skillet with cut side down and let it toast. Remove the buns then add the veal patties. Grill or cook for 12 to 15 minutes, turning once. Cook until internal temperature has reached 160° F (or 70° C).
To assemble burgers, place one half of brioche bun on serving plate, top with patty, crumbled blue cheese, mushroom topping, then balsamic onions. Add any of your favorite sauces if you desire then finish with bun top.
Serve and enjoy!
Notes
Any combination of your favourite mushrooms can be used.
You can also substitute blue cheese with other types of cheese.
Nutrition Information:
Yield:
2
Serving Size:
1
Amount Per Serving:
Calories:

738
Total Fat:

42g
Saturated Fat:

17g
Trans Fat:

1g
Unsaturated Fat:

22g
Cholesterol:

207mg
Sodium:

1816mg
Carbohydrates:

49g
Fiber:

4g
Sugar:

12g
Protein:

43g
Nutrition information is only an estimate and can vary depending on ingredients used.
Which of the ground veal recipes have you tried so far?
Let us know in the comments below!
For more lunch and dinner recipes, check out Turkey Kielbasa, Beef Shank, Black Pepper Angus Steak, Salmon and Shrimp, or Puffball Mushroom for more ideas!
And don't miss out on other ground meat ideas with our Ground Turkey and Rice, Ground Elk, and Ground Pork Pasta recipes!
Share on your favorite social media platform and tag us @GloriousRecipes – we can't wait to see what you have made!