Everyone loves a good steak and there are so many ways to make it delicious!
Pair it with rice for an incredible combination that makes for a wholesome meal and your belly will definitely be satisfied!
From Korean beef steak to steak burrito bowls, we've got you covered with some of the best steak and rice recipes that you can easily try at home!
Enjoy an Asian-styled steak and white rice that makes an amazing combo and it's a simple dish that's really easy to make!
Seared flank steak is combined with an extremely flavorful sticky sesame sauce that's made from sesame oil, garlic, ginger, green onions, mirin, sugar, soy sauce, and cornstarch.
The sauce goes superbly well with the meat and is definitely the highlight of this dish!
Serve over fragrant steamed white rice for a delightful meal that the whole family can enjoy and don't miss out on garnishing with green onions and sesame seeds to enhance the taste further!
This pepper steak is one of our favorite steak and rice recipes because it tastes so good and comes together really quickly for an easy weeknight meal!
Ribeye steak is cooked with bell peppers, aromatics, tomato paste, beef broth, and a wonderful blend of spices to create a delectable dish that'll whet your appetite.
Served over white or brown rice, this is a sumptuous and wholesome meal that you can make any day of the week!
With how delicious it is and how easy it is to whip up, this pepper steak and rice recipe is a must-add to your dinner rotation!
Savor tender meat with this fantastic steak and rice recipe that you definitely need to try!
Cubed chuck roast steak is given a quick sear before it's slow-cooked to perfection in a mixture of beef broth and many other delightful herbs and spices.
The meat is extremely tender and flavorsome by the end of the cooking and you'll be asking for a second serving right after the first bite because it's just that delicious!
This beef steak tips and rice dish is an awesome way to add some variety to your meals!
Feast on this amazing hibachi steak and fried rice that's incredibly tasty and will definitely tantalize your taste buds!
The meat is cooked in high heat to caramelize the exterior and it's made flavorful with the addition of garlic, sesame oil, soy sauce, and other seasonings.
It's paired with a delectable egg fried rice that's made with simple ingredients and you can even use leftover rice for this!
Served with a fragrant ginger sauce that elevates the dish to another level, it's a meal that you'll be craving regularly!
If you're looking for a quick and easy recipe that you can use to whip up fast and delicious meals, this steak fried rice recipe is for you!
Marinated in a mixture of sesame oil, soy sauce, pepper, and garlic, the meat is loaded with great flavors and is cooked in a skillet with rice, onion, vegetables, egg, and the soy sauce mixture.
Everything comes together really quickly and you'll be enjoying a plate of tasty fried rice in no time at all!
It's a great option for weeknight dinners when you don't have much time but still want an awesome meal!
This fantastic black pepper beef is luscious and delicious, and makes for a sumptuous meal when paired with a side of fragrant white rice!
The highlight of this dish is the black pepper sauce that really makes everything stand out and ensures every bite is bursting with great flavors.
It's a combination of sesame oil, dark soy sauce, Chinese rice wine, oyster sauce, beef stock, black pepper, and cornflour that's mixed together to create a wonderful blend of flavors that coats the meat and vegetables.
With how easy this dish is to make, you'll definitely need to add it to your cooking repertoire!
Inject a little Japanese flair to your next meal with this amazing steak and rice bowl that's absolutely delicious!
Steak cooked in garlic and butter is paired with an incredible sauce made from common Japanese ingredients – mirin, sake, soy sauce, and sugar.
It's an awesome combo that has so many wonderful flavors gelling together to create a delectable dish that's just so irresistible.
Serve over white rice to make it a complete meal along with a side of lettuce!
Experience an Asian delight with this superb Mongolian beef recipe that you definitely need to add to your meal rotation!
The terrific sweet and savory sauce is loaded with great flavors and it coats the beef to make the meat taste absolutely amazing.
Garlic, ginger, and green onion imparts their fragrance and gives depth to the flavor, creating a wonderful dish that's super addictive.
With this simple steak and rice recipe, you can skip the takeout dinner and make your own delicious meal!
Amplify your next meal with this splendid Teriyaki Steak and Rice Bowl that's oozing with umami flavors and you'll definitely want to try it!
Steak meat is brushed with a flavorful teriyaki glaze and seared perfectly until a beautiful deep brown color is achieved.
It's paired with a side of bok choy that has been steamed with the teriyaki sauce and everything comes together really nicely.
The dish is completed with white rice, egg, and a sprinkle of Shichimi togarashi and green onion for a wholesome and delicious meal!
This Korean Beef Steak Rice Bowl is one of our favorite steak and rice recipes because it tastes as good as it looks and it's so simple to whip up!
It's a symphony of taste with marinated meat, kimchi, potatoes, and vegetables to create a visually pleasing masterpiece that's absolutely delicious.
All the lovely ingredients add up to provide a nutritious meal and the superb taste is just the cherry on top.
Make this for your next Asian-themed dinner and you might just have a new favorite dish after you've taken your first bite!
For a low-carb dish that's tasty and easy to make, check out this Beef and Broccoli Stir Fry recipe!
Sliced beef is coated with cornflour before it's given a quick sear in the skillet and then combined with broccoli that has been cooked in beef broth with a sauce made from low-sodium soy sauce and a sugar-free sweetener.
It's paired with cauliflower rice to ensure everything remains low-carb and it's a great choice for those on a keto diet!
This dish can be made in under 30 minutes, perfect for a quick and easy weeknight dinner!
A one-pot recipe is always welcome for a hassle-free meal and easy cleanup, and this Instant Pot Beef and Rice recipe definitely doesn't disappoint!
Sautéed onions are mixed with chicken broth, soy sauce, and brown rice, and cooked together with seasoned steak until everything is nicely done.
It's completed with the addition of frozen vegetables for some quick and easy nutrients to turn it into a hearty meal that everyone can enjoy.
With its great taste and ease of cooking, it's a dish that you'll definitely keep coming back to!
Skip the tacos when you're craving Mexican food and try out this wonderful Steak Burrito Bowl instead!
It's ridiculously easy to make and all you need to do is cook your steak to your desired taste and pair it with other delightful ingredients!
Great options include rice, salsa, black beans, guacamole, cheese, and lettuce but you can really just put in any of your favorite toppings because this dish is just that versatile.
It makes for a quick and delicious meal that you can have any time of the day!
Indulge in an amazingly delicious Cilantro Lime Steak Bowl that's one of our favorite steak and rice recipes!
Marinated flank steak is grilled to perfection before being combined with a host of fantastic ingredients that include onion, corn, cheese, black beans, avocado, and rice.
A super appetizing lime crema made with sour cream, lime juice, and Tajin seasoning is drizzled on top to complete this terrific dish that you just can't get enough of.
This mouth-watering delight will definitely be making its way to your meal rotation not before long!
This steak and rice with gravy makes for fantastic comfort food and can be easily made with common ingredients that you probably already have stocked up in your kitchen!
The meat is cooked in a flavorful mushroom gravy and left to simmer until it becomes extremely tender and delicious.
Garlic, onion, and parsley help to impart their fragrance and add depth to the flavor of this superb dish that's perfect for a simple yet tasty meal.
Serve it over a plate of white rice with mushroom gravy on top and enjoy an awesome meal!
Treat yourself to a simple meal that's easy to make and tastes absolutely fantastic with these juicy steak bites!
All you need is 4 main ingredients to whip up this awesome dish, plus a little oil, salt, and pepper to season the meat to your desired taste!
The steak pieces are given a simple sear and cooked in a skillet before it's paired with flavorful garlic butter to create an amazing dish.
Make it a quick meal by using frozen cauliflower rice that just requires a quick microwave and you have a low-carb meal in no time at all!
Give the classic fried rice a simple twist with this Steak and Kimchi Fried Rice that's super tasty and addictive!
There's no lack of flavor here with the meat being marinated in a mixture of soy sauce, rice vinegar, olive oil, and chili garlic paste.
It's combined with white rice, vegetables, kimchi, and scrambled eggs for a hearty meal that's sure to please everyone!
There's nothing not to like with this quick and easy recipe that's perfect for an awesome weeknight dinner!
Mix things up a little and try making this fantastic Carne Asada Bowl that's guaranteed to make it into your list of favorite steak and rice recipes because it's absolutely delicious!
The meat is marinated in a mixture of delightful ingredients that include soy sauce, lime juice, ground chipotle pepper, cumin, garlic, and cilantro, so you know it's going to be loaded with plenty of flavors after it's cooked.
It's paired with cilantro lime rice and topped with avocado, pico de gallo, jalapeño, radish, cheese, and an amazing chipotle crema to complete this incredible dish.
Garnish with more cilantro and enjoy this refreshing steak and rice bowl!
If you love rich and bold flavors, you've definitely got to check out this terrific Beef Vindaloo that's incredibly delicious!
Juice, tender beef is slowly cooked in a blend of amazing spices that include garam masala, paprika, cumin, turmeric, and many other lovely ingredients to create a mouth-watering delight.
Pair it with basmati rice or warm naan for a complete meal that'll definitely satisfy your appetite!
When you crave a high-protein meal that's tasty and easy to make, you've definitely got to check out this fantastic recipe!
Steak is paired with shrimp that has been seasoned with jerk and Creole seasoning to create an amazing surf and turf dish that's oh-so-yummy.
Add vegetables and yellow rice into the mix, and you have yourself an incredible meal that's super hearty and delicious!
At Glorious Recipes, we have our favorite Delicious Pepper Steak and Rice that we absolutely adore! It's easy to make and tastes heavenly! Check out the recipe below!
Yield: 6
Delicious Pepper Steak and Rice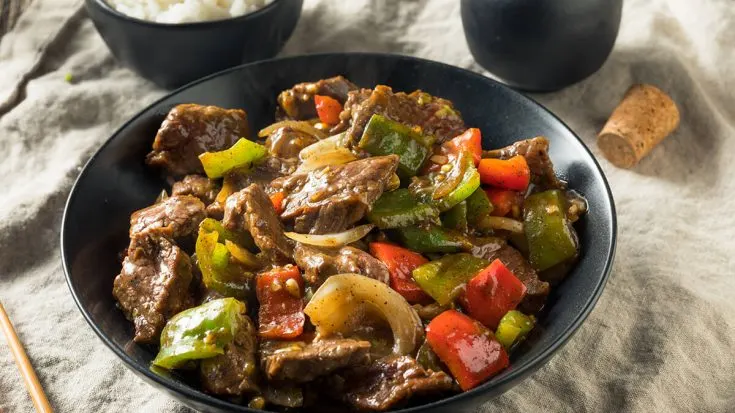 This easy Pepper Steak and Rice recipe is perfect for a hearty meal that's amazingly delicious with tender meat, bell peppers, onions, and white rice!
Ingredients
2½ lb steak, thinly sliced (ribeye or tenderloin works great)
salt, to taste
black pepper, to taste
2 tbsp flour
vegetable oil (any neutral oil works here)
2 small onions, sliced
½ tsp paprika
½ tsp Italian seasoning
¼ tsp smoked paprika
¼ tsp white pepper
3 bell peppers, thinly sliced (any color)
3 cloves garlic
5 tbsp tomato paste
½ cup beef stock/broth
white rice, cooked
green onions, freshly chopped (for garnish)
Instructions
In a large bowl, season sliced steak with salt and pepper, then add flour. Mix and coat the steak evenly.
Add a few tablespoons of oil to skillet over medium-high heat. Once it is hot, add sliced steak and sear for about 2 minutes. Work in batches if needed. Transfer the steak when done and set aside.
Add a little bit more oil to the skillet if needed. Add onions and sauté
until translucent. Add seasonings at this point and stir well. Add bell peppers and sauté until softened. Add garlic and sauté until fragrant.
Add tomato paste to the skillet and stir well to combine all the ingredients together. Let it simmer for about half a minute before adding beef broth. Mix well and do a taste test to see if you need to adjust the seasoning.
Add steak back to skillet and let it simmer for about half a minute to warm the meat through.
Serve over white rice and garnish with green onions. Enjoy!
Nutrition Information:
Yield:
6
Serving Size:
1
Amount Per Serving:
Calories:

647
Total Fat:

38g
Saturated Fat:

14g
Trans Fat:

0g
Unsaturated Fat:

18g
Cholesterol:

185mg
Sodium:

303mg
Carbohydrates:

21g
Fiber:

2g
Sugar:

5g
Protein:

53g
Nutrition information is only an estimate and can vary depending on ingredients used.
Which of the steak and rice recipes have you tried so far?
Let us know in the comments below!
For more awesome recipes that you might like, check out the following:
Korean Soup
Protein Bowl
Neck Bones
Beef Cubes
Turkey Tenderloin
Ground Turkey and Rice
Recipes with Beef Broth
Shaved Steak
Minute Steak
Angus Beef
Share on your favorite social media platform and tag us @GloriousRecipes – we can't wait to see what you have made!