If you haven't tried elk meat before, you're missing out on this tender and delicious wild game meat!
Compared to beef, elk meat is lower in fat due to its plant-based diet and doesn't have the gamey taste that some people dislike.
It's lean, flavorful, and can be cooked in many ways to whip up tasty dishes.
One of the easiest ways is to use ground elk meat, which is versatile and can easily be incorporated into many recipes.
We're excited to share 20 of the best ground elk recipes that you can try at home and we just know that you're going to love them!
Enjoy this quick and easy ground elk Stroganoff that can be made in 20 minutes!
Tender ground elk meat is smothered in a sour cream mushroom sauce that combines to create an absolutely superb dish.
It's flavorsome and every bite is just so enjoyable.
This recipe is also flexible enough that egg noodles can easily be replaced with mashed potatoes if you want something different.
No matter how you cook it, it's comfort food that's easy to make and tastes delicious!
Add some Mexican flair to your next meal with this easy ground elk recipe to make elk enchiladas!
With a filling of ground meat, refried beans, onions, and chilies, it's filled with classic flavors that everyone will definitely love and enjoy!
Combine that with enchilada sauce, melted cheddar, and quesadilla cheese, this dish just tastes heavenly.
Top with avocado, sour cream, and some salsa before serving for maximum taste!
Level up your cooking skills with this fantastic ground elk pinwheels recipe that's super delicious!
It looks complicated but it's actually really easy to make and you only need minimal ingredients.
Ground meat and shredded cheese are spread all over a piece of puff pastry before being rolled up and grilled to perfection.
It's paired with an awesome sour cream salsa verde dipping sauce that goes so well together.
You'll definitely be craving a second serving because it's just that tasty!
Fancy some Swedish meatballs to go with your pasta or noodles?
These ground elk Swedish meatballs taste amazing and they have all the traditional flavors that we've come to love.
With nutmeg, Allspice, and aromatics such as onions and garlic imparting their fragrance and flavors, and a tasty gravy made with sour cream, Worcestershire sauce, and mustard smothering the meatballs, this dish is just mouth-watering.
Cook some al dente pasta to go along with the meatballs and you'll have a sumptuous meal waiting for you!
It's so delicious and easily one of our favorite ground elk recipes!
When you have some ground elk meat, you cannot miss out on making elk burgers.
It's leaner than using ground beef but it tastes as flavorful and is even healthier than your regular burgers!
Form your patties and season them before cooking on a skillet or grill, turning them only once.
Once the internal temperature of the patties reaches 160°F (or 70°C), assemble with your favorite toppings and enjoy!
Make this tasty elk shepherd's pie with delicious mixed vegetables over elk meat and topped with a layer of creamy mashed potatoes.
The ground meat and vegetables are well-seasoned and cooked to ensure maximum flavor and taste.
It's a simple recipe that's easy to make for a large group and it's hard to go wrong because the oven will do all the baking for you.
Once the potatoes start to turn golden brown, it's time to serve and enjoy!
This ground elk meatloaf recipe is the perfect comfort food that you've definitely got to try!
Using a combination of ground elk and ground pork, the resulting meatloaf is well-balanced because the fatty pork helps to counteract the leanness of elk meat.
With tomato paste, herbs, spices, and sauces to help season the meat, you end up with an excellent meatloaf that everyone will enjoy.
It's a simple recipe because all you need to do is shape it and bake it!
Indulge in this amazing ground elk ragu that's full of flavor and slow-cooked to perfection.
Onion, carrot, celery, and ground meat are added to a Dutch oven and cooked before red wine is added and allowed to reduce.
Beef stock helps to make up the remaining sauce and it's simmered for more than 2 hours to allow all the flavors to be released.
Scoop onto your favorite pasta and top with some Parmesan cheese and freshly chopped parsley to have an awesome meal!
Lasagna is the classic comfort food that everyone loves and you cannot miss out on this incredible ground elk recipe.
Creamy Alfredo sauce and a tasty marinara sauce make for a fantastic combo that pairs well together to create an awesome taste.
Assemble by layering the sauce, ground meat, cheese, and lasagna sheet before baking.
Once the cheese has melted and turned golden brown, it's time to enjoy this delicious lasagna!
For an amazing appetizer or side dish, check out this beautiful ground elk stuffed acorn squash that's bound to receive many compliments!
The presentation is lovely and the preparation is actually really simple.
Acorn squash is cut into halves with the seeds removed and baked till cooked.
Ground meat is cooked in a skillet with maple syrup, cranberries, and herbs, which make it extremely flavorsome.
Once done, scoop cooked rice and meat mixture onto acorn squash and serve!
Learn how to make this easy elk bolognese sauce that's great for pairing with any of your favorite pasta and enjoy a sumptuous meal!
This tomato-based sauce is a crowd favorite and one of the heartiest comfort food you can make.
With oregano to help provide some depth to the sauce and red chili flakes to add a little kick, this bolognese sauce is easy to enjoy and tastes absolutely delicious.
Serve with a wide pasta such as pappardelle to mop up every single drop of the sauce because it's just so tasty!
Another hearty comfort food that's perfect for a cold, rainy night is this elk chili recipe that's easy to make and tastes amazing!
With sweet potato, zucchini, ground meat, diced tomatoes, and tomato sauce, this delectable chili sauce is cooked and simmered till it's reduced.
Top with your favorite chili toppings such as shredded cheese and sour cream to make it even tastier!
It's best served with some homemade bread and tortilla chips for an awesome meal!
If you're looking for an easy gluten-free ground elk recipe, you've got to check out this sweet potato mango bowl!
The tropical sweetness of mango blends with the flavorful ground meat that's seasoned with cumin and chili powder while lime juice and cilantro make the dish super refreshing.
It's completed with the addition of sweet potatoes, avocado, and fresh salsa for an amazing and delicious meal!
Stuffed mushrooms make for great appetizers and what better way to prepare them than by utilizing ground elk meat!
These amazing little bites are definitely going to be a hit with the crowd because they look so beautiful and taste so delicious!
With a filling made up of ground meat that's seasoned with fennel, Gruyère cheese, and breadcrumbs, they become irresistible once they are baked to perfection.
Get ready for your next gathering with this fantastic ground elk recipe!
Make your own healthy elk taco salad with this recipe that you definitely should add to your salad rotation!
Salad bowls are a great way to incorporate ground elk meat because they're very flexible and you can add in all your favorite ingredients.
In this taco salad recipe, ground meat is seasoned with garlic, onion, chili, cayenne, and cumin powder, which makes it extremely flavourful.
Top with your favorite fruits, vegetables, and dressing to complete your delicious taco salad!
Treat yourself to these delectable quesadillas that are packed chock-full of flavor, plus the goodness of melted cheese!
The ground meat is seasoned with taco seasoning and simmered together with aromatics and vegetables, along with tomato paste and stock.
Tomato paste helps to provide a punch of flavor and moisture to the end product, which makes the quesadillas really delicious!
It's the perfect comfort food and you just can't stop at the first bite!
The quesadillas taste so amazing and this is one of our favorite ground elk recipes!
When you want a simple dinner that's easy to make, this savory garlic mushroom elk dish should be your go-to recipe.
It's straightforward to make and all you need to do is sauté the mushrooms, onions, and ground elk before adding mushroom soup mix and let it simmer.
Season to taste and serve with a bowl of fragrant jasmine rice for a complete meal!
Try your hands on some elk-stuffed cabbage rolls that're smothered in a tomato-based sauce that's great for a weekend meal prep!
The ground elk is combined with marsala, tomato paste, onion, garlic, and parsley, giving it loads of flavor with every bite.
The cabbage leaves are filled with the ground meat filling before being rolled and a homemade tomato-based sauce is poured over it.
Once baked, serve and enjoy this delicious meal!
Indulge in this fantastic wild game elk cowboy pizza, inspired by the classic Papa Murphy's version.
Ground elk meat is cooked together with onions and mushrooms, and forms the topping on a pizza crust along with olives, tomatoes, mozzarella cheese, and ricotta cheese.
Cook it in the oven until the crust is golden brown and you can see all the melted cheese goodness.
This irresistible and delicious pizza is definitely a treat to be savored!
Introduce a little Mexican flair to the classic Italian lasagna with this ground elk recipe that's going to blow your mind!
Instead of lasagna sheets, the layers are formed with tortillas and alternated with a ground meat mixture that includes onions, corn, black beans, and Rotel roasted tomatoes, topped with shredded cheese.
Baked in the oven till the cheese has melted and turned golden brown, this Mexican lasagna is just mouth-watering.
This might just be your new favorite comfort food to make!
At Glorious Recipes, we have our own favorite Ground Elk Italian Meatballs recipe that we absolutely adore. They are tasty and really easy to make! Check out the recipe below!
Yield: 40 Meatballs
Ground Elk Italian Meatballs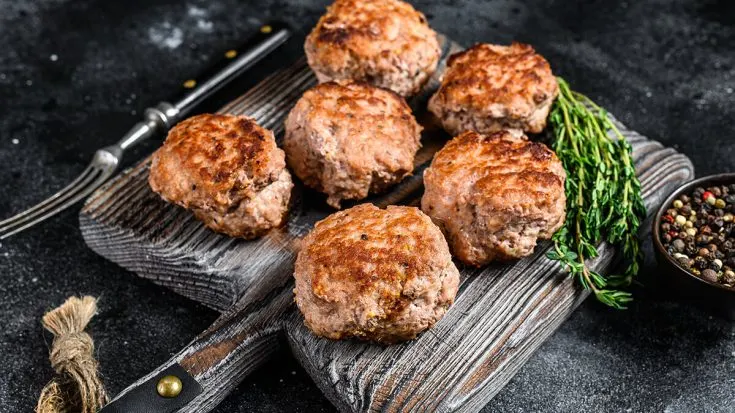 Indulge in these delicious ground elk meatballs with plenty of Italian flavors! They are great as a side dish or serve with your favorite pasta!
Ingredients
2 lbs ground elk
2 cups fresh bread, cut into small pieces
1 cup milk
2 cloves garlic, crushed
1 tsp onion powder
½ tbsp fennel seeds
½ tbsp dried oregano
½ tbsp dried basil
½ tbsp salt
½ tbsp white pepper
¾ cups Parmesan cheese, grated
Instructions
Add cut bread pieces into a mixing bowl and add milk. Let it sit and absorb. Add more milk if the bread is still dry.
Add garlic, onion powder, fennel seeds, oregano, basil, salt, and white pepper. Mix well.
Add ground elk and combine well. Then add grated cheese and mix lightly.
Shape and form meatballs with your hands or a scoop. Place them on a baking sheet that has been lightly sprayed with oil.
Bake the meatballs at 400°F (or 205°C) for 15 minutes or until browned. Ensure they are fully cooked.
Serve with your favorite pasta or enjoy them on their own!
Nutrition Information:
Yield:
6
Serving Size:
1
Amount Per Serving:
Calories:

556
Total Fat:

22g
Saturated Fat:

9g
Trans Fat:

0g
Unsaturated Fat:

9g
Cholesterol:

132mg
Sodium:

1106mg
Carbohydrates:

37g
Fiber:

2g
Sugar:

4g
Protein:

50g
Nutrition information is only an estimate and can vary depending on ingredients used.
Which of the ground elk recipes have you tried so far?
Let us know in the comments below!
For more ground meat recipes, check out Ground Veal, Ground Pork Pasta, Ground Turkey and Rice, and Chicken Keema for more ideas!
Or check out Venison Burger, Goose Breasts, Elk Steak, Ground Bison, Quail, Pheasant, and Dove recipes for more wild game meat!
Share on your favorite social media platform and tag us @GloriousRecipes – we can't wait to see what you have made!