If you love ground beef but are looking for a healthier alternative, you've got to check out ground bison!
This game meat is leaner with less saturated fat and it's also higher in protein!
Ground bison doesn't have a gamey taste so don't be afraid to give it a try if you haven't eaten it before.
It's a very versatile ingredient and can easily be used in many dishes to whip up incredible meals.
From pasta to burgers, we've got you covered with some of the best ground bison recipes you can try at home!
This ground bison chili recipe is as hearty and comforting as it gets and it's the perfect food for a cold and chilly evening!
When ground meat is combined with black beans, beef broth, beer, and chipotle chilies, they create an amazingly tasty dish that's just so irresistible.
The highlight of this chili is the lime crema that adds so much depth with its zesty and tangy flavor.
You'll be craving it once you've tasted this delightful bowl of chili!
If you're looking for a quick and easy recipe that's great for a weeknight dinner, this recipe definitely fits the bill!
Made in less than 30 minutes, this bison pasta is tasty and so simple to whip up!
With a simple tomato sauce and homemade Italian seasoning, the ground meat becomes really delicious and when you add cooked pasta to the sauce, everything combines to create a wholesome meal.
Add this to your dinner rotation and you'll not regret it!
These bison meatballs are a great addition to any meal and can be served as an appetizer, side dish, or incorporated into pasta or rice for a complete meal!
Combined with dried cranberries and wild rice, these tasty little bites are filled with a great flavor and an excellent texture that'll definitely satisfy any appetite.
Steak seasoning adds even more flavor to the meat and the onion-tomato mixture helps to gel everything together.
They are really addictive and have become one of our favorite ground bison recipes!
When you crave for a juicy and delicious burger the next time, give this fantastic avocado and pepper jack bison burger a try!
It's easy and straightforward to make, plus it's healthier than the usual beef patty since it is leaner with higher protein!
Avocado is loaded with nutrients and gives a nice creamy texture to the burger, and when you combine that with Pepperjack cheese, seasoned ground bison patty, and vegetables, you get an awesome burger that's just irresistible.
It's a great ground bison burger recipe that's really handy when you want a delightful meal!
For an easy-to-make creamy dish that's super tasty, check out this stroganoff recipe for your next meal!
Using cream of mushroom soup, sour cream, and Worcestershire sauce, the stroganoff sauce is extremely flavorful and delicious.
Add fresh mushrooms and ground bison into the mix and you have a great combination that's perfect for a great meal.
Serve over egg noodles and enjoy this wonderful dish!
This satisfying comfort food can warm your soul and it's so delicious that you'll be craving it every now and then!
White kidney beans combined with ground bison make a great chili combination and the salsa, cumin, and chili powder makes it even tastier.
It's cooked in a slow cooker so it's really easy to make and doesn't require much attention at all.
Serve with jalapeños and cheese for maximum enjoyment!
Savor classic comfort food with this amazing ground bison meatloaf recipe that gives a little twist to the traditional dish!
Panko breadcrumbs help to give a great texture to the meat with thyme imparting its fragrance and providing depth to the flavor.
The meatloaves are wrapped with bacon and brushed with ketchup during the baking process, creating a savory and delicious exterior that really elevates the dish to the next level.
Serve with some homemade crusty bread for a wholesome meal to enjoy!
Check out this chili that is perfect for a cold and rainy day with how delicious and comforting it is!
With ground bison, sweet potatoes, tomatoes, avocados, and a variety of herbs and spices, this bowl of chili is exceptionally tasty and loaded with great flavors that everyone will definitely enjoy.
Cooked in a slow cooker until it's done, this dish is simple to make and great for a hassle-free meal.
Top with freshly chopped cilantro and red onions to make it even tastier!
Dig into these Korean sloppy joes that are incredibly delicious and you'll definitely be making them time and again once you've gotten your first bite!
When you have hoisin sauce, sesame oil, ketchup, sriracha, and rice wine vinegar as part of the sauce base, you know you're guaranteed an amazing dish, and true enough, the ground meat cooked in it is extremely flavorful.
Scooped onto toasted buns and topped with freshly chopped green onions, these sandwiches are super tasty and you can easily make them any time of the day.
It's quick and easy to whip up, and definitely one of our favorite ground bison recipes to try!
On pasta nights, you definitely need to give this bison bolognese a try.
It has a great sauce and is really tasty, perfect for a satisfying and enjoyable meal!
The mix of ground bison and Italian pork sausage is exceptional in giving balance to this dish as the sausage helps to provide some fat to offset the lean bison meat, resulting in wonderful and tasty pasta.
With red wine being used to deglaze the pot and brown sugar added to balance out the acidity of the sauce, they both help to make the pasta even more delicious.
Top with Parmesan cheese before serving to fully enjoy this incredible ground bison bolognese!
These low-fat and gluten-free lettuce bison wraps are perfect for a healthy and nutritious meal that's not only easy to make but also really delicious!
The aromatics and spices ensure that the meat is extremely flavorful and goes really well with lettuce to balance out the taste.
There is also a very satisfying crunch that makes this dish really delightful and you'll find yourself coming back to this whenever you want a light and healthy meal.
Top with avocado for an even more nutritious meal to reap all the nutritional benefits in one of the healthiest ground bison recipes that you can try!
For a low-carb meal that's suitable for a paleo diet as well, check out this cauliflower bison bowl!
Not only is it simple to whip up, but it's also really delicious and takes less than 30 minutes to make!
The ground meat is seasoned with oregano, turmeric, salt, and pepper, giving it plenty of flavor and with kale added to the cauliflower rice, everything combines to create a delightful dish.
Give it a try and it might just be your new favorite!
Enjoy a healthy and hearty meal with this wonderful three-bean chili that's perfect for the family!
The mixture of kidney beans, chili beans, and black beans gives this dish loads of nutrients and flavors that are easily enjoyed by everyone.
Add ground meat and tomatoes into the mix and you have a great chili on hand that can be served with any of your favorite sides!
It's also really easy to tweak this ground bison recipe and you can adjust the heat level to suit your palate!
When you crave Mexican food but don't want all the carbs to add to your calories, check out this bison enchilada soup that's gluten-free and dairy-free!
It's nutrient-dense with poblano pepper, bell pepper, jalapeño, corn, beans, and tomatoes added to the mix.
There is no lack of flavor either with enchiladas seasoning mix and tomato sauce providing the bulk of the flavors and it is absolutely delicious.
It's a hearty and comforting meal that's also healthy at the same time!
Try your hands at this fantastic chili that's unique and surprisingly really delicious!
The tartness and sweetness of blueberries are a welcome addition to the regular chili and this twist in flavor is refreshing and makes you fall in love with the amazing dish.
Together with ground bison meat, it's a great combination to make an awesome bowl of delicious chili.
Serve with some bread for dipping into this tasty chili!
Treat yourself to an amazing burger with this ground bison recipe that takes little effort to make but tastes really good!
Hatch green chili helps to provide a mild heat and it's mixed with the ground meat and some spices to form a delicious patty before being grilled to perfection.
Assemble the burger with toasted buns, lettuce, onions, tomatoes, cooked patty, and any of your favorite toppings and sauces!
This paleo cranberry bison meatloaf is the perfect comfort food and one of our favorite ground bison recipes to make because it's absolutely delicious!
You'll find many unlikely combinations here with buffalo liver, cranberry sauce, and kale being added to not only make it delicious but also really nutritious!
You can't taste the liver so it can be easily enjoyed by everyone, and it doesn't take long to cook either, perfect for any party or gathering.
The cranberry sauce gives this meatloaf so much flavor and you'll definitely love it once you've tried it!
If you love blue cheese, you're going to love this incredible ground bison burger recipe.
The patties are filled with a blue cheese filling before being pinched to lock them inside and then grilled alongside onions to cook them.
Caramelized onions help to add so much flavor to the burgers and make them extremely tasty.
The burgers are paired with a hot mustard mayo that goes really nicely with everything and it's definitely a handy meal to satisfy your appetite when the cravings hit!
Make these delicious stuffed peppers and enjoy a healthy and wholesome meal that you can easily make in under an hour!
Bell peppers are stuffed with a mixture of ground bison, rice, vegetables, and aromatics, providing plenty of complex flavors and nutrients.
Topped with grated cheddar cheese, they are baked until you have nice melted cheese that makes the peppers really tasty.
It's simple to make and great for a meal or even just for snacking!
Give the classic shepherd's pie a nice twist with this amazing ground bison recipe!
With sweet potato and ground bison forming the main ingredients in this pie, they help to make this traditional dish healthier with even more nutrients!
Thyme and rosemary impart their fragrance to the pie and there is no lack of depth in the flavor at all as everything combines really well to create a fantastic shepherd's pie.
Be sure to try it the next time you're thinking of baking a pie!
Add a little Mexican flair to baked pasta with this ground bison casserole recipe that's perfect for a sumptuous weeknight dinner!
Salsa, tomatoes, cumin, and chili powder help to give a refreshing twist, and the dish is given a Mexican twist with the addition of tortilla chips before being baked with cheese.
A cilantro-lime cream is served alongside this fantastic baked pasta and they pair really well together to create a delicious meal!
Discover tasty comfort food with this paleo-friendly stuffed spaghetti squash that's beautiful and tasty!
In this recipe, ground bison is cooked with smoked paprika, fennel seeds, and rosemary, ensuring plenty of depth in its flavor and the smokiness really adds to the taste.
Tomato paste and spinach are then added to the meat to form a delicious mixture, which is scooped onto baked and halved spaghetti squash to complete this amazing dish!
These mozzarella-stuffed ground bison meatballs are so delicious and you definitely need to try them, especially if you're a cheese lover!
There is so much flavor packed into these tasty little bites, and they are smothered in an awesome tomato sauce with aromatics, roasted tomatoes, and Italian seasoning providing plenty of wonderful flavors.
Top with some grated Parmesan cheese for even more cheesy goodness and serve them with pasta or eat them as they are because they are just that irresistible!
It's definitely one of our favorite ground bison recipes that we don't mind making regularly!
Enjoy a bowl of hearty and nourishing vegetable stew that's tasty and so simple to make!
With carrots, celery, kale, sweet potatoes, and pureed butternut squash, there is no lack of nutrients and flavors to make this a delicious stew that everyone can enjoy.
Add ground bison into the mix and you have a lean protein that's low in fat and fully complements the rest of the vegetables.
Make it on a cold evening and you'll be slurping this up in no time!
Mix things up a little and try out this bison sweet potato hash that's tasty and suitable for those who are on a Whole30 diet.
Spiced with chili powder, cumin, and garlic powder, the sweet potatoes and ground bison have plenty of flavors that make this dish really delicious.
Bell peppers and onions help make it even tastier and everything combines really well to create a great dish.
Serve with fried eggs to make this meal even more wholesome!
Get ready for Taco Tuesdays with these healthy ground bison tacos that are lean and packed with protein!
Pinto beans, spinach, tomatoes, bell peppers, and tomatoes help to make this a healthy meal that's loaded with nutrients and they add all kinds of wonderful flavors and textures!
Ground bison meat is used for its lean profile with lower saturated fat and that keeps this meal really low in calories.
Assemble the tacos by topping tortillas with the cooked ingredients and enjoy!
For all those busy days when you need a tasty meal that's quick and easy to prepare, check out this mac and cheese ground bison recipe!
The aromatics, such as onion and garlic, help to impart their fragrance to the dish and creates a layer of depth in the final taste, while tomato bullion and cheese provide even more flavor to make it super delicious.
It's a very versatile recipe and you can easily substitute the ingredients for those that you prefer.
The best thing is that you can whip this up in less than 25 minutes!
Indulge in this fantastic bison ragu that will fill your kitchen with the most tantalizing aroma and you will be tempted to steal a taste of this delicious meat sauce!
It's loaded with amazing flavors coming from vegetables, pancetta, Italian seasoning, tomatoes, and red wine, ensuring a delightful meal no matter what you pair this wonderful sauce with.
You can scoop the sauce over your favorite pasta or serve it with spaghetti squash for something special.
It's so tasty and easily one of our favorite ground bison recipes!
This one-pot meal is excellent for a hassle-free and easy ground bison recipe that anyone can whip up!
Ground bison is sautéed with onion and garlic until they become fragrant before grains and chicken stock are added to cook the grains.
It's a flexible recipe and you can easily swap out the grains with anything in your kitchen, such as rice or quinoa, to complete this dish.
Add some greens and drizzle balsamic vinegar for maximum enjoyment!
Caramelized onions provide a sweetness that makes any burger better and in this fantastic recipe, you have an easy-to-make burger with just that.
Ground bison is mixed with Worcestershire sauce, mustard, panko breadcrumbs, ketchup, and seasonings to form patties that are grilled to perfection.
Sliced onions are slowly caramelized on the pan and they add a wonderful flavor to create an awesome burger.
With melted cheese over the patties, the burgers are assembled before serving.
It's easy to add any of your favorite toppings and sauces to tweak this recipe and make it your own!
At Glorious Recipes, we have our favorite Ground Bison Hamburger that we absolutely adore! It's delicious, versatile, and tastes heavenly! Check out the recipe below!
Yield: 6
Best Ground Bison Hamburger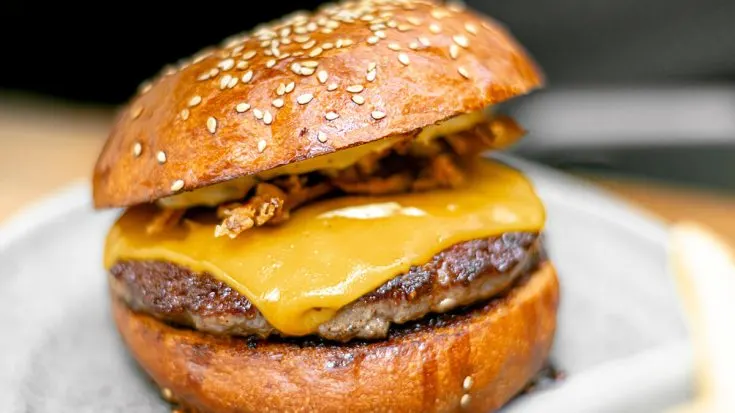 Enjoy a delicious ground bison burger that's easy to make and tastes heavenly!
Ingredients
2 lbs ground bison
½ cup Panko breadcrumbs (or crushed saltine crackers)
1 large egg
2 tbsp milk
2 tbsp Worcestershire sauce
1 tsp garlic powder
1 tsp onion powder
1 tsp salt
½ tsp black pepper
Instructions
Mix all the ingredients in a large mixing bowl until you achieve a smooth mixture. Don't over-mix. Divide into 6 (or 12 if you want thinner patties).
Line a baking sheet with wax paper. One by one, press down each patty mixture and shape them. Form them slightly larger than your buns as they will shrink when cooked. Using a spoon, make a dent in the center of each patty to prevent them from puffing up later.
Preheat grill to around 350-400°F (or 175-205°C) or skillet to medium heat.
Grill or cook the patties for around 3-4 minutes per side (reduce if you are using 12 thin patties).
Assemble burgers with your burger buns and add your favorite toppings and sauce! Caramelized onions and cheese, plus either BBQ or ranch sauce make for an easy and delicious combo!
Nutrition Information:
Yield:
6
Serving Size:
1
Amount Per Serving:
Calories:

418
Total Fat:

24g
Saturated Fat:

10g
Trans Fat:

0g
Unsaturated Fat:

11g
Cholesterol:

157mg
Sodium:

634mg
Carbohydrates:

9g
Fiber:

1g
Sugar:

1g
Protein:

39g
Nutrition information is only an estimate and can vary depending on ingredients used.
Which of the ground bison recipes have you tried so far?
Let us know in the comments below!
Don't miss out on our Venison Burger, Goose Breast, Pheasant, Elk Steak, Quail, Dove, and Ground Elk recipes for more wild game meat, or check out the best recipes for Quail Eggs!
For more lunch and dinner recipes, check out Ham Hock, Chicken and Shrimp, Minute Steak, or Beef Shanks for more ideas!
Share on your favorite social media platform and tag us @GloriousRecipes – we can't wait to see what you have made!