Enjoy delicious meals with our ground pork pasta recipes!
This is one of the easiest and most versatile meals to whip up and is perfect for both first-time beginners, as well as experienced home cooks.
It is quick to make and difficult to go wrong!
The best thing about these recipes is that you can do many variations using the same few ingredients.
Depending on your mood, you can go for bolognese, ragu, or even meatballs!
There's plenty to try and experiment with!
Get ready for our mouth-watering list of quick and easy ground pork pasta recipes!
Let's start with an easy ragu bolognese sauce.
This tomato sauce pasta tastes excellent and should be the first plate of pasta to try your hands on.
You are free to use any kind of ground meat you prefer, and for us, we like to use ground pork and let it simmer till it's full of flavor.
This ragu or bolognese is one of our favorites and you will definitely cook this more than once!
If you want some kick, add some chili flakes at the end for some spicy pork ragu!
Rigatoni is a variety of tube-shaped pasta and has a very nice texture to it.
The wide surface area is perfect for coating with creamy sauces, and that's exactly what's happening in this awesome dish.
In this version of ground pork and mushrooms recipe, we are using butter and milk to create an absolutely delicious sauce that you can't get enough of.
The mushrooms provide an umami flavor and will surely delight your taste buds.
Season with salt and pepper to taste, garnish with parsley, and enjoy this fantastic dish!
If you are in the mood for some meatballs and pasta, we've got the right recipe for you.
This easy recipe can be done with 100% ground pork, or if you prefer, you can follow the recipe right to the dot and mix in some ground beef as well.
The end result is a ground pork pasta dish with tasty meatballs covered in a rich and savory creamy sauce.
Because it is a creamy sauce, we recommend using broad and flat pasta to ensure every drop of the sauce is coating your pasta.
Pappardelle and fettuccine will be our pick here.
This is an absolutely delightful dish!
Have an Instant Pot?
Check out this quick and easy ground pork pasta recipe that you can make in no time!
Other than being fuss-free, cooking the pasta together with the sauce makes it pick up the flavors as well, and you end up with a very delicious and flavorful dish.
We also love that the sauce is made up of a unique blend of ingredients, which includes peanut butter, balsamic vinegar, and even sambal oelek.
This pasta with ground pork is sure to blow your mind!
If you are a health-conscious individual, make sure to check out this healthy pork balls spaghetti recipe from The British Diabetic Association.
Don't be fooled and think that healthy food cannot be tasty! This dish will definitely change your mind!
It is really simple and easy to make.
Just mix the ingredients, get your meatballs out, and grill them.
Pair it with al dente spaghetti and tomato puree, and you're done!
Perfect for people who need to watch their sugar level or generally just want a healthy meal.
With only a handful of ingredients required, this ground pork pasta recipe is quick, easy, and delicious!
We love that they added in spinach to get some greens into the dish, and also the dried mushrooms for some umami boosters.
All you need to do is soak the porcini mushrooms while you fry the meat till browned.
Add in the rest of the ingredients and continue frying before serving.
Top it off with some parmesan and you have the perfect pasta with ground pork for all occasions!
This slow-cooked ground pork ragu pasta is easy to make and doesn't require any expensive ingredients.
Pair it with a glass of red wine and you are guaranteed to have a lovely evening (or morning if you so prefer).
Best of all, you can freeze any extra pasta sauce and you'll have a delicious meaty pasta on hand anytime!
Just pour the sauce over freshly cooked pasta, top with some parmesan cheese and it's ready to be served.
It's that simple!
If you're in the mood for a cheesy meal, try out this pork meatballs with pasta recipe, baked with mature grated cheddar.
It is easy to whip up, smells heavenly, looks fantastic, and tastes amazing!
You can substitute the cheddar with mozzarella or any other cheese that you prefer.
You can even mix in different cheeses for a more complex flavor.
We love the simple concept and you can use any meat or pasta to mix things up in the future.
Tip: For some greens in the dish, try adding broccoli to it!
Another easy baked and cheesy option is this saucy pork and penne casserole recipe.
Rain or shine, this great-tasting dish is guaranteed to satisfy your appetite.
In this tomato sauce pasta, you'll find a combination of al dente penne, Italian-spiced ground pork, and spinach baked to perfection, topped off with mozzarella.
Baked till browned and crispy, this dish is absolutely Instagram-worthy and it tastes as good as it looks!
Your friends and family will definitely be asking for more after the first bite!
For an easy-to-make ground pork pasta sauce, while creating some playtime for your kids, you need to check out this ragu recipe!
This recipe is for the slightly more experienced home cooks as it involves making your own pasta from scratch.
Alternatively, you can skip this and use store-bought pasta for convenience but where's the fun in that?
You can also increase the amount of chili flakes for an intense spicy pork ragu which our team absolutely loves!
Next up, we have the classic bolognese sauce that can complement any of your favorite pasta.
This recipe also calls for ground beef, but if you prefer, you can definitely go for 100% ground pork.
Let the meat simmer in the tomato sauce till it's full of flavor, then drizzle it generously over the pasta of your choice.
We find this to be a great pork spaghetti sauce so we will definitely recommend pairing it with spaghetti if you don't know where to start.
You just can't go wrong with this classic recipe!
The star of this recipe is a marinara sauce and best of all, it's one of the quickest ground pork pasta recipes we've ever tried!
This recipe is perfect for busy individuals who want something more than just pouring canned pasta sauce over spaghetti.
The recipe is fully customizable, easy to prepare and you can have a great-tasting meal in less than 30 minutes.
Finish the dish by topping it with some Parmesan cheese!
You can also substitute the marinara sauce with any tomato-based pasta sauce that you prefer!
At Glorious Recipes, we have our own version of ground pork pasta that we absolutely adore as well:
Yield: 6 Servings
Ground Pork Pasta Recipe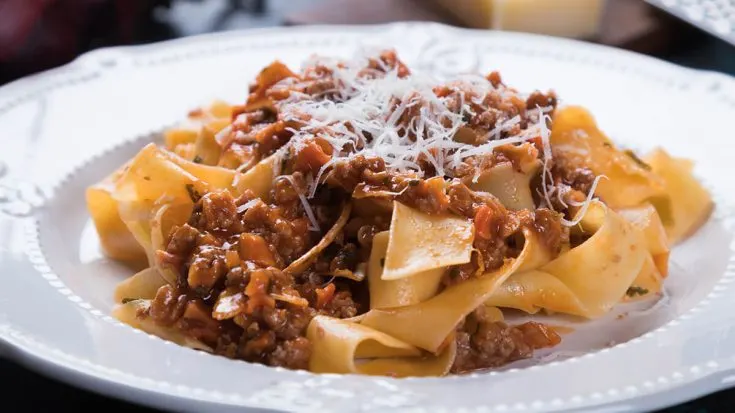 This is Glorious Recipes' version of a pork ragu served over pappardelle pasta.
Slow-cooked for the best flavor-rich sauce.
Total Time
2 hours
10 minutes
Ingredients
1 lb ground pork, minced
½ lb bacon, finely diced
1 celery stalks, diced
1 large carrot, diced
1 small onion diced
½ tablespoon garlic, minced
½ cup dry red wine
2 tablespoon tomato paste
1 cup chicken stock
1 cup whole milk
salt
pepper
pappardelle
parmesan, grated
Instructions
Fry bacon in a saucepan.
Once the bacon is cooked, add in celery, carrots, onions and garlic. Cook softly until onion is translucent.
Add wine, tomato paste and a splash of stock. Stir.
Let it simmer for 2 hours, while gradually adding the rest of the stock and milk.
Season with salt and pepper to taste.
Pour the sauce generously over freshly cooked pappardelle.
Top with grated parmesan cheese.
Notes
You can freeze any extra sauce and keep it for up to 4-6 months if properly stored.
Nutrition Information:
Yield:
6
Serving Size:
1
Amount Per Serving:
Calories:

506
Total Fat:

31g
Saturated Fat:

11g
Trans Fat:

0g
Unsaturated Fat:

18g
Cholesterol:

122mg
Sodium:

894mg
Carbohydrates:

14g
Fiber:

1g
Sugar:

4g
Protein:

37g
Nutrition information is only an estimate and can vary depending on ingredients used.
There we have it, all the quick and easy ground pork pasta recipes for you to try the next time that pasta craving hits you!
Which is your favorite recipe? Let us know in the comments below!
For more pork recipes, check out our list of Canned Ham, Pigtails, Ham Hock, Pork Jowl, and Canned Pork recipes that will absolutely blow your mind!
Or try your hand at other pasta recipes like Kielbasa Pasta, Chicken Tortellini, Pastina, Pappardelle, Creamy Gnocchi, and Ditalini!
Share on your favorite social media platform and tag us @GloriousRecipes – we can't wait to see what you have made!