Delicious homemade jams and jellies are easy to make and they taste absolutely amazing!
With Sure-Jell, you'll incorporate premium fruit pectin to help with the thickening process and create all that tasty fruit jams.
From classic strawberry jams to dandelion jellies, we've got you covered with some of the best Sure-Jell recipes that you can try at home!
Forget store-bought jams and make your own unique jams and jellies today!
If you are conscious of the amount of sugar in traditional jams and want to have a healthier version with fewer calories, you'll need to check out this low-sugar raspberry jam recipe!
Less sugar doesn't mean a less tasty jam because this reduced-sugar Sure-Jell recipe still sets up nicely with a delicious raspberry flavor.
Just make sure you're using the pink box version of Sure-Jell that's for less or no-sugar recipes.
With only crushed raspberries, sugar, and Sure-Jell required, this is a simple recipe to create a healthier homemade jam!
Make classic strawberry freezer jam with this simple recipe that ensures you'll have delicious jam to eat whole year round!
What's more, this is a reduced-sugar version that's healthier and still tastes awesome with loads of strawberry flavor.
Homemade jams are the best because you get to control the ingredients in them, meaning you can choose if you want the jam to be smooth or with chunks of berries.
Spread your fresh Sure-Jell strawberry freezer jam on bread or eat with pancakes to enjoy!
Indulge in this spicy but yummy pepper jam that has a beautiful bronze hue and tastes as good as it looks!
In this unique Sure-Jell recipe, jalapeño peppers provide all the heat in the jam and you can adjust the level of spiciness accordingly by leaving the seeds in to increase the intensity or reducing the number of jalapeño peppers to lower the heat.
They taste great in sandwiches or give yourself a spicy treat by scooping some on crackers with cream cheese!
Pop them into small bottles and they make perfect gifts and favors to be given to friends and guests!
Discover the richness of a vanilla peach jam with whisky to enhance the flavors and make it even more delicious!
The combination of vanilla extract and peaches make for a really tasty jam that goes well with almost anything.
It's perfect for eating with yogurt and it tastes amazing with some yummy homemade ice cream!
Don't worry about an overpowering alcohol taste because the whisky will cook off but if you want an alcohol-free version, just omit it from the recipe!
Apricots are super tasty and they have the sweetness of peaches but at the same time, there's a tinge of sourness that makes them super appetizing.
With this Sure-Jell recipe, preserving ripe apricots that highlight their delightful flavor can't get any simpler.
Lime juice is added to prevent the jam from turning brown and allows you to showcase the beautiful orange-yellow color of fresh apricots.
This is also a reduced sugar recipe, which means it's healthier than traditional jam with lower calories!
Enjoy it with some crusty homemade bread, serve it with ice cream and waffles, or just eat it directly with a spoon!
Give the classic strawberry jam a little twist by adding vanilla extract or vanilla beans to enhance the flavor and bring it to another level of tastiness!
Vanilla helps to bring out the flavor of fresh strawberries and complements really well for making a delicious jam.
Using high-quality ripe strawberries yields the best results and the best thing is that both fresh and frozen strawberries work great in this recipe.
This is one of our favorite Sure-Jell recipes so go forth and enjoy this low-sugar strawberry vanilla jam!
Enjoy cream cheese with crackers along with a fantastic red pepper jelly that makes for an amazing appetizer!
The sweetness of the jelly combines really well with the saltiness of the cracker and the velvety texture of cream cheese.
It's great for any gathering and if you seal them in mini jars, they are perfect for gifting!
Try it once and you'll be hooked!
Grace your taste buds with some awesome strawberry rhubarb jam that's great as a topping for breakfast or dessert!
Rhubarb itself has an intense tartness but adding strawberries and sugar helps balance that out and the resulting jam is super delicious.
It's also really easy to make and all you need is some fresh strawberries, rhubarb, cane sugar, lemon juice, and low-sugar Sure-Jell pectin.
Spread it on some toast and enjoy this delicious jam!
Spruce up your jam and jelly collection with this amazing elderberry jelly that's well-balanced and tastes really delicious!
Elderberries are one of the most nutrient-dense berries and they have a combination of earthy and tart notes that make them super yummy.
With the addition of sugar, butter, and lemon juice, they help to make a fantastic jelly that's great for pairing with anything.
If you're able to get your hands on fresh elderberries, you'll definitely need to try this Sure-Jell recipe that helps to preserve your elderberries' taste as well!
For an extremely flavorful jelly that you can easily enjoy with some cheese or a sandwich, you'll definitely need to check out this incredible mulled cider jelly recipe!
Just as in mulled wine, the spices help to provide amazing complexity and depth to the flavor of the jelly.
It's also easy to modify the intensity of the flavor.
Just let the spices steep longer if you prefer a more intense spiced flavor!
The pretty golden color makes for an awesome visual presentation and with how good it tastes, this mulled cider jelly is perfect for gifting as well!
Make a classic orange marmalade with this Sure-Jell recipe that's irresistible and absolutely delicious!
Some ripe oranges and lemons go a long way in making a tasty marmalade and you'll forget about store-bought commercial marmalade in an instant once you have tasted this.
For best-tasting orange marmalade, use Seville oranges as they have a more intense flavor that's ideal but they can be a little difficult to find.
Try it with some buttery, rich pastries or traditional toasted bread for an amazing and delicious meal!
Enjoy the awesome combo of blueberries and peaches in this simple jam recipe that's sure to tantalize your taste buds!
The sweetness of peaches balances out the tartness of blueberries to create an amazing blueberry peach jam that's super delicious.
Cinnamon gives a slightly spiced flavor to provide even more depth to the taste and everything comes together really well.
Eat it with your favorite pastry or pancake for a simple but delightful breakfast!
If you're getting bored of the usual strawberry jam, give it a little twist with this strawberry jalapeño jam that breathes new life into a classic recipe!
The jalapeño gives only a mild heat level in this jam and the combination with strawberry creates a sweet and spicy mix that's surprisingly delicious.
For more intense spiciness, leave the jalapeño seeds in or swap them out for some habanero if you like it really hot!
This jam pairs really well with some cheese and crackers for an amazing appetizer!
If you manage to get your hands on some Florida seagrapes, don't let them go to waste and make some seagrape jelly!
It's easy to make seagrape jelly and you'll need to first cook the seagrapes until they are softened and squeeze the pulp to obtain the juice.
Then add the remaining ingredients, including Sure-Jell, and let it boil for a minute.
Viola, you'll have delicious seagrape jelly in no time!
Mountain Dew lovers, rejoice!
Turn the classic beverage into a jelly that you can use to spread on toast, pancakes, or serve with some ice cream!
It's easy to make and tasty to boot!
If you have some Mountain Dew, lemon juice, sugar, and Sure-Jell, you can make this without much fuss.
It's great for gifting as a unique present as well!
Capture the flavor of dandelion in this fantastic Sure-Jell recipe that creates a delicious jelly with dandelion petals.
The petals are used to steep and make dandelion tea before adding lemon juice and pectin.
This great-tasting jelly has light floral notes and the sugar helps to enhance it further, resulting in a very delectable homemade jelly.
Make a big batch because it's great for gifting and it pairs well with almost anything!
It's easily one of our favorite Sure-Jell recipes!
Peaches taste amazing and with this freezer jam recipe, you'll have more of the natural peach taste being retained!
Instead of cooking the peaches, white grape or apple juice is used and brought to a boil before adding the pectin.
The peaches are pulsed in a blender to make a peach puree before being added to the boiled juice along with sugar and cinnamon.
This peach freezer jam is just so delicious with a strong peach flavor and you'll definitely make this more than once!
Enjoy delicious scuppernong grapes jelly with this handy recipe that'll turn those yummy grapes into homemade jellies that you can store and eat whole year round!
If you're unable to find scuppernong grapes, you can easily swap them out for any grapes you have on hand.
Or make multiple batches with different grape varieties so you can rotate and taste them all!
The sweetness of grapes pairs really well with many pastries and desserts so you'll definitely be finishing that last scoop!
If you love the taste of sweet watermelons, you've got to check out this easy watermelon jelly recipe.
It has that classic watermelon candy flavor and brings a dose of nostalgia with every bite!
Enjoy it with bread and pancakes, or you can even use it as a filling in cupcakes.
The beautiful bold red hue makes for a lovely presentation and it's great for gifting to your friends and family!
Combine strawberries and bananas to make a delicious jam in this amazing Sure-Jell recipe that might just be your new favorite jam!
Imagine your classic peanut butter and jam sandwich with a hint of banana flavor.
Yes, it's tantalizing just thinking about it and it tastes super good!
The two fruits are a great combo together and their flavors blend really well to create an exceptional taste.
It tastes so good that you'll be eating it right out of the jar not before long!
At Glorious Recipes, we have our favorite Sure-Jell Grape Jelly recipe that we absolutely adore! It's delicious and super addictive! Check out the recipes below!
Yield: 96
Sure-Jell Grape Jelly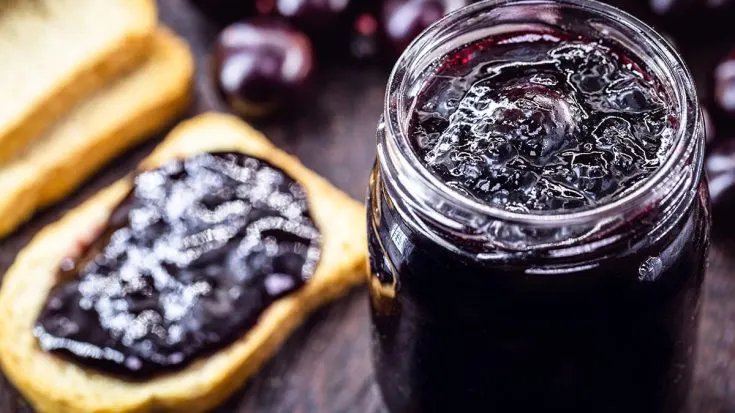 Enjoy delicious grape jelly that's simple to make with this Sure-Jell recipe and tastes amazing! Spread on toast, use as cake fillings, or top it on ice creams and pancakes!
Hot Water Bath
10 minutes
Ingredients
6½ lbs ripe grapes, stems and leaves removed
1 cup water
5½ cup sugar
2 tbsp fresh lemon juice
3 oz Sure-Jell Liquid Pectin (1 pouch)
Instructions
Add grapes to a large pot with water and bring to a boil. Stir constantly for 20 minutes till seeds have been released and skins have peeled off with the release of the pulp. You can use a potato masher and mash them occasionally to speed things up.
Remove from heat and mash any remaining grapes to release the juices.
Set up a wire mesh strainer and line with a lint-free flour sack towel or triple layer cheesecloth. Pour the pot of grapes over it and allow to drain for at least one hour. Discard the solid grapes when you've attained 3⅔ cups of juice.
Add the strained grape juice, sugar, and lemon juice to a large pot over medium-high heat and stir until sugar has dissolved. Turn up heat to high and add Sure-Jell liquid pectin once it has reached a full boil that can't be stirred down. Stir and combine well. Boil for one minute.
Remove the pot from heat and discard the foam. Scoop into hot jars leaving a ¼ inch space to allow expansion. Wipe the rims of the jars down with a clean cloth. Cap with flat lids and apply bands to fingertip tightness.
Process the jars in a hot water bath canner for 10 minutes. After 10 minutes, turn off the heat and let them cool for 5 minutes. Remove from canner and check for a proper seal after one hour.
Notes
You'll need to know the basics of canning for food safety reasons.
Nutrition Information:
Yield:
96
Serving Size:
1
Amount Per Serving:
Calories:

68
Total Fat:

0g
Saturated Fat:

0g
Trans Fat:

0g
Unsaturated Fat:

0g
Cholesterol:

0mg
Sodium:

3mg
Carbohydrates:

18g
Fiber:

0g
Sugar:

16g
Protein:

0g
Nutrition information is only an estimate and can vary depending on ingredients used.
Which of the Sure-Jell recipes have you tried so far?
Let us know in the comments below!
Make everything at home and pair your jams and jellies with homemade bread, ice cream, and Crepini for an awesome breakfast or dessert!
Share on your favorite social media platform and tag us @GloriousRecipes – we can't wait to see what you have made!