Turn those over-ripe bananas and fruits into a soft serve ice cream with a Dole Yonanas machine and create healthy and delicious sweet treats as and when you want them!
With these Yonanas recipes, there's always a reason to eat those yummy fruits!
What Is Yonanas
Yonanas is essentially a frozen fruit ice cream maker at its core, but with some creativity, the options to create frozen treats are endless.
It can turn frozen fruits into a soft serve ice cream just by inserting them into the chute of the machine.
You can make ice cream pies, smores, alcoholic desserts, or mix with some coffee to make an affogato.
Frozen and over-ripe bananas are good options to use in a Yonanas machine as they have a creamy texture that can mimic an ice cream soft serve, but you are free to insert any ingredients to make your own dessert!
It's also dishwasher safe, easy to assemble, and simple to use.
Best of all, this ice cream maker creates delicious treats that are compatible with a vegan, keto, and dairy-free diet!
Types Of Yonanas Products
Yonanas has 2 main frozen fruit soft serve dessert maker products in its lineup:
Yonanas Classic: The cheaper of the two, Yonanas Classic is great for small families. It comes with a recipe book that contains 36 Yonanas recipes.

Yonanas Deluxe: Top-of-the-line model that features a beautiful chrome accent. It has a larger capacity and comes with a recipe book containing 75 recipes.
Yonanas Recipes
Yonanas provides endless possibilities to make use of this frozen dessert maker to create wonderful and delicious sweet treats.
We're excited to share with you 20 of the best Yonanas recipes to try for your next dessert!
One of the most refreshing Yonanas recipes out there, this green lime & lemon Yonanas recipe is the perfect ice cream for a hot and sunny day.
Adding more emphasis to the green-colored ice cream, there are surprising ingredients such as avocado, baby spinach, and green grapes, which work really well with the tart flavors of lime and lemon.
This sweet treat is as refreshing as it can be, and the tangy flavor is super appetizing.
You just can't stop at one scoop of this amazing dessert!
This is one of the easiest Yonanas recipes without bananas required to achieve a smooth and creamy texture.
All you need is a cup of frozen mango that is slightly thawed and just insert it into the machine chute!
Push down with the plunger and watch the magic happens as it churns out a delicious mango sorbet.
This easy, vegan-friendly, gluten-free, and dairy-free tropical treat is a great way to bring down the temperature and enjoy the day!
There's something about this classic combination of mint and chocolate that just tastes so good.
The bold and rich flavor of dark chocolate mixes really well with the refreshing mint, which produces a delightful tingle in our taste buds.
No complicated cooking or melting is required here with a Yonanas frozen treat maker, just pop bananas and chunks of mint dark chocolate to create this wonderful ice cream.
Enjoy this simple and luscious treat anytime!
Peanut butter makes the world go round and it's no different here with this simple Yonanas recipe.
Combining over-ripe bananas and peanut butter makes for a delicious sweet treat that you just can't get enough of.
The nutty flavor of the peanut butter fits in really well with the sweetness and creaminess of bananas, and all you need is just one tablespoon of peanut butter!
Start stocking up on bananas because you'll definitely be making more of this!
Start your morning with this delicious coffee Yonanas sweet treat that's bound to be your favorite breakfast.
All you need to do to create this delightful ice cream is sprinkle some freshly ground fine coffee powder over the bananas before dropping them into the Yonanas machine.
It will churn out perfectly creamy soft serve ice cream dotted with coffee powder to inject that extra caffeine into it.
Who knew making a tasty coffee ice cream can be so simple?
Yonanas turns frozen fruits and other ingredients into a creamy soft serve that looks like, feels like, and tastes like a real soft serve ice cream.
This also means that you can treat it like one and use your favorite ice cream toppings to sprinkle all over your Yonanas creation.
In this chocolate coconut Yonanas recipe, alternate between bananas and dark chocolate when inserting them into the machine to get your delicious treat!
Sprinkle with coconut flakes and enjoy!
Another simple, no bananas, tropical Yonanas recipe is on the cards here with this pineapple sorbet recipe.
Thaw your frozen pineapple chunks a little before tossing them into the Yonanas dessert maker machine.
Watch it churn out a tasty tropical pineapple ice cream right before your very eyes.
Pineapples are naturally sweet so no added sugar is required, which makes this a very enticing way of adding more healthy fruit consumption to your diet!
Bring it up a notch and make this amazing blueberry lemon trifle to wow your guests at the next gathering!
You'll need to make 2 separate Yonanas ice cream before assembling them.
First, make a simple base Yonanas with only frozen bananas, and then make another lemon blueberry Yonanas by using bananas, lemon zest, and frozen blueberries.
Assemble them in this order – pound cake, fresh blueberries, banana Yonanas, pound cake, lemon blueberry Yonanas, and top with fresh blueberries.
Everyone will definitely be impressed by this delicious trifle!
Turn a classic cocktail into your next favorite dessert with this Old Fashioned Yonanas recipe!
Soak over-ripe bananas in your favorite bourbon for an hour, then leave it to freeze overnight, along with pitted cherries and orange segments.
Remember to thaw them slightly before it's time to make the dessert.
This alcoholic Yonanas dessert is simply delicious with bourbon-soaked bananas combining really well with sweet cherry and orange, along with a hint of dark chocolate to really complete the taste!
This simple Neapolitan Yonanas recipe will teach you how to create the classic ice cream flavor with healthy fruits!
You'll of course need 3 different Yonanas flavors for this but it's really simple to make.
No fanciful ingredients are required, all you need to make is just one base frozen banana Yonanas, one strawberry Yonanas with frozen bananas and strawberries, and then lastly, one chocolate Yonanas with frozen bananas and cocoa powder.
Scoop and shape them in a rectangular container before freezing them again overnight to achieve a beautiful and tasty sweet treat!
Make ice cream s'mores easily with this recipe and you'll love this version of the classic summer treat.
Use two slightly thawed frozen bananas to create your basic Yonanas soft serve.
Place a piece of dark chocolate on a graham cracker and heat it up in the microwave oven for 10 seconds.
Layer Yonanas ice cream on top of it and complete it by placing another piece of graham cracker at the top!
Warm melted chocolate mixed with cold Yonanas makes for an awesome sweet treat!
This Berry Blue Matcha Bowl makes for an awesome breakfast and it's loaded with nutrients as it's all made from fruits.
You'll need two Yonanas, one made with bananas and blue matcha powder, and the other one made with bananas and mixed berries.
Scoop and fill half of the bowl with each Yonanas and top with your favorite berries before serving.
This antioxidant-rich bowl will ensure you're in for a berry good time!
Eat your favorite cocktail in this Tequila Sunrise Yonanas recipe that'll add some booze to your next dessert.
Made with frozen tequila-soaked oranges, bananas, cherries, and lime zest, this sweet treat tastes amazing and is perfect for any time of the day.
With such a delicious bowl of Yonanas, you'll be asking for a second serving after your first mouthful of ice cream!
If you're lazy to scoop, turn Yonanas soft serve into popsicles with this Lemon Basil YoPops recipe.
Tangy and earthy, lemon and basil come together to create a refreshing summer sorbet that you just can't get enough of.
Pour the lemon basil Yonanas into popsicle molds and freeze them overnight.
You'll soon be enjoying this sweet, sour, and tasty popsicle!
Make this fun Halloween-themed Monster Yonanas and the kids will definitely enjoy it.
Kiwi Yonanas is used to create the monster lookalike with its green tone by combining frozen bananas and kiwi chunks.
All that's left is to decorate it with candy eyes, pretzels, and anything that you can think of!
Let your imagination run wild and create a true monster with your creativity!
Enjoy some eggnog Yonanas with this fabulous recipe that reminds you of the holiday season.
This healthy and delicious version doesn't need any eggs at all and is made with coconut milk cubes, nutmeg, cloves, and cinnamon, in addition to frozen bananas infused with bourbon and vanilla extract.
The resulting dessert is a rich, creamy, and flavorful sweet treat that everyone can enjoy!
Get your caffeine fix with this delicious Affogato Yonanas recipe to start your engine for the day!
Ground cinnamon is added to the basic Yonanas using frozen bananas to add additional depth to the flavor and coffee is added to create this delicious Italian classic.
For a high-quality coffee drink, check out our Nespresso recipes to create your own unique affogato!
This is a great-tasting dessert to refuel our bodies and give us a quick energy boost!
Enjoy a fantastic Mixed Berry Yonanas Pie with this simple recipe to make a delicious dessert!
To create the pie crust, use a food processor and process sandwich cookies till they reach a very fine granulated texture.
Shape the crust in a pie pan and add Mixed Berries Yonanas (frozen bananas and mixed berries), then smoothen it till you have a nice-looking ice cream pie.
Freeze it for four hours and your Yonanas pie is ready to be served!
If you have any leftover red wine, use it in this recipe to make a delicious Berry Chocolate Zin Yonanas!
It's really easy to make this delightful dessert.
All you need to do is insert the following into the Yonanas frozen treat maker in this order: frozen banana, dark chocolate, frozen mixed berries, frozen red wine cubes, frozen mixed berries, and then frozen banana again.
The Yonanas machine will turn it all into an awesome treat with a hint of red wine!
In this recipe, ice-cold pistachio Yonanas is combined with tasty chocolate cookies to create a delicious snack that is just so addictive!
To make pistachio Yonanas, grind shelled pistachios in a food processor, then boil them in a saucepan together with almond milk and vanilla extract.
Fill the mixture in an ice cube tray and let it freeze overnight before making pistachio Yonanas with frozen bananas.
Layer it with chocolate cookies to complete this wonderful dessert!
At Glorious Recipes, we have our favorite Kiwi Sorbet that we find to be really refreshing. It's sweet, tangy, and absolutely delicious!
Yield: 2
Kiwi Sorbet with Yonanas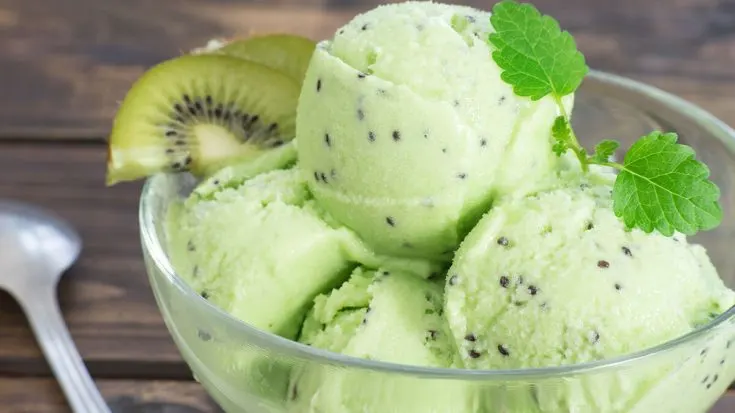 Quench your thirst with this refreshing kiwi sorbet recipe made with Yonanas frozen fruit ice cream maker! Using only real kiwis, this dessert is as healthy as it can be!
Ingredients
1 cup frozen kiwi
a few fresh kiwi slices
Instructions
Take the frozen kiwis out from the freezer and let them thaw for 7-10 minutes.
Insert the frozen kiwis into the Yonanas machine.
Add some kiwi slices and enjoy the delicious kiwi sorbet!
Nutrition Information:
Yield:
2
Serving Size:
1
Amount Per Serving:
Calories:

76
Total Fat:

1g
Saturated Fat:

0g
Trans Fat:

0g
Unsaturated Fat:

0g
Cholesterol:

0mg
Sodium:

4mg
Carbohydrates:

18g
Fiber:

4g
Sugar:

11g
Protein:

1g
Nutrition information is only an estimate and can vary depending on ingredients used.
Which of the Yonanas recipes have you tried so far?
Let us know in the comments below!
If you want to make ice cream easily with classic ingredients, don't miss out on our Dash Ice Cream Maker recipes and Ninja CREAMi recipes, or make some Japanese crystal candies with our Kohakutou recipe!
And top with some homemade jams and jellies with our Sure-Jell recipes!
Share on your favorite social media platform and tag us @GloriousRecipes – we can't wait to see what you have made!