If you love bread, you need to get a bread maker machine.
You get to control the ingredients and make all kinds of bread that suit your preferences, plus you just need to toss in the ingredients and let the machine work its magic.
Few things in the world can beat the feeling of eating freshly baked bread right out of the oven.
From gluten-free bread to pumpkin wreath bread, we've got you covered with some of the best Hamilton Beach Bread Maker recipes to satisfy your cravings!
Hamilton Beach Bread Maker Machines
Hamilton Beach has 3 main lines of bread maker machines that all serve well to make great-tasting bread:
HomeBaker™ 2 Lb. Breadmaker: Base model with 12 preprogrammed cycles, 2 loaf size options, and 3 crust settings.
Artisan Dough & Bread Maker: Higher-end model with 14 preprogrammed cycles, 3 loaf size options, and 3 crust settings.
Premium Dough & Bread Maker: Top-tier model with 14 preprogrammed cycles, 3 loaf size options, and 3 crust settings. Features an automatic fruit and nut dispenser for mix-ins.
All models are excellent for bread-making and you can't go wrong with any of them!
Hamilton Beach Bread Maker Recipes
Here are 15 of the best Hamilton Beach Bread Maker recipes that you can easily make at home and we've also included our own Chocolate Chip Bread in the recipe card below!
Apple cinnamon bread is a crowd favorite and it tastes so good with a hint of spiced sweetness.
In this simple recipe, the bread is drizzled with a light glaze as well to further enhance the sweetness and bring out the fragrance of the loaf.
It's perfection when it's fully baked and you have a slice while it's still warm, soft, fluffy, and oh-so-yummy!
Plus it smells so good, you just can't resist taking a bite right there and then!
Enjoy delicious cinnamon raisin bread freshly baked in a few hours whenever you want it with this easy-to-follow recipe!
It's made even simpler if you're using the Hamilton Beach Premium Dough & Bread Maker because the automated dispenser will add in the raisins at the optimal time without requiring any human intervention.
If you're using the other bread maker models, just add in the raisins manually when you hear the alarm beep, which is the signal to add ingredients!
Take it a step further and use your freshly baked cinnamon raisin bread to make tasty French toast by cooking it in a skillet with eggs, milk, and butter!
These garlic Parmesan dinner rolls are perfect for any meal and they already taste so good on their own.
Grated Parmesan cheese is mixed with fragrant garlic, dried parsley flakes, and salt to create a topping that's sprinkled all over the bread dough which has been brushed with egg wash.
They are placed in the oven and baked to perfection when they come out golden brown with melted Parmesan.
It's so easy and so delicious!
If you're on a gluten-free diet, fret not because the Hamilton Beach Bread Maker can churn out gluten-free bread as well.
With brown rice flour as part of the dry ingredients used, you can be sure that this bread will be rich in iron, potassium, protein, fiber, and vitamin B!
It has a nice dense texture that feels compact and has a great mouthfeel.
And it's easy to make, just mix the wet ingredients and toss them into the machine, then mix the dry ingredients and toss them in as well before adding the yeast last.
Make sure to use the gluten-free setting on the Hamilton Beach Bread Maker machine!
Whole-wheat and maple syrup gives this maple wheat bread a lovely, distinctive dark brown color and it tastes really good with a subtle maple flavor.
Add that to the nutritious benefits of consuming whole grains with high levels of protein, fiber, and other minerals, you can see why this is a good option for making sandwiches and breakfast toast.
If you haven't tried whole wheat bread before, we highly recommend giving this bread maker recipe a try because it's easy to make and tastes really delicious!
Get the best of both worlds with this white wheat bread that combines the nutrition of whole wheat with the taste and appearance of white bread.
It's a great way of introducing some whole wheat into your diet, especially if you dislike the taste and texture of 100% whole wheat bread.
This light and soft bread slices beautifully and is great for making tasty and nutritious sandwiches!
If you're lacking in time and you want your bread fast but still taste good, check out this white express bread recipe that promises to deliver baked bread in under an hour.
Everyone loves soft and fluffy white bread, but what you gain in time, you give up on quality.
It's slightly shorter than a normal loaf and it also tastes denser than the usual baked bread but with that said, it's still very delicious, especially considering a super-fast bake time.
Save this recipe for when you're in a rush!
Some people might find white bread a bit too plain for their liking, and that's where rye bread comes in with its complex flavors.
Earthy, nutty, with a touch of sour, this bread recipe is a must-try for rye bread lovers.
It's super light, moist, and most importantly, delicious.
Caraway seeds are added to give the bread its distinctive taste and it's great for making a breakfast sandwich.
If you haven't had rye bread before, give it a try because it might just be your new favorite loaf!
Savor a loaf of light, fluffy, and crusty French bread with this easy recipe that pairs really well with some butter for a tasty breakfast!
With only 5 ingredients required, this Hamilton Beach Bread Maker recipe is as simple as it can be.
Add water, salt, sugar, bread flour, and bread machine yeast in, then select the "French cycle" setting with dark crust and let the machine work its magic.
You'll be enjoying beautiful sliced bread in no time!
With this Hamilton Beach Bread Maker recipe, you can enjoy delicious pumpkin wreath bread, a seasonal favorite, any time of the year!
Spiced with nutmeg and cinnamon, it's super flavorful and pumpkin seeds give the bread additional texture and crunch.
Shaping the bread with leaf-shaped edges gives it a lovely look and feel, and you just want to pluck out one of the edges to have a bite.
Every day can be Halloween with this amazing pumpkin wreath bread!
We love sweet bread and this cranberry orange pecan bread is one of our favorite Hamilton Beach Bread Maker recipes!
With orange zest, dried cranberries, and chopped pecans, this loaf of delicious bread is sweet, citrusy, and nutty all at the same time.
Whether it's for breakfast, a mid-day snack, or supper, we can munch on this all day long!
Who knew making a tasty loaf of bread can be this simple?
When it comes to savory bread, Italian Parmesan bread is up there among the favorites.
With basil and oregano imparting their herbal notes, this bread is complex in flavor and is the furthest thing away from being one-dimensional.
It's great for making sandwiches or even just eating it on its own with a nice spread of butter!
The recipe is easy to follow and we know you're just going to love it.
Ditch all the store-bought frozen pizzas and make your own with this pizza crust recipe.
It's so simple, you can't believe you haven't tried it yet!
With only 5 ingredients required and some patience, you'll have homemade pizza dough that you can play around with.
Add all your favorite pizza toppings and toss them in the oven to have your own baked pizza that's fresh and delicious!
For a sweet and delicious loaf of bread, check out this honey granola bread that's perfect to start your day with.
Light, fluffy, and soft with a hint of sweet honey flavor, this loaf of bread already tastes great on its own but even better when paired with some Nespresso coffee.
It's a great substitute for those who don't like plain bread and want something that comes with more flavor.
This is a breakfast that we definitely don't mind waking up to every day!
If you want to bake a loaf of bread that's high in fiber and nutrients, you'll need to check out this healthy recipe.
Using whole bran cereal and whole wheat flour gives this bread a high fiber content and high levels of prebiotics, both of which are great for digestive health.
Honey is also added to give a slight hint of sweetness and the result is bread that's healthy and tasty at the same time!
Don't miss out on this if your target is to eat as healthy as possible!
At Glorious Recipes, we have our favorite Hamilton Beach Bread Maker recipe to make the ever-popular Chocolate Chip Bread. Check out the recipe below!
Yield: 12
Chocolate Chip Bread - Hamilton Beach Bread Maker Recipe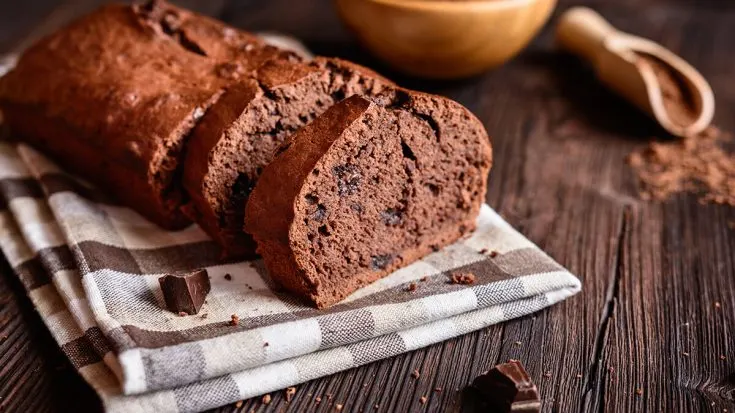 Make your own fresh and delicious loaf of chocolate chip bread with this simple Hamilton Beach Bread Maker recipe. Suitable for other bread maker machines as well.
Cook Time
3 hours
30 minutes
Total Time
3 hours
35 minutes
Ingredients
1½ cup milk (lukewarm)
4 tbsp butter
3¾ cups bread flour
¼ cup baking cocoa (unsweetened)
⅓ cup brown sugar
1½ tsp salt
1½ tsp bread machine yeast
¾ cup semi-sweet chocolate chips
Instructions
Add all the ingredients except the chocolate chips as per the order listed in the ingredients list (start with milk),
Select "Sweet Bread" cycle, 2 pound loaf setting, and light-colored crust setting.
Start the machine. Wait till you hear the alarm beep signal to add the chocolate chips (around 30 minutes in).
Once done, remove the bread and place it on a cooling rack. Make sure to also remove kneading paddle from the bottom of the loaf if stuck.
Once cooled for around 10 minutes, slice, serve, and enjoy the freshly baked chocolate chip bread!
Notes
Use oven mitts when removing bread and kneading paddle as it will be very hot.
Add more chocolate chips if you want them to be more chocolatey!
If you are using other bread makers, just adapt the recipe accordingly to the manufacturer's instructions.
Nutrition Information:
Yield:
12
Serving Size:
1
Amount Per Serving:
Calories:

278
Total Fat:

9g
Saturated Fat:

5g
Trans Fat:

0g
Unsaturated Fat:

3g
Cholesterol:

13mg
Sodium:

339mg
Carbohydrates:

45g
Fiber:

2g
Sugar:

12g
Protein:

7g
Nutrition information is only an estimate and can vary depending on ingredients used.
Which of the Hamilton Beach Bread Maker recipes have you tried so far?
Let us know in the comments below!
Be sure to also check out Sure-Jell recipes for some homemade jams and jellies that you can spread on the tasty bread, Quail Eggs for a great topping, and Chicken Breakfast for more great combinations!
If you own a Zojirushi Bread Maker, we've got you covered as well over here!
Or take it a step further and use your freshly made bread with a Sandwich Maker!
Share on your favorite social media platform and tag us @GloriousRecipes – we can't wait to see what you have made!