Crepini is what you get when Ukrainian blini meets French crêpe.
It's low carbs, compatible with a variety of healthy diets and we've got the Crepini recipes to help you create delicious meals!
What Is Crepini
The main product line of Crepini egg wraps is net zero carbohydrates, and all their wraps are compatible with a keto, dairy-free, and gluten-free diet.
Most of the wraps are also compatible with a paleo diet, which we'll summarize in the section below.
They are low in calories and each wrap contains 1g of protein.
It's excellent for those who want a healthy meal that tastes good and doesn't break the bank.
They can be used as normal wrap replacements in most recipes and you can also make delicious crêpes with them.
Types Of Crepini Products
Crepini has a variety of wraps or egg thins available that you can find in stores and online:
Egg Wraps with Cauliflower: Keto-friendly, paleo-friendly, dairy-free, gluten-free, sugar-free, kosher, grain-less, made with whole eggs, and contains net zero carbs.

Egg Wraps with Cauliflower (Cage-free): Same as above but uses cage-free eggs instead.

Egg Wraps with Gluten-free Grains: Same as Egg Wraps with Cauliflower, except that it uses gluten-free grains instead of cauliflower. This is

not

paleo-friendly and

not

grainless.

Egg Wraps with Sweet Potato and Turmeric: Same as Egg Wraps with Cauliflower, except that it uses sweet potato and turmeric instead of cauliflower.

Sweet Crêpes With Cinnamon: Keto-friendly, dairy-free, gluten-free, kosher, made with whole eggs, and contains 2 carbs per wrap.
Frequently Asked Questions
How long can Crepini Egg Wraps / Crêpes last?
Once opened, the Crepini egg wraps and crêpes should be consumed within 7 days.
If unopened, it can be frozen for up to a year but always check the expiration date on the package.
How to store the Crepini Egg Wraps / Crêpes?
As the product contains eggs, it has to be kept in the refrigerator at all times whether opened or unopened.
It can be placed in the freezer for long-term storage if unopened.
Is Crepini Egg Wraps / Crêpes compatible with Whole30?
Although not Whole30 approved, it is compliant with the program.
Crepini Recipes
With so many possibilities to incorporate Crepini products to create healthy and tasty food, we're excited to share 12 quick and easy Crepini recipes that you can try for your next meal!
We have also included our own favorite version in the recipe card below.
Great for any time of the day, this Creamy Chicken Crepini recipe is handy to follow along whenever you crave a simple but delicious chicken wrap.
The tasty filling consists of chicken, tomatoes, onions, sour cream, cream cheese, dill paste, and shredded cheese.
The beauty of a wrap recipe is that it's very flexible and you can swap out or add in your preferred ingredients to create your own unique wrap!
It looks and smells amazing, and you'll definitely be asking for more after you've tried it!
This keto chicken enchilada is perfect for a Mexican weeknight dinner or whenever you want to add some Mexican flair to your next meal.
Using pre-cooked chicken, shredded cheese, and an awesome red enchiladas sauce, this Crepini recipe is as easy as it gets, and it is so delicious.
This will easily be a crowd favorite with its authentic enchilada taste and with the low-carb version using the cauliflower egg wrap that's perfect for a keto diet.
You can even make it in advance and freeze it for easy meal prep!
This Crepini Truffle Pizza is so easy to make, yet it feels so luxurious with the truffle carpaccio slices.
All you need to do to make this wonderful pizza is to add tomato sauce to an egg wrap, then top with turkey, truffle carpaccio, and shredded cheese.
Bake and broil, then slice and serve!
Add some arugula on top to really complete the pizza.
Mix it up and use prosciutto or parma ham if you want to modify this simple pizza recipe!
As a classic Italian pasta comfort food, lasagna will always be one of the family favorites.
But wait till you try this recipe that is both low carbs and keto-friendly!
You'll be hooked on this healthy version of the regular carbs-heavy lasagna.
Making the lasagna is simple, there are really only 4 main steps before you get to enjoy this hearty pasta and it's no different from making regular lasagna.
Cook the ground beef, mix the cheeses, layer it up, and bake.
Feel free to use your favorite cheeses for layering and create a lasagna that you'll enjoy!
Sometimes, all you want is a quick and easy breakfast for those days that you're really in a rush.
There's no need to skip a meal with this simple 10 minutes Crepini recipe to make Mexican hot dogs!
It's really as simple as warming the hot dog and wrapping it with a Crepini egg wrap to cook it on a skillet.
When it's browned nicely and crisp, it's all done!
Dip it in Tiger sauce or Bitchin' sauce, or any of your favorite sauces to make it even tastier!
This Strawberry Cream Cheese Crêpes is the perfect dessert for a low-carb and sugar-free diet, plus there's no cooking involved!
The sweet treat is fuss-free, easy to make, and tastes amazing.
Using Crepini egg wraps really helps to save time and effort as there's no need to make your own crêpes batter.
The filling is a cream cheese mixture that can easily be combined with an electric mixer.
If you want to switch things up a little, top it with other fruits and they'll still go really well with the cream cheese!
Cannelloni are tube-shaped pasta, stuffed with fillings and topped with tomato sauce and cheese.
They are delicious and with this low-carb recipe made with Crepini egg wraps, it's the perfect time for you to try out this tasty pasta.
No fancy ingredients or steps are required, just roll your egg wrap filled with cooked ground beef and onion, then top with tomato sauce, cheese, and basil.
Bake those lovely rolls and you'll have a delectable meal to enjoy!
Nutella provides all the hazelnut chocolatey goodness and is one of our favorite crêpe toppings.
If you're on a low-carb or keto diet, you can now enjoy Nutella crêpes as well with this Crepini recipe!
You can use any of the Crepini egg wraps or even try out the sweet crêpes with cinnamon, which goes really well with Nutella.
Top with strawberries, blueberries, or even kiwis for a simple sweet treat that is so delicious and addictive!
Or add a scoop of homemade ice cream to really elevate this sweet treat!
Crepini wraps are big and light, and other than using them in crêpe recipes, you can also turn them into great-tasting strudels!
For a filling sweet treat, this Keto Strawberry Cheesecake Strudel will definitely delight your taste buds.
It's just like making a crêpe, just that you roll it up and deep fry them for that added texture, so depending on your preference of the day, you can easily make either to satisfy your craving.
Using keto sweetener and natural strawberries, you don't have to worry about extra carbs and it'll fit well into a low-carb keto diet.
For a simple and delicious lunch, you'll need to check out this quick and easy Tuna Wrap recipe.
It's one of those handy recipes that you need whenever you're short of time but still want a healthy and tasty meal.
You'll need to drain a can of tuna and mix it together with avocado mayonnaise, then season with salt and pepper.
Dice up some pickles, jalapeños, and onions and add to the tuna mayo and combine them well.
All that's left is for you to spread it on a Crepini wrap and top it with some arugula for an easy, tasty meal!
Sausage, egg, and cheese are classic ingredients in a traditional breakfast meal.
Turn it up a notch with this crêpe recipe that combines all of them into a delicious and hearty keto meal in 10 minutes!
It's also really useful for those that are looking for meal prep recipes as you can make the sausage, egg, and cheese filling in advance.
When it's time to whip up a meal, just throw a Crepini wrap into a skillet and add the filling on top.
The Crepini Egg White Thins can easily be substituted with any of the other preferred Crepini egg wraps!
Crepini wraps are also a great way to turn leftover dinners into something new and refreshing without having to repeat the meal or waste food.
If you have some salmon left, you can totally utilize it in this Crepini with Salmon and Potatoes recipe.
If not, it's also really quick and easy to just grill or air-fry salmon for this!
To make this salmon and potatoes wrap, spread some cream cheese on a piece of egg wrap and add salmon, mashed potatoes, and caramelized onions.
Roll it up like a burrito and fry them for an awesome meal.
Serve it up with some sour cream and enjoy!
At Glorious Recipes, we have our favorite easy Crepini recipe that uses egg, ham, and cheese to make a mean breakfast burrito! No fancy ingredients are required!
Yield: 6
Crepini Breakfast Burrito (Ham, Cheese, Egg)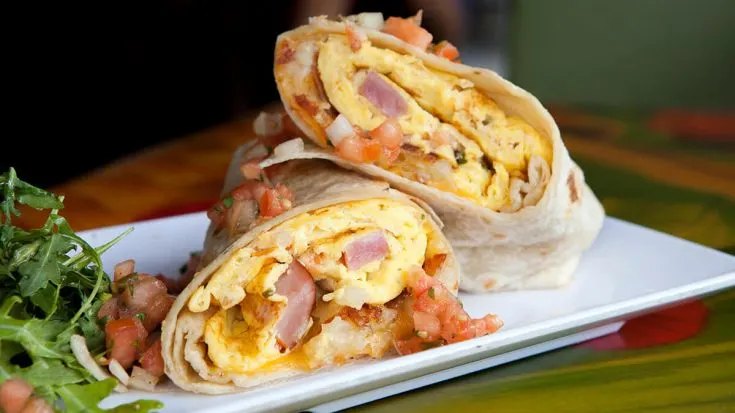 This delicious Crepini breakfast burrito is perfect for an easy low-carb and keto-friendly meal. It will definitely leave you wanting more!
Ingredients
6 Crepini egg wraps, large
1 lb ham, cut to pieces
1 tbsp butter, unsalted
8 large eggs, whisked
1½ cups shredded cheese, mozzarella/cheddar
½ cup salsa
olive oil, for the pan
salt, to taste
pepper, to taste
Instructions
Add butter to a skillet over low-medium heat until melted. Add whisked eggs and season with salt and pepper. Pull the curds from the edges of the skillet to the center until the eggs are fully scrambled. Remove the eggs and clear the skillet.
On a clean area, place a piece of Crepini and add scrambled egg in the middle, topped with cheese, salsa, and ham. Fold in the sides and roll tightly to form a nice burrito. Repeat for the other wraps.
Place some olive oil into skillet over medium heat and place burrito with the seam facing down. Cook until golden brown on both sides.
Serve and enjoy the delicious breakfast burritos!
Notes
You can add your favorite herbs to layer on the flavors.
Nutrition Information:
Yield:
6
Serving Size:
1
Amount Per Serving:
Calories:

678
Total Fat:

40g
Saturated Fat:

17g
Trans Fat:

0g
Unsaturated Fat:

19g
Cholesterol:

561mg
Sodium:

1727mg
Carbohydrates:

32g
Fiber:

2g
Sugar:

3g
Protein:

47g
Nutrition information is only an estimate and can vary depending on ingredients used.
Which of the Crepini recipes have you tried so far?
Let us know in the comments below!
Be sure to also check out Sure-Jell recipes for some homemade jams and jellies that you can pair for an even tastier meal!
For more tasty desserts, check out Entremets, Mini Bundt Cakes, Jello Jigglers, Yonanas, or Kohakutou recipes for more ideas!
Share on your favorite social media platform and tag us @GloriousRecipes – we can't wait to see what you have made!