Puffball mushrooms taste great and can be used in many dishes to make delicious meals!
They have an earthy taste and soak up sauces really well, providing a dose of umami bomb with every single bite!
You can fry them, sauté them, or turn them into hummus – the possibilities are endless.
From simple puffball bites to creamy Alfredo sauce, we've got you covered with 18 of the best puffball mushroom recipes!
Mix up your usual veggie burgers and replace them with these tasty puffball mushroom burgers that are easy to make!
Puffballs are perfect for use in burgers because of their slightly chewy texture and when they're encrusted in Parmesan cheese, they make the perfect burger patties!
Just a simple seasoning of salt and pepper is sufficient to bring out the umami in them and every bite is pure delight.
Assemble with your favorite burger buns and toppings and enjoy this amazing puffball mushroom recipe!
A tasty all-purpose Alfredo sauce that tastes and smells amazing sounds too good to be true but that's what you get with this fantastic puffball mushroom recipe!
Crumbled dried puffball mushrooms are whisked and simmered with chicken stock, butter, garlic, white wine, heavy cream, flour, and Parmesan cheese in a saucepan.
The mixture is then pureed in a blender until a smooth and velvety sauce is formed.
You can use the sauce in pasta, drizzle it over vegetables, or even combine it with tomato puree to make a pink sauce!
For awesome and delicious finger food, check out this puffball mushroom mozzarella sticks recipe that doesn't require any mozzarella!
Puffball mushrooms are used to substitute mozzarella and the resulting taste and texture are very similar to regular mozzarella sticks.
It's a straightforward recipe and all you need to do is cut the mushroom into strips and dredge them in flour, egg, and breadcrumbs mixture before frying them in hot oil.
They taste awesome with some Bitchin' sauce, Tiger sauce, or marinara sauce!
Puffball mushrooms are very versatile and can also be used to substitute pasta sheets in this lasagna recipe.
They are tender and taste rich, and when combined with tomato and bechamel sauce, it tastes just as good as regular lasagna or even better!
Together with a spinach filling and topped with Parmesan and mozzarella cheese, the assembled lasagna is baked to perfection in the oven.
You'll not be able to resist that nice golden brown crust so make sure you try out this recipe for your next meal!
If you like a spicy meal, check out this Sichuan Stir-fried Puffballs recipe, which is a vegetarian variation of the classic Chinese mapo tofu dish.
It's extremely flavorful and delicious!
Chili bean paste, fermented black bean paste, garlic, and dried chilies are stir-fried in the pan before adding the puffballs to be coated.
Rice wine, stock, sugar, and soy sauce are added to make the sauce even more flavorsome.
Cornstarch helps to thicken the sauce and some Sichuan peppercorns are added to provide that extra kick.
These tasty puffballs are best served with fragrant Jasmine rice for maximum enjoyment!
Anything stuffed with cheese makes for a great and tasty bite and it's no exception with these cheese-stuffed puffball mushrooms!
It's a quick and easy recipe that you can easily make for a mid-day snack or serve them up as a side dish.
The puffballs are first cut into slices, then cheese is pressed in between 2 mushroom slices before being dredged in flour, egg, and breadcrumbs.
They are then fried till golden brown and come out nice and crisp.
Serve and enjoy with some ramp ketchup!
Use giant puffball mushrooms as pizza crusts in this interesting recipe that makes mushroom pizzas that look like the real thing and taste absolutely delicious!
The mushrooms are cut into one-inch-thick slices which will act as the pizza base before being pan-fried and seasoned with salt.
Throw on all your favorite pizza toppings along with pizza sauce and shredded cheese, then bake them in the oven till the cheese has turned golden.
You'll be amazed by how tasty these puffball mushroom pizzas are!
Impress your guests with this fantastic puffball mushroom pie that's easy to make and tastes super good!
No sautéing is required in this simple recipe and all you need to do is whisk some eggs, milk, and oil, then add some flour, seasonings, chopped vegetables, puffballs, and shredded cheese.
Bake for about 30 minutes and you'll have a savory pie that's a delight to eat!
It's creamy, cheesy, and slightly dense, and pairs perfectly with some light greens or tomatoes!
If you can get your hands on some Thai puffball mushrooms, you'll need to try out this wonderful spicy puffball mushrooms with pork recipe!
It's simple to make, super flavorful, and great to serve with steamed rice.
Red curry paste provides the heat in this dish while fish sauce gives it an even more savory flavor.
You can use any puffballs you have on hand and the dish will still come out delicious!
This quick and easy puffball mushroom recipe is great for a weekday dinner because you can whip this up in 15 minutes!
Indulge in these awesome puffball mushroom patties that're great for a mid-day snack and they taste absolutely wonderful!
The creamy and savory mushroom is mixed with frozen peas, flour, egg, and spiced to make it extremely flavorful.
Once shaped and flattened, the patties are fried in butter until they reach a nice golden brown color.
Snack on them with your favorite dip or use them as hamburger patties!
Level up your cooking skills with this creative recipe that uses puffball mushrooms instead of pasta to make ravioli!
In order to ensure the puffballs do not crumble when it's being filled, they are first fried before being brushed with egg wash and filled.
The filling is made up of a combination of ricotta cheese, Parmesan cheese, and bell pepper.
Everything combines so well together to create a really delicious meal and it's a dish that fits right in a fine-dining restaurant!
In another pasta substitution recipe, puffball mushrooms are used to make this delightful cannelloni that's absolutely delicious!
They're filled with an amazing lamb ragu that's extremely tasty with herbs and aromatics giving it loads of flavors.
Along with homemade red and white sauce, the cannelloni comes together really nicely and is topped with grated Parmesan and mozzarella cheese before being baked.
It's so tasty and is easily one of our favorite puffball mushroom recipes!
For some tasty small bites that can be served as an appetizer, check out this quick and easy puffball mushroom recipe!
Puffball cubes are cooked and browned in a skillet together with pumpkin seeds while a delicious miso dressing is made with some miso paste, honey, garlic, apple cider vinegar, sriracha sauce, and olive oil.
The miso dressing is drizzled over the puffball cubes and pumpkin seeds to create an extremely flavorful dish.
Serve with some greens and enjoy!
Expand your cooking repertoire with this simple puffball mushroom hummus recipe that's great as a dip or spread!
It's easy to make and all you need to do is blend baked puffball with garlic, lemon, cumin, tahini, water, and oil.
There are many uses for a delicious hummus and you can use it as a dip or even layer it with eggplants and tomatoes to make a casserole!
Try it once and you'll be hooked!
Savor some giant puffball mushroom Parmesan with this quick and easy recipe that'll cook up tasty bites in no time!
Even if you're a beginner home cook, you can easily make this delicious dish because you really only require 4 main ingredients.
The giant puffball mushrooms are sliced, then dipped in beaten egg and coated in Parmesan cheese before being pan-fried till golden brown.
It tastes amazing for something so simple to make!
Serve up this puffball and squash gratin and you're bound to receive compliments on the taste and look of this beautiful and delicious dish!
The gratin is made by building layers of bechamel, squash, and puffball slices while seasoning with chevre, salt, and thyme.
It's baked and then refrigerated with a weight on top to help set and compress it.
This mouth-watering gratin is so delicious and it's one of our favorite puffball mushroom recipes!
Add some German flair to your next meal with this delicious puffball schnitzel topped with sage and onion gravy!
Puffball schnitzels are made by dredging the mushrooms in seasoned flour, egg, and breadcrumbs before frying them till crisp.
The sage and onion gravy provides so much depth and complexity to the flavor and it's a perfect pairing for the puffball schnitzels.
You'll definitely need to add this to your dinner rotation because it's just too tasty!
Whether you're a vegetarian or not, this puffball mushroom ragu is a must-try for pasta lovers.
Onion and garlic serve as aromatics in this delightful ragu and give so much flavor to the sauce.
Although the ragu is excellent with only the mushrooms, you can also add ground meat if you want some added protein and a more traditional ragu.
Serve with freshly cooked al dente pasta and toss it in a skillet before enjoying a sumptuous meal!
At Glorious Recipes, we have our favorite easy Pan-Fried Puffball Mushroom recipe that we absolutely adore! It's simple to make and tastes delicious! Check out the recipe below!
Yield: 4
Easy Pan-Fried Puffball Mushrooms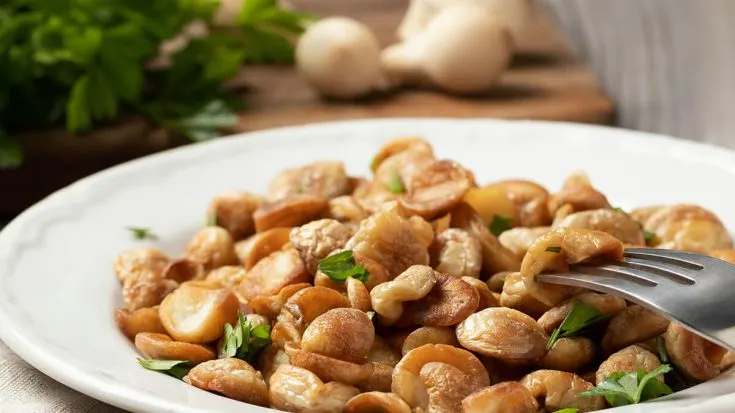 Enjoy tasty pan-fried puffball mushrooms that are super easy to make! Serve as an awesome side dish or munch on them as a mid-day snack!
Ingredients
1 lb puffball mushrooms
3 tbsp butter
4 cloves garlic
1 onion
½ tsp salt (adjust to taste)
½ tsp ground black pepper (adjust to taste)
½ lemon (grated zest + juice)
¼ cup freshly chopped parsley
Instructions
Dice puffball mushrooms into cubes. Mince the garlic. Dice the onion. Chop parsley.
Add butter to skillet on medium heat. Add garlic and sauté till fragrant. Add onions and continue sautéing until translucent.
Add puffball mushrooms, sprinkle with salt, and pan-fry until they have shrunk with golden brown spots, around 10 minutes or less.
Sprinkle pepper and add lemon zest. Cook for an additional minute.
Squeeze the zested lemon over the mushrooms and garnish with parsley. Toss and mix well before serving. Enjoy!
Notes
You can add herbs like thyme and rosemary to have even more complex flavors.
Nutrition Information:
Yield:
4
Serving Size:
1
Amount Per Serving:
Calories:

128
Total Fat:

9g
Saturated Fat:

6g
Trans Fat:

0g
Unsaturated Fat:

3g
Cholesterol:

23mg
Sodium:

365mg
Carbohydrates:

11g
Fiber:

3g
Sugar:

4g
Protein:

3g
Nutrition information is only an estimate and can vary depending on ingredients used.
Which of the puffball mushroom recipes have you tried so far?
Let us know in the comments below!
For more vegan and plant-based recipes, check out Pumfu, JUST Egg, Soyrizo, or Impossible Meat for more ideas!
And don't miss out on King Oyster Mushroom, Lobster Mushroom, Lion's Mane, Chanterelle, Enoki Mushroom, and Chicken of the Woods for more mushroom recipes!
Share on your favorite social media platform and tag us @GloriousRecipes – we can't wait to see what you have made!