Just imagine how awesome it would be if you can easily make ice creams, sorbets, gelatos, milkshakes, and even smoothie bowls right in the comfort of your own home.
With Ninja CREAMi, all of that is possible with just a touch of a button!
You get to be in control of all the ingredients that go into the machine and you can make wonderful flavor combinations that you can't find in stores!
Whether you want it to be keto-friendly, low calories, or sugar-free, you can customize your own unique frozen sweet treat to your liking.
Before we get to the good part, here are some useful tips for Ninja CREAMi that you should take note of before you begin making your frozen treat:
Tips For Using Ninja CREAMi
Tip #1: The base needs to be chilled in the freezer between -7°F to 9°F (or -21.7°C to 12.8°C) for 24 hours before use.
Tip #2: Don't overfill the pint container as the liquid base will expand when frozen.
Tip #3: If you want the final product to have a firmer texture and consistency, you can try transferring it to a freezer-proof container and freezing it for at least 4 hours.
Tip #4: Experiment! Don't be afraid to use different mix-ins to create your own variations of the recipes listed below. Be creative and go wild!
Ninja CREAMi Models
There are 3 models of Ninja CREAMi available.
Ninja CREAMi Deluxe 11-in-1 (NC501): This top-of-the-line model features 12 programs (ice cream, lite ice cream, milkshake, smoothie bowl, sorbet, gelato, mix-in, slushy, Italian ice, frozen drink, frozen yogurt, and Creamiccino).
Ninja CREAMi Breeze 7-in-1 (NC201): This smaller model helps to save valuable counter space while retaining the classic functions. Compared to the Deluxe model, it lacks the following programs: slushy, Italian ice, frozen drink, frozen yogurt, and Creamiccino.
Ninja CREAMi Breeze 5-in-1 (NC100): Compared to Breeze 7-in-1, it lacks the smoothie bowl and gelato functions.
Ninja CREAMi Recipes
Now for the best part, here are 30 of the best Ninja CREAMi recipes that you can easily try at home!
Enjoy a tropical favorite with this fantastic pineapple sorbet that's perfect for cooling down on a hot and sunny day!
The great thing about Ninja CREAMi is how easy it is to make sorbets and this pineapple sorbet recipe is as easy as it gets.
With only one ingredient required and at a touch of a button, watch as the magic happens in the machine.
You can even add your favorite mix-ins and toppings after the sorbet is made to spice things up!
It's tasty and refreshing, and you're bound to love this simple flavor!
If you're looking for a sweet treat after a gym workout to get all the gains, check out this delightful protein ice cream that's low in calories and high in protein!
The beauty of having a homemade ice cream machine is the amount of control you get when making your own sweet treat.
This protein ice cream is healthy, delicious, and a great way to get your dose of required protein in a frozen format.
When you want to mix things up a bit or if you're having a cheat day, feel free to add chocolate chips or your favorite mix-ins to create new variations!
Treat yourself to a creamy watermelon sherbet that's delicious and great for a refreshing post-dinner dessert!
Fresh watermelon is used which ensures the high-quality flavor that you'll be getting and sweetened condensed milk is added to sweeten this amazing sweet treat with a touch of lime juice to freshen everything up!
Unlike sorbets with no dairy products added, the milk here helps to make this really creamy and gives a great texture that's super enjoyable.
Try it once and you'll be hooked on it!
Nothing compares to mint in our books when you want a refreshing treat that's great in both cold and hot weather.
There's just something about the cooling sensation that ticks all the boxes for a satisfying dessert.
And it's easy to make your own mint chocolate chip ice cream with the Ninja CREAMi machine!
With whole milk, cream cheese, and heavy cream serving as the base, plus the addition of sugar, peppermint extract, and chocolate chips, you get the best homemade mint ice cream that you'd have ever tasted!
It's a classic favorite and easily one of our favorite Ninja CREAMi recipes!
Indulge in this amazing blueberry pie ice cream that's so delicious, you'll definitely be making this on a regular basis!
This fantastic dessert is essentially blueberry pie transformed into an ice cream format and you'll be amazed by how tasty it is!
The "pie filling" of blueberries, sugar, and lemon juice is added to the ice cream base and frozen before being mixed in the machine, while the "pie crust" that's made up of graham crackers, cinnamon, butter, and sugar, is added as a mix-in and processed again in the machine.
The resulting ice cream is a heavenly delight and a joy to eat!
Mix it up and get your daily dose of caffeine with one of the most delightful Ninja CREAMi recipes!
Using instant coffee granules or homemade espresso, there is no lack of caffeine for a quick energy boost and it's made creamy with heavy cream and vanilla extract, which also helps to provide that delightful flavor.
Sweetened with agave nectar and monk fruit sweetener, the final taste is super enjoyable and a great dessert that you can have at any time of the day.
It's the ultimate homemade coffee treat that you definitely need to try, especially if you are a coffee lover!
Savor this delicious Pumpkin Pie Ice Cream whenever the craving hits and it's so easy to make with the Ninja CREAMi machine!
With hints of pumpkin, cinnamon, and brown sugar, this sweet treat is a heavenly indulgence that is just so addictive and tasty.
The next time you have all those leftover pumpkins or pumpkin purees after Thanksgiving and you don't know what to do, try out this fantastic recipe!
You'll be making this all year round after the first bite!
Peanut butter is the nation's favorite and you just can't go wrong with it but when you combine it with Oreo to make a milkshake, it becomes a heavenly indulgence!
In this delightful recipe, keto vanilla ice cream is used as the base to make it extra creamy and extra delicious.
Mini Oreos and peanut butter are added to the center of the pint and the machine helps with the process of turning them into a tasty milkshake.
It's a sweet treat that's just so irresistible!
If you love peaches and frozen yogurt, you've got to check out this amazing peach cobbler frozen yogurt recipe that's super delicious!
Vanilla bean paste is used for the extra rich and creamy flavor that fully complements the peach yogurt and the combination is just marvelous.
With cinnamon and oats added, the frozen yogurt is spiced with a great flavor and texture that's perfect for an enjoyable dessert!
It's one of our favorite Ninja CREAMi recipes with how good it tastes!
Make tasty homemade banana ice cream anytime with the Ninja CREAMi machine whenever you have a craving!
It's a super versatile flavor and you can add any of your favorite toppings to mix things up!
The secret to delicious banana ice cream is to use overripe bananas for that extra sweetness and rich banana flavor.
With the addition of coconut cream and a sweetener, you'll master the art of making the perfect banana ice cream!
Grace your taste buds with this wonderful pina colada ice cream with no additional sugar added but still taste incredibly yummy!
The combination of coconut cream, pineapples, and toasted coconut flakes replicates the iconic flavor of the classic drink and it is just delightful.
You can even turn it into alcoholic ice cream by adding rum into the mix to make it even more delicious!
It's a refreshing flavor that you can easily enjoy any time of the day and it's so easy to get addicted to it!
Turn the classic key lime pie into ice cream with this amazing Ninja CREAMi recipe that you just can't miss out on!
With lime juice and lime extract, the lime flavor takes center stage in this fantastic dessert but it's well-balanced and doesn't overwhelm.
Crushed graham crackers serve as the mix-in for this wonderful ice cream and the combination is superb and tastes just like the real thing.
With a light and refreshing flavor, this ice cream is sure to be your go-to dessert whenever the craving hits!
Try out this unique Old Goat Ice Cream and it might just be your new favorite flavor!
Instead of cream cheese, this recipe calls for goat cheese to be used for the ice cream base and it's rich and creamy, perfect for making ice cream.
With lemon curd and jam providing the refreshing tartness and wonderful sweetness, and almonds and rosemary giving it a great crunch and depth to the flavor, this sweet treat is just irresistible!
It's a great Ninja CREAMi recipe to try when you want something new!
Enjoy a delicious, rich, and creamy peach ice cream with this delightful recipe that's bound to tantalize your taste buds!
Using peaches that are as ripe as possible ensures a sweet peachy flavor that really makes this ice cream stand out, and it's added to the pint container along with almond milk creamer and vanilla bean powder to give it that extra vanilla taste that combines really well together.
It gives that peaches and cream flavor that's really delightful and it's a fantastic ice cream to enjoy all year round!
With how delectable it is, we have no doubts that this will quickly make its way to your list of favorite Ninja CREAMi recipes!
If you love Almond Joy candy bars, you'll love this superb Ninja CREAMi recipe that replicates the flavor in an ice cream format!
Coconut, almonds, and chocolate combine to create an amazing flavor and it's a pure delight once you've taken the first bite.
Toasted coconut and almonds form part of the mix-ins and they are added as toppings as well because you just can't have too much of them for this fantastic sweet treat.
It's super yummy and should definitely be part of your dessert rotation!
If you're looking for a keto-friendly and high-protein dessert, you've got to check out this tasty peanut butter cup ice cream!
Peanut butter and chocolate is a classic combo that everyone loves but to make this ice cream keto-friendly, peanut butter protein powder and stevia-sweetened chocolate chips are used as the main ingredients.
You get the same great taste but at way healthier macros so you can indulge in this awesome sweet treat without feeling too guilty!
Recreate the classic tiramisu dessert that has espresso-soaked ladyfingers with layers of mascarpone cheese and cocoa powder in this fantastic ice cream recipe!
Instant espresso powder is used to add the coffee flavor to the ice cream base with the addition of rum to make it even more delicious.
Espresso-soaked shortbread cookies are crushed and serve as the mix-in to deliver a terrific crunchy texture and elevate this wonderful dessert.
It's so tasty that you'll definitely love this homemade tiramisu ice cream!
Everyone loves chocolate and peanut butter together, and chocolate bananas are a great combination as well, so why not mix all three together to create an awesome flavor?
In this amazing recipe, we have just that in the form of a chocolate peanut butter banana ice cream!
It's rich, creamy, and loaded with great flavors that work so well together to create a delicious dessert that's bound to be a crowd-pleaser.
Try it for your next post-dinner dessert and you'll not regret it!
Try this special toasted marshmallow ice cream for your next sweet treat and you might just fall in love with how good it tastes!
Marshmallows are toasted over a handheld lighter till it's slightly charred and then mixed into the ice cream base of cream cheese, vanilla extract, sugar, heavy cream, and whole milk.
The base is then frozen overnight for 24 hours before it's used and processed by the Ninja CREAMi ice cream maker machine.
Within minutes, you'll be able to enjoy a creamy and delicious toasted marshmallow ice cream!
It's one of those Ninja CREAMi recipes that you definitely don't want to miss out on!
Enjoy smooth, creamy, and buttery flavors with this amazing butter pecan gelato that's out of this world!
With butter flavor extract used as part of the ingredients, the buttery taste is prominent and well-balanced, and a must-try for everyone who loves buttery treats!
Combined with pecan bits to give a great crunchy texture that's so satisfying, it's a gelato that you can eat all day long.
It's super delicious and it won't be long before you add it to your list of favorite desserts!
There's something about salted caramel that makes it such a popular flavor in all kinds of desserts and it never fails to disappoint.
It's a classic flavor with a rich caramel taste and a hint of saltiness that's well-balanced and absolutely enjoyable.
With this fantastic recipe, you can make salted caramel ice cream right in the comfort of your home whenever you have the craving!
It's one of the best Ninja CREAMi recipes and an absolute must-try in our books!
For the best homemade vanilla ice cream, you definitely need to check out this wonderful Ninja CREAMi recipe.
Using vanilla beans gives a richness and flavor that far exceeds any vanilla-flavored ice cream that uses vanilla extract instead.
It's a simple recipe that makes a classic vanilla ice cream that's been everyone's go-to flavor since forever.
Try it for your next dessert and see what you've been missing out on!
Another popular and classic ice cream flavor is strawberry and it's really easy to make with the Ninja CREAMi machine!
To get a smooth, creamy, and wonderful strawberry ice cream, fresh strawberries are added to a vanilla ice cream base so you have that same richness as vanilla ice cream, before being processed by the ice cream maker machine.
You end up with a nice pink strawberry ice cream that's mouth-watering and super tasty with all the strawberries blended in with the rest of the ingredients.
Add any of your favorite toppings or just eat it on its own because it's already so delicious!
Convert banana pudding into ice cream with this incredible recipe that gives a twist to the regular dessert.
The main ingredient used here is the banana pudding instant mix that gives it the flavor we're looking for, and the addition of nutmeg and cinnamon provides a hint of spiced flavor that really elevates the dessert.
Real bananas are used to make it even creamier and sweet, and Nilla wafers are added to complete this delightful dessert.
It's an enjoyable dessert that's perfect for the whole family!
Enjoy the tropical flavors of mango in this refreshing sorbet that you'll definitely get addicted to!
It's one of the easiest Ninja CREAMi recipes and one of our favorites as well because it's a one-ingredient recipe that tastes really good!
Using either canned mangoes or fresh mangoes, they are frozen in the container base overnight before being processed by the machine with the sorbet function.
Within minutes, it'll be ready for serving!
Savor this creamy strawberry banana milkshake that's super tasty and easy to make!
To make it extra rich and delicious, strawberry ice cream is used as the base for the milkshake, and bananas that are as ripe as possible are added to it along with vanilla almond milk.
The resulting milkshake is a delightful sweet treat that's rich, smooth, and loaded with strawberry and banana flavors.
Add your favorite toppings with even more fruit slices and indulge in this amazing dessert!
A classic ice cream flavor that's popular with both kids and adults alike is cookies and cream, and with this fantastic recipe, you can now easily make your own at home!
Rich vanilla ice cream combines with Oreo bits to create tasty cookies and cream ice cream that's great for any occasion!
Crushed Oreos are added to vanilla ice cream as a mix-in and the machine helps to incorporate it evenly throughout, resulting in a great texture similar to those you find in commercial ice cream shops!
Add some more Oreo cookies as toppings for maximum enjoyment of this delightful dessert!
Discover your new favorite sorbet flavor with this wonderful dessert that's creamy, refreshing, and loaded with blueberry and lemon flavors!
It's also really simple to make with only 4 ingredients required!
Lemonade provides a refreshing tart flavor and it's added to cream cheese and milk to form the ice cream base.
Blueberries are also added to give the berry flavor that goes so well with the sourness, and it's all frozen and processed in the machine to create the sorbet.
It's a delightful treat that can be enjoyed at any time!
For an amazingly delicious sweet treat, check out this incredible raspberry white truffle ice cream!
Creamy raspberry ice cream is combined with fresh raspberries and white chocolate truffles to create a fantastic frozen treat that's so tasty.
The sweet and mild flavor of white chocolates fully complements the tartness of raspberries and they really help to bring this ice cream to the next level.
It's super addictive and easily one of our favorite Ninja CREAMi recipes!
Creamy and delicious, this cherry gelato is a great dessert that's tasty with just the right blend of sweet and sour.
Black cherries are used and manually folded into a gelato base and the combination is a delightful sweet treat with bursts of cherry flavors that are super enjoyable.
It's the kind of dessert that can be served all day long and you will absolutely love it because of how tasty it is!
At Glorious Recipes, we have our favorite Pistachio Ice Cream that we absolutely adore! It's delicious and just irresistible! Check out the recipe below!
Yield: 1
Homemade Pistachio Ice Cream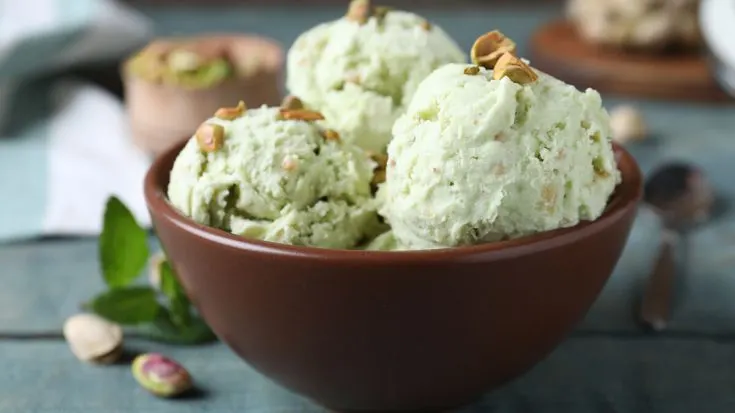 Enjoy delicious homemade pistachio ice cream with Ninja CREAMi! It's so easy to make and an absolutely heavenly delight!
Ingredients
1 tbsp cream cheese, softened
⅓ cup granulated sugar
1 tsp almond extract
¾ cup heavy cream
1 cup whole milk
green food coloring (optional)
¼ cup pistachios, unshelled and chopped
Instructions
Microwave the cream cheese for 10 seconds to soften, then add sugar and almond extract. Whisk to combine well until it looks like frosting.
Slowly add heavy cream, milk, and food coloring if desired. Make sure everything is well-combined and sugar is dissolved. Once all done, transfer to a Ninja CREAMi pint container while making sure it stays below the max line, cap it, and freeze for 24 hours.
After 24 hours, remove the pint container from the freezer and remove the lid.
Place the pint container into the outer bowl and place outer bowl into the Ninja CREAMi machine, turning and locking it in place. Select the "Ice Cream" function.
Once the process has ended, remove the outer bowl. Use a spoon to create a hole in the center of the pint until it reaches the bottom. Add pistachios into the hole and then process with the machine again using the "Mix-in" function.
Once done, top with some more pistachios and serve!
Notes
If you prefer coarser pistachios, you can manually fold them in instead of using the mix-in function.
Nutrition Information:
Yield:
1
Serving Size:
1
Amount Per Serving:
Calories:

1244
Total Fat:

91g
Saturated Fat:

50g
Trans Fat:

2g
Unsaturated Fat:

35g
Cholesterol:

239mg
Sodium:

327mg
Carbohydrates:

92g
Fiber:

3g
Sugar:

87g
Protein:

20g
Nutrition information is only an estimate and can vary depending on ingredients used.
Which of the Ninja CREAMi recipes have you tried so far?
Let us know in the comments below!
For more dessert recipes, check out the following:
Polvoron
Mini Donut
Sour Cherry
Entremet
Mini Bundt Cakes
Silken Tofu
Yonanas
Jello Jigglers
Dash Ice Cream Maker
Whipped Cottage Cheese
Share on your favorite social media platform and tag us @GloriousRecipes – we can't wait to see what you have made!