Blackfish, also known as tautog, is a great-tasting fish with firm and tender meat which holds up well when cooked and is absolutely delicious.
The fish chunks are mild-tasting and won't overpower any other ingredients, which makes it really easy to season and whip up an amazing dish.
Whether you want it baked, roasted, or pan-fried, we've got 11 of the best blackfish recipes here that you can try for your next meal!
Blackfish Recipes
Tangy, herbal, and savory, this dish is heavenly and should definitely be on your next dinner menu.
This is a simple blackfish recipe that tastes wonderful and it's really easy to make.
Tomato water is made simply by squashing tomatoes, rosemary, and salt in a colander.
The fish is seasoned with salt, black pepper, and chili pepper, then seared and cooked together with olives in a hot pan.
It's completed by drizzling tomato water and olive oil on top, and a sprinkle of mint, basil, and salt.
So delicious, we can eat this seared blackfish all day!
This tautog or blackfish recipe is great for a quick and easy meal, perfect for weeknight dinners after a long day at work.
Dinner can be served in less than 15 minutes and this blackened blackfish looks and tastes amazing.
Paprika, thyme, cumin, garlic powder, black pepper, and salt is mixed together to create a spice blend that smells so fragrant.
The blackfish is fully covered with the spices before it's added to a hot skillet with melted butter.
Once cooked, you will end up with a beautiful piece of blackened tautog fish.
Squeeze some lemons over it and enjoy this sumptuous meal!
For a healthy but delicious blackfish recipe, check out this herb-baked tautog that is well-seasoned but doesn't overwhelm the taste of fresh fish.
With fresh dill, cilantro, basil, and parsley, the herb spices add so much depth to the flavor of the fish and elevate it to another level.
The fish is seasoned with melted herb butter, Old Bay seasoning, and black pepper, then baked with fresh green scallions for 15 minutes.
Such an easy blackfish recipe for a delightful meal!
Herb-infused lemon sauce is drizzled over Parmesan-crusted blackfish to create an absolutely wonderful dish in this tautog recipe.
Minced basil, chives, rosemary, parsley, and mint are added to lemon juice, lemon zest, olive oil, garlic, and melted butter to create a fragrant sauce that is so rich in flavor.
The fish meat is easily prepared by sprinkling smoked paprika powder, shredded Parmesan cheese, salt, and pepper, then baking in the oven.
Pair it with some rice and you'll have a wholesome meal ready to be served!
Lemon, garlic, and butter come together in this straightforward blackfish recipe that anyone can enjoy with only 6 ingredients.
You'll be surprised at how easy it is to cook this tasty fish!
All you need to do is place a rinsed blackfish in the middle of a folded foil and add garlic, lemon, butter, olive oil, and some saltwater, then roast it in the oven for 30 minutes.
This is great alongside some potatoes and asparagus to enjoy a healthy and nutritious meal.
This fancy recipe is straight from the popular celebrity chef, Jacques Pépin, and it's absolutely delicious.
Blackfish beignets are basically fish fritters, covered in batter and then fried till crisp and golden brown.
It's very tasty and when paired with a dip, it becomes really addictive.
The spicy sauce goes really well with the beignets and is made with a combination of mayonnaise, sour cream, sriracha, ketchup, chives, and lemon juice.
Serve with some fries on the side to complete the meal!
For a luxurious and decadent blackfish fit for fine dining, check out this fantastic recipe that will level up your cooking game.
In addition to seasoning and cooking the fish, Silver Queen corn pudding, Silver Queen foam, and a sauté of crab and baby corn are added to compose the dish.
Delicious Louisiana caviar is placed over the fish, and then finally, it's garnished with herbs to complete this amazing dish.
The visual presentation will wow everyone and the excellent taste will just bring in all the compliments!
It's definitely one of the best blackfish recipes out there!
Olives and sage are used in this superb dish to bring out the sweetness of fresh fish while lemon is used to bring a high note and refreshing smell to the fish.
In this blackfish recipe, the chosen method of cooking is roasting, which makes it really easy for beginner home cooks as the oven does all the work for you.
Red pepper is sprinkled in the final step to add some pleasant heat to the fish and combines really well with the mild-tasting nature of blackfish.
All in all, it's an excellent and simple recipe for an awesome meal!
This is a quick and easy pan-fried blackfish or tautog recipe that anyone can whip up in mere minutes!
Fresh fish always taste nice and sweet, which means you don't need any complicated seasoning mix to make a great-tasting fish.
To cook a fuss-free but delicious blackfish, place the fish in a hot skillet with heated oil and sprinkle lime juice and black pepper over it.
Flip and repeat on the other side and it's done!
Pair it with some vegetables or even apple slices for a delicious meal!
Simmered in a wonderful Mediterranean-styled sauce, this blackfish is extremely flavorful and tasty.
With a combination of onions, tomatoes, garlic, coriander, paprika, cumin, capers, salt, pepper, and raisins, the resulting sauce is sweet, fragrant, well-spiced, and absolutely delicious.
It goes really well with the mild-tasting flesh of blackfish, and you can also use it with other types of firm, white fish like halibut.
Season fish with salt and pepper, before covering it with the sauce, and finish by garnishing with fresh chopped parsley for an amazing dish!
This blackfish with a light and creamy tomato sauce, paired with fried okra, is mouth-watering and absolutely delicious.
The aromatics in the sauce make it really fragrant with onions providing additional sweetness and garlic adding some bite to it.
Okra is coated with a mixture of egg whites, cayenne, salt, pepper, and cornmeal, before being tossed into a pan of oil for a light fry.
Blackfish is only seasoned with salt and pepper, then pan-fried in a skillet so that you can savor its natural flavor and sweetness.
Combining everything together makes for a really delicious and wholesome meal!
At Glorious Recipes, we have a simple blackfish recipe that we love to whip up because it's just so delicious and you can taste the meat's sweetness! Check out the recipe below!
Yield: 2
Pan-Seared Blackfish (Tautog)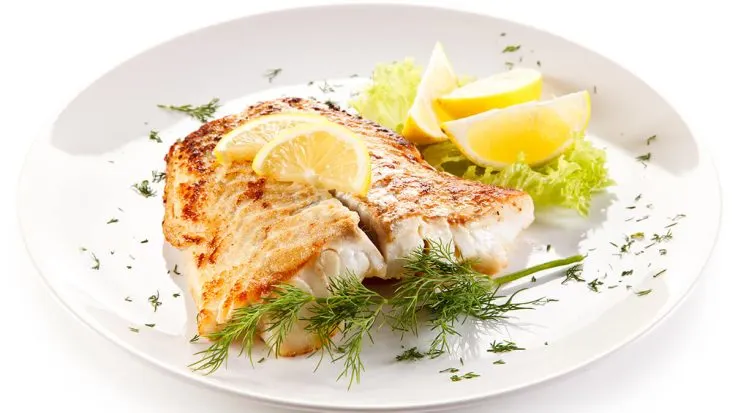 This pan-seared blackfish recipe will bring out the sweetness of the fish and it's simple to make, plus it's really delicious!
Ingredients
2 blackfish (tautog) fillets with skin, (6-8 oz each)
2 tbsp olive oil (or any other neutral oil)
3 tbsp butter, unsalted
2 tsp nonpareils capers
½ lemon, for juice
kosher salt, to taste
black pepper, to taste
lemon wedges (for garnish)
mixed herbs (optional, for garnish)
Instructions
Rinse blackfish and pat dry with paper towels. Using half of each ingredient, sprinkle one side of the fish with salt and pepper, then repeat on the other side.
Heat skillet on medium-high heat with oil.
Place fish into skillet skin side down and press gently for a few seconds to prevent curling. Sear for about 3 minutes till skin is crisp and easily released.
Flip the fish, then add butter, lemon juice, and capers. Tilt the pan and baste the fish with melted butter. Continue for about a minute till fish is cooked.
If desired, garnish with herbs. Add lemon wedges on the side and serve.
Nutrition Information:
Yield:
2
Serving Size:
1
Amount Per Serving:
Calories:

360
Total Fat:

31g
Saturated Fat:

13g
Trans Fat:

0g
Unsaturated Fat:

17g
Cholesterol:

46mg
Sodium:

302mg
Carbohydrates:

23g
Fiber:

2g
Sugar:

16g
Protein:

1g
Nutrition information is only an estimate and can vary depending on ingredients used.
Which of the blackfish recipes have you tried so far?
Let us know in the comments below!
For more awesome fish recipes, don't miss out on the following:
Wahoo
Bluegill
Tuna Tartare
Salmon Bites
Whole Tilapia
Yellowtail
Smoked Cod
Tilefish
Cobia
Share on your favorite social media platform and tag us @GloriousRecipes – we can't wait to see what you have made!