Whether you're cooking casually on occasion, daily at home, or thinking of going on an outdoor adventure to cook up a feast, the CanCooker has got you covered!
And we've got the can cooker recipes that everyone loves!
What Is The CanCooker
Seth McGinn's CanCooker is a modernized cream can cooker that's perfect for quickly cooking a convenient and healthy meal through steaming.
It is lightweight and made with food-grade anodized aluminum.
It can be used on any heat source such as stoves, campfires, or grills, hence it's a popular option for both home cooks and also for use during camping.
Cooking with a CanCooker is easy:
Spray some oil
Put vegetables in, then meat and seafood.
Seasoning and any liquid go last. Add at least 12 oz of any liquid – water, mountain dew, beer, or broth.
Put the lid on and latch it over a low-medium heat source.
Once steam starts coming out of the vent holes, reduce the heat and let it cook as per recipe timing.
Types Of CanCooker Products
CanCooker Original: With a capacity of 4 gallons, this can cooker can feed up to 20 people. Great for a gathering.
CanCooker Jr.: For a family-friendly size, this can cooker is a good option with a capacity of 2 gallons, feeding up to 8 people. Great for home use.
CanCooker Companion: The smallest in the lineup, this can cooker has a capacity of 1.5 gallons and can feed up to 6 people. Great for smaller families.
Signature Series: This has the same capacity as the CanCooker Jr. but is made of ceramic and comes in 2 different colors, Black Cherry and Midnight Blue.
Frequently Asked Questions
What type of heat source works with the CanCooker?
Any type of heat source can be used, except for induction stoves. Turkey fryer burners are also not recommended as it is difficult to regulate the heat.
Does the CanCooker have to be fully filled?
No, the CanCooker works with any amount of food but at least 12 oz of liquid will still have to be added as we need the steam to cook the food.
CanCooker Recipes
Here are 15 of the best CanCooker recipes that you can try and we have also included our own favorite version in the recipe card below!
With only 4 ingredients required, this Cowboy Spare Ribs recipe makes for an easy and delicious meal, perfect for a weeknight dinner.
Get your pork ribs out and separate them into 3 parts for easier cooking and to get more surface area for the dry rub.
Rub with Cowboy Barbeque seasoning, pop it into the CanCooker, and to keep things interesting, Cherry Cola Soda is used as the liquid base for steaming.
Baste with BBQ sauce after the ribs are steamed and finish cooking them on a grill.
Enjoy your juicy, tender, and flavorful spare ribs!
Porcupine meatballs are well-seasoned meatballs with rice poking out, hence giving them a porcupine appearance.
It is a traditional comfort food and is great for a warm, hearty meal.
To make the porcupine meatballs in the can cooker, it's as simple as mixing all the ingredients together to shape the meatball and placing it in before pouring the sauce over it, with chicken stock serving as the liquid base.
The meatballs are great with rice, pasta, or even as a snack on their own!
Add some Mexican flair to your next meal with this delicious Chicken Enchilada Skillet recipe!
This lovely dish is easy to make with a basic list of ingredients that include boneless chicken thighs, green chilies, black olives, sour cream, tortillas, and shredded cheese.
It can be made in a big batch in advance and leftovers can be frozen, perfect for meal preps.
Just thaw it when you crave a warm bowl of comfort food and you'll have this tasty chicken enchilada ready anytime!
Make your own awesome seafood feast with this simple Cajun Seafood Boil recipe!
We all love a great seafood meal and this recipe can easily be adapted and modified to add even more seafood.
That's what's so great about using the CanCooker!
If shrimps and crawfish are not enough, add some crabs, lobsters, and clams into the mix and you'll deliver an amazing dinner from the sea.
Dip in some Tiger sauce to make it even more flavorful!
With potatoes, corn, and sausages to complement the seafood, everyone will surely be satisfied with this wholesome meal.
If you're looking to feed your camping mates or just want to bring some outdoor adventure favorites to your weekend brunch, this Mountain Man Breakfast recipe is what you're looking for.
This sumptuous meal is made with a simple base of traditional breakfast ingredients that include eggs, bacon, and hash browns.
Onions, jalapeño, and seasonings are used to add even more flavor to a hearty meal.
Top with some cheddar cheese to make it even yummier!
Yes, you've got that right, the CanCooker can even be used to make desserts such as this Lemon Cake with Lemon Glaze Icing!
With a perfect balance of sweet and tangy flavor, this lemon cake will surely be a hit among the family.
All you need to do is make the cake batter in an electric mixer before steaming the cake in the CanCooker.
Even the glaze icing can be made with the CanCooker and you'll just need to pour it over the top of the cake to complete this sweet treat!
For a nice warm bowl of hearty vegetable soup, look no further.
This vegan-friendly dish is filled with nutrients from a combination of cauliflower, tomatoes, zucchini, celery, and a whole host of spices to add even more flavor to this delicious soup.
It's also incredibly simple to make.
Start by sautéing the onions and celery before adding the garlic.
Add in the rest of the ingredients and let it boil till it's done.
It's so easy to prepare, you can enjoy this healthy bowl of soup anytime!
If you're looking for a simple CanCooker recipe that can make a fragrant, juicy, and tasty meal, check out this Garlic Butter Chicken Thighs recipe.
All you need to do is season the chicken thighs with a mixture of spices to ensure the meat will be filled with flavor later on.
Add the rest of the ingredients into the CanCooker once the butter has melted and wait till the chicken is cooked for about 30 minutes.
That's all it takes to get your amazing meal out!
Garnish with some fresh parsley and dinner is served!
There are many things to love about this amazing Beef Tips recipe.
Juicy, tender beef tips covered in a thick brown sauce that's so flavorful that it's guaranteed to tantalize your taste buds.
Pair it with some rice and asparagus and you'll have yourself a wholesome meal that is both delicious and nutritious.
It also goes really well with a serving of mashed potatoes and garlic bread!
As funny as the name sounds, this dish really does involve sticking a beer can into the butt end of the chicken!
What you get at the end is juicy, moist, and flavorful meat as the steam from the beer cooks the inside of the chicken.
The seasonings are rubbed onto the outer surface of the chicken, which makes the outside of the meat taste amazing as well.
If you want to perfect cooking a whole chicken, you'll need to try out this CanCooker recipe!
Indulge in this decadent bowl of Chili Cheese Dog Dip to satisfy your cravings for a bold and flavor-rich meal.
It's the ultimate comfort food combo, with hotdogs, ground beef, and loads of cheese to hit all the sweet spots.
Making this is easy, just cook the garlic, onion, and beef first before throwing in all the other ingredients to finish cooking.
Eat with nachos or chips with a big surface area to scoop up all that delicious dip!
When it comes to crab cakes, the most important ingredient is of course the star itself, the crab meat.
Use good jumbo lump crab meat and minimal fillers to ensure your crab cakes highlight the sweetness of the crab meat.
Pair it with some tartar sauce or Tiger sauce to add even more depth to the flavor and elevate the dish.
With this quick and easy CanCooker recipe, your crab cakes will turn out delicious and are sure to be a family favorite!
If you love a good fish dish, you'll need to try this Cilantro Lime Tilapia CanCooker recipe.
It tastes absolutely delicious and is so refreshing with the right amount of lime and fresh cilantro.
The fish is full of flavor with a simple combination of salt, pepper, chili, garlic, and cumin.
Serve with a side of carbs like rice or potatoes, along with some asparagus to complete it for an amazing lunch or dinner.
This delightful Snickers Poke Cake is a fantastic sweet treat with how yummy it is and it's really simple to make.
Similar to the lemon cake, you start by making your cake batter with an electric mixer.
Steam the cake in the CanCooker, then poke every inch of the cake before pouring caramel sauce over it.
Combine whipped cream and remaining caramel sauce and layer it on top.
Finish off by topping it with snicker pieces!
One of our favorite comfort food, a plate of creamy gnocchi is always perfect for a nice cozy dinner.
In this CanCooker recipe, whipping up this gnocchi dish can't get any simpler.
Cook the sausage until brown before adding the rest of the ingredients to finish cooking.
Top with some grated parmesan cheese, chili flakes, and season with salt and pepper.
With how easy it is to make this, we suspect you'll make this more than once!
At Glorious Recipes, we have our favorite CanCooker recipe in the form of delicious BBQ Pork Ribs. It is extremely easy to make and it tastes amazing!
Yield: 6
CanCooker BBQ Pork Ribs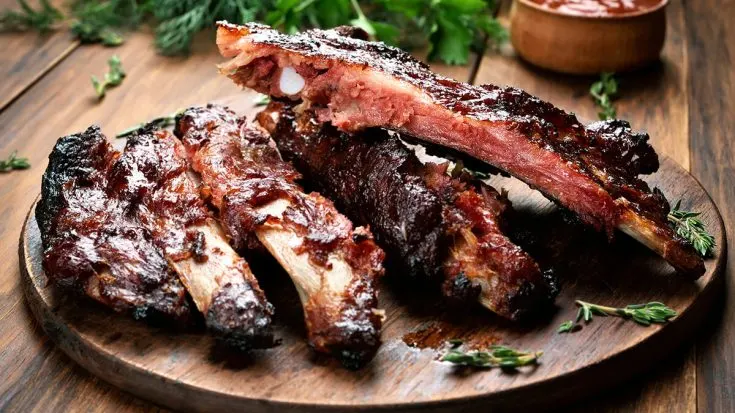 This tender and flavorful beer-steamed BBQ pork ribs will get you asking for a second serving right after the first bite! Best of all, this CanCooker recipe is as simple as it can get.
Total Time
1 hour
5 minutes
Ingredients
4 lbs fresh pork ribs
12 oz beer
1 cup barbeque sauce
garlic powder, to taste
salt, to taste
pepper, to taste
Instructions
Cut the ribs into individual portion sizes. Rub salt, pepper and garlic powder to season the pork ribs.
Insert the 2 piece rack into the CanCooker. Spray some oil in the interior and place pork ribs inside. Add beer and latch the lid. Heat on medium low heat for 45 minutes.
Remove from heat and let it rest for 10 minutes.
Place the pork ribs on a try and baste with BBQ sauce. Finish cooking on a preheated grill for 5-6 minutes until you have nice charred marks.
Notes
The CanCooker will be very hot when the pork ribs are done cooking. Be careful and use oven mitts to remove it.
Nutrition Information:
Yield:
6
Serving Size:
1
Amount Per Serving:
Calories:

1201
Total Fat:

94g
Saturated Fat:

28g
Trans Fat:

1g
Unsaturated Fat:

42g
Cholesterol:

318mg
Sodium:

858mg
Carbohydrates:

22g
Fiber:

1g
Sugar:

16g
Protein:

64g
Nutrition information is only an estimate and can vary depending on ingredients used.
Which of the CanCooker recipes have you tried so far?
Let us know in the comments below!
For more outdoor cooking recipes, check out recteq, Blackstone Chicken, and Pit Boss Smoker for more ideas!
Or check out Meat Church for tasty seasoned dishes!
Share on your favorite social media platform and tag us @GloriousRecipes – we can't wait to see what you have made!