Whether you're looking for vegan recipes or just trying to eat healthier, we've got you covered with some of the best JUST Egg recipes.
What Is JUST Egg
JUST Egg is a plant-based and vegan alternative to regular eggs, and it tastes exactly like the real thing.
It's also healthier with zero cholesterol, and it can be used for both cooking and baking.
The key ingredients include mung beans protein isolate, canola oil, and a variety of spices and thickeners.
JUST Egg is able to replicate the color, texture, and flavor of regular eggs, making it the market leader and popular choice for a real egg substitute.
Types Of JUST Egg Products
JUST Egg: This is their main product which resembles whisked liquid egg. It's sold in a bottle format and you just pour it out to be used as an egg substitute in your recipe (70 calories for 3 tablespoons).

JUST Egg Folded: These are sold as precooked folded eggs that you can easily toss in your toaster, oven, or skillet and add to your sandwich (100 calories per piece).

JUST Egg Sous Vide: These are sold as precooked egg bites that are light and fluffy (200 calories for 2 egg bites).
Frequently Asked Questions
How long can JUST Egg last in the refrigerator?
Once opened, JUST Egg has to be consumed within 7 days.
Is JUST Egg plant-based and vegan?
Yes, all the JUST Egg products are plant-based and vegan. The main ingredient is mung beans, which are protein-rich legumes.
Is JUST Egg cheaper than regular eggs?
Currently, JUST EGG is more expensive than regular eggs as it costs more to produce plant-based eggs. However, with zero cholesterol and being a vegan egg alternative, sometimes it's more than just about looking at the cost.
Can JUST Egg be used for baking?
Absolutely. Just use 3 tablespoons of JUST Egg for 1 whole egg in the recipe. There are a few exceptions where it might not work well, especially in light, airy cakes and meringues.
Brew a cup of Nespresso coffee to go along with your JUST Egg creation and enjoy a wholesome breakfast!
JUST Egg Recipes
This vegan and plant-based JUST Egg quiche recipe is easy to follow and it's as eggy as a regular quiche.
Make sure to use vegan sausage and cook it with garlic, shallots, and spinach.
For a fuss-free and convenient option, opt for store-bought ready pie crust and spread the fillings evenly.
Add the secret "egg salt" ingredient, kala namak or black salt, into the JUST Egg bottle and shake well before pouring it over the fillings.
Bake for 45 minutes and brunch is ready!
If you don't like a crust in your food, check out this Spinach Artichoke Frittata recipe instead.
This frittata consists of garlicky spinach, artichokes, jalapeño, and bell peppers.
It's perfect for a healthy and filling brunch or breakfast and you can go wild with the ingredients and add in your other favorite greens!
You can even turn them into mini frittatas by filling them in a muffin pan and letting them bake in the oven.
Watch as your guests scramble to get that last piece of frittata.
Make yourself a classic omelet with this vegan, plant-based, and eggless JUST Egg recipe.
With the help of flour and baking powder, this omelet is delightfully fluffy and delicious.
The black salt helps to provide even more eggy flavor to this omelet and renders the taste as close to a regular egg omelet as possible.
Fill the omelet with your favorite ingredients and top it off with some vegan cheese and fresh herbs for a really tasty breakfast!
For a belly-filling hearty breakfast, this vegan hashbrown casserole is a prime candidate.
Made with hashbrowns or shredded potatoes, the combination possibilities are endless.
You can use a mixture of broccoli, cauliflower, bell peppers, or any other vegetables that roast well.
Nutritional yeast will help to provide the cheesy flavor and is a popular vegan substitute that is very nutritious as well.
JUST Egg and black salt will of course help to provide the egg substitute that makes this casserole really delicious!
This tasty fried rice recipe with JUST Egg is great when you feel like having some Chinese cuisine for lunch or dinner.
Just like normal fried rice, you start by stir-frying shallots, garlic, peas, and carrots.
Next, you can opt to use either JUST Egg, where you just cook it as a scrambled egg, or if you want a little more convenience, you can use JUST Egg Folded.
Stir-fry the rice together with the egg substitute before tossing the rest of the ingredients and condiments in to whip up an amazing meal!
Fancy having a fluffy vegan eggs benedict for breakfast?
This JUST Egg recipe takes less than 10 minutes to make a quick, delicious and hearty meal.
Half the job is already done for you by using JUST Egg Folded, which you can just heat on a skillet, oven, or toaster.
English muffins are topped with tomato, guacamole, vegan bacon, and JUST Egg, with homemade hollandaise sauce drizzled over them.
This is a sumptuous breakfast that looks and tastes great!
A healthy classic, this scramble recipe will be part of your breakfast staple and it's really easy.
Start by cooking the onions and bell peppers till soft, and pour in the liquid JUST Egg from the bottle.
Pull the eggs from the edges towards the center and add your preferred shredded vegan cheese and spinach towards the end when the egg is almost set.
Once the cheese is melted, your delicious scrambled egg is done.
Add some cherry tomatoes and toasted homemade bread to complete the meal!
These cute little mini quiches are guaranteed to be a breakfast hit with their aesthetics and taste.
You'll need a muffin pan, mini pie crusts, and your preferred vegetables for the fillings.
To start creating the delicious mini bites, just pop a crust into the muffin pan and fill it halfway with the desired vegetables and top with some vegan cheese.
Pour liquid JUST Egg till it reaches around ¾ of the crust and bake those beauties in the oven for around 25 minutes.
The recipe is flexible and you can vary the veggies to keep things interesting!
Make your own tasty eggless egg bites with this recipe using liquid JUST Egg.
Cook your preferred mix of vegetables before placing them in a muffin pan and pouring JUST Egg to fill them to the top.
Garlic, onions, bell peppers, and sundried tomatoes are good options to include, along with some greens of your choice.
Add some herbs to make them smell and taste even better!
If you're feeling lazy, you can also opt for the pre-cooked JUST Egg Sous Vide but it's always better to be able to customize your own unique version and make it from scratch!
If you're craving some Thai food for your next meal, this gluten-free Pad Thai is a good option for a delicious meal.
There is no fish sauce used so it is completely suitable for a vegan diet.
JUST Egg Folded is used in this recipe and broken up into smaller pieces in the skillet.
With a variety of condiments used to make the Pad Thai sauce, this dish is just so yummy and flavorful.
Don't forget the lime wedge at the end for an authentic Pad Thai taste!
Start your morning with this healthy and delicious avocado toast.
It's like having a cafe brunch at a fraction of the price!
Best of all, this JUST Egg recipe is super quick and easy to follow.
Toast the bread, dig some ripe avocado out, and spread over the toasted bread.
Vegan cheese is added to liquid JUST Egg and microwaved for a minute.
Add the egg to the avocado toast and viola, breakfast is served!
For something fancier, try this vegan smoked salmon muffins recipe that satisfies both egg and fish alternatives.
Plant-based smoked salmon from Sophie's Kitchen is used here to keep it vegan.
Similar to making a mini quiche and mini frittata, we will be pouring the base mixture into a muffin pan and baking them for 25 minutes.
You'll be enjoying tasty, nicely layered, and fluffy smoked salmon muffins in no time!
Every once in a while, we want to indulge in a slightly decadent breakfast to reward ourselves for our hard work.
This vegan French toast definitely fits the bill for a sweet and fancy breakfast.
It only requires 10 ingredients for the base recipe and you are free to add any toppings you want.
For the best taste, use thicker bread such as Texas toast or ciabatta as we want them to soak up the batter.
Add some berries for toppings to get the added nutrients, plus they complement really well with the French toast!
Enjoy a sumptuous and wholesome meal with this Tex Mex Twice-baked Egg & Sweet Potatoes.
Instead of toasted bread, you stuff the fillings in baked sweet potatoes which makes everything sweeter and yummier.
JUST Egg Folded is baked (as they come frozen) and then stuffed into the potato skins, along with bell peppers, black beans, and seasoned mashed sweet potato that we dug out.
Top with sour cream and fresh cilantro for a mighty awesome breakfast!
This vegan Dutch baby pancake with caramelized peaches makes for an awesome brunch and it's just so delicious.
The pancakes are light and fluffy, and when paired with the sweetness of caramelized peaches, plus topped with some vegan vanilla ice cream, this dish is just heavenly.
You can easily make your own homemade ice cream with an ice cream maker so you are in complete control of the ingredients.
With this JUST Egg recipe, there'll always be something to look forward to for brunch!
Breakfast quesadillas always have a place on the table because they are just so tasty.
There's something about the combination of tortilla, cheese, guacamole, and salsa that makes the dish so delicious.
With this simple quesadilla recipe, you only need olive oil, tortillas, vegan cheddar cheese or any mixture of your preferred cheeses, bell peppers, taco seasoning, and JUST Egg Folded.
The cooking process is the same, just assemble the cooked and seasoned bell peppers along with egg and cheese on the tortillas.
Cook a while more to get the tortillas nice and crisp with the cheese melted.
We definitely recommend eating this with guacamole and salsa for the best taste!
For more Mexican-inspired JUST Egg ideas, check out this breakfast burrito recipe.
It is great for a healthy and simple breakfast with only 6 ingredients required.
Using liquid JUST Egg, scramble them as you would with regular eggs and set them aside.
Next, cook your mushrooms and bell peppers.
Assemble them on a heated tortilla and add some salsa, roll them up and you have your breakfast burrito!
This homemade vegan lemon curd is sweet and tangy, and it's the perfect treat to complete a meal.
You're going to love how incredibly easy it is to make and it only takes 15 minutes before you get to enjoy this delightful dessert.
You can easily switch it up a bit and substitute lemon with orange, grapefruit, or lime without having to change the ingredient's proportion.
One mouthful of this vegan lemon curd will definitely get you wanting more!
Level up your dessert-making skill with this vegan crème brûlée that only requires 5 ingredients.
No one's going to believe you when you tell them you can make a crème brûlée in 30 minutes that is vegan, gluten-free, egg-free, and dairy-free!
Once you have your custard ready, all you need to do is sprinkle some sugar on top and caramelize it with a kitchen torch.
If you don't have a kitchen torch, you can just pop it in the oven under broil to achieve the same result.
This dessert treat is going to be a hit with your friends and family!
This JUST Egg recipe turns the classic breakfast bagel with bacon, egg, and cheese into a plant-based option and it tastes amazing.
It's as easy as it sounds.
All the ingredients are substituted with their plant-based counterparts – veggie bacon, plant-based JUST Egg, and vegan non-dairy cheese.
Toast a bagel with the cheese, add cooked egg and bacon, and finally top it with another bagel to complete the sandwich.
Quick, simple, and healthy, that's just how we like our breakfast to be.
At Glorious Recipes, we have our favorite plant-based JUST Egg crêpes recipe that's vegan, healthy, and tastes absolutely delicious. Perfect for a simple breakfast or dessert treat.
Yield: 6
Vegan JUST Egg Crêpes with Blueberries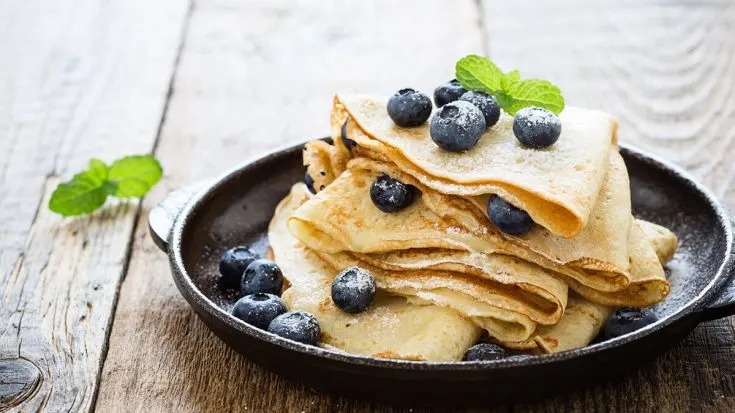 Our plant-based vegan crêpes recipe using JUST Egg tastes as good as regular crêpes but even healthier! Topped with blueberries, this is a breakfast treat you can't resist.
Ingredients
⅔ cup JUST Egg
3 cups non-dairy, plant-based milk, such as oat milk
2 cups flour
4 tbsp sugar
½ tsp salt
4 tbsp plant-based butter
2 cups blueberries
1 cup powdered sugar (for topping)
Instructions
Add JUST Egg, milk, flour, sugar, and salt into a blender and blend till smooth. Add butter and blend for an additional 20 seconds.
Put a non-stick skillet on medium heat and coat it with some butter or oil. Pour in batter to coat the skillet. Tilt and maneuver the skillet to ensure it's spread out evenly in a thin layer.
Cook for 1-2 minutes before flipping to cook the other side for another minute. You should see some brown spots. Transfer to a plate.
Repeat steps 2 and 3 to make more crêpes.
Top with blueberries and some powdered sugar, and it's ready to be served.
Notes
Feel free to add your favorite fruits! Strawberries, raspberries, peaches, and kiwis are all good options.
Nutrition Information:
Yield:
6
Serving Size:
1
Amount Per Serving:
Calories:

473
Total Fat:

13g
Saturated Fat:

7g
Trans Fat:

0g
Unsaturated Fat:

5g
Cholesterol:

131mg
Sodium:

354mg
Carbohydrates:

77g
Fiber:

3g
Sugar:

41g
Protein:

13g
Nutrition information is only an estimate and can vary depending on ingredients used.
Which of the JUST Egg recipes have you tried so far?
Let us know in the comments below!
For more plant-based and vegan alternatives, check out Chicken of the Woods, Soyrizo, Puffball Mushrooms, Pumfu, or Impossible Meat for more ideas!
Or check out Deviled Eggs and Quail Eggs for more egg recipes!
Share on your favorite social media platform and tag us @GloriousRecipes – we can't wait to see what you have made!