Get set for your new favorite comfort food when you try your hands on one of our irresistible creamy gnocchi recipes!
It is quick and easy to make, tastes so delicious, and is just perfect for a cozy weeknight dinner.
What Is Gnocchi
Gnocchi is a type of mini pasta or Italian dumpling, usually made with flour, egg, and potato.
The pasta itself has a bland taste, but when mixed with a creamy sauce in any of our creamy gnocchi recipes, it transforms into the ultimate comfort food.
Frequently Asked Questions
Is gnocchi chewy?
Good gnocchi will be soft with a silky-smooth texture, and you shouldn't feel like you're eating chewy balls.
Do we need to make gnocchi from scratch?
For convenience, you can just use store-bought gnocchi as they are good enough to whip up a delicious meal.
After all, we want a quick and tasty meal after a long day at work!
Creamy Gnocchi Recipes
Here are 12 of the best creamy gnocchi recipes and we have also included our unique version in the recipe card below!
Looking to impress your date with a simple yet delicious meal?
This Creamy Gnocchi with Mozzarella will certainly help you capture your date's heart and stomach.
It only takes a total of 25 minutes to whip up this tasty pasta.
All you need to do is cook the gnocchi for a few minutes, throw it into the amazing sauce with light cream and mozzarella, and let it broil for another few minutes to get the cheese melted.
This stringy melted cheese wonder dish is sure to impress with how quick and easy it is to make and how good it tastes.
This Creamy Chorizo Gnocchi helps to bring some crunch and protein to the lovely dish.
Adding some Spanish flair to this classic Italian pasta, the end result is a fragrant and very enjoyable creamy gnocchi.
The chorizo is first fried to get it crunchy before the rest of the ingredients are added step by step to make the wonderful sauce, with the shallots adding a layer of depth and fragrance to it.
Top with some grated parmesan cheese at the end and you'll have delicious, creamy gnocchi with chorizo and peppers ready in just 20 minutes!
Vegans can easily enjoy a creamy gnocchi meal as well with this simple recipe.
Instead of cheese and cream, we'll be using nutritional yeast and dairy-free milk.
Nutritional yeast is commonly used as a vegan cheese flavoring and it is also highly nutritious with added proteins, vitamins, and minerals.
The recipe is quick and easy.
Just boil to get your gnocchi cooked, blend the ingredients to get your tomato cream sauce, and combine both in a skillet to cook and reduce the sauce.
Garnish with some basil and it's ready to be enjoyed!
This one-pan Creamy Tuscan Gnocchi with Sausage is amazing with a slight twist to the sauce.
The Tuscan sauce, made famous by Olive Garden, is made with chicken broth, cream, lemon juice, and sun-dried tomatoes.
The sauce combines really well with gnocchi and with only 20 minutes required to whip up this glorious dish, it's a really quick and easy creamy gnocchi recipe that you need to keep as part of your cooking arsenal.
Italian sausage is added to the dish but you can definitely substitute it with any protein of your choice and it'll still result in a tasty creamy gnocchi meal.
If you have any leftover chicken and you're thinking of how to use them for your next meal, this Creamy Chicken Gnocchi with Spinach recipe will solve your problem.
You can also use store-bought rotisserie chicken or just pan-fry some chicken breasts for this.
This recipe will give you a creamy Alfredo sauce that tastes so delicious and is sure to be a hit with the family.
With chicken, spinach, and soft gnocchi, this is a wholesome meal that everyone can enjoy.
For this Creamy Gnocchi Mushroom Sauce recipe, you can make it gluten-free by using gluten-free potato gnocchi or paleo-friendly by using cauliflower gnocchi.
It is also incredibly simple to make.
All you need to do is cook the gnocchi to al dente, then separately sauté the mushroom with ghee, olive oil, garlic, and shallots in a pan.
Add the chicken stock, creamer, and nutritional yeast to the pan, then add the gnocchi last.
The starch from the gnocchi will thicken the sauce and create this creamy mushroom gnocchi dish that tastes just so wonderful.
This pesto gnocchi is rich, creamy, and luscious.
Best of all, it's also dairy-free and vegan, thanks to the nutritional yeast that is used in place of cheese.
With the added spinach in this vegan creamy pesto gnocchi, this dish is visually striking with beautiful layers of green throughout.
It's super fragrant with the herby smell from the basil, and it feels like a luxury dish from a fine-dining restaurant.
It can also easily be made gluten-free by using gluten-free gnocchi!
This one-pan creamy gnocchi is the perfect comfort food that's easy to prepare and also satisfies our seafood cravings.
We all love one-pan recipes as it's convenient with fewer things to wash and more time to eat.
In this wholesome dish, gnocchi, mushrooms, onions, garlic, and prawns are lightly sautéed first, after which we make the sauce.
The sautéed ingredients are then tossed into the sauce and continued to cook.
Top with some parmesan cheese, bake it till you have a crispy layer on the surface, and enjoy this mouth-watering creamy gnocchi with shrimp and spinach.
For a warm and hearty meal, this Creamy Gnocchi Soup with Rosemary Bacon definitely ticks all the boxes.
You can make it either on the stove, in a slow cooker, or in an instant pot.
It's an easy one-pan recipe so we would recommend using a Dutch oven on a stove.
Get your bacon crisp with some rosemary, then set it aside as we'll be adding it at the last step to keep it crispy.
Add in everything else to make your soup and cook the gnocchi in it.
Top with rosemary bacon and some grated parmesan and you'll have a heavenly warm bowl of flavorful creamy gnocchi soup.
This yummy Creamy Vegetable Gnocchi Soup is a healthy and comforting bowl of goodness that is perfect for a cold, rainy night.
With vegetable broth, carrots, green peas, and spinach, this creamy gnocchi recipe makes a nutrient-dense dish that tastes fantastic.
Feel free to add or substitute any of the greens with your preferred vegetables as the soup is so flavorful that everything goes well with it!
It's incredibly easy to cook a pot of creamy gnocchi soup in an instant pot.
It only takes 1 minute to cook the gnocchi and the entire recipe takes less than 15 minutes to create a delicious meal.
Best of all, it's super easy to customize what you want to be included in this creamy gnocchi soup.
Add in some green peas or asparagus to make this meal even more nutritious!
Made famous by The Pioneer Woman, this Creamy Shrimp and Gnocchi is a delish and flavorsome pasta, plus the recipe is quick and easy to follow.
The shrimp are seasoned with lemon pepper and taste absolutely wonderful.
The skillet is deglazed with white wine and the creamy sauce is made with cream, mascarpone, pesto, and lemon zest.
Combined together with gnocchi and garnished with basil and lemon slices, this amazing creamy gnocchi is a dish you'll definitely keep coming back to.
At Glorious Recipes, we have our favorite Creamy Cheesy Garlic Gnocchi that is really easy to make and it tastes so delicious. It's also very flexible and you can add any meat or seafood to keep it varied.
Yield: 6
Creamy Cheesy Garlic Gnocchi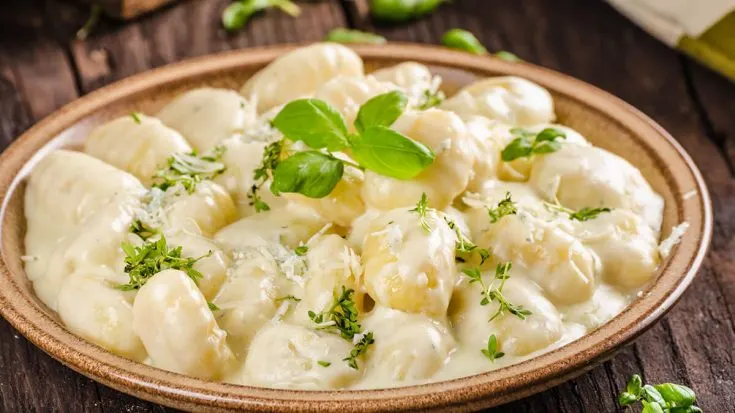 This one-pan Creamy Cheesy Garlic Gnocchi will be your favorite comfort food. It's quick and easy to make, and it tastes so good!
Ingredients
2 lbs gnocchi
3 tbsp olive oil, extra virgin
6 cloves of garlic, minced
¾ cup chicken broth
¾ cup whipping cream
5 tbsp parmesan cheese
½ tsp cayenne pepper
salt to taste
3 tbsp basil leaves or fresh parsley, chopped (for garnish)
Instructions
Turn on the stove to high heat, and add olive oil to pan. Add garlic and sauté for around 10 seconds.
Add gnocchi to pan and stir gently.
Add the other ingredients (from chicken broth all the way to salt). Keep stirring gently for around 3-4 minutes. The gnocchi should be cooked at this point and should be tender.
Garnish the gnocchi with some chopped basil or parsley and it's ready to be served. You can also top it with some grated parmesan if you want more cheese.
Notes
It's easy to modify the recipe and add any meat or seafood together with the gnocchi. It will cook together when the ingredients for the sauce are added. Chicken, mushrooms, and shrimp are good options.
You can just use store-bought gnocchi for convenience as they already taste good.
Nutrition Information:
Yield:
6
Serving Size:
1
Amount Per Serving:
Calories:

491
Total Fat:

21g
Saturated Fat:

9g
Trans Fat:

0g
Unsaturated Fat:

10g
Cholesterol:

82mg
Sodium:

323mg
Carbohydrates:

65g
Fiber:

4g
Sugar:

2g
Protein:

12g
Nutrition information is only an estimate and can vary depending on ingredients used.
Which of the creamy gnocchi recipes have you tried so far?
Let us know in the comments below!
For more awesome pasta recipes, check out the following:
Kielbasa Pasta
Chicken Tortellini
Bow Tie Pasta
Ground Turkey Pasta
Pastina
Pappardelle
Ditalini
Ground Pork Pasta
Share on your favorite social media platform and tag us @GloriousRecipes – we can't wait to see what you have made!