It's not difficult to whip up delicious food with tried and tested seasonings and that's exactly what you get with Meat Church!
With so many different types of seasonings and rubs available, you can easily create a sumptuous meal with Meat Church spice blends!
From tasty briskets to delicious burnt ends, we've got you covered with some of the best Meat Church recipes that you can try at home!
Enjoy delicious tri-tips that are reverse-seared to perfection and taste absolutely wonderful!
Seasoned with Meat Church's Holy Gospel and Garlic & Herb, the meat has a flavor that's a delightful mix of garlic, herbs, and a variety of spices.
The tri-tips are first smoked before getting a quick sear until they are nicely cooked, resulting in juicy and tender meat that's just irresistible.
Serve with chimichurri or pair them with the awesome Tiger sauce or Bitchin' sauce!
Try your hands at making this incredible sandwich that's extremely delicious and easily one of our favorite Meat Church recipes!
The brisket is first placed in brine to let it penetrate the meat so that it becomes super flavorful before it's seasoned with mustard, black pepper, coriander, and paprika for added depth to the flavor.
Once it's smoked and cooked, the sandwich is assembled with rye bread, sauerkraut, and a homemade Russian dressing made with mayonnaise, mustard, ketchup, Meat Church Holy Cow, and pickled jalapeños.
It's so tasty that you'll want a second serving right after your first bite!
Savor tender pulled pork with this fantastic Meat Church recipe that you definitely need to add to your meal rotation because it's just that delicious!
Seasoned with Meat Church Honey Hog Hot Rub, the pork is extremely tasty and flavorsome, filled with delightful flavors of honey and jalapeños that are really enjoyable.
The meat is smoked and spritzed with apple cider vinegar during the cooking process, ensuring it remains juicy and flavorful at the end.
Shred the meat and enjoy tasty pulled pork for a delectable meal!
Make your Taco Tuesday a little special with these amazing Birria Tacos that'll definitely tantalize your taste buds!
The meat is first seasoned with Meat Church Holy Cow before being braised in a flavorsome adobo sauce until the meat becomes tender.
Tortillas are dipped in the sauce and pan-fried with a filling of shredded meat and cheese, creating tasty tacos that you just can't wait to devour.
Serve the tacos with the sauce as a dip and combine them for maximum flavor!
This Brisket Chili is the perfect comfort food to warm you right up on a cold and chilly day!
There's no lack of flavor here with onions, garlic, brisket meat, adobo peppers, tomatoes, and loads of Meat Church Texas Chili seasoning that really make this chili shine.
It's an addictive level of spiciness that's super satisfying and everything comes together really well to create an amazing dish.
Pair with some cornbread or tortillas to enjoy a wholesome and hearty meal!
Treat yourself to a tasty bowl of smoked queso that's the perfect dip for all things tortilla!
It's very easy to make and all you need to do is add cooked sausage, Velveeta cheese, Gouda cheese, diced tomatoes, cream of jalapeños, and Meat Church Holy Voodoo seasoning to a Dutch oven and let them cook.
Top with some cilantro towards the end to add some refreshing flavors and you'll have an awesome cheese dip to enjoy!
Serve with tortilla chips for an amazing mid-day snack!
These baby back ribs are sure to satisfy any meat cravings that you have because they are absolutely delicious!
The meat is seasoned with Meat Church's Honey Bacon BBQ Rub and Fajita Seasoning, creating a well-balanced flavor that makes it super tasty.
Cooked in a smoker and brushed with a glaze of BBQ sauce, it's extremely flavorful and tender, rivaling ribs that you pay for at a restaurant!
Try it out yourself and you'll be pleasantly surprised at how delicious these ribs are!
Feast on an amazingly delicious smoked prime rib that's tender, juicy, and cooked to perfection.
Using Worcestershire sauce as a binder, the roast is well-seasoned with Meat Church's special blend of spices before it's cooked in the smoker and basted with the sauce to keep it moist and juicy.
Once it has finished cooking, there'll be a beautiful bark that surrounds the meat that'll definitely whet your appetite.
Slice and serve it with your favorite sauce for an awesome meal!
Shake things up and serve this amazing smoked turkey breast at the next holiday gathering instead of the whole bird!
It's way easier to cook and still has a great presentation to impress the crowd!
Placed in Meat Church Bird Bath Poultry Brine for 6 hours and seasoned with a blend of spices, the turkey meat is loaded with delightful flavors that make it super delicious.
Melted butter is used to baste the meat and they end up really juicy once fully cooked.
Try this for your next holiday meal and be prepared to be showered with compliments!
For a fantastic appetizer or side dish that everyone can enjoy, you've got to check out these absolutely delicious jalapeño poppers!
Filled with cream cheese and lump crab meat, the jalapeño peppers are wrapped with bacon before being smoked until they are done.
They taste heavenly and you'll be popping these babies into your mouth one after another.
Serve this alongside other main dishes to have a hearty and wholesome meal!
Grace your taste buds with these fantastic Pork Belly Burnt Ends that'll easily make it to your list of favorite Meat Church recipes!
Pork belly cubes are seasoned with Honey Hog seasoning and then placed in the smoker until they come out beautifully cooked.
They are then tossed in a mixture of BBQ sauce and Rib Candy sauce that's sweet and spicy at the same time, giving them an addictive kick with every bite.
It's amazingly delicious and you just can't stop eating them!
Fans of tasty chicken wings, rejoice!
With Meat Church Holy Gospel seasoning, it's super easy to make tasty wings that are finger-licking good!
All you need to do is season those wings and smoke them until they are perfectly cooked, then toss them in a bourbon BBQ mixture that's made with your favorite BBQ sauce, bourbon, and mustard sauce.
Cook them a bit longer to let the sauce set and they are ready to be served!
Spruce up your next meal with a beautiful grilled salmon that's extremely delicious and easy to cook!
Use your choice of Honey Hog or Deez Nuts Honey Pecan seasoning to coat the filet before smoking it until it's almost at your desired doneness.
Brush a simple glaze that's made by combining melted butter and maple syrup to add even more flavor to this tasty fish!
Serve with your favorite side dishes to complete a wholesome meal that everyone will definitely enjoy!
Expand your cooking repertoire and whip up a Latin beef stew with this fantastic Carne Guisada recipe!
Loads of wonderful ingredients combine to create an extremely flavorful and delightful stew that's absolutely delicious and perfect for pairing with rice or tortillas.
The seasonings and veggies all help to give tons of depth and complexity to the flavor, creating an exceptional dish that you definitely need to add to your meal rotation!
Add some fun to your next cooking session with this Beer Can Chicken that's great for making a juicy and flavorful whole chicken!
Seasoned liberally with Meat Church's The Gospel rub, the chicken is filled with loads of wonderful flavors with every bite, and the added herbs and beer help to make it even tastier.
You can also cook it with the CanCooker, making this dish a breeze to whip up!
Carve the chicken once it's fully cooked and enjoy a sumptuous meal with your favorite side dishes!
Yield: 15
15 Best Meat Church Recipes To Try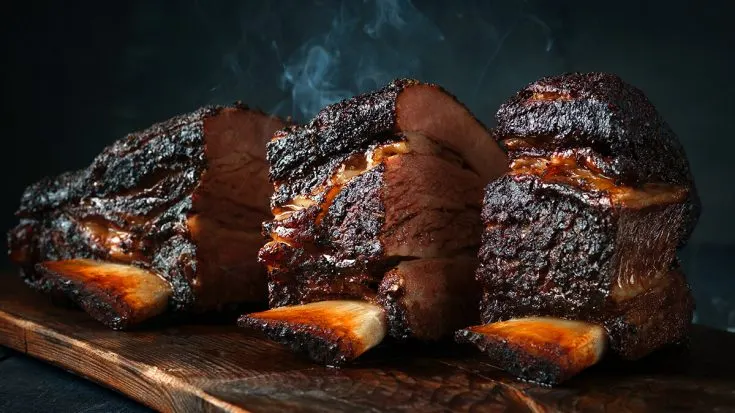 Try these Meat Church recipes and enjoy a delicious meal! From tasty briskets to delicious burnt ends, there's always something for every occasion!
Instructions
Choose your favorite Meat Church recipe.
Prepare all the required ingredients.
Whip up the tasty dish and enjoy an awesome meal!
Nutrition Information:
Yield:
15
Serving Size:
1
Amount Per Serving:
Calories:

478
Total Fat:

27g
Saturated Fat:

8g
Trans Fat:

0g
Unsaturated Fat:

11g
Cholesterol:

138mg
Sodium:

824mg
Carbohydrates:

14g
Fiber:

1g
Sugar:

6g
Protein:

41g
Nutrition information is only an estimate and can vary depending on ingredients used.
Which of the Meat Church recipes have you tried so far?
Let us know in the comments below!
For more lunch and dinner recipes, check out the following:
German Sausage
Ooni
Chicken Tenderloin
Minute Steak
Beef Shanks
Blackstone Chicken
Chicken and Shrimp
Cobia
Sauerkraut with Meat
Share on your favorite social media platform and tag us @GloriousRecipes – we can't wait to see what you have made!