A Pit Boss smoker is extremely capable of handling all your smoking needs to whip up incredibly juicy, tender, and delicious meat!
It's a cooking powerhouse designed to cook your meat to perfection and impart amazing smoky flavors to everything on the grill.
Whether you're having a small family gathering or hosting a large party, you just can't go wrong with a Pit Boss smoker.
From smoked steaks to scallops, we've got you covered with some of the best Pit Boss smoker recipes that you can easily try at home!
It's easy to get perfectly smoked ribs every time and this handy Pit Boss smoker recipe is a must-add to your list of smoking recipes!
The ribs are first rubbed with a dry smoking seasoning before being smoked for 3 hours, then sprayed with apple cider vinegar and wrapped in aluminum foil to cook for another 2 hours, and lastly smothered with BBQ sauce for a final hour of smoking.
The aptly-named recipe makes it easy to remember the steps that you need to do and you'll be able to impress with these ribs because they are super tender and delicious!
Everyone will be fighting for seconds because these ribs are finger-licking good!
Enjoy tasty burnt ends made with pork shoulder in this fantastic recipe that cooks up extremely flavorful sweet and savory meat!
Cubed and seasoned with a spice rub, there are plenty of awesome flavors that are sure to whet your appetite even before cooking.
The burnt ends are then smoked for a few hours before they are pulled out from the smoker to add BBQ sauce, imparting even more lovely flavors to the meat.
Once the sauce is set, you'll have incredible pork shoulder burnt ends to enjoy!
Homemade jerky is the best thing ever because you get to control the seasoning and make it a healthier snack that you can eat guilt-free!
This Pit Boss recipe makes just that with a delectable marinade mixture of soy sauce, garlic powder, Worcestershire sauce, brown sugar, coke, and black pepper.
Once marinated until all the flavors infuse into the meat, the jerky is cooked until the desired doneness and it's ready to be served!
It's incredibly easy to make and tastes really fantastic as well!
This is one of our favorite Pit Boss smoker recipes because it makes such tender and delicious meat that's sure to tantalize your taste buds!
There's no lack of flavor here with a dry rub seasoning mix of cayenne, paprika, garlic powder, onion powder, brown sugar, salt, and pepper.
Once cooked to perfection, the aroma will make you salivate even before you taste it.
The tender meat is pulled apart with forks and can be served any way you like!
Combine with some buns and BBQ sauce to enjoy a simple but tasty pulled pork burger!
Savor tasty pork chops with this fantastic Pit Boss pellet grill recipe that you definitely don't want to miss out on!
Seasoned with a sweet and spicy dry rub, and glazed with a mixture of bourbon, ketchup, garlic, honey, Worcestershire sauce, and molasses, the meat is filled with incredible flavors that make this an absolute treat.
The pork chops are tender, juicy, and filled with lovely smoky flavors that are sure to please your taste buds.
Give it a try for your next smoking session and you might just have a new favorite dish after that!
Impress your friends and family with this amazing bacon-wrapped pork tenderloin that's superbly delicious and really easy to make!
The meat is seasoned with a BBQ rub that imparts plenty of delightful flavors but it's such a simple recipe that you can easily substitute it with your favorite dry rub to give it your own twist!
Once wrapped in bacon, the meat is brushed with BBQ sauce before smoking until it reaches an internal temperature of 145°F (63°C).
Serve with even more sauce for maximum enjoyment of this fantastic meat!
Chicken breasts don't have to be tough and dry if you know how to cook them right!
In this terrific recipe, the meat is given a dry brine with a simple combination of salt and pepper, then left overnight to ensure they are moist and full of flavor.
The chicken breasts are then seasoned with BBQ rub and smoked until they are fully cooked with the interior remaining juicy and tender.
Serve with your favorite BBQ sauce to enjoy an awesome meal or try out the amazing Tiger sauce or Bitchin' sauce for something different!
Everyone loves a good chicken wing and that's exactly what this recipe is all about!
It's also ridiculously easy to make and all you need are chicken wings, olive oil, and your favorite blend of seasonings!
Brushed with olive oil and seasoned with your favorite spices, the wings are ready to be cooked until they reach an internal temperature of 165ºF (75ºC).
When they are done, they can be removed from the grill and left to rest before serving so that all the juices remain inside to keep the meat moist.
Serve with your favorite dipping sauce or go with a classic BBQ sauce and enjoy these perfectly cooked chicken wings!
Amplify your next meal with an awesome smoked brisket that's amazingly delicious and is sure to bring in compliments!
Seasoned on the outside with mustard and a dry rub, plus an injection of beef broth into the brisket, you are guaranteed plenty of incredible flavors once the meat is fully cooked.
It's then left to smoke until done and allowed to rest to give time for the juices to redistribute, ensuring juicy, tender, and extremely flavorsome meat.
This is one of our favorite Pit Boss smoker recipes as well because the brisket tastes out of this world!
Take pre-cooked ham to the next level with this simple recipe that you'll definitely want to give a try!
Scored in a criss-cross pattern, the ham is then seasoned with Meat Church BBQ rub and brushed with a ginger-peach glaze that provides depth and complexity to the flavor of the meat.
It's super easy to make and you'll never want to eat regular ham again after getting your first bite at this superbly tasty smoked ham.
Smoke some ham for your next meal and you'll not regret it!
Indulge in an exceptional smoked turkey that's super delicious and takes under 3 hours to whip up with your smoker!
The highlight of this dish is the maple BBQ rub that's made with a delightful combination of maple syrup, paprika, garlic powder, thyme, onion flakes, and other lovely spices.
It's used to coat every part of the turkey and the meat is cooked while being basted with maple syrup to ensure it doesn't dry out.
It's a great way of cooking turkey and the wonderful flavors make this an absolute treat for an awesome meal!
These smoked onions are flavor bombs that everyone will be fighting over because they are incredibly tasty!
You won't believe how easy it is to make these, and the best thing is that you really only require 4 ingredients.
The preparation work is super simple and it's just a matter of slicing the onions, brushing them with olive oil, and seasoning them with a basic salt and pepper combo.
Once fully smoked, the onions can be used in burgers, tacos, and many other different dishes!
Expand your cooking repertoire with these fantastic smoked scallops that taste terrific and are just irresistible!
Perfectly smoked scallops are paired with a lemon butter sauce made with lemon juice, garlic, butter, olive oil, and parsley, and the result is extremely flavorful seafood that's bound to satisfy any appetite.
The sauce goes really well with the scallops and it's an absolutely delightful dish with refreshing flavors and it's so easy to whip up.
Cook these scallops for your next meal to enjoy an awesome seafood meal!
If scallops are not enough to satisfy your seafood craving, add these amazing smoked shrimp as well and enjoy a sumptuous feast!
Rubbed with a mixture of Italian seasoning, garlic powder, olive oil, salt, and pepper, these shrimp are loaded with incredible flavors that make them extremely tasty.
They are smoked for around 30 minutes until they turn pink so you won't have to wait too long to enjoy these delicious crustaceans!
Add a side of carbs and veggies as well to turn it into a wholesome meal!
Dig into this splendid pork butt that's extremely tender and moist on the inside, and an absolutely delightful dish that everyone can enjoy!
The meat is rubbed with a blend of seasonings and left to sit in dark beer to keep it moist while the meat absorbs the flavors.
It's then cooked in the pellet grill or smoker to get some color and a nice outer crust before being covered with a flavorsome BBQ sauce and cooked until done.
You'll love the exceptional taste of this pork butt and it provides a super delicious protein for any meal!
Give the classic burnt ends a twist with this fantastic recipe that uses salmon instead for an awesome seafood meal!
The salmon cubes are given a dry brine with a blend of spices that include honey, brown sugar, salt, and other delightful spices to impart plenty of lovely flavors to the meat.
They are then smoked to perfection with incredibly flavorful meat, making them a must-try for all seafood lovers.
It's straightforward to make and definitely one of our favorite Pit Boss smoker recipes when we crave some tasty fish!
Feast on these incredibly delicious Smoked BBQ Beef Ribs that are super tender, juicy, and full of lovely flavors that make them a mouthwatering delight!
Seasoned with steak rub, the ribs are marinated and cooked while being spritzed with a mixture of soy sauce, apple cider vinegar, and Tabasco sauce to keep the meat moist and flavorful while preventing them from drying out.
The succulent meat is just irresistible and you'll love how tasty these beef ribs are once you've had your first bite!
Mix things up a little and try out this Smoked Meatloaf that's amazingly delicious and a great way to refresh the classic dish!
It's a lovely combination of ground meat, bacon, panko breadcrumbs, cheddar cheese, and other delightful ingredients to create an extremely tasty meatloaf that's perfect for a superb meal.
Placed in the smoker and cooked for 90 minutes, this smoked meatloaf will be the highlight of any party or family gathering because it's just so delectable.
It's a must-try Pit Boss smoker recipe in our books with its fantastic flavors!
Nothing compares to a bowl of mac and cheese for delicious comfort food and it's given an upgrade by smoking them to bring another level of complexity to the flavor!
With a mix of gruyere cheese, gouda cheese, and sharp cheddar cheese, it's guaranteed to be a cheesy delight and you just can't go wrong with this dish.
The smoky flavor provides another element to the classic dish and it's definitely going to make it to the top of your list of favorite pasta.
Give it a try soon and enjoy this tasty comfort food!
Enjoy a fantastic pizza with your Pit Boss smoker and it's so easy to keep things refreshing by varying the toppings every time!
Stretch your pizza dough, brush a layer of BBQ sauce, then add mozzarella cheese and other toppings that can include both meat and vegetables before smoking the pizza until done.
With a lovely crust and melted cheesy goodness, you'll be devouring tasty pizzas all day long with this simple Pit Boss smoker recipe!
Skip the pizza deliveries and start making your own at home!
These Smoked Burgers are incredibly tender, juicy, and moist, making them a great addition to your smoking repertoire!
It's ridiculously easy to make them as well and the patties require only ground beef, egg, salt, and pepper to form before they are smoked until cooked.
Once the patties are done, it's the buns' turn and they are toasted until crisp before the hamburgers are assembled.
Add your favorite toppings and enjoy an awesome meal!
Did you know that you can smoke cream cheese as well?
Seasoned with a delightful mix of brown sugar, mustard powder, garlic powder, paprika, onion powder, chili powder, salt, and pepper, the cream cheese is extremely flavorsome and just irresistible.
Paired with diced jalapeños soaked in beer, this is a heavenly appetizer that's loaded with great flavors and is superbly tasty.
It's one of those Pit Boss smoker recipes that you definitely need to try to know how good it is!
If you're looking for an amazing appetizer to impress your guests, you've got to check out these excellent Smoked Shotgun Shells that are super delicious!
It's a lovely mixture of ground beef and cheese, seasoned till flavorful, stuffed into manicotti noodles, wrapped in bacon, and smoked to perfection.
A sweet and spicy glaze made with brown sugar, maple syrup, and sriracha sauce is used to brush the shotgun shells to make them even tastier.
It's an exceptional dish that's sure to whet your appetite!
Shake things up for your next meal and serve up these Smoked Steak Kabobs for a sumptuous dinner that's easy to make!
Marinated cubed sirloin steak is combined with onion, olives, cherry tomatoes, mushrooms, and peppers on skewers and left to smoke until everything is nicely cooked.
The cooking process is quick enough for an awesome weeknight dinner and the meat is definitely loaded with incredible smoky flavors that will bring a smile to your face.
It's one of the easiest Pit Boss smoker recipes and you should definitely add it to your dinner rotation!
Grace your taste buds with a terrific smoked tri-tip that's full of wonderful flavors and oh-so-yummy!
To savor the natural flavors of this delicious cut of meat, a basic combination of salt and pepper is sufficient to season the beef.
Smoked until rare, the meat is then wrapped in foil and allowed to rest.
This will continue to cook the meat while letting the juices redistribute to ensure tender, juicy, and moist meat.
Serve with your favorite sauces and sides for a hearty meal that you'll definitely enjoy!
At Glorious Recipes, we have our favorite Pit Boss Smoked Chicken Breasts recipe that we absolutely adore and they taste heavenly! Check out the recipe below!
Yield: 4
Pit Boss Smoked Chicken Breasts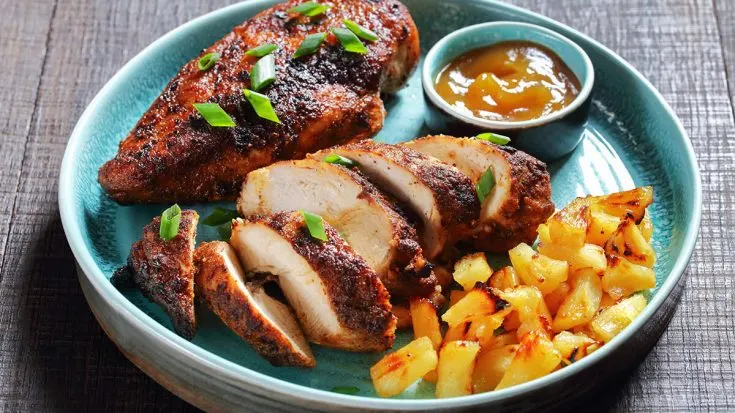 Savor tender and juicy smoked chicken breasts cooked to perfection with this simple recipe!
Total Time
9 hours
30 minutes
Ingredients
4 chicken breasts
2 tbsp salt
½ tbsp black pepper
1 tbsp homemade BBQ rub (can be substituted with your favorite BBQ rub)
⅛ cup Blues Hog Original BBQ Sauce (can be substituted with your favorite BBQ sauce)
⅛ cup Blues Hog Tennessee Red BBQ Sauce (can be substituted with your favorite BBQ sauce)
Homemade BBQ Rub
1 tbsp dark brown sugar
1 tbsp paprika
½ tbsp salt
½ tbsp garlic powder
¼ tbsp black pepper
¼ tbsp chili powder
½ tsp onion powder
Instructions
Set up a wire rack over a baking sheet and place chicken on rack. Sprinkle salt and pepper evenly over the chicken breasts, both top and bottom. Let it sit in the refrigerator overnight or for at least 4 hours.
Mix together the ingredients for the homemade BBQ rub if using, or prepare your favorite BBQ rub. Wipe off any excess salt from the chicken, then season generously with BBQ rub.
Add your pellets to the hopper and start the Pit Boss smoker with the "Smoke" setting. Let it fire up until we get a blueish smoke so that we know the pellets are burning cleanly. Set the temperature to 350°F for preheating. Once it reaches 350°F, drop it to 300°F and clean the grill grates, then close the lid.
Mix the 2 BBQ sauces together and set aside. We will use this to baste the chicken later.
Add the chicken breasts to the smoker. Cook until the meat reaches an internal temperature of 155ºF, while rotating occasionally. It will take around 45 minutes. Baste the chicken with the mixed BBQ sauce and close the lid to let it cook further until the meat's internal temperature of 165ºF is reached.
Remove chicken breasts to serving plates and let them rest for 5 minutes before cutting. Serve with your favorite dipping sauce and sides. Enjoy!
Nutrition Information:
Yield:
2
Serving Size:
1
Amount Per Serving:
Calories:

945
Total Fat:

11g
Saturated Fat:

3g
Trans Fat:

0g
Unsaturated Fat:

6g
Cholesterol:

207mg
Sodium:

11886mg
Carbohydrates:

128g
Fiber:

5g
Sugar:

101g
Protein:

79g
Nutrition information is only an estimate and can vary depending on ingredients used.
Which of the Pit Boss smoker recipes have you tried so far?
Let us know in the comments below!
For more awesome recipes that you might like, check out the following:
Lamb Breast
Ooni
Neck Bones
Turkey Chop
Dove
Pheasant
Goose Breast
recteq
CanCooker
Meat Church
Share on your favorite social media platform and tag us @GloriousRecipes – we can't wait to see what you have made!