Recteq is all about the ultimate outdoor cooking experience with their range of pellet grills that can do anything from smoking to searing!
Imagine perfectly smoked ribs with a mouthwatering bark, succulent briskets that practically melt in your mouth, and beautifully seared steaks with that irresistible grill mark.
That's what you get with recteq grills and it's easy to whip up restaurant-quality dishes with little effort!
Whether you're a seasoned pitmaster or a backyard enthusiast, these recteq pellet grills are incredibly user-friendly and deliver great results with ease.
From juicy burgers to tasty ribs, we've got you covered with some of the best recteq recipes that you can easily try at home!
Feast on delicious prime ribs that have been smoked to perfection with this fantastic recipe that you definitely don't want to miss out on!
It's unbelievably easy to prepare and all it entails is a seasoning of the meat with beef base, fresh herbs, and a meat rub that includes ancho chili powder, garlic powder, smoked paprika, granulated onions, and other lovely ingredients.
Smoked until medium-rare, these prime ribs are moist, juicy, and extremely flavorful, making them a scrumptious treat for the ultimate indulgence!
There's nothing not to like about this quick and easy recteq recipe!
Everyone loves a good pulled pork dish and this recipe is one that you'll want to keep handy because it makes exactly that!
Featuring pork shoulder seasoned with mustard, molasses, and a meat rub, then cooked until extremely tender with meat that falls apart easily, this is a mouthwatering dish that's sure to satisfy any appetite.
It's made extra tasty by brushing with a mixture of apple juice, apple cider vinegar, Worcestershire sauce, and soy sauce while cooking, ensuring plenty of amazing flavors you're sure to love.
Paired with a homemade BBQ sauce, this recteq pulled pork is an easy crowd-pleaser that you definitely need to try for your next grilling session!
In what is one of our favorite recteq recipes, these Kung Pow Brussels Sprouts are amazingly delicious and super easy to make!
There's no lack of flavor as the vegetables are seasoned with an Asian rub and glazed with a mixture of hoisin sauce, soy sauce, sriracha sauce, brown sugar, rice wine vinegar, and minced ginger to make them superbly tasty.
Every bite of these Brussels sprouts is bursting with incredible flavors and they make for an excellent side dish to complement your favorite proteins!
It's a taste sensation that's hard to beat!
Grace your taste buds with this terrific Smoked Chipotle Tri-Tip that's exceptionally delectable and an absolute must-try in our books!
Marinated in a mixture of onion powder, garlic powder, chipotle powder, black pepper, and olive oil, the tri-tip is infused with tons of amazing flavors that make it such a delightful treat.
The meat is smoked and seared until it develops a wonderful texture and flavor that'll make you want to gobble everything up!
Serve it alongside your favorite veggies and carbs to turn it into a complete meal!
Nothing compares to hearty meatballs when it comes to tasty comfort food and these BBQ Smoked Meatballs are perfect whenever the cravings hit!
These meatballs are made with a delectable combination of Italian pork sausage, ground beef, breadcrumbs, onions, garlic, half-and-half, eggs, and other spices, guaranteeing remarkable flavors that everyone is sure to love.
They are coated with a mixture of grape jelly and chili sauce to add an extra dimension to the flavor that makes them absolutely irresistible!
Give them a try and you'll definitely not be disappointed with their impeccable taste!
Keep it simple with this Bacon-Wrapped Pork Tenderloin that's incredibly easy to whip up and requires only 3 ingredients to get going!
This dish involves seasoning pork tenderloin with a honey rib rub before wrapping it with bacon slices and then roasting it until nicely cooked.
It's one of the easiest recteq recipes so even beginner home cooks should have no trouble making this moist, tender, and flavorful pork tenderloin!
Easy and delicious, just how we like our recipes to be!
Amplify your next meal with these brilliant recteq burgers that are crazy delicious and sure to whet your appetite!
The patties are made by combining ground beef, eggs, steak sauce, onions, and other seasonings before cheddar cheese is added and then grilled until perfectly cooked.
Assemble with burger buns and your favorite toppings to customize the burgers to your own liking and enjoy an easy but tasty meal any time of the day!
Taking 30 minutes to make from start to end, these burgers are great for an awesome weeknight dinner!
This recteq salmon is filled with splendid Asian flavors that are superbly enjoyable and bound to delight your senses!
Marinated in a tantalizing combination of honey, orange juice, soy sauce, garlic, Asian rub, and red pepper flakes, this salmon is extremely delectable and flavorsome.
The beautiful grill marks make it really appetizing and you'll be salivating at the sight and smell of this wonderful fish!
With how delicious this salmon is, it's no wonder why this is one of our favorite recteq recipes!
If you are looking for an exceptional side dish to pair with your succulent meat, you've got to check out this marvelous Grilled Potato Salad!
Crispy bacon and grilled potato slices come together in this dish with BBQ sauce and a variety of seasonings adding tons of incredible flavors!
Topped with green onions and cheese, this potato salad is a mouthwatering delight that definitely has a place in any meal.
You'll love how amazing it tastes for something so easy to make!
Jazz up your burgers with this fantastic recipe that adds a Korean flair to make them supremely flavorful and delectable!
The burger patties are made with a lovely combination of ground pork, kimchi, shiitake mushrooms, hoisin sauce, spicy Korean BBQ sauce, panko breadcrumbs, and other ingredients.
All the ingredients impart their distinctive taste and texture to create something truly special, and when you combine the patties with toasted buns, kimchi, and lettuce, you have sensational burgers that you just can't get enough of!
We have no doubts that this will quickly become one of your favorite recteq recipes!
Spruce up your meal with this outstanding Jerk Pork Tenderloin that's gloriously tasty and a great addition to your meal rotation!
Jerk marinade is used to infuse tons of incredible flavors into the pork tenderloin and meat seasoning is added for increased depth to make it extremely delicious.
Grilled pineapple rings, black beans, red onions, jalapeños, cilantro, and lime juice are combined to create a relish that helps to elevate the dish to another level!
The perfect blend of heavenly flavors in this dish is sure to be a hit with the family!
Try your hands at making these Smoked Scalloped Potatoes that are perfect for an exceptional side dish to pair with your proteins!
Sliced potatoes, smoked white cheddar, and heavy cream are combined in this splendid dish and baked until the potatoes are tender with melted cheesy goodness on top.
A variety of spices and dried herbs are used to make the potatoes extremely flavorsome and create a palatable delight that everyone will surely enjoy!
Make this for your next gathering and be prepared to be showered with plenty of compliments because it's just that good!
This is one of our favorite recteq recipes because it makes such juicy and delicious beef brisket with so little effort required!
Injected with beef broth and rubbed with a mixture of chipotle powder, onion powder, garlic powder, chili powder, mustard powder, sugar, salt, and pepper, the brisket is then smoked until beautifully black and flavorsome.
The brisket is incredibly appetizing and makes you salivate at the sight of it, and you'll want to devour it straight away!
Every bite brings about a wave of fantastic flavors that'll make you want more!
Get ready for Taco Tuesday with these Street Tacos that taste out of this world and are super easy to whip up!
Warm tortillas are topped with perfectly seared skirt steak, cotija cheese, shredded cabbage, and smoked salsa to create mouthwatering tacos that are just irresistible.
These tacos are loaded with great flavors and are exceptionally satisfying, making them perfect for a hearty and comforting meal!
If you want to freshen up your taco options, make sure to give this rectec recipe a try!
Reward yourself with this Ultimate Bark Pork Butt that's astonishingly tasty and an impressive treat that'll definitely make you fall in love with its amazing flavor!
Coated with mustard and honey rib rub, the pork butt is first smoked until dark and flavorsome before being mixed with BBQ sauce, brown sugar, apple juice, and honey to enhance the flavor further.
It's completed by cooking until the meat becomes super tender to create a remarkable dish that's just pure food heaven!
Give it a try and you'll definitely not regret it!
Sign us up for this extraordinary Ultimate Beef n' Cheddar that tastes stupendous and is sure to captivate your taste buds!
Smoked eye of round roast is topped with beer cheese in this simple yet flavorful burger that's sure to get everyone fighting for seconds.
Preparation is minimal for this burger but it comes with maximum flavor that's sure to put a smile on your face!
It might just become one of your go-to recteq recipes when you want something delicious and easy to make!
If you love spicy food with rich and bold flavors, you'll love these New Mexico Red Chili Ribs that taste absolutely divine!
With a rub consisting of red chili powder, onion powder, garlic powder, black pepper, and salt, along with a tantalizing honey chili sauce, you know you're guaranteed plenty of incredible flavors with these ribs.
The honey chili sauce is a delectable combination of bourbon whiskey, red chili powder, honey, black pepper, and salt, giving a well-balanced sweet, savory, and spicy flavor to the meat.
You get an addictive kick with every bite and you'll find it difficult to stop yourself from indulging in these delicious ribs!
For an amazing appetizer that you can serve at your next party, check out these terrific BBQ Chicken Sliders that are quick and easy to whip up!
These sliders are a delightful combination of shredded chicken coated with BBQ sauce, red onions, melted cheese, and toasted rolls, and they are extremely delicious!
They are straightforward to make and great for a perfect start to an amazing gathering.
Be prepared to make a big batch because everyone will be popping these sliders into their mouths like no tomorrow!
This is one of those recteq recipes that might split opinions because it involves pineapples on a pizza and we know how that debate goes!
No matter your opinion on the matter, this pizza is superbly tasty and quick to whip up so make sure to keep this recipe handy!
It involves spreading pizza sauce on naan and then topping it with mozzarella cheese, bacon, and pineapples before cooking until done.
This pizza is quick and fuss-free to make, great for putting delicious food on the table when you're pinched for time!
Enjoy an amazing treat with this Smoked Club Sandwich that combines some of our favorite ingredients in one dish!
Smoked turkey breast, ham, mayonnaise, Swiss cheese, and sesame buns come together to create an excellent sandwich loaded with incredible flavors.
A variety of seasonings helps to add complexity to make the sandwich supremely delectable and absolutely irresistible!
You definitely don't want to miss out on this awesome recteq recipe!
At Glorious Recipes, we have our favorite Smoked Chicken Wings that we absolutely adore and they taste heavenly! Check out the recipe below!
Yield: 6
Smoked Chicken Wings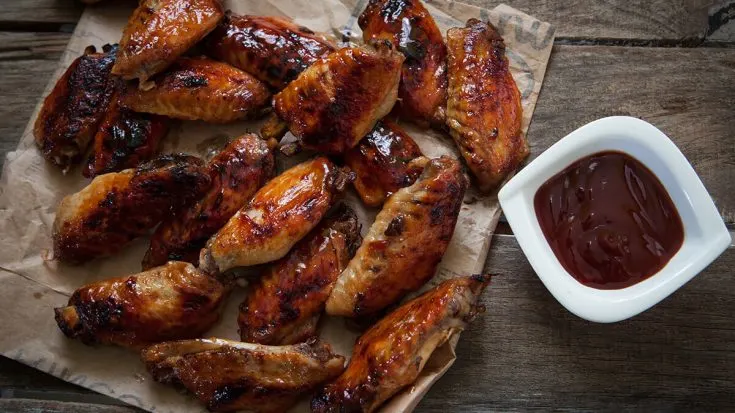 These recteq Smoked Chicken Wings are an easy crowd-pleaser that's perfect for any gathering!
Total Time
2 hours
10 minutes
Ingredients
6 lbs chicken wings
2 tbsp olive oil
2 tbsp chili powder
2 tbsp smoked paprika
3 tsp black pepper
2 tsp salt
1 tsp cumin powder
1 tsp cayenne pepper powder
1 tsp garlic powder
1 tsp onion powder
Instructions
Combine all the spices to make the rub (chili powder, smoked paprika, black pepper, salt, cumin, cayenne, garlic powder, and onion powder).
Pat chicken wings dry, then add them to a large ziplock bag. Add olive oil and move the bag to coat the wings. Add the rub in batches while moving the bag to coat the wings until everything is well-coated. Refrigerate for at least an hour to let the flavors meld.
Preheat recteq to 225°F.
Cook the wings for around 2 hours or until the chicken wings have an internal temperature of 165°F. Remove the wings from heat and let them rest for 10 minutes.
Serve and enjoy!
Nutrition Information:
Yield:
6
Serving Size:
1
Amount Per Serving:
Calories:

1548
Total Fat:

116g
Saturated Fat:

40g
Trans Fat:

1g
Unsaturated Fat:

66g
Cholesterol:

372mg
Sodium:

2637mg
Carbohydrates:

49g
Fiber:

4g
Sugar:

2g
Protein:

78g
Nutrition information is only an estimate and can vary depending on ingredients used.
Which of the recteq recipes have you tried so far?
Let us know in the comments below!
Check out Blackstone Chicken, CanCooker, and Pit Boss Smoker for more outdoor cooking recipes and Meat Church for tasty seasoned dishes!
For more awesome recipes that you might like, check out the following:
Steak Tip
Turkey Tenderloin
German Sausage
Venison Burger
Veal Chop
Smoked Duck
Share on your favorite social media platform and tag us @GloriousRecipes – we can't wait to see what you have made!