Cooking with a Blackstone griddle is easy with ample flat surface to utilize and minimal cleanup required.
It's versatile and you can cook up some restaurant-quality food that tastes awesome with plenty of flavors.
And if you crave some chicken, we've got you covered with our Blackstone chicken recipes!
From fajitas to sandwiches, you'll never run out of recipes to try because the possibilities are endless!
Enjoy some tasty chicken teriyaki with this simple Blackstone chicken recipe that's perfect for a delicious meal!
The chicken meat is marinated in a sauce consisting of pineapple juice, soy sauce, and white vinegar, rendering the chicken extremely flavorful, before being cooked on the griddle.
Teriyaki sauce is then made and drizzled over the cooked chicken, giving it even more flavor and making it even tastier.
Pineapple juice and brown sugar give the sauce its sweetness while soy sauce, ginger, and garlic give it an aromatic and savory taste.
Serve it with fragrant steamed rice and a side of veggies to make it a super wholesome meal!
Sweet caramelized onions, tender chicken thighs, and a tasty homemade sauce all combined in a crusty French loaf.
Who can resist such a tempting combination?
Add baby arugula for some greens to balance out the taste and along with melted gruyère and mozzarella cheese, this French onion chicken sandwich is just too tasty and addictive!
The garlic balsamic mustard sauce really complements the chicken and is a great addition to the sandwich.
Try this Blackstone chicken recipe once and you'll be hooked on it!
Make a classic favorite with this simple Chicken Philly Cheesesteak recipe and it's also an awesome way to showcase the versatility of the Blackstone griddle!
Onions and peppers are first sautéed on the griddle till fragrant and the hoagie rolls are also placed on the griddle to give them a toast.
Thinly sliced chicken is seasoned and seared on the grill before adding the cooked onions, peppers, and Provolone cheese.
Once the cheese has melted, they are scooped into the hoagie rolls to assemble the sandwiches.
Easy to make and delicious, you'll likely make this Blackstone Chicken Philly Cheesesteak more than once!
Indulge in this refreshing and zesty Cilantro Lime Chicken that's super delicious and bound to be a crowd-pleaser!
To get all that flavor locked in, the chicken meat is marinated in a delightful marinade made up of olive oil, cilantro, cumin, lime juice and zest, chili powder, salt, and pepper.
It's spicy, tangy, savory, and oh-so-yummy all at the same time!
Fire up the Blackstone griddle, cook the chicken on each side, and it's ready to be served!
Add some Mexican flair to your next meal with this amazing chicken fajita quesadillas recipe, which is one of our favorite Blackstone chicken recipes!
The chicken is seasoned with some nice fajitas seasoning and cooked together with minced garlic, ensuring it's filled with flavor.
Tortillas are placed on the griddle and topped with cheese, cooked chicken, onions, poblano peppers, and bell peppers before they're folded.
Serve with some salsa or sour cream for maximum flavor and enjoy this delicious chicken fajita quesadillas!
Tender and succulent chicken breast with a seared exterior makes for a mouth-watering meal.
When you pair that with a herbed soy-mustard mayonnaise marinade, the chicken just tastes amazing!
It's the perfect blend of spicy complex tang with a hint of thyme that makes it really delightful.
Make sure to let it rest after taking off the Blackstone griddle so that you don't lose moisture when you cut into the chicken breast.
To make it a complete meal, pair it with some carbs and veggies!
It's always good to have a list of taco recipes to get ready for Taco Tuesdays and these fantastic chicken tacos will definitely make it to the top of the list!
Chicken cutlets combine with black bean mango salsa to create an awesome pairing that tastes so delicious.
The sweetness of mango balances out the heat from jalapeño, and cilantro and lime juice help to make everything taste refreshing.
Assemble the tacos with some chicken, cabbage, mango salsa, and homemade Caribbean cream sauce.
This is one of our favorite Blackstone chicken recipes and they are so delicious that you'll definitely ask for a second serving!
The Blackstone griddle is great for cooking almost anything and you can even make delicious chicken fried rice with this simple Blackstone chicken recipe!
You can give the Chinese takeout a miss because your homecooked fried rice will be tastier, plus you get to control the ingredients for it!
It's simple to make tasty chicken fried rice and all you need to do is cook the chicken, vegetables, egg, and rice separately while pushing them to a cooler part of the Blackstone when done.
Mix everything at the end and serve while it's still warm!
If you're looking to whip up some sides or finger food with a Blackstone griddle, you'll need to check out this fantastic Blackstone chicken wings recipe!
It's simple to make and they taste super delicious!
Some duck fat spray, baking powder, and seasoning rub will work wonders to create one of the best-tasting chicken wings.
Once they're cooked on the griddle, serve them up with some Tiger sauce, Bitchin' sauce, or any of your favorite sauces!
The key to making great hibachi food at home is a hot griddle and with a Blackstone griddle, you've got everything you need!
Using medium-high heat, the chicken is cooked in sesame oil and vegetable oil with a simple combination of soy sauce, butter, salt, and pepper, which gives it a great flavor.
Vegetables are cooked in a similar vein and you can easily add any of your favorite veggies to the mix.
Enjoy this delicious hibachi meal on its own or pair it with some fragrant Jasmine rice if you want some carbs!
Recreate the flavors of Chinese lo mein with this surprisingly simple Blackstone chicken recipe that tastes great and is perfect for making a big batch to feed a big group!
To give some flavor to the chicken, it's marinated in soy sauce, oyster sauce, garlic and ginger paste, and other ingredients.
It's a straightforward recipe because this marinade will be used as the sauce for the noodle as well.
Cook the chicken and veggies on the griddle, then add cooked noodles and sauce to the mix.
Combine well and serve while it's still hot for an awesome meal!
Few things can match the taste of well-cooked fajitas and this Blackstone chicken fajitas recipe definitely makes the grade.
No overnight marination is needed as the chicken only needs to be marinated for 2 hours in a mixture of oil, lime juice, and spices.
Onions and bell peppers are cooked till a slight charred is achieved and this makes them really delicious with a smoky taste.
The chicken is cooked at the same time on the other side of the griddle, making use of the big flat surface area.
Warm up some tortillas on the griddle and serve together with the chicken and veggies for a hearty meal!
For more Mexican cuisine that you can make, check out this wonderful Blackstone chicken enchiladas recipe!
Corn tortillas are dipped in enchiladas sauce before being cooked on the griddle top.
Chicken meat is placed in the center of the tortillas and topped with cheese, then the griddle top is covered to allow the tortillas to bake and also to melt the cheese.
Top with some taco seasoning, lettuce, and cilantro to enjoy a super flavorful meal!
When you're craving some comfort food, try out this Blackstone Chicken Quesadillas recipe that's guaranteed to deliver an amazing meal!
It's easy to make and tastes so delicious!
All you need is some taco seasoning and salsa to season the chicken breasts and sauté them on the griddle.
Warm up tortillas on the griddle and top with cheese, chicken, and more cheese before folding them and cooking them till browned.
Garnish with some parsley and enjoy these amazing bites!
Savor some delectable chicken teriyaki subs that are easy to make and taste out of this world!
Chicken thigh is marinated in a garlic teriyaki mix so that it's packed full of flavor and then cooked on the Blackstone griddle along with some vegetables.
Pop some provolone cheese on top to let it melt and serve them in subs once done.
It's that simple and it's that delicious!
Swap out the subs for some lettuce wraps in this Blackstone Mongolian chicken recipe for some exotic flair!
The star of this dish is a homemade garlic-ginger soy sauce that adds so much flavor to the chicken and really compliments the mild taste of lettuce.
Everything perfectly balances out from the sweet and savory sauce to the crunch of the lettuce wraps.
It's so addictive that you just can't stop at one!
Level up your cooking and plating skills with this incredible Blackstone chicken recipe in pineapple boats!
Don't be daunted by this because it's really simple to create this dazzling visual presentation that'll impress any crowd.
All you need to do is slice a pineapple in half and dig out the center to create pineapple boats.
The carved-out pineapple is cubed and cooked on the griddle along with chicken and other veggies.
Drizzle some sweet and tangy sauce while cooking to add amazing flavor to the dish.
Once done, scoop them up and serve them in the pineapple boats!
These chicken skewers are great to serve as a side dish or for snacking and it's a breeze to make them with a Blackstone griddle!
A honey-garlic soy sauce marinade imparts so much flavor to the chicken bites and they taste really great when paired with onions and bell peppers.
Thread a skewer through the chicken and vegetables before cooking them on the griddle while turning them to ensure they are cooked evenly.
Finish off with a garnish of cilantro and sesame seeds before serving!
Enjoy a beautiful and delicious meal with this chicken with mushroom gravy recipe that tastes as good as it looks!
Chicken breasts are seasoned with garlic and onion powder to add depth to the flavor, in addition to the usual salt and pepper, before being cooked and browned on the griddle.
Mushroom gravy is made in a saucepan laid on the griddle with butter, sautéed mushrooms, flour, chicken broth, and herbs.
The two combine to create an incredible pairing that's super flavorful and is sure to receive praise for its taste!
We love these irresistible chicken fajitas that are simple to prepare and taste spicy, tangy, and extremely delicious!
The garlic chili with lime juice marinade is very flavorsome and it gives the chicken a great taste just by sitting in it.
Just cook the chicken, bell peppers, and onion on the griddle before serving them on tortillas.
Pair it with some guacamole and sour cream for maximum enjoyment!
At Glorious Recipes, we have our favorite Blackstone Chicken Street Tacos that we absolutely adore! It's full of flavor and extremely delicious! Check out the recipe below!
Yield: 4
Blackstone Chicken Street Tacos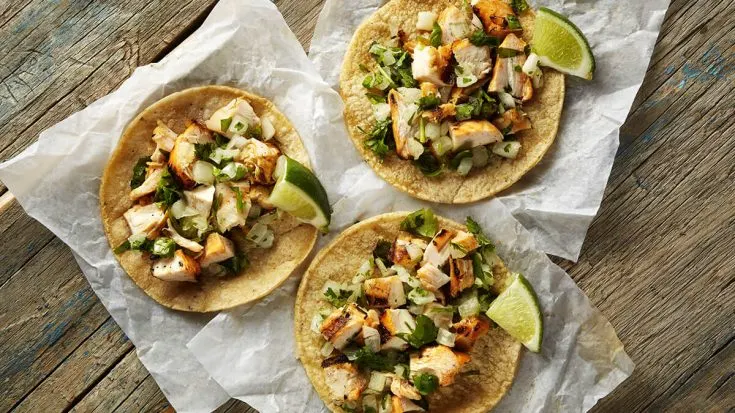 Well-seasoned and marinated chicken thighs charred to perfection make one of the best chicken tacos on the Blackstone griddle!
Ingredients
1½ lbs chicken thighs, skinless and boneless
¼ cup olive oil
¼ cup lime juice
3 cloves of garlic, peeled and smashed
2 tsp ground cumin
1½ tsp ancho chili powder
¼ cup freshly chopped cilantro
1 tsp salt (adjust to taste)
¾ black pepper (adjust to taste)
12 small corn tortillas
1 small onion, chopped
12 lime wedges
freshly chopped cilantro (for garnish)
Instructions
Combine olive oil, lime juice, garlic, cumin, chili powder, cilantro, salt, and pepper in a small bowl. Place chicken thighs into a gallon resealable bag along with the marinade. Seal the bag and rub the chicken thighs well to ensure that all parts are coated. Leave it in the refrigerator for 1 to 6 hours.
Preheat the Blackstone griddle to medium-high and add a little olive oil.
Add marinated chicken thighs on the griddle and cook through. Turn it once when it's around the 5 minutes mark. We want the internal temperature to reach 165°F (or 75ºC) with the exterior slightly charred.
Once cooked, set the chicken meat aside and tent with a piece of foil for 5 minutes before chopping it into cubes,
Throw the tortillas on the griddle to warm them up then assemble with chicken, onion, cilantro, and lime wedges before serving. Serve with some hot sauce and enjoy!
Notes
Marinating the chicken thighs for more than 6 hours will affect the texture of the meat, hence it's recommended to marinate only between 1 to 6 hours before cooking.
Nutrition Information:
Yield:
4
Serving Size:
1
Amount Per Serving:
Calories:

640
Total Fat:

30g
Saturated Fat:

6g
Trans Fat:

0g
Unsaturated Fat:

22g
Cholesterol:

208mg
Sodium:

956mg
Carbohydrates:

59g
Fiber:

12g
Sugar:

5g
Protein:

48g
Nutrition information is only an estimate and can vary depending on ingredients used.
Which of the Blackstone chicken recipes have you tried so far?
Let us know in the comments below!
Check out CanCooker and Pit Boss Smoker for more outdoor cooking recipes and Meat Church for tasty seasoned dishes!
For more lunch and dinner recipes, check out the following:
German Sausage
Ooni
Turkey Kielbasa
Chicken and Shrimp
Angus Beef
Ground Veal
Impossible Meat
Chicken Keema
Share on your favorite social media platform and tag us @GloriousRecipes – we can't wait to see what you have made!