Tuna tartare is an amazing appetizer made with raw tuna chopped into small pieces and served with a light and refreshing dressing.
It has a sweet and tangy flavor, with very nice buttery undertones coming from the tuna itself.
What Is Tuna Tartare
Traditionally, tartare was made using beef, but tuna has rapidly become the popular choice nowadays.
Raw tuna meat is diced into small pieces and usually marinated in a soy sauce base mixed with other condiments.
It is healthy and delicious, but it can get a little expensive if you have it at a restaurant.
Luckily, it's really simple to prepare at home and we are excited to show you some of the best tuna tartare recipes that you can try!
There are so many ways to play around with tuna tartare to create different variations that all taste so good.
Frequently Asked Questions
Is tuna tartare raw?
Yes, this dish involves the use of raw tuna, but it is absolutely safe to eat when handled properly.
When you buy tuna, make sure that it's safe for raw consumption by checking for labels or directly with the fishmonger.
It should have a nice deep red color and no fishy smell, similar to what you have for tuna sashimi in a Japanese restaurant.
Try and source it from a reputable shop to ensure you get fresh and quality tuna.
Tip: When preparing the dish, work quickly and keep the fish as cold as possible.
What about sushi-grade or sashimi-grade tuna?
Sushi-grade or sashimi-grade are marketing terms that are unregulated.
All fresh tuna can be consumed raw when handled properly, hence it's always good to perform your own check on the color and smell of the fish.
If in doubt, always go to a reputable shop and check with the fishmonger.
How many calories does tuna tartare contain?
A typical tuna tartare appetizer will contain around anywhere between 300 to 500 calories.
Tuna is considered a fatty fish due to its high omega-3 fatty acid content, which is considered "good fat".
Omega-3 is essential for a well-functioning body and has a whole host of health benefits, which is why tuna is so popular.
As with all things, moderation is key in any diet.
What is the difference between tartare, carpaccio, and ceviche?
Tartare and carpaccio differ in the way the raw meat is cut.
Tartare has the meat chopped into small pieces, while carpaccio is prepared with thin slices of raw meat.
Ceviche uses a citrus marinade to cure the meat, which coagulates the proteins and turns the meat opaque, similar to cooking.
What type of tuna should be used for tuna tartare?
Any fresh tuna can be used for tuna tartare, with proper handling.
This includes Ahi tuna (or yellowfin tuna), bluefin tuna, skipjack, and albacore.
Tuna Tartare Recipes
Here are 15 of the best tuna tartare recipes and we have also included our unique version in the recipe card below!
If there's one recipe on this list that you should try, it would be this Tuna Tartare with Avocado recipe.
It's a recipe straight from a Michelin-starred restaurant, K&L Bistro, which has sadly closed down.
Combining smooth and buttery avocado with fresh tuna meat, this tuna tartare is bound to make you drool non-stop.
Dressed with sriracha sauce along with ponzu and mayonnaise, the entire dish is spicy, tangy, and super delicious.
It's quick and easy to whip up, and we think it's one of the best tuna tartare recipes to try for your next meal!
Using cut avocado halves to contain the tuna tartare, this cute dish will invite many compliments from your friends and family.
Served with black sesame seeds, wasabi mayonnaise, and pickled ginger slices, this tuna tartare tastes as good as it looks.
The dressing is made up of a whole array of condiments and the end result is a delightful dish that is sweet, savory, and with a little spiciness from the sriracha sauce all at the same time.
It's the perfect appetizer for a gathering or if you are bringing something to the table for a potluck, this should definitely be in consideration!
For a heavier dish to snack on, these spicy tuna tartare nachos are perfect for some mid-day crunch or you can serve it up as a side during dinner.
The recipe is using baked wonton chips so it's healthier but still equally crunchy and delicious as compared to fried chips.
Topped with homemade sriracha mayo, avocado, jalapeño, and black sesame seeds, this tuna tartare is just so irresistible!
With how easy it is to make, this might be your go-to snack the next time you have a tuna tartare craving!
A different take on integrating wonton wrappers into a tuna tartare recipe, this tuna tartare in crispy wonton cups recipe is healthy, delicious, and nicely wrapped for an individual serving.
This creative dish uses mini muffin cups to bake the wonton wrappers so that there is a nice structure for scooping the tuna tartare.
The cucumber provides the additional crunch and the lime adds a little tangy flavor to the dish.
Your guests will definitely appreciate how easy it is to eat this, and with how yummy it tastes, we suspect this appetizer will be gone once you put down the plate!
This tuna tartare recipe incorporates rice cracker crispies to provide a crunch for the wonderful dish.
It's easy to make your own rice cracker crispies.
All you need to do is place rice papers into a preheated oven for a few seconds and remove it.
Served together with raw tuna on top of avocado cubes and dressed in soy sauce, sesame oil, ginger, and lime juice, this tuna tartare tastes amazing.
Garnish with sesame seeds and chopped chives to complete the dish.
For a fancy-looking tuna tartare, this recipe will help wow your friends and family at your next gathering.
It might look complicated, but making this tuna tartare with spicy mayonnaise, mizuna, and soy wasabi vinaigrette is actually very easy.
To make the vinaigrette and tartare, just mix the required ingredients in separate bowls and stir.
Add in mizuna into the vinaigrette to coat it with the sauce and it's all about plating after that.
You'll be churning out this fine-dining-looking tuna tartare in no time!
Ahi tuna on top of chopped avocado, topped with crispy shallots and rice crisps, dressed in a soy-sesame vinaigrette, there's no reinvention required for this classic tuna tartare recipe.
It is simple, easy to follow, and the end result is a very inviting appetizer.
Using a cube pastry mold to create bite-sized portions gives a really nice visual presentation and it's also really easy to pick a piece up and pop it into your mouth.
This is a light and refreshing appetizer that will be a hit with everyone!
This spicy and crunchy tuna tartare is healthy, has low calories, and is perfect for a guilt-free snack or appetizer to munch on.
The cucumber act as a base for the tuna while providing a satisfying crunch and keeping it refreshing and healthy.
Panko crumbs are added on top of the tuna bits to give the additional crunchy texture that makes this a delectable appetizer.
This quick and easy recipe is perfect for a simple no-cook nibble!
Experience a Jap-Mex fusion cuisine with this Tuna Tartare Tacos recipe that is guaranteed to be a crowd-pleaser.
Combining hard taco shells with the tender tuna meat, and complemented by creamy guacamole, this version of tuna tartare is just so amazingly delicious.
We recommend using garlic chili sauce instead of sriracha for this because the garlicky taste really adds to the flavor of this tasty treat.
End off by garnishing with cilantro and you have yourself a wonderful appetizer!
If you have scraps of fresh tuna meat left after other dishes, this Spicy Ahi Tuna Avocado Tartare Bites recipe is great for utilizing them to create an amazing bite-sized appetizer.
For hassle-free prep work, there's no need to make your own crunch.
You can use store-bought tortilla chips as the base for this recipe and top it off with the tuna meat mixed with avocado, soy sauce, and sesame oil.
Drizzle some sriracha sauce and it's ready for serving.
If you've been to a Nobu restaurant and tried their tuna tartare, you'll know it looks and tastes really good.
This recipe aims to replicate the popular concept at home and it's not difficult to follow at all.
All you need to do is sear the sushi rice to make it crispy and this will serve as the vehicle for the rest of the ingredients.
The sauce helps to add some umami to the rice, and the tuna is placed on top of the seared rice balls.
Top off with some sriracha spicy mayonnaise and enjoy!
For a visually striking starter, this Tuna Tartare with Yuzu Gelée definitely fits the bill.
Fresh tuna is marinated in soy sauce, sesame seeds, chives, and olive oil, providing a very flavorful taste for the dish.
The gelée is made from yuzu infused dashi.
Gelatin is added to thicken the dashi into a cosmetic gel that can be placed on top of the avocado and tuna meat.
One bite of this tuna tartare gives you an umami bomb like no other.
In this simple tuna tartare recipe, tuna is marinated in honey, soy sauce, ginger, sesame oil, and wasabi.
It is sweet, salty, fragrant, and hot all at the same time.
The amount of flavor the tuna gets just from the marinade is incredible.
The soft texture of the tuna makes it feel like you're eating umami butter.
Add that to lime-juiced and zested avocado, you'll have an additional tangy flavor that really completes the dish!
A unique take on the popular dish, this tuna tartare with potato chips is an interesting recipe to spice up your usual appetizer.
The potato chips are made fresh with potatoes and a mandoline and fried in a saucepan.
Beneath the potato chips are diced tuna meat, mixed with cucumber, chives, radishes, and lemon zest.
This variation of tuna tartare is refreshing and tastes excellent!
For a simple tuna tartare starter with an Asian flair, check out this quick and easy recipe.
Tuna meat is marinated in sesame oil and chilled till ready to be served.
Whenever your craving hits, just take the tuna and mix it with cucumber, spring onions, coriander, chives, sesame seeds, and yuzu juice.
Place some grapefruit slices on the side to add some punch and really complete the meal.
At Glorious Recipes, we have our own recipe for tuna tartare that we love and it tastes absolutely amazing. It's our go-to recipe whenever we want to serve up tuna tartare as a starter.
Yield: 6
Ahi Tuna Tartare with Mango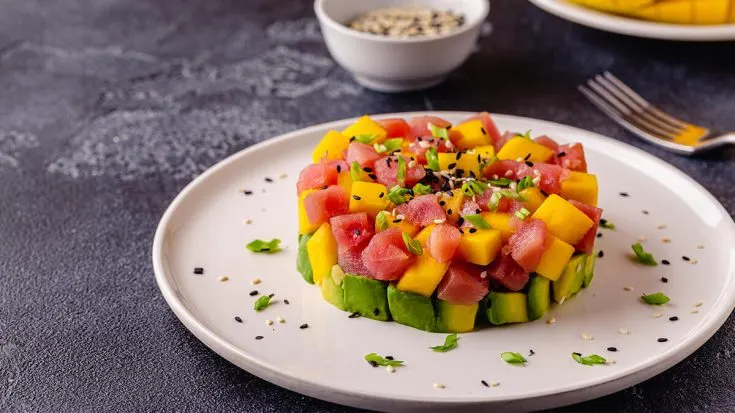 Tender Ahi tuna combined with the sweetness of mango and creaminess of avocado, it's the perfect appetizer to start off a meal. Guaranteed to be a hit with the family.
Ingredients
1 lb super fresh Ahi tuna
½ cup mango, cut into cubes
4 tbsp soy sauce
2 tbsp lime juice
1 tbsp sesame oil
1 tsp freshly grated ginger
2 avocados
1 lime
1 bunch of chives, chopped (for garnish)
black sesame seeds (for garnish)
salt and pepper to taste
Instructions
In a mixing bowl, combine the soy sauce, lime juice, sesame oil, and grated ginger.
Add tuna and mango. Mix gently but thoroughly with the sauce. Chill until ready to be served.
In a separate bowl, remove the avocado flesh and squeeze the lime for some fresh juice. Season with salt and pepper to taste.
To assemble, use a ring mold and place avocado in the bottom layer. Press gently then top with tuna and mango tartare. Carefully remove the ring and garnish with chives and black sesame seeds.
Notes
Use mango that is not too ripe so that it can keep its shape, but yet ripe enough to be sweet.
Use fresh tuna from a reputable source and handle it properly to avoid cross-contamination (eg. use a clean chopping board).
Nutrition Information:
Yield:
6
Serving Size:
1
Amount Per Serving:
Calories:

271
Total Fat:

15g
Saturated Fat:

2g
Trans Fat:

0g
Unsaturated Fat:

12g
Cholesterol:

36mg
Sodium:

682mg
Carbohydrates:

11g
Fiber:

6g
Sugar:

3g
Protein:

25g
Nutrition information is only an estimate and can vary depending on ingredients used.
The tuna tartare is an amazing appetizer that serves to whet one's appetite.
For more appetizer ideas, check out our Triscuit, White Eggplant, and Salmon Bites recipes, or follow up with main courses such as Black Pepper Angus Steak or Ground Pork Pasta.
Or check out some amazing Blackfish and Smoked Cod recipes for more fish dishes!
Which of the tuna tartare recipes have you tried so far?
Let us know in the comments below!
For more awesome recipes that you might like, check out the following:
Stuffed Crescent Roll
Chicken Salad Chick Broccoli Salad
Recipes With Half-And-Half
Share on your favorite social media platform and tag us @GloriousRecipes – we can't wait to see what you have made!