If you love making homemade waffles, you've got to check out the Dash Waffle Maker recipes that we have in store for you.
With a Dash Waffle Maker, making delicious waffles and chaffles becomes easy-peasy and you'll have a wonderful time whipping up tasty treats!
Whether you are using a Dash Mini Waffle Maker or a full-sized one, the results are all the same!
From keto chaffles to delectable sweet waffles, we've got you covered with some of the best Dash Waffle Maker recipes that you can easily try at home!
Enjoy a delightful meal with these delicious mini waffles that are perfect for breakfast, dessert, or even as a mid-day snack!
The batter is made with a combination of oats, almond milk, Greek yogurt, egg, and baking powder that will leave you feeling full and satisfied without making you bloated.
Sprinkle some chocolate chips into the batter while making the waffles on the iron and you'll end up with tasty mini waffles that go superbly well with any of your favorite toppings!
It's a handy recipe that you'll definitely keep coming back to because of how easy it is to whip these waffles up!
Spruce up your next dessert with these fantastic Funfetti Cake Waffles that add a touch of bright colors with rainbow sprinkles!
These wonderful waffles are made with a combination of funfetti cake mix, unsweetened applesauce, and egg substitute, making it a low-calorie sweet treat that you can indulge in.
The waffles are completed with a topping of fat-free whipped cream and rainbow sprinkles, but you can add any other sweet toppings and they will still taste as awesome!
It's a fun dessert to make and is bound to please both kids and adults alike!
If you love Big Mac, you've definitely got to check out this amazing Dash Waffle Maker recipe that churns out Big Mac chaffles to satisfy that craving!
The secret to this lovely dish is the sauce that adds so much to the flavor and replicates the iconic burger but reduces the calories and preservatives in it.
With ground beef patties, American cheese, vegetables, chaffles, and a flavorful sauce, this Big Mac Chaffle is as close to the real thing as you can make at home with a waffle iron.
It's a must-add to your meal rotation and you'll love how delicious these chaffles taste!
For a keto-friendly and low-carb dessert that's absolutely delicious, you've got to check out this incredible 3 Musketeers Chaffle!
Topped with whipped cream and chocolate chips, plus a filling made up of cream cheese, cocoa powder, vanilla extract, and sugar substitute, this chaffle is superbly tasty and makes for an exceptional post-dinner dessert.
With its terrific flavor, it's a crowd-pleaser for sure and is the perfect addition to any gathering or party.
It's also really simple to make so be sure to try it for your next dessert!
If you have a Dash Mini Hearts Waffle Maker, this recipe is a must-try for your next Valentine's Day dinner!
These heart waffles are incredibly easy to make and they taste as good as they look!
With the help of some food coloring, you can whip up lovely red heart waffles that are topped with melted chocolate and sprinkles that are bound to impress your date!
These waffles are the perfect way to end any Valentine's Day dinner, leaving everyone feeling satisfied with a tasty dessert!
Cornbread chaffles make for some of the tastiest low-carb and keto-friendly dishes that you can easily pair with any of your favorite toppings.
To ensure that the chaffles are low-carb, almond flour is used and it also has the added benefit of being gluten-free!
With the addition of a few other ingredients such as cheese and egg, you'll have piping hot chaffles that you can enjoy in no time!
Pair it with keto syrup for a sweet treat or serve it alongside a bowl of chili for an amazing meal!
This Dash Mini Waffle Maker recipe is ridiculously easy to follow and you'll end up with mouth-watering cheesy snacks in no time!
The best part of it is that you only require 2 ingredients to whip up these tasty bites!
With a cheese base, you can take your pick of pickles, jalapeños, or bacon as the other ingredient and pop them into the waffle iron and wait for them to cook.
Dip them into your favorite sauce or try out the amazing Tiger sauce and Bitchin' sauce to go along with these fantastic snacks!
There's nothing not to like about these low-calorie and Weight Watchers-friendly waffles made with Greek yogurt!
If you don't want to rely on store-bought waffle mix or protein powder to make your batter, this recipe is definitely right for you!
With a mixture of delightful ingredients that include Greek yogurt, self-raising flour, milk, egg, and butter, you end up with tasty waffles that go well with any of your favorite toppings or mix-ins!
They are also great for freezing and reheating so don't be afraid to make a big batch for storage!
These Banana Oatmeal Waffles are exceptionally delicious and have quickly become one of our favorite Dash Waffle Maker recipes for breakfast!
Oatmeal, bananas, vanilla extract, milk, eggs, cinnamon, and baking powder combine to create crispy yet fluffy waffles that are perfect to start your day with.
They provide all the energy you need and they go extremely well with any sweet toppings or even more fresh fruits!
These yummy waffles are super addictive and you'll definitely make them more than once!
Spice up your next dessert with these incredible Cinnamon Roll Chaffles that are amazingly delicious and super easy to make!
Cream cheese and mozzarella cheese are used to make the chaffles, with almond flour and a sugar substitute added to make it a low-carb and keto-friendly dish.
There's of course cinnamon added to give them that fantastic flavor that we've all come to love and when topped with homemade icing, they become an irresistible sweet treat!
They are so tasty that you'll have a hard time limiting your intake to just a few pieces!
Enjoy Fall flavors all year round with these sensational waffle donuts that are the perfect sweet treat to snack on!
With shredded apples, cinnamon, and nutmeg, these waffle donuts are incredibly tasty and you just can't get enough of them when you eat them piping hot and crispy.
Paired with a delicious glaze made with sugar, milk, cinnamon, and vanilla extract, these bites become a heavenly delight.
We've no doubt that this will become one of your favorite Dash Waffle Maker recipes once you've given it a try!
Dig into a protein-packed breakfast with these fantastic chaffles that are absolutely delicious and use only 3 common ingredients!
Bacon, eggs, and cheese come together to form these tasty bites that are cooked in a couple of minutes, making breakfast a breeze to whip up!
They have an amazing texture and are best served immediately so that you can taste the crispiness in your mouth that really elevates the dish to another level.
It's a great way of adding variety to your breakfast while using the same common ingredients to deliver a hearty meal!
Zucchini might seem like an odd ingredient in a waffle but you'll be surprised by how good it tastes!
With only 5 ingredients required to make this tasty waffle, it's a quick and easy recipe that can put delicious food on the table with little hassle!
The best part is that it's also gluten-free and keto-friendly because it uses mozzarella and Parmesan cheese as the base instead of regular flour, making it low-carb as well!
It makes for an awesome breakfast or mid-day snack to refuel your body and with how tasty it is, you'll be devouring a few of these in one sitting!
Mix things up a little and make these Jalapeño Popper Chaffles that are absolutely delicious and are also keto-friendly and low-carb!
Diced jalapeños, cream cheese, cheddar cheese, almond flour, egg, and bacon combine to create the batter which cooks really fast and comes out crispy and super tasty.
Add a dollop of cream cheese and sprinkle crumbled bacon on top for maximum flavor and you'll love how awesome it tastes!
It's an easy snack that's super addictive and a must-try in our books!
Grace your taste buds with these incredible Buffalo Chicken Chaffles that are loaded with strong flavors and taste out of this world!
Hot sauce makes them spicy and it's super easy to adjust the amount to tweak the level of heat so that it can suit everyone's palate.
Add shredded chicken and mozzarella cheese into the mix and you have an easy batter that you can make whenever the craving hits.
Topped with blue cheese and cilantro, these chaffles are a great way to have a delicious but easy-to-make meal, especially if you love spicy food!
Stick with the classics and treat yourself to these fantastic Apple Cinnamon Waffles that make for an amazing breakfast!
Cinnamon, vanilla extract, and grated apple help to provide all the delightful flavors that everyone enjoys and it's an easy way to whip up a lovely treat to start the day right!
You can't go wrong with any of the usual toppings and butter, maple syrup, or even a sprinkle of powdered sugar will help to make these waffles even tastier!
It's super easy to make and is definitely one of our favorite Dash Waffle Maker recipes!
This healthy chaffle that's delicious, keto-friendly, low-carb, and loaded with antioxidants might seem too good to be true but fret not, it's definitely not the case here!
With a base made with almond flour, mozzarella cheese, and egg, you don't have to worry about adding unwanted carbs to your diet.
Spiced with cinnamon and with blueberries as a mix-in, you end up with tasty chaffles that you can indulge in any time of the day!
It's an incredible Dash Waffle Maker recipe that you'll definitely keep coming back to because of how amazing these chaffles taste!
The next time you feel like having an omelet, reach out for your waffle maker instead of your skillet and try out this wonderful recipe!
This omelet chaffle is loaded with delightful ingredients such as egg, onion, peppers, spinach, and cheese, making it super nutritious and the perfect breakfast.
It's quick and easy to make and you'll definitely want to add this omelet variation to your cooking repertoire to keep things interesting!
The whole family is going to love how delicious this omelet chaffle tastes!
Everyone loves churros from Disney World but being deep-fried food, they are high in calories and not a great choice for regular snacking.
What do you do when the craving hits then?
Make these churro chaffles!
They are delicious and will definitely scratch that itch but the best part is that they are low-carb and keto-friendly!
Try it for your next breakfast or mid-day snack and you'll not regret it!
For a high-protein meal that's amazingly delicious and easy to make, you've got to check out this Dash Waffle Maker recipe!
With only 3 ingredients, it's one of the simplest chaffle that you can whip up with your waffle iron!
All you need to make this wonderful tuna melt chaffle is a packet of tuna, mozzarella cheese, and an egg.
Mix them well and let the waffle iron do its job, and you'll end up with an exceptional chaffle that has a crispy exterior and a nice cheesy center!
Whip up an awesome dessert with this incredible Pumpkin Cheesecake Chaffle that will definitely tantalize your taste buds!
With the help of pumpkin pie spice and cream cheese, the two ingredients help to replicate the delightful flavors of pumpkin cheesecake in a chaffle form.
Topped with whipped cream, this chaffle becomes super tasty and is an amazing way to end the meal on a great note.
Add any of your favorite sweet toppings to make it even more exceptional!
For an amazingly delicious savory chaffle, this Broccoli and Cheese Chaffle definitely fits the bill!
Made with a simple combination of broccoli, cheddar cheese, egg, almond flour, and garlic powder, this chaffle makes for a fantastic breakfast or snack!
It's healthy and nutritious, and a great way to add some tasty bites to your diet, especially since it's low-carb.
You can even dip them into ranch sauce or sour cream for some added flavor to enhance the taste!
Keep things simple and enjoy a delightful treat with this Cream Cheese Waffle that is keto-friendly and you can easily tweak the recipe to make either a sweet or savory version!
With cream cheese as the base along with almond flour and egg, the waffle turns out fluffy with an amazing texture that is so easy to enjoy.
Top with syrup or fresh fruits for a fantastic sweet treat, or serve with other savory sides for a sumptuous meal!
It's so easy to make and is definitely a handy recipe for your waffle maker!
Peanut butter and chocolate is a classic combo that can never go wrong and this Dash Waffle Maker recipe is a must-try if you're a fan of the flavor.
The 2 main ingredients combine with mozzarella cheese, almond flour, egg, vanilla extract, and a sugar substitute to keep it low-carb and keto-friendly, making it suitable for most diets.
These chaffles are mind-blowingly delicious and you just can't get enough of them!
With how easy it is to whip them up, they will become a breakfast staple not before long!
Yes, you can even make mini pizza chaffles with your Dash Waffle Maker!
They are incredibly easy to make with a handful of ingredients that you would expect for a tasty pizza.
Mozzarella cheese, Parmesan cheese, Italian seasoning, garlic powder, almond flour, and egg combine to create a simple base that you can add your favorite toppings to.
We love adding some pepperoni slices ourselves and they make for an awesome snack to munch on!
At Glorious Recipes, we have our favorite Fluffy Berry Waffles that we absolutely adore and they taste heavenly! Check out the recipe below!
Yield: 8
Fluffy Berry Waffles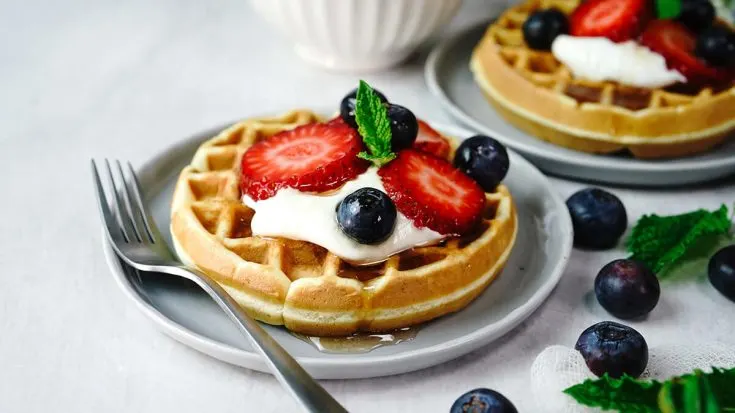 Enjoy a fantastic breakfast or dessert with these Fluffy Berry Waffles that are absolutely delicious and super easy to make!
Ingredients
1 cup flour
1 tbsp sugar
1½ tsp baking powder
¼ tsp salt
1 egg, with yolk and white separated
¾ cup whole milk
½ tsp vanilla extract
⅛ cup unsalted butter, melted
powdered sugar
fresh blueberries
fresh strawberries
whipped cream
Instructions
Add flour, sugar, baking powder, and salt to a mixing bowl and whisk them together.
In a separate bowl, whisk together egg yolk, milk, vanilla extract, and butter. Slowly add the mixture to the bowl with dry ingredients until it's just wet. Fold in egg white.
Follow the instructions of your model of waffle maker to prep and cook the waffles. Pour the batter in and cook. If using Dash Mini Waffle Maker, it will yield more waffles of mini size and typically takes 3-4 minutes to cook.
Top the waffles with whipped cream and fresh berries before serving. Enjoy!
Notes
You can also use a portion of the berries as a mix-in for the batter.
Nutrition Information:
Yield:
8
Serving Size:
1
Amount Per Serving:
Calories:

182
Total Fat:

5g
Saturated Fat:

3g
Trans Fat:

0g
Unsaturated Fat:

2g
Cholesterol:

56mg
Sodium:

185mg
Carbohydrates:

31g
Fiber:

1g
Sugar:

18g
Protein:

4g
Nutrition information is only an estimate and can vary depending on ingredients used.
Which of the Dash Waffle Maker recipes have you tried so far?
Let us know in the comments below!
For more awesome breakfast recipes, check out the following:
Mulberry
Sandwich Maker
Blendjet
Vitamix Smoothies
Crepini
Triscuits
Chicken Breakfast
Mini Bundt Cakes
If love Dash products, be sure to check out our list of Dash Ice Cream Maker recipes as well!
Share on your favorite social media platform and tag us @GloriousRecipes – we can't wait to see what you have made!