Fonio is a grain that's a staple in West Africa and has slowly grown in popularity over the years!
The light and fluffy texture of fonio and the way it takes on sauces and spices make it a fantastic ingredient to experiment with!
It's also a nutritional powerhouse and is an excellent source of fiber, protein, B vitamins, and other essential minerals that are great for the body.
From savory dishes to sweet desserts, we've got you covered with some of the best fonio recipes that you can easily try at home!
Dig into an awesome meal with a fantastic combination of Fonio Grits and Shrimp that's exceptionally delicious!
This dish has tons of savory flavors thanks to prawn bouillon, smoked dried fish, smoked dried shrimp, and sautéed onions, making it an incredibly mouthwatering delight.
It takes little effort to make and you get to enjoy a hearty meal that's sure to satisfy any appetite.
There's nothing not to like about this simple fonio recipe and it's a great way to begin your fonio experience!
Whip up an amazing dish with this Turmeric Coconut Fonio that smells good and tastes great!
It's a delectable combination of fonio, aromatics, vegetables, herbs, and spices, with coconut milk and chicken broth serving as the liquid base that helps to cook everything and infuse loads of delightful flavors.
This straightforward dish can be ready in under 30 minutes, making it perfect for those busy weeknight dinners!
You'll love how incredible it tastes for something so simple to make!
Expand your breakfast options with this creamy cereal that serves as a versatile base and tastes absolutely wonderful!
It's ridiculously easy to make and all you need are 3 simple ingredients and your favorite toppings!
Fonio, milk, and salt are simmered in a saucepan until the fonio is fully cooked and then it's completed by adding toppings such as fruits, maple syrup, or even nuts.
It's easy to keep this dish refreshing just by varying the toppings and it's a great way to put a healthy breakfast on the table!
With how simple and delicious it is, this is definitely one of our favorite fonio recipes!
Ramp up your pancake game with this excellent recipe that incorporates nutritious fonio so that you can feel slightly less guilty when indulging in tasty pancakes!
The batter is made by combining almond flour, fonio, coconut milk, eggs, butter, baking soda, and baking powder, and it's cooked until delicious pancakes are formed.
Top with your favorite ingredients such as fresh fruits, maple syrup, and chocolate syrup to enjoy a classic breakfast or dessert!
There's no reason not to try this version that's healthier and tastes every bit as good as regular pancakes!
Go healthy with this Fonio Mushroom Bowl that combines some of our favorite ingredients in one dish and it tastes phenomenal!
It's a lovely assortment of fonio, portobello mushrooms, heirloom tomatoes, carrots, and cucumbers, made tasty with seasonings such as onion powder, garlic powder, dulse powder, and a tasty lemon-tahini dressing.
Everything comes together really well and it's extremely flavorsome, making it a healthy and tasty bowl that's perfect any time of the day!
Make sure to give this a try, you'll not be disappointed!
Start your day right with this outstanding Fonio Porridge with Caramelized Bananas that taste out of this world!
Made by combining fonio with agave syrup, cashew butter, nutmeg, cinnamon, and cardamon, then topped with caramelized bananas and pecans, this is a dish that's just irresistible.
It's delightfully sweet and incredibly satisfying with a texture and flavor that's sure to put a smile on your face.
You might just have a new favorite breakfast dish after taking your first bite!
Get a taste of the Middle East with this Fonio Tabbouleh that's amazingly delicious and makes for an excellent appetizer or side dish!
This tasty salad features a medley of vegetables that include parsley, mint, green onions, white onions, cucumbers, and tomatoes, creating a dish that's full of flavor and nutrients.
Add fonio and a sweet-tangy dressing into the mix and you have a fantastic dish that's sure to impress all your family and friends!
Serve it alongside your main courses to enjoy a wholesome meal!
In what is one of our favorite fonio recipes, summer vegetables and fonio come together to create a delightful salad that's superbly tasty!
It's a remarkable mix of cherry tomatoes, arugula, mint, parsley, shallots, fonio, corn, almond, and other lovely ingredients, with a homemade vinaigrette making this salad extra tasty.
This salad is perfect for a healthy meal and with tons of nutrients, this is a dish that's great any day of the week!
The vibrant and fresh flavors in this salad make this a dish that you definitely don't want to miss out on!
This vegan fonio recipe is a must-try in our books because it makes such delicious waffles and it's incredibly simple to whip up!
The waffle batter is made by combining fonio flour, vegan egg (such as JUST egg), cinnamon powder, and other ingredients, and it's added to a waffle maker to cook until beautifully browned and crisp.
That's all it takes to make these delectable waffles and you can add your favorite toppings to bring them to another level!
Fresh berries, maple syrup, and butter all make great options for an awesome breakfast!
Jazz up your breakfast with this Pumpkin Fonio with Spiced Pecans that's sure to delight your taste buds with its incredible flavor!
It's a wonderful marriage of fonio grain, pumpkin, maple syrup, and pumpkin pie spice to create an extremely delicious and creamy base.
Topped with pecans baked in butter, pumpkin pie spice, and coconut sugar, this is an absolutely mouthwatering dish!
Now you have something new and delicious to look forward to for breakfast!
For a quick and easy dish that tastes divine, you've got to check out this extraordinary salad loaded with Southwestern flavor!
Black beans, fonio, peaches, corn, onion, bell peppers, and cilantro come together in this amazing dish with a flavorsome chipotle adobo sauce tying everything together.
It's extremely easy to make and you can add your favorite protein to turn this into a hearty and wholesome meal!
Requiring only 15 minutes to whip up, this is a great option to add to your weeknight dinner rotation!
Get ready for Taco Tuesdays with this Ethiopian Sweet Potato Fonio Tacos, a new and refreshing dish that's sure to wow your friends and family!
These tacos are filled with sweet potatoes, fonio, leeks, and chickpeas, with Berbere spice and a mint yogurt sauce adding tons of incredible flavors that make them a heavenly treat.
They are exceptionally delicious and you'll be devouring everything before you even know it.
With how palatable the tacos are, this definitely makes it to our list of favorite fonio recipes!
Try your hands at making this stunning salad that's incredibly delectable and is sure to impress with both its looks and taste!
It's a terrific combination of pickled carrots, roasted beets, Scotch bonnet pepper, onion, and fonio, with a simple vinaigrette that helps to enhance the flavor of this salad.
This dish is full of depth and complexity and is bound to be a crowd-pleaser with how scrumptious it is.
Give it a try and you'll be pleasantly surprised by how good it tastes!
Amplify your next meal with these awesome Fonio Balls that are smothered in an extremely flavorsome peanut sauce!
These balls are formed with a mixture of oats, fonio grains, harissa paste, tomato paste, aromatics, and spices, and they are cooked in a skillet until nicely browned.
Paired with a superb coconut peanut sauce that's incredibly tasty, these meatballs are just irresistible!
You'll be craving for a second serving right after your first bite because they are just that delectable!
Treat yourself to a fabulous dish with this salad that's easy to make and is sure to captivate your taste buds!
Creamy fonio and tender sweet potatoes are combined with pecans, cranberries, parsley, and red onion with a simple apple cider vinegar dressing to create an excellent and flavorsome salad.
It's loaded with great flavors and textures and it makes for a terrific side dish that can complement any main course.
You can eat this every day and not get tired of it!
At Glorious Recipes, we have our favorite Easy Fonio Pancakes that we absolutely adore and they taste heavenly! Check out the recipe below!
Yield: 6
Easy Fonio Pancakes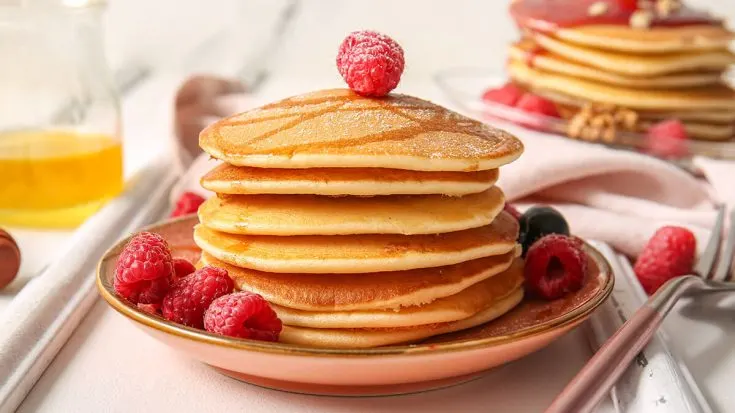 Enjoy a healthier breakfast with these Fonio Pancakes that are super easy to make and tastes wonderful!
Total Time
1 hour
5 minutes
Ingredients
1 cup fonio
2 cups coconut milk, divided
100g butter
3 medium eggs
2½ cups almond flour
1½ tbsp baking powder
1 tsp baking soda
toppings (fresh fruits, nuts, maple syrup, etc)
Instructions
Add fonio and 1 cup of milk to a microwave-safe bowl. Microwave in 20 seconds intervals until fonio is soft.
Add cooked fonio, butter, remaining 1 cup of milk, and eggs to a blender. Blend until the mixture is smooth. Transfer to a bowl and set aside.
In a separate bowl, add flour, baking powder, and baking soda. Add the dry mixture to the wet mixture and combine until a thick batter is achieved.
Add a little butter to your pancake pan and then drop 2 tablespoons of batter for each pancakes. Fry over very low heat. Flip once you see bubbles forming. Once fully cooked, transfer pancakes to serving plates.
Add your favorite toppings and serve. Enjoy!
Nutrition Information:
Yield:
6
Serving Size:
1
Amount Per Serving:
Calories:

608
Total Fat:

56g
Saturated Fat:

25g
Trans Fat:

1g
Unsaturated Fat:

27g
Cholesterol:

118mg
Sodium:

726mg
Carbohydrates:

20g
Fiber:

7g
Sugar:

2g
Protein:

16g
Nutrition information is only an estimate and can vary depending on ingredients used.
Which of the fonio recipes have you tried so far?
Let us know in the comments below!
For more awesome recipes that you might like, check out the following:
Whipped Cottage Cheese
Protein Bowl
Oaxaca Cheese
Triscuit
Chicken Salad Chick Broccoli Salad
Golden Beet
Loaded Tea
German Sausage
Zojirushi Bread Maker
Recipes With Half-And-Half
Share on your favorite social media platform and tag us @GloriousRecipes – we can't wait to see what you have made!