Stuffed crescent rolls represent the perfect marriage of flaky pastry and delectable fillings, promising a taste experience like no other!
They are incredibly versatile and can be stuffed with a wide variety of fillings to serve as a tasty breakfast, mid-day snack, or even as a delicious dessert.
From savory combinations like pesto and mozzarella cheese to sweet indulgences like chocolate and berries, these crescent rolls are a canvas for culinary creativity.
Whether you like them sweet or savory, we've got you covered with some of the best stuffed crescent roll recipes that you can easily try at home!
Wake up to a terrific breakfast with these fantastic pastries that are unbelievably simple to make and taste amazing!
You'll love the fact that these cream cheese stuffed crescent rolls with berries require only 5 ingredients to prepare!
With a delightful filling of cream cheese, blueberries, and strawberries, these rolls are exceptionally delicious and refreshing.
Sprinkle a little powdered sugar to enhance them further!
Making a tasty bite is a breeze and not difficult at all with this easy stuffed crescent roll recipe!
Featuring a delectable filling of cooked bacon and a simple topping of shredded Parmesan cheese, these crescent rolls are baked until beautifully golden brown and crisp.
They require few ingredients to whip up and it's a classic combination that can be easily enjoyed by everyone, making these rolls an ideal party snack!
Tasty and easy to make, just how we like our recipes to be!
In what is one of our favorite spinach stuffed crescent roll recipes, a tantalizing delight is created with some of our beloved ingredients!
Feta cheese, spinach, black olives, and mozzarella cheese are combined and stuffed into the rolls before everything is baked until nicely browned with the cheese melted.
Every bite tastes absolutely heavenly and it's a great way to get some of those wonderful nutrients in your snack!
Be prepared for loads of compliments because these rolls are just that good!
Discover an excellent dish with these Chicken and Broccoli Stuffed Crescent Rolls that taste out of this world!
Filled with a mixture of chicken breasts, broccoli, mozzarella cheese, Italian seasoning, garlic powder, and mayonnaise, these pastries are extremely flavorful and delicious.
They are topped with Parmesan cheese before baking to make them extra tasty and they are sure to be a crowd-pleaser with their impeccable taste.
If you need easy and quality brunch food, this is it!
Sprinkle your dessert with a bit of joy and fun with these splendid Funfetti Cheesecake Stuffed Crescent Rolls!
These amazing pastries are filled with a delectable mix of cream cheese, rainbow jimmies, vanilla extract, and sugar, then topped with a simple vanilla glaze and nonpareils.
They are superbly tasty and are perfect for a fun-filled party for both kids and adults alike!
With how delicious they are, everyone will definitely be reaching out for a second serving!
Inject a little Mexican flair to your next meal with this awesome recipe that you definitely need to try!
These crescent rolls are filled with a combination of ground chorizo, green chilies, and Muenster cheese, then baked until puffy and appetizing.
With an amazing flavor, these rolls are great for a hearty breakfast, light lunch, or served as a side dish to complement your favorite main courses.
Make sure to save some for a tasty mid-day snack as you'll be craving this fantastic pastry!
Dig into these luscious Blueberry Cheesecake Crescent Rolls that are crazy delicious and sure to whet your appetite!
Cream cheese, lemon juice, sugar, and fresh blueberries come together to create a fabulous filling that has a well-balanced flavor and is incredibly satisfying.
Be sure to leave some room in your belly because these rolls are great for a sweet ending to any meal!
A little sprinkle of powdered sugar goes a long way in elevating these tasty rolls to another level!
Making stuffed crescent rolls in an air fryer is incredibly easy and these cheesy garlic rolls are exceptionally tasty to boot!
All you need to do is add string cheese to the dough, roll it up to form a crescent-shaped pastry, then brush a mixture of butter, onion powder, garlic powder, and salt before air-frying until golden brown.
It's straightforward to whip up and it tastes absolutely fantastic!
This is definitely one of those easy stuffed crescent roll recipes that you'll want to keep handy!
Get a taste of fall flavors with these outstanding Maple Pumpkin Cream Cheese Stuffed Crescent Rolls!
With pumpkin purée, ground cinnamon, and maple syrup, these crescent rolls are filled with a simple combination that tastes extraordinary.
Baked until beautifully golden brown, these pastries are an absolutely mouthwatering delight and you're sure to love their terrific flavor.
It's amazing how something so easy to make can tastes so good!
Enjoy a decadent indulgence with these superb crescent rolls that are sure to satisfy your sweet cravings!
These Pillsbury crescent rolls are filled with Mars bars and then baked until nicely browned before being drizzled with chocolate to create something truly special.
Completed with a simple sprinkle of SKOR bits, these rolls are incredibly delectable and absolutely irresistible!
You'll find it difficult to limit yourself to just one serving because they are just that delicious!
Chocolate and banana make for a classic combo that has withstood the test of time and this simple recipe gives it an upgrade by using hazelnut chocolate instead!
Filled with Nutella and sliced bananas, these crescent rolls are made even tastier with a fantastic coating of sugar and cinnamon before being baked.
It's a symphony of flavours with every bite and these rolls are just pure delight.
If you need an easy crowd-pleasing dessert, this will definitely be a top contender in our books!
Indulge in these splendid stuffed crescent rolls that are amazingly delicious and sure to tantalize your taste buds!
Shredded chicken is combined with BBQ sauce and shredded cheese to create a smoky and extremely flavorsome filling for the rolls, and they taste exceptional.
A little sprinkle of BBQ seasoning acts as the finishing touch to these delightful pastries and it layers on more depth to the flavor.
Serve them for your next meal and your taste buds will thank you!
Savor a brilliant meal with these chicken stuffed crescent rolls that are fully loaded with tons of amazing flavors!
With a filling mixture of cheddar cheese, cream cheese, shredded chicken, ranch seasoning, cream of chicken soup, and sour cream, you know you're pretty much guaranteed an extremely flavorsome dish at the end.
Baked until golden with the cheese melted, this is a creamy delight that's sure to satisfy any appetite!
We have no doubts that this will quickly make its way to your list of favorite chicken stuffed crescent roll recipes!
If you're a pizza lover, these Pizza Stuffed Crescent Rolls will definitely be right up your alley!
You won't be able to resist the simple combination of tomato sauce, pepperoni, and cheddar cheese, all wrapped in flaky crescent rolls.
They are made even better with a simple topping of Parmesan cheese, baked until it becomes crisp, adding great texture and flavor.
You can enjoy them as a snack, appetizer, light lunch, or even as a tasty breakfast!
Taco Tuesday can't come soon enough but if you're looking to satiate your craving, you've got to check out these amazing Taco Stuffed Crescent Rolls!
These awesome rolls are filled with a delectable mix of ground beef, tomatoes, green chilies, onions, and shredded cheese, with taco seasoning adding plenty of depth to the flavor.
A simple garnish of cilantro is sufficient to elevate these rolls and they are incredibly mouthwatering!
Taking only 30 minutes to prepare, they make for an easy but tasty weeknight dinner!
Grace your taste buds with these excellent Philly Cheesesteak Crescent Rolls that taste stupendous and are so easy to make!
They are filled with roast beef, mozzarella cheese, sautéed bell peppers, and onions, with oregano and garlic powder adding additional flavor to make them extra tasty.
Every mouthful of these delicious rolls is so incredibly satisfying and they make for an easy scrumptious treat any day of the week!
Give it a try and you'll not be disappointed!
This is one of the best stuffed crescent roll recipes and you absolutely must try this mind-blowing savory pastry!
Filled with a delightful combination of cream cheese, spinach, artichokes, sour cream, mozzarella cheese, and Parmesan cheese, these crescent rolls are just unbelievably delicious.
It's smooth, creamy, and so flavorful, making it a scrumptious treat that's sure to be a hit with the crowd.
You'll be surprised by how good it tastes for something so simple to make!
Experience a delightful sweet treat with these terrific crescent rolls that you definitely don't want to miss out on!
Featuring a lovely filling of cream cheese, ground cinnamon, sugar, egg, and flour, along with a simple sweet vanilla glaze, these rolls are a dream for those with a sweet tooth.
They are super palatable and make for a fantastic dessert or high-tea pastry that everyone will surely enjoy.
There's nothing not to like about this quick and easy recipe!
Spruce up your next dessert with these stuffed crescent rolls that are crazy delicious and sure to captivate your taste buds!
These lip-smacking pastries are filled with a wonderful mix of almond butter, strawberries, blueberries, and cinnamon, all baked until nicely golden brown and then drizzled with an incredible honey-thyme glaze.
They taste absolutely divine with a perfect blend of flavors that's just phenomenal.
You can eat these every day and not get tired of them because they are just that delectable!
If you're looking for an easy-to-make dish that tastes exceptional, check out these Venison Stuffed Crescent Rolls!
They are ridiculously easy to whip up and all you need to do is fill crescent rolls with a mixture of ground venison cooked with sloppy joe sauce and a little shredded cheddar cheese before baking them.
Requiring only 4 ingredients to prepare, these rolls take little effort to make and you'll be enjoying a tasty dish in no time at all!
Whether you serve them as a main course or a side dish, you'll love the amazing flavors present in these crescent rolls!
Try your hands at making delectable bites with one of the easiest stuffed crescent roll recipes!
These pastries are stuffed with a combination of ground turkey, onion soup mix, chopped onions, garlic, and parsley, baked until beautifully golden brown and crisp.
Pair with your favorite sauce to give them a flavor boost that's sure to send your satisfaction level to overdrive!
So easy to make and so delicious!
Mozzarella stuffed crescent rolls sound amazing but wait till you add pesto into the mix!
These remarkable pastries taste absolutely fantastic and you won't believe that they only require 3 simple ingredients to whip up.
Pillsbury crescent rolls stuffed with pesto sauce and mozzarella cheese will be your new favorite comfort food that you can make in an instant!
Serve them as a simple appetizer or snack on them all day long!
These splendid sausage stuffed crescent rolls are incredibly simple to whip up and they make for great comfort food!
Roll a sausage link per crescent roll and bake them until they turn golden to enjoy a delectable treat.
A simple drizzle of maple syrup can enhance the taste of these rolls but they already taste very good on their own!
Make them for breakfast and the kids will be jumping out of their beds before you even know it!
Refresh your meal options with these Beef Stuffed Crescent Rolls that are loaded with great flavors and sure to excite your palate!
Filled with a tantalizing combination of ground beef, green chilies, cream cheese, cumin, and chili powder, these crescent rolls are an absolutely mouthwatering delight!
All the ingredients come together extremely well and impart their distinctive fragrance to create something amazingly delectable.
You'll be wanting a second serving right after your first bite because of how delicious they are!
Give an instant upgrade to your dessert with one of our favorite stuffed crescent roll recipes and try making this awesome sweet treat!
You get the best of everything with a lovely Nutella filling, plus mini marshmallows, graham crackers, and chocolate chips, all wrapped in a delicious crescent pastry and baked until golden brown.
A drizzle of Nutella helps to complete this wonderful delight because well, more Nutella is always welcome!
You'll need to make a big batch because these rolls will be flying off the baking dish once they are out of the oven!
These outstanding Ham and Cheese Stuffed Crescent Rolls are a classic combo that makes for an easy crowd-pleaser!
Featuring a simple filling of ham and cheese and then brushed with a mixture of butter, garlic powder, and Italian seasoning, these rolls are unbelievably tasty for something so easy to make.
They are the kind of pastries that you know will become a mainstay in your cooking repertoire because of how popular they are with families and friends.
Be sure to give this easy recipe a try!
At Glorious Recipes, we have our favorite Nutella Stuffed Crescent Rolls that we find to be absolutely delicious and taste spectacular! Check out the recipe below!
Yield: 8
Nutella Stuffed Crescent Rolls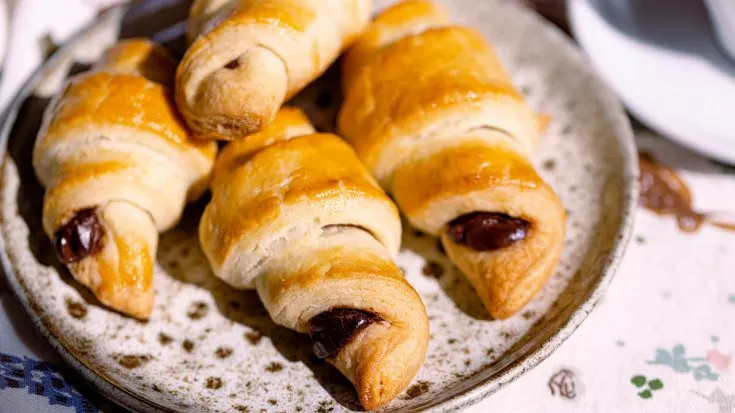 Indulge in a fantastic sweet treat with these Nutella Stuffed Crescent Rolls that are incredibly delicious and super addictive!
Ingredients
1 can of 8 Pillsbury crescent rolls
8 tbsp Nutella
1 tbsp powdered sugar (optional)
Instructions
Preheat oven to 375°F (190°C).
Carefully roll out the crescent dough triangles and lay them on a baking sheet.
Spread a tablespoon of Nutella on each triangle flat. Roll from the long side to create crescent rolls.
Bake for around 10-12 minutes or until the crescent rolls turn golden brown. Remove from the oven and sprinkle powdered sugar if desired.
Serve and enjoy!
Nutrition Information:
Yield:
8
Serving Size:
1
Amount Per Serving:
Calories:

204
Total Fat:

11g
Saturated Fat:

8g
Trans Fat:

0g
Unsaturated Fat:

2g
Cholesterol:

17mg
Sodium:

123mg
Carbohydrates:

24g
Fiber:

2g
Sugar:

14g
Protein:

3g
Nutrition information is only an estimate and can vary depending on ingredients used.
Which of the stuffed crescent roll recipes have you tried so far?
Let us know in the comments below!
For more awesome recipes that you might like, check out the following:
Triscuit
Mini Donut
Polvoron
Fonio
Whipped Cottage Cheese
Deviled Eggs
Potato Taco
Venison Burger
Almond Cow
Recipes With Half-And-Half
Share on your favorite social media platform and tag us @GloriousRecipes – we can't wait to see what you have made!