Meatless meat has been gaining in popularity with both vegans and non-vegans alike and with our Impossible meat recipes, you'll have even more tasty dishes to try!
Impossible meat is made from plants but cooks and tastes just like regular meat.
Its ingredients are all plant-based and contain protein from soy and potato, fats, binders, and heme, which gives a meaty taste.
Any excess Impossible meat can also be frozen for future use so make sure you try all the recipes here!
Start your sustainable eating journey with Impossible meat and you'll be surprised at how good it tastes!
Impossible Meat Recipes
Here are 15 of the best Impossible meat recipes that you can easily try at home and we've also included our favorite in the recipe card below!
It's easy to make a delicious meal with Impossible burger and this meatloaf recipe is perfect for any beginner home cook!
This Impossible meatloaf is super flavorful and when paired with BBQ sauce or ketchup, it just tastes heavenly.
It's also extremely simple to make and all you need to do is mix all the ingredients and shape it into a loaf before baking till browned.
With such an easy-to-make and protein-packed meal, it'll quickly become your go-to meal for a quick and tasty lunch!
Turn a Taco Bell classic into a wholesome meal with this variation of Impossible Meat Cheesy Gordita Crunch!
Melted cheese combined with spicy sour cream, seasoned Impossible meat, and shredded lettuce makes for awesome and delicious tacos that are just so addictive.
The mix of spicy and savory, plus the crunch from the lettuce gels really well, and the small taco size just makes you want to pop a few in your mouth right away.
Do yourself a favor and try out this amazing recipe for your next Mexican night!
Use Impossible meat to make an awesome Philly cheesesteak in this simple recipe that's going to whet your appetite!
With liquid aminos adding some umami on top of the sweetness coming from onions and bell peppers, this vegan sandwich is oh-so-yummy.
What's more, it's really easy to make this cheesesteak too!
Just cook the veggies and meat, add the cheese, then scoop up when it's done to form your sandwich!
Make a delicious vegan shepherd's pie with this simple Impossible meat recipe that's guaranteed to keep you coming back for more!
Impossible meat is cooked together with herbs and aromatics that layer on complex flavors and make the meat extremely fragrant.
A ketchup mixture containing vegan Worcestershire sauce and Dijon mustard adds even more depth to the flavor and makes the filling really tasty.
Spread the mashed potatoes and bake to perfection before enjoying this fantastic dish!
No beef is required to enjoy amazing Salisbury-style steak with this terrific recipe that's given an Impossible twist.
Impossible burgers are mixed together with a whole host of sauces, spices, and aromatics to create tender patties that are packed with flavors.
Combined with homemade mushroom gravy that's rich in umami, the dish is extremely tasty and tastes as good as, or even better than regular steak!
You definitely have to add this to your dinner rotation!
Prepare for your next Chinese meal with these super tasty meat dumplings that utilize Impossible meat!
The filling is made with a combination of Impossible meat, shitake mushrooms, carrot, cabbage, chestnuts, and coriander.
It's placed in a dumpling wrapper before sealing and panfried till crispy and golden brown.
Serve with some black vinegar to fully enjoy this wonderful meal!
More delicious tacos are always welcomed and this simple Impossible beef tacos recipe is a must-add to your vegan cookbook.
Impossible beef infused with aromatics and seasoned with salt, pepper, and taco seasoning works wonders in creating an extremely flavorful taco filling.
Add some refried beans, tomatoes, vegan sour cream, shredded cheese, and cilantro to form the perfect tacos for Taco Tuesdays!
Impossible burgers are popping up on many restaurants' menus but why fork out for an expensive meal when you can make them yourself at home?
With caramelized onions, you just know this burger is going to turn out awesome.
The patties are prepared by mixing Impossible meat, cooked lentils, ground flax seeds, chia seeds, spike seasoning, salt, and pepper.
Once cooked, the burger is assembled with tomatoes, lettuce, and caramelized onions as toppings.
It honestly tastes better than most burgers so whether you're vegan or not, you should definitely give it a try!
Level up your cooking skills with this Impossible meat recipe and make a vegan Wellington that's sure to impress everyone at the table.
It might seem complicated but it's not difficult to make a Wellington!
First, sauté mushrooms, onions, and thyme before stirring in the balsamic vinegar.
The meat is assembled on a puff pastry with the mushroom mixture layered on top before rolling and folding into a log shape.
Slits are cut in a criss-cross pattern to vent the pastry with the top brushed with plant milk, then it's baked to perfection, coming out of the oven golden brown.
Be prepared for the compliments because this tastes as good as it looks!
Fancy some Japanese cuisine for your next meal?
We've got you covered with this menchi-katsu (ground meat cutlet) recipe with Japanese curry that's absolutely delicious!
Japanese curry is made by combing curry roux and stew, which features homemade dashi that's prominent in Japanese food.
Menchi-katsu is made with Impossible meat coated with panko crumbs and fried until crispy.
Combining the two makes for an amazing meal and you'll definitely be asking for a second serving!
If you haven't tried it yet, you'll need to check out the unlikely combo of peanut butter sandwich and chili.
Creamy peanut butter helps to take away the heat and gives a sweet finish and it just works really well.
In this simple vegan Impossible meat recipe, the chili is made with Impossible meat, chili beans, tomatoes, carrots, corn, chili seasoning, and tomato juice.
Sauté the onions and Impossible meat before adding the rest of the ingredients and let it boil, then simmer.
Serve with peanut butter sandwiches and you'll soon discover your love for this duo!
Inject some Korean-Mexican fusion into your next taco night with these superb vegan Korean BBQ tacos!
The tacos are sweet, spicy, and extremely flavorful!
The recipe is also very flexible, you can even swap out the homemade slaw with some store-bought kimchi to make it even more Korean.
If you want some extra kick to up the heat level, top with some garlic chili before popping these babies down!
You definitely need to add this to your taco rotation!
Sweet potatoes are nutritious, high in fiber, and very delicious even when eaten on their own.
It's very easy to make a simple meal that's super tasty with sweet potatoes as the base.
In this flexible recipe, all you need to do is cook your potatoes and corn, then sauté Impossible meat with your favorite seasoning.
Add beans and vegan cheese, and you're done!
You can easily swap out or add any of your favorite ingredients into this sweet potato bowl and it'll still turn out super tasty!
Everyone loves Swedish meatballs and you'll be delighted to know that making them with Impossible meat is just as tasty!
With herbs, spices, aromatics, and sauces, the meatballs are already delicious on their own but when paired with the sauce, it becomes heavenly.
The dish is fragrant and super flavorful, and it's great to serve it together with some wide pasta to make use of the surface area to mop up the sauce.
Can't let a single drip go to waste!
Make these wonderful vegan stuffed bell peppers with Impossible meat and enjoy a wholesome and delicious meal!
Impossible meat is sautéed with onions, basil, parsley, and garlic, then seasoned well before being stuffed into cut bell peppers together with rice and zucchini.
The bell peppers are topped with shredded cheese and then baked till the cheese has melted and turned golden brown.
It looks so appetizing and we can just gobble a few of these down!
At Glorious Recipes, we have our favorite Impossible Meat Bolognese that we absolutely adore. It's vegan, easy to store for meal prep, and tastes awesome! Check out the recipe below!
Yield: 4
Impossible Meat Bolognese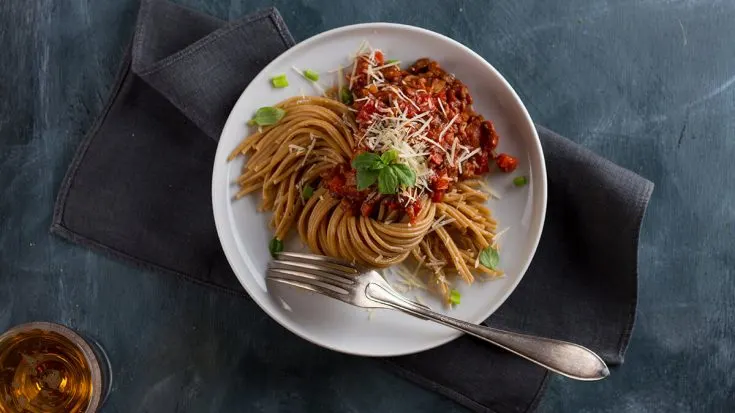 Enjoy this easy-to-make and delicious vegan Impossible meat bolognese that tastes absolutely heavenly!
Ingredients
1 tbsp olive oil
1 cup carrot, diced
1 clove of garlic, minced
1 cup mushrooms, diced
¼ tsp dried basil
1 cup yellow onion, diced
1 cup celery, diced
1 cup red bell peppers, diced
1 cube vegan bouillon, divided into 2
¼ cup water, separated into 2 equal cups
6 oz Impossible burger
1½ tbsp red wine (optional)
1 cup marinara sauce
salt & pepper to taste
vegan cheese (for topping)
pasta of choice
Instructions
Prepare all ingredients and dice all the vegetables. Dissolve both ½ cube bouillon in 2 separate ¼ cup water each.
Add oil to skillet over medium heat, then add and sauté carrots for a few minutes. Add garlic and sauté for 1 minute. Add the rest of the vegetables and continue sautéing while adding 1 of the dissolved bouillon periodically. Sauté till vegetables are soft, then remove and set aside.
Add Impossible burger meat to skillet over medium-high heat and break it to small pieces. Stir and cook till meat is starting to turn brown then add the other dissolved bouillon periodically. Add red wine and continue stirring and cooking. Keep stirring to prevent burning of meat.
Add in vegetables when meat is fully browned. Stir well, then add marinara sauce. Continue stirring to mix evenly then let it simmer for a few minutes. Adjust consistency accordingly by adding more marinara or water.
Remove from stove and pour sauce over your favorite pasta. Top with some vegan cheese if preferred before serving. Enjoy!
Notes
If you want a higher Impossible meat to veggies ratio, double the meat and reduce celery and peppers by half.
Nutrition Information:
Yield:
4
Serving Size:
1
Amount Per Serving:
Calories:

308
Total Fat:

11g
Saturated Fat:

3g
Trans Fat:

0g
Unsaturated Fat:

7g
Cholesterol:

24mg
Sodium:

726mg
Carbohydrates:

40g
Fiber:

5g
Sugar:

13g
Protein:

13g
Nutrition information is only an estimate and can vary depending on ingredients used.
Which of the Impossible meat recipes have you tried so far?
Let us know in the comments below!
For more vegan and plant-based recipes, check out Mayocoba Beans, Pumfu, JUST Egg, and Soyrizo for more ideas!
Share on your favorite social media platform and tag us @GloriousRecipes – we can't wait to see what you have made!